Analysis
MLB Picks Today, Best Bets, Odds, Predictions for August 3, 2023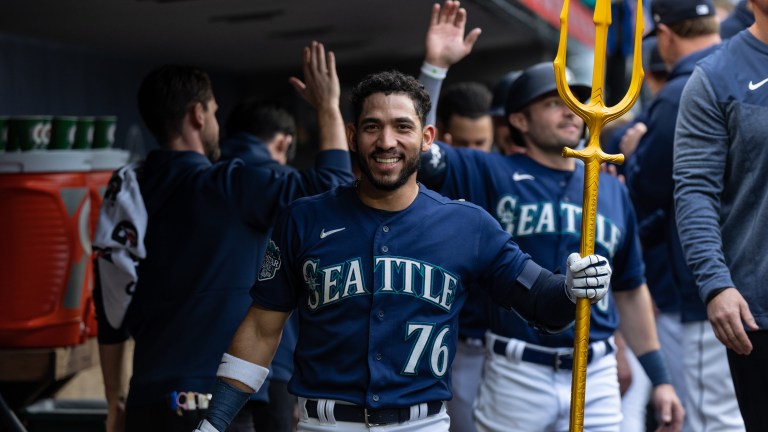 New York Mets vs. Kansas City Royals @ 2:10 PM EST
Pitching Matchup: Carlos Carrasco vs. Brady Singer
The Royals aren't massive underdogs, making this bet way less fun. However, it's pretty fun to fade the Mets right now, as it's been over the last two games. They can't hit with runners in scoring position, and they can't hold a lead. The trade deadline crushed this team, and I still see some value in this Royals team.
The old Mets could hit a right-handed pitcher. They have a 122 wRC+ over the last two weeks against right-handed pitching, and they'll face Brady Singer. Singer has fallen far below expectations this season, putting up a 5.07 xERA and 4.41 SIERA. ERA estimators that don't take into account Hard-Hit rate have him much closer to a 4.00 ERA moving forward. I care about Hard-Hit rate, and Singer has been among the worst in the league at allowing hard contact. There is one area that's improving rapidly which makes me bullish on Singer moving forward.
Strikeouts.
Singer is normally rocking a strikeout rate in the upper half of baseball but that's fallen off this season down to 19%. Over his last two starts over 11 innings, he has 19 strikeouts to only three walks. He's allowed nine hits and four earned runs in those outings against the Yankees and Twins. At this point, the Mets are an inferior offense to those two, especially with Brandon Nimmo still nursing a quad injury. He may play today, but he's missed the last two games. If he does play I don't think he'll be 100%.
Singer has also been better at home this season by a sizeable margin, posting a 4.58 ERA at home versus a 6.91 ERA on the road. If this was the old Mets offense with confidence in themselves, I wouldn't be on this one.
On the flip side, we have Carlos Carrasco. Singer has the advantage in pretty much everything. The 6.40 ERA is really bad, but it's supported by a 6.16 xERA, 5.13 SIERA, and a 5.77 FIP. He has has a similar problem to Senga this season, he's worse off against right-handed bats (.923 OPS). The Royals are going with four right-handed bats among their first six batters again. Good luck.
While Singer has an issue with hard-contact, so does Carrasco. Carrasco sits with a 46.6% Hard-Hit rate, placing him in the 6th percentile. The Royals rank sixth in Hard-Hit rate over the last two weeks while the Mets rank 12th.
The Royals bats are hot! 108 wRC+ in the last two weeks and a 133 wRC+ in the last seven days against righties. I'm going to keep riding the train until it falls off.
We could talk bullpens, but the same applies as yesterday. Both of these units are far below average and the Mets are throwing out pitchers at this point that I've never heard of. No advantage on either side, but the same point stands. I trust the home team to pull it out in the end.
The model prices the Royals at -138, and I priced the Royals at -125. That's why this is a half unit play because it's clear the books have finally adjusted.
The Pick: Royals ML (-115) 0.575 U to win 0.5 U
Minnesota Twins vs. St. Louis Cardinals @ 7:45 PM EST
Pitching Matchup: Sonny Gray vs. Matthew Liberatore
This line immediately shot out at me. When I bet this last night, I thought the Twins were such a trap. I will rarely discuss "trap" lines because I think they only come up ever so often, but I believe this one fits the bill. We have a Twins team with a clear better record who just lost to the Cardinals. Now, they have a chance to win the series with their best pitcher on the mound facing a guy with an ERA near seven, and they were just -145? I bet the Cardinals ML for multiple baseball reasons, but now we are seeing reverse line movement as the Twins are getting the bulk of tickets yet the line has come down.
The Cardinals have been the better team this series. They were in it until the end against the Twins in game one even though Pablo Lopez was incredible. They even scored a run of Johan Duran in the last inning. Both teams were separated by 0.10 points in xBA in that game. Then, the Cardinals came and trounced the Twins yesterday after destroying Joe Ryan for seven earned runs.
The Cardinals are on a similar path to the Royals, bats are hot! They have a 108 wRC+ against right-handed pitching over the last two weeks and they face off against Sonny Gray. Sonny Gray has a similar issue that Brady Singer has, but not as drastic. He's in the 30th percentile in Hard-Hit rate, which is why his xERA and SIERA are 4.02 and 4.21 respectively. The Cardinals rank 8th in Hard-Hit rate over this span, and they've seen Sonny Gray before.
Over 102 PA against the Cardinals current roster, his quality of contact numbers are below average. He's surrendered a .346 xwOBA and a .473 xSLG. Also, the Cardinals offense has been much better at Busch Stadium this season, posting a .776 OPS versus a .747 OPS on the road. They are also in their better split overall this year against right-handed pitching, putting up a .763 OPS versus a .754 OPS against lefties.
What will Matthew Liberatore give us? It's hard to know, but there are a few areas that gives me hope he can be effective today. For one, he's coming off a solid start in AAA, tossing 5.2 innings while allowing two runs and five strikeouts. He's also had a clear home/road problem. In five outings at home, he's rocking a 3.38 ERA. In four starts on the road, he's posted an 11.48 ERA. He's held lefties to a .741 OPS this season compared to righties at .952. Bryon Buxton is day-to-day, so if he does play, he won't be 100%.
Luckily for Libby, the Twins are a dumpster fire against left-handed pitching. Over the last two weeks they have a 34 wRC+. No, that's not a typo, they are dead last by 13 points. Since July 1, they rank 24th with a 79 wRC+. Since the season began, they are the second worst offense against left-handed pitching, only above the Rockies. Liberatore is not very good, but he has his easiest matchup to date.
He's done pretty well against teams that struggle against lefties. Milwaukee, San Francisco, and Cleveland are all slightly better than the Twins against lefties and he's seen all three of them. In those three starts, he's thrown 16 innings and allowed six earned runs to give him a 3.37 ERA. I'll take that.

The Cardinals bullpen is scary to back, but at least they are very rested. Pallante could easily go again, and Gallegos hasn't thrown in the last three days. They will have everyone available so they can play the matchups. That should prove to be valuable today.

I've said this over and over again with the Twins. They'll use their best bullpen arms if they are winning. If they are winning, we probably lost anyway. Manager Rocco Baldeli makes some questionable calls late in game, as does Oli Marmol, but none of these guys scare me outside of Duran. The Twins have the bullpen edge but only if they are winning.
Another stat that shocked me, the Cardinals are 33-14 as underdogs this season and the Twins are 30-44 as a favorite. I made the Cardinals +105 in this game, and the model makes them +108. Public is all over Twins at a short price with the superior pitcher and I think it's a trap. Take the Cardinals to +110.
The Pick: Cardinals ML (+125) 1 U to win 1.25 U
Seattle Mariners vs. Los Angeles Angels @ 7:45 PM EST
Pitching Matchup: Sonny Gray vs. Matthew Liberatore
This is a bad spot for the Angels, I blame the people that make the MLB schedule. The Angels flew from Detroit to Toronto to Atlanta without an off-day in between. They've played nine straight games and now have to fly from Atlanta to Los Angeles without an off-day. The travel mixed with facing a division rival puts them in a really tough position, it fits a massively profitable system.
The system is called "Fading Teams off Travel-Division Games" per Action Network. Sounds simple right? A team has to be traveling home without an off-day to face a division rival. It's been extremely profitable to take the road team. Over a 145 game sample, the underdog wins at a 52% rate, going 76-69 with an ROI of 17%, netting 25.13 units.
Based on that along, this is a fantastic spot to take the Mariners. As I'm sure you can imagine, the Angels are getting a huge percentage of bets and money and the line stuck.
It also makes some sense baseball wise. Bryan Woo has a 3.51 xERA compared to his 4.96 ERA and you all know I'm a big fan of his. He has a clear issue with lefties, allowing a 1.200 OPS this season compared to an OPS under .400 against righties. Woo won't face many tough lefties outside of Shohei Ohtani today considering Moniak is day-to-day. He might play, but won't be 100%.
Shohei Ohtani might just dominate to a point where it doesn't matter if the Angels bats are slow. I am slightly biased, I have Ohtani under ERA in my PrizePicks season long entry. If he does end up pitching extremely well, I won't be that upset.
The Mariners offense has been better against right-handed pitching than the Angels since July 1. They sit with a 119 wRC+ versus the Angels with a 109 wRC+. Over the last two weeks, the Mariners rank fourth in wRC+ at 122 and the Angels rank 10th at 109. So as of now, the Mariners have the superior offense against right-handed pitching.
I'm not an idiot, I know the Angels have the superior starting pitcher by a lot. Ohtani is coming off a nine inning, one hit, performance against the Tigers. The Tigers and Mariners are separated by 40 wRC+ points against righties in the last two weeks, let's see him do it against a rival who have seen him plenty of times.
The Mariners have proven to have a top five bullpen by most statistics all season long and they have enough rest for me to feel comfortable backing them in the later innings. Only Trent Thorton won't be available today.

The Angels do have Moore and Estevez available. Those two arms can hang with any of the Mariners. However, if the Mariners are able to get to Ohtani at all, we'll see Aaron Loup and Dominic Leone, two below average arms. If Ohtani goes seven innings then they go straight to those two, we are in trouble. However, Ohtani is -200 to go under 18.5 Pitching Outs, which tells me he isn't going longer than six innings.
To put the cherry on top, the model is going crazy with the Mariners. They place them at -135 on the ML. That's insane, but I do think the line should be much closer to Mariners at +110. I see a ton of value on the Mariners and I'm willing to take a stab at them.
The Pick: Mariners ML (+140) 1 U to win 1.4 U