Analysis
MLB Picks Today, Best Bets, Odds, Predictions for August 14, 2023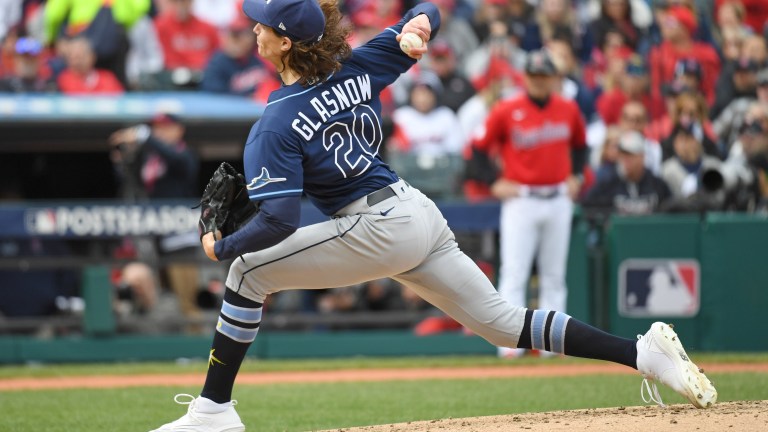 Saturday was a clean sweep. On Sunday, we endured some rough beats. We hit the A's on the first five, but then everything broke. The A's had a five-run lead going into the bottom of the ninth and lost. That's the risk I took betting on the Oakland A's, but I didn't think it would be THAT bad.
The Mariners' game was close throughout, but the Oriole's bats outlasted them in the end. We made 1.1 units over the weekend; let's make more today. My favorite game pick is on a short Monday slate and a PrizePicks entry.
2023 Straight Plays Record: 132-139 (-3.79 U)
I'm using BetMGM lines only this year. Here's a link to get started with a first bet offer of up to $1000.
All prop entries will be on PrizePicks: Here's a link to get a 100% deposit match.
All Bullpen Screenshots are courtesy of Rotowire.
Seattle Mariners vs. Kansas City Royals @ 8:10 PM EST
Pitching Matchup: Logan Gilbert vs. Brady Singer
This game immediately jumped out at me for a few reasons. For one, when the Mariners' bats get cold, they get really cold. I've been following this team for the entire season because of how invested we are in their futures.
That was my mistake yesterday; scoring zero runs after being on a hot streak should have been my reason not to take them. They only scored three runs through ten innings, and now they have to hop on a plane from Seattle to Kansas City without an off day. They also played back-to-back ten-inning games in a very tense and important series. After losing back-to-back tough, emotional games, this is a spot where I expect them to be flat early.
Another reason this shot out as me was Logan Gilbert. He's coming off a seven-inning dominant shutout of the Padres, and now his earned run prop is at 2.5 and juiced towards the over at -130. Brady Singer is projected for the same amount of outs, fewer hits, lower ER prop, and the same amount of strikeouts. Interesting.
The Royals continue to hit against righties. In the last 14 days, this Royals offense ranks third in wRC+ (134), third in OPS (.869), 6th in Hard-Hit rate, with the eighth lowest ground-ball rate. In the last 30 days, they rank sixth in wRC+ (116) against righties at home. This is a great offense in this certain spot, and they had the off-day to prepare. The Royals have a .720 OPS at home and a .662 OPS on the road. It's night and day with how the offense performs at certain parks.
Gilbert has only faced a few Mariners bats, but it's gone very well for Kansas City. Through 23 PA, Royals bats have a .409 opponent average with a .417 xwOBA and a .611 xSLG. Salvador Perez and Bobby Witt Jr are a combined 5-11 with a home run and a double.
Seattle's offense has been one of the hottest in baseball, but it's slowing down. The wRC+ against righties is dropping, and without JP Crawford, they're having trouble getting guys on base. Brady Singer will force them to hit, which should bode well for him.
Singer is rocking a 4.12 ERA at home versus a 6.52 ERA on the road and hasn't allowed more than two earned runs in his last four starts against the Yankees, Twins, Mets, and Red Sox. Even with Seattle's hot streak, the Twins are a tougher matchup, and he went five innings of two-run ball with ten strikeouts against them.
I project this to be a flat spot for Seattle's bats, and it won't help that Singer will make them swing the bat. His above-average walk rate is his highest-ranked attribute this season.
Gilbert is a much better pitcher, but the Royals have every other advantage. They have rest; they are at home, and even with Seattle's hot streak offensively over the past month, the Royals have been even better and much hotter lately. This Royals team is better than their record and is at a plus-money price.
I don't want to battle with the bullpens. The Mariners own the clear advantage, and there is a possibility the bats wake up at the end of the game. I'd rather isolate the flat spot and take Royal's bats against their better split.
I think the first five ML should be +100, and the full-game ML should be +120. I see more value early, so that's where I'm headed.
The Pick: Royals First 5 ML (+115) 1 U to win 1.15 U
PrizePicks Entry 0.2 U to win 0.4 U
First Leg: Juan Soto Over 7.5 Fantasy Score
Juan Soto has been cold lately, but this is a good spot for him to get rolling. While I like Grayson Rodriguez, he does have his flaws. For one, he's surrendered a .950 OPS against left-handed bats this season and allows a lot of hard contact (5th percentile HH rate). Soto's in the 99th percentile in Hard-Hit rate, rocking a .975 OPS against right-handed pitching. He also matches up very well against Grayson's pitch mix.
Grayson has five pitches, but Soto should see mostly fastballs and changeups all day. Those are his favorite pitches to throw to lefties, but he'll also sprinkle in a curveball and slider. Soto's favorite pitch is the changeup, rocking a 10-run-value with a .306 BA and a .390 xwOBA. He also crushes fastballs and sliders to the tune of a 7-run-value. Grayson's struggles have been against lefties, and he's facing a top-three left-handed bat in the game.
Soto will face a good Orioles bullpen, but the lack of rest is concerning. He most likely will face some weaker arms in the back end, which should help his case as the game goes along.
Second Leg: Tyler Glasnow Over 1.5 Walks
I laughed when I saw this matchup. For one, for the Giants to have a prayer in this game, they have to see pitches. That's the one area the Giants have succeeded in, rocking a 10.1% BB rate in the last month against righties. They have the lowest OPS in baseball against righties in that span, but it's not because of the on-base skills; it's a complete lack of slugging.
Tyler Glasnow needs to give the Rays length. The most innings they got out of a starter against Cleveland was Civale throwing five innings. They had a bullpen game the next day, then Eflin only gave them three innings. That's why Glasnow is juiced toward his over 17.5 pitching outs. He also hasn't pitched since July 31st, so he has plenty of rest going to this game. He didn't make his last start due to back spasms. He's -130 to go over 1.5 walks, which can be hit in many ways.
For one, if he's rusty, he could walk batters early. Two, he could pitch a long time, which only gives way for more chances for walks. Considering the Giants do walk at a well above-average clip, this is a good spot for this prop.