Analysis
MLB Picks Today, Best Bets, Odds, Predictions for April 14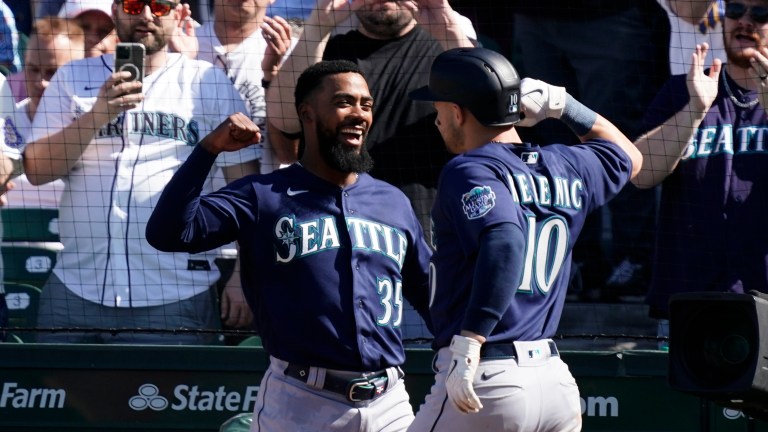 We back. We are so back. A nice 2-0 sweep of game picks felt amazing after a few losing days in a row. The Pirates beat the Cardinals and shut them out 5-0 as a +200 underdog. The under in Padres vs. Brewers got sweaty at the end, as it was a 3-1 game until Trent Grisham tied it with a two-run home run. We were thrust into extra innings, but it still went under the total of nine.
The PrizePicks entry crushed us. Cedric Mullins went over his fantasy score, and all we needed was three runs from Joe Ryan. The Twins scored 11 runs early, then Ryan dominated and only allowed one run. The props will be better when I have more data, but in the meantime, lets focus on the game picks.
Today I have four game picks; let's roll.
Just so we all know, I'm using BetMGM lines only this year. Here's a link to get started with a risk-free $1000 bet. You can also use code "JB200" if you're betting on MLB. Wager $10 on any MLB game and receive $200 instantly.
All prop entries will be on PrizePicks: Here's a link to get a 100% deposit match.
2023 Straight Plays Record: 24-20 (+2.61 U)
2023 PrizePicks Entries: 1-6 (-1.45 U)
I will track both records separately so you can track how I'm doing on game picks and PrizePick entries!
Texas Rangers vs. Houston Astros @ 8:10 PM EST
Pitching Matchup: Martin Perez vs. Luis Garcia
I've been looking for an opportunity to back Luis Garcia in some format and this feels like the game to do it. This series is called the "Lone Star Series," where the Texas rivals battle it multiple times yearly. Historically, the Rangers own this series, but in the last 20 games, the Astros are 13-7 and always seem to get the best of the Rangers. I'm not following these historical trends, but seeing them pointing to a side I'm already on is pretty cool.
Luis Garcia has not gotten off to the start I expected. He's upped the usage of his cutter and four-seam to levels I haven't seen from him. It's strange, but a team like the Astros should be able to see that the four-seam isn't performing well and tweak his offerings. It doesn't make sense that he's doing this, and I expect him to make the necessary changes. Those changes include throwing his breaking balls more, which all have an xwOBA below .377, with his curveball and changeup below .170. Throw them more, Garcia! DO it!
The Rangers' current lineup also hasn't touched Garcia. He's posted a .265 xwOBA, a .244 xBA, and a .338 xSLG with a 30.4% K rate. Compare that to Perez, who's rocking a .330 xwOBA, a .282 xBA, a .412 xSLG, and a 13.2% K rate.
Martin Perez is playing with fire. He threw three different times against the Astros last season, allowing 31 hits over 33 innings with nine walks. He allowed 14 runs to give him a 3.82 ERA, but allowing that many runners on base is not a recipe for success. The Astros still destroy lefties, ranking sixth in wRC+ and OPS against southpaws this season.
The Rangers' lineup is not nearly as strong without Corey Seager, and being big underdogs in this spot is telling. I grabbed a solid price on the first five innings, although the full-game ML is a solid move.
SIM Value: First 5 Innings: Astros win 3.8 to 2.8
The Pick: Astros First 5 Innings ML (-155) 1 U to win 0.65 U
Arizona Diamondbacks vs. Miami Marlins @ 6:40 PM EST
Pitching Matchup: Madison Bumgarner vs. Trevor Rogers
Let's fade Madison Bumgarner today. It's always a good day for that.
He's one of the worst pitchers currently in the league. His 7.27 ERA is terrible, but his 9.17 xERA is much more alarming. He's allowing a lot of hard contact, but his main issue is the walks. He's rocking a 22.2% walk rate, ranking in the third percentile in Major League Baseball. The Marlins tend to chase, so we might have to reconsider if he had some nasty pitches. Bumgarner is in the first percentile of chase rate and the fourth percentile in fastball velocity. It's really troublesome for the Bumgarner right now.
The "Marlins can't hit lefties" narrative is somewhat tired now. They rank 11th in wRC+ this season against southpaws with the fifth-highest Hard-Hit rate and tenth-best OPS. It's early, but the lineup is much better than last year. With everyone healthy, they aren't the same Marlins we saw last season, especially with Luis Arraez. Marlins hitters have performed well against Mad-Bum in the past. Posting a .317 xwOBA, .248 xBA, and a .490 xSLG over 122 PA.
Trevor Rogers gets the ball for Miami, a fascinating pitcher. His changeup and slider are still getting whiffs above a 36% rate, and he's in the 88th percentile of average exit velocity. I returned and watched his last start; his stat line does not indicate who he is. He got super unlucky and is due for an excellent start. He faced the Mets twice in a row, a team with who he has historically struggled against. I think he gets right against a young Diamondbacks team filled with left-handed bats; Josh Rojas, Corbin Carroll, Jake McCarthy, and Alek Thomas.
I don't trust either bullpen, but this is a play based on my confidence that Rogers gives us a nice start, and Bumgarner does not. Mad-Bum's xERA is four runs higher than Rogers, and the Marlins are at home and performing better against left-handed starters up to this point. Go Fish!
SIM Value: First 5 Innings: Marlins Win 3.375 to 2.461
The Pick: Miami Marlins First 5 Innings ML (-150) 1 U to win 0.67 U
Baltimore Orioles vs. Chicago White Sox @ 7:10 PM EST
Pitching Matchup: Tyler Wells vs. Mike Clevinger
Let's fade another starter I have zero confidence in. That's Mike Clevinger, who looks nothing like his former version from 2019 or 2020. His 3.48 ERA is nice, but his 8.47 xERA is insanity. He used to throw 4-5 different pitches, and now he's mostly fastball and slider. In his first two starts, 88% of his pitches were a four-seamer and a slider. You can skate by doing that if they are elite pitches, but they aren't. Both pitches have a .400 xwOBA or above, and while they grade out above average on Stuff+, you can't get by when the location is below average.
Tyler Wells is a guy we tailed last season and he was nice to us. In his three seasons, he's posted an xERA below 4.00, with this year at 3.31. He throws so many strikes and ranks about average in Hard-Hit%. He hasn't allowed a walk yet in 11 innings, and the White Sox don't walk. The White Sox rank 29th in walk rate and 18th in wRC+ against right-handers this season. Chicago plays right into what Tyler Wells wants to do.
The Orioles have also been a fantastic offense this season against right-handers. They are seventh in wRC+ and tenth in OPS against righties so far this year. This was their better split last season, but they've just been awesome against everybody this season. The White Sox are still crushing left-handed pitching but still struggle against right-handers. This lineup is still without Tim Anderson and Eloy Jimenez. The bottom of the lineup is a combination of Hanser Alberto, Lenyn Sosa, Seby Zavala, and Elvis Andrus. I'm happy to fade that, considering Andrew Benintendi hasn't gotten it going yet.
The Orioles have the better starter and better offense and playing to their better split. The price is undervaluing Baltimore because Clevinger is a bigger name than Wells.
SIM Value: First 5 Innings: Orioles Win 2.9 to 2.6
The Pick: Orioles First 5 Innings ML (-115) 1.15 U to win 1 U
Colorado Rockies vs. Seattle Mariners @ 10:10 PM EST
Pitching Matchup: Austin Gomber vs. Marco Gonzales
It's a beautiful day to fade the Rockies coming off a home stand. Last season, the Rockies went 2-10 in their first game after a home stand, and it only gets worse when it's a long homestand.
This will be a shorter write-up because we must take the Mariners. Marco Gonzales is a player I usually like to fade, but the Rockies bats never show up against anybody in their first game off a home stand.
The Mariners face Austin Gomber, who has never proven he can get out right-handed batters. The Mariners have struggled so far on offense, but this lineup is filled with right-handed bats whose better split is against lefties. Players like Julio Rodriguez, Ty France, Eugenio Suarez, Teoscar Hernandez, and AJ Pollock match up well against Gomber and are so due for a crazy offensive performance.
We tailed this system all year last year, and I don't plan on stopping it now. The model thinks the line is appropriate, so it's not as much of a value play but a system play. The money line is a bit more expensive than the first five innings, and I prefer to fade the Rockies' bats early anyway.
SIM Value: First 5 Innings: Mariners win 2.7 to 2.1
The Pick: Mariners First 5 Innings ML (-165) 1 U to win 0.61 U
San Francisco Giants vs. Detroit Tigers @ 6:40 PM EST
Pitching Matchup: Sean Manaea vs. Joey Wentz
I'm testing the model with this play. This is, by far, the most value on any game on the slate. I don't necessarily disagree, but I don't see it as the model does. Due to it being an underdog and the model screaming at me about it, playing the Tigers is worth a half unit.
Sean Manaea looks better than he did last season. He's throwing harder, but it hasn't translated into success yet. He's a pitcher we might want to tail later in the season, but at this point, he's sitting with a 7.58 xERA compared to his 4.50 ERA this season. Joey Wentz is the complete opposite, sitting with a 10.29 ERA compared to a 4.58 xERA.
Both bullpens aren't great, so there is not much of an edge either way. I don't love the fact that the Tigers have to travel from Canada to Detroit while the Giants had an off day yesterday.
If you are a model-based bettor, I highly recommend the Tigers. If you need the baseball brain much more, stay away. I'm a bit of both, so I'm playing the Tigers for a half unit because I can easily see Manaea not performing well in this spot, and the Giants aren't that much better than the Tigers. They both have a wRC+ this season below 50 against left-handers, the two worst offenses in the league so far. The Tigers at home at plus money feels right.
SIM Value: Tigers Win 65.7% (-192)
The Pick: Tigers ML (+120) 0.5 U to win 0.6 U