Analysis
MLB Picks Today, Best Bets, Odds, Predictions for June 12, 2023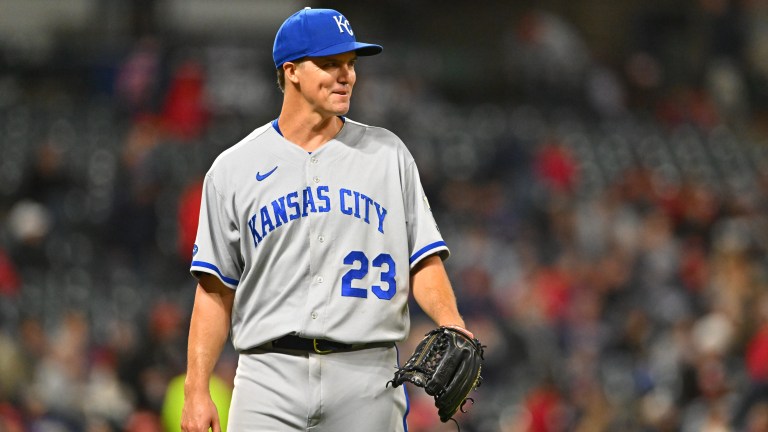 We went perfectly even on Sunday, but it upsets me when we leave money on the table. The Reds lost through five innings but won through the full game. You hate to see that. The Rangers vs. Rays game flew over early, so we ended the day with some free entertainment.
It's a short slate, but I do have a few plays. I've been able to cap totals the best this season, and I have another one today with a twist. I will start trying this when I feel convicted about something on one side. We also have a PrizePicks entry.
2023 Straight Plays Record: 90-68 (+17.34 U)
PrizePicks Record: -2.6 U
I'm using BetMGM lines only this year. Here's a link to get started with a risk-free $1000 bet.
All prop entries will be on PrizePicks: Here's a link to get a 100% deposit match.
Cincinnati Reds vs. Kansas City Royals @ 8:10 PM EST
Pitching Matchup: Luke Weaver vs. Zack Greinke
Yesterday's game influenced my initial lean on this game, and then the model put it over the top. The Royals bats without Vinnie Pasquantino are not the bats I want to back, but these Reds should struggle the most today.
What initially led me to fade the Reds bats was their performance against Adam Wainwright. They were able to get to him a bit later, but outside of a Jonathan India home run, they left a lot to be desired. They showed their age; the Reds were overaggressive against a veteran pitcher who was trying to get them out of rhythm. I saw Adam Wainwright, with diminished stuff, get them off their game. Greinke is much better now, and he's been nails at home. I think he gives this young lineup fits today.
However you queue it up, you'll find the Reds are a league-average offense against right-handed pitching. They are in their better split overall against lefties, but I expect that to change with Elly De La Cruz now in the lineup. Regardless, at this moment, they are worse off against right-handed pitching with all the righties they deploy in the lineup.
Zack Greinke absolutely loves facing right-handed bats. Righties have only posted a .554 OPS against him this season. For reference, that's a better mark than Spencer Strider, Shane McClanahan, Joe Ryan, and so many other aces. He goes to his sinker and slider a lot against righties, and they are holding opponents to a .200 batting average or below.
The lefties in the Reds lineup could ultimately do us in. Those lefties are TJ Friedl, Elly De La Cruz, and Will Benson. The rest of the lineup are right-handed bats with clear better splits at Great American Ballpark. We should see a fantastic start if Greinke can limit damage against those three, especially in Kansas City, where Greinke has posted a 3.00 ERA and a 3.45 FIP.
Luke Weaver, who has an issue with home runs, will be on the other side. He can tally up the strikeouts, but the long ball has been the big issue. Luckily for him, Kauffman is one of the lowest run-scoring environments of the day due to the wind blowing straight in. He has more working on his side, as the main contributor on offense for the Royals, Vinnie Pasquantino, is on the IL.
Weaver's 4.51 xERA and 4.04 SIERA imply he's been rather unlucky. He's allowed eight home runs in 26 innings at home, which has ballooned his ERA to 7.21 at Great American Ballpark. On the road, his ERA drops to 5.06, and the home runs have also come down. He's facing a Royals offense with the fifth-lowest slugging percentage against righties with the ninth-lowest ISO. He has plenty working in his favor, but Greinke is the superior pitcher.
The Reds bullpen will most likely be without Alexis Diaz, which does hurt, but they have a few key arms ready to go. Buck Farmer and Alex Young are fully rested, and both have been excellent arms, pitching to ERA's below 3.00. Fernando Cruz would be the issue here, but he is rested, so as long as he doesn't have a complete blow-up, we should be fine here.
The Royals bullpen is not very good, but they have key arms rested. Taylor Clarke and Aroldis Chapman are a full go, both pitching to ERA's below 3.00. Scott Barlow should also be available, pitching to a 4.18 ERA. Those three with Greinke should do a great job today of limiting damage.
The model is obsessed with this one, capping this game at six runs. I was shocked to see it love it THIS much, but it has the same idea as me. The Reds bats should struggle today against a veteran who will feed off their aggressiveness.
Nine is a high total for these two offenses. The Royals feature one of the worst in baseball, and the Reds grade out as a slightly above-average offense overall. With how well the Royals are stationed in the bullpen and Greinke's matchup, I can understand why the model has them at one of the lowest projected totals I've seen on the model this season.
You rarely see anything in the low 3s, and the Reds are at 2.99. I found a few instances in which the projection was lower than three. On April 23, the A's were projected 2.89 runs against the Jacob deGrom. They scored two runs in that game. On April 19th, the A's were projected 2.92 runs against Justin Steele; they finished with 2 runs. On April 18th, the A's were projected 2.87 runs against Marcus Stroman; they scored zero runs. The Rockies back on April 16th were projected 3.00 runs against Luis Castillo; they scored zero runs.
The one time it lost was on April 5th between the Guardians and A's. The A's were projected 2.93 runs against Hunter Gaddis. They didn't score a run through seven innings, but Ryan Noda hit a solo shot, followed by a three-run home run by Jesus Aguilar to put them at four runs, and that game even went into extra innings.
It's not perfect; it's baseball. Anything can happen. But considering it's such an unusual projection and has a history of hitting, it's a play we must make.
The Picks: Reds vs. Royals Under 9 (-115) 1.15 U to win 1 U, Reds Team Total Under 3.5 (+125) 0.25 U to win .31 U
PrizePicks Entry 0.2 U to win 0.4 U
First Leg: Bryce Miller Under 5.5 Hits
This is -135 on books. He's allowed 19 hits in his last two starts. Good fastball hitters are taking advantage of Miller's heavy usage of his four-seamer. Lucky for Miller today, the Marlins are not a very good fastball-hitting team. Three starters in the Marlins lineup with a positive run value are Luis Arraez, Jesus Sanchez, and Jorge Soler. Outside of that, it's bad. The total is at 7.5, and the Mariners are favorites after the Marlins have been this dominant. This has the makings of a Bryce Miller masterclass.
Second Leg: Zack Greinke Over 3.5 Strikeouts
This play is -120 across the board, but it has to be in here. It goes along with our under, and Greinke's ability to get out right-handed bats. He has 50 strikeouts this season, with 31 coming against right-handed bats. He strikes out right-handed bats at a 19.8% clip compared to a 16.2% clip against lefties. The lefties in the Reds lineup, including Cruz and Benson, have strikeout rates over 30%. TJ Friedl probably won't strike out, but all we need is four. Bring us home, Greinke.