Analysis
MLB Picks Today, Best Bets, Odds, Predictions for April 13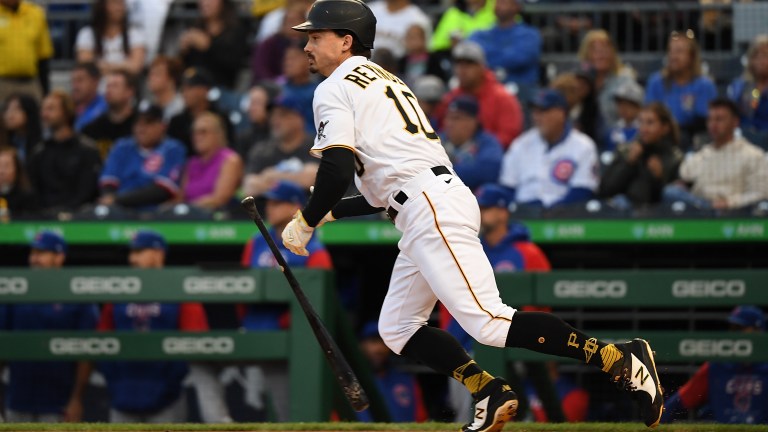 Another losing day. It's been a rough go for me, but I remain unfazed. This is the worst start I've had to an MLB season in five years, so that means I'm due for a crazy heater. I'm excited for the rest of the season, considering we are still positive on the year on game picks, and the ball hasn't bounced our way.
Today I have two game picks and a PrizePicks entry to start the heater. LET'S GO.
Just so we all know, I'm using BetMGM lines only this year. Here's a link to get started with a risk-free $1000 bet. You can also use code "JB200" if you're betting on MLB. Wager $10 on any MLB game and receive $200 instantly.
All prop entries will be on PrizePicks: Here's a link to get a 100% deposit match.
2023 Straight Plays Record: 22-20 (+0.61 U)
2023 PrizePicks Entries: 1-5 (-1.2 U)
I will track both records separately so you can track how I'm doing on game picks and PrizePick entries!
Pittsburgh Pirates vs. St. Louis Cardinals @ 7:45 PM EST
Pitching Matchup: Vince Velasquez vs. Jordan Montgomery
This line jumped out at me as soon as this lines became available.
Are the Cardinals a better team? Absolutely. Do the Cardinals have a better lineup, bullpen, defense, and starting pitcher today? Yes. So why the Pirates?
First, the Pirates are playing good baseball right now. Yes, they were shut out by the Astros yesterday after not putting up a fight against Jose Urquidy and the best Astros bullpen arms, but the Cardinals don't have that firepower on the mound today. The Astros were -160 in that matchup with Rich Hill on the mound, a better team than the Cardinals. The Pirates were at home, which helped the line, but now the Cardinals are -250 when they don't have an off day to adjust after playing at Coors Field. It's not a huge change, but it is something that certainly won't help the Cardinals get off to a good start.
The Cardinals aren't just any team coming off a series against Coors. They have a few rookies in the lineup that they rely on heavily for production that hasn't gone through this before. Those include Jordan Walker, Alec Burleson, Nolan Gorman, and potentially Juan Yepez. They should be okay, but I want to see how they adjust.
Vince Velasquez is a replacement-level pitcher. He's a journeyman off to a rough start with his new team. Is he good? Not particularly, but can he weather the storm against a Cardinals team who prefers left-handed pitching? I think so.
He'll match up against Jordan Montgomery, who is a fine pitcher, but in no way deserving of a line this high. He faced the Pirates last season, allowing two earned runs over six innings. His issue has always been right-handed bats, normally allowing an OPS close to .200 points higher than left-handed batters. The Pirates will deploy a lineup with eight right-handed bats today, with the only lefty being Ji-Man Choi, who just homered off Framber Valdez.
I give this a 40% chance of hitting. That's an implied line of +150. The model thinks it is more likely to hit, so I must throw a half unit on it.
SIM Value: Pirates ML (+114) – Pirates win 46.8% of simulations
The Pick: Pirates ML (+200) 0.5 U to win 1 U
Milwaukee Brewers vs. San Diego Padres @ 9:40 PM EST
Pitching Matchup: Eric Lauer vs. Nick Martinez
No gamble in baseball is easy, but this is a pick I have to take.
BetMGM dropped this line, and I jumped on the under for multiple reasons.
The first reason is travel. The Padres just played a tough series against the Mets and now have to travel from New York to San Diego without an off day. This tends to work even more as the season progresses, but this is still a big edge. The Brewers also have to travel, albeit not close to as far, but going from Arizona to San Diego without an off day doesn't help.
The second reason is the offenses have been lackluster. The Brewers and Padres offenses have also looked life-less lately. The Brewers' bats exploded out of the gate but now appear limping. Jesse Winker is still day-to-day for the Brewers, and they just put up four runs in three games against the Diamondbacks. The Brewers love playing in their ballpark, but on the road is where the bats can go silent.
The Padres' offense has also been underwhelming. They put up six runs in three games against the Mets and now have a 100 wRC+ on the season, which means they have a league-average offense. The Brewers have a 107 wRC+ as a team, even after a super hot start.
I don't love either bullpen, but it should be noted that all of the high-leverage arms are available. The Brewers didn't use anyone of note yesterday, and the only arm the Padres used that is considered high leverage is Tim Hill, who only threw 11 pitches and didn't throw the day before.
Nick Martinez is a fine pitcher. He hasn't been off to a great start, but he pitched reasonably well against the Brewers last season, and his better split is night games (2.78 ERA in 2022) and had a 3.83 ERA at home last season.
The third reason is the weather. It's supposed to be in the mid-50s by game time, making the hitting conditions less desirable.
To recap, I like this because the weather isn't ideal, the travel schedule is a mess, especially for the Padres, and neither offense has been performing at the level they are supposed to. It's not the best starting pitching matchup in the world but having the high-leverage relievers available puts it over the edge for me.
SIM Value: 8 Runs (-101)
The Pick: Brewers vs. Padres Under 9 (-110) 1.1 U to win 1 U
PrizePicks Entry 0.25 U to win 0.5 U
First Leg: Joe Ryan Over 2.5 Earned Runs
The Yankees own the Twins. I'm a terrible bettor for the Yankees, but the only team I'll ever fade is the Twins. The Yankees crushed him for four runs in four innings back in September, and the line is -150 for the Yankees with a rookie on the mound. They should roll against Ryan, and considering he's -140 to go over this, it's a play I must make.
Second Leg: Cedric Mullins Over 8.5 Fantasy Score
This line is crazy. Cedric is an excellent player, but rarely do you see his fantasy score this high. He's also +260 to hit a home run today, which is incredibly low for him. He's also a stolen base threat, which only adds to the fantasy score. I think he hits a home run today against Adam Oller, one of the worst pitchers in Major League Baseball.