Analysis
MLB Picks Today, Best Bets, Odds Predictions, April 10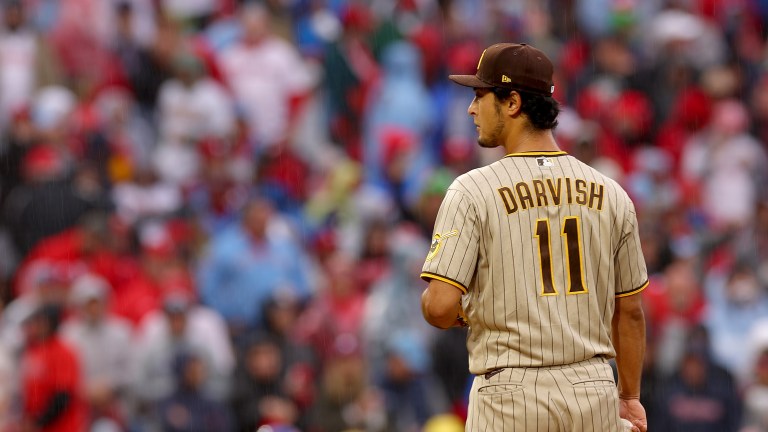 Not our best day. We went 1-2 on game picks but hit our PrizePicks entry. We were even on the day until I decided to run with the Braves on Sunday Night Baseball. The Padres won by a touchdown with a two-point conversion, so that wasn't ideal.
No matter. I'm back with three game picks and a PrizePicks entry to start the week off hot.
Just so we all know, I'm using BetMGM lines only this year. Here's a link to get started with a risk-free $1000 bet. You can also use code "JB200" if you're betting on MLB. Wager $10 on any MLB game and receive $200 instantly.
All prop entries will be on PrizePicks: Here's a link to get a 100% deposit match.
2023 Straight Plays Record: 18-15 (+2.96 U)
2023 PrizePicks Entries: 1-4 (-0.95 U)
I will track both records separately so you can track how I'm doing on game picks and PrizePick entries!
San Diego Padres vs. New York Mets @ 7:10 PM EST
Pitching Matchup: Yu Darvish vs. Max Scherzer
We should be fading the Padres. We fade the team traveling after Sunday Night Baseball. It worked last week, and it will probably work again. However, there is one problem. Yu Darvish owns the Mets.
If you know any Mets fans, text them and ask about what Yu Darvish has done to that poor fanbase. I can promise you one thing; they are terrified of that man.
They are scared for good reason. This level of dominance dates back a few years ago. In 2019, Darvish threw 14 innings against the Mets and allowed five earned runs to give him a 3.21 ERA. In 2021, Darvish didn't have a great year, posting a 4.22 ERA overall. He still threw pretty well against the Mets, tossing 5.1 innings and only allowing two earned runs. Last season is where it began to take shape, tossing 14 innings in the regular season and only allowing one earned run, a 0.64 ERA, his best mark against any team with at least nine innings thrown. The Mets met him in the playoffs and got trampled yet again. He threw seven innings while only allowing one earned run.
The Mets can't barrel Darvish. Darvish is an outstanding pitcher, so it's understandable, but this level of ineptitude against one pitcher is frankly humorous. If they snap entirely out of it for once in four years, good for them. I'm willing to pay to find out.
On the flip side, it's Max Scherzer against a Padres team that just scored ten runs and now has to travel from Atlanta to New York after Sunday Night Baseball. Nine times out of ten, we take the Mets in this spot. If it were anyone besides Darvish, we'd take the Mets. It's been one of our most profitable systems over the past few years, but today brings different circumstances.
Max Scherzer hasn't looked his best out of the gate, but his performance against the Padres is undeniably good. Yes, he got beat up in the playoffs for seven runs, but if you look at a larger sample, it's elite. Over 204 PA against the Padres' current roster, Scherzer has posted a 30.4% K rate, a .272 xwOBA, a .202 xBA, and a .377 xSLG. Those numbers are fantastic, and he pitched well against them in the regular season last year.
The picture above shows Scherzer's pitch breakdown in his last start. The spin rates are the same as last year as well. He struggled in his first start, but I'm not seeing any warning signs that point me toward a pitcher with a significant drop-off in stuff. He's not the same pitcher he was on the Nationals, but I still think he's close to last year's 2.29 ERA.
I'd prefer not to deal with any of the bullpens, so I'm taking the under through the first five innings. The model won't account for travel fatigue, so it will generally make the total higher than it should be. Citi Field is also projected as the second-lowest run-scoring environment of the day.
SIM Value: 4.5 First 5 Innings
The Pick: Mets vs. Padres Under 4 (-125) 1 U to win 0.8 U
Seattle Mariners vs. Chicago Cubs @ 7:40 PM EST
Pitching Matchup: Luis Castillo vs. Drew Smyly
This is a simple one. When winds blow straight out to left-center, you take the over at Wrigley Field. Hitting conditions spike like crazy as balls hit the air and leave the yard acceleratedly. Luis Castillo is going for the Mariners, which is a concern because he's fantastic, but from my experience betting in these conditions, it doesn't matter. A routine pop fly that Castillo gives up is most likely headed for extra bases. Sometimes there is nothing you can do.
We expect 10-15 MPH winds with wind gusts up to 18-20 MPH. All signs point to them blowing straight out. Here's an excellent website to constantly track the wind at Wrigley.
The over without the wind isn't a bad play, either. The Mariners had to use the bulk of their bullpen yesterday after a 12-inning game with Cleveland. Drew Smyly is one of the worst pitchers in baseball, so the Mariners should jump all over him. The Cubs' bullpen has been exceptional this season, but it won't be enough after the Mariners steamroll Smyly.
SIM Value: 9.5 (-115) Implied Over
The Pick: Mariners vs. Cubs Over 8 (-110) Play to 9 1.1 U to win 1 U
Houston Astros vs. Pittsburgh Pirates @ 6:35 PM EST
Pitching Matchup: Framber Valdez vs. Roansy Contreras
I had a gut feeling about this game when the line was announced, and I went to check with the model, and it agreed.
I was watching the Astros vs. Twins game and the Pirates vs. White Sox game to get a read on this series between the Astros and Pirates. I kept watching the Astros hit the ball so hard but it wasn't often turning into hits. The Astros hit 13 balls yesterday over 95 MPH but kept running into outs. Not only that, but I thought they put together some excellent ABs and put up five runs, but I was left thinking they had more in the tank.
I saw the Pirates hit nine balls over 95 MPH, but most ended up being fly ball outs, leading to only two hits and one run for the Pirates yesterday. I like both offenses a lot today, and PNC Park is projected to be the third-best run-scoring environment of the day, with winds blowing out to left field.
Framber Valdez is an excellent pitcher but doesn't look the same as last year. I've referenced these stats before, but I like to look at Pitching+ this early in the season. A pitch modeling statistic grades each pitch along with the location. It's hard to believe, but Valdez ranks 129th out of 154 starting pitchers. He sits right in between Zach Davies and Eric Lauer. His issue has been location, but the stuff doesn't look or grade nearly as sharp as last season.
The Astros also will be without Bryan Abreu in the bullpen, and Pressly pitched yesterday. They have plenty of depth, but the two best will likely not be ready to go or not as full strength.
Roansy Contreras pitches today for the Pirates, who I do like, but not today. He ranks 47th in Pitching+ this season, but it's not because of his stuff; it's due to location. The Astros are a patient bunch, so if he allows free passes, it could be an early night for him. We took the under with him last time with the wind blowing in, but now it's blowing out, and he's facing a better lineup. I don't see him pitching well today. Beyond him is a Pirates bullpen that used their three best arms yesterday. All should be available, but again, not at full strength.
We already see 8s in the market, so I'm jumping on 7.5. This line is too low for how I think they'll bring the bats today. I wouldn't expect a ton of runs early, but I believe it will end far over the total when it's all said and done.
SIM Value: 9 (-101)
The Pick: Astros vs. Pirates Over 7.5 (-115) 1.15 U to win 1 U
PrizePicks Entry (0.25 U)
Kyle Gibson Over 5 Strikeouts
The A's have the fourth-highest strikeout rate in baseball against righties, and Gibson's stuff ticked up in his last start. I think he carves them for 6-7 strikeouts. Anywhere from -150 to -170 to go over 4.5 K's. Every other pitcher keeps dominating this lineup, and I don't expect that to change today.
Zac Gallen Under 6.5 Strikeouts
The Brewers have the 12th-lowest strikeout rate in the league, and we are still waiting for Gallen's stuff to look the same. His fastball velocity has dropped, and not been a ton of swing and miss in the Brewers' lineup. -135 on books to go under compared to +100 to surpass 6.5 strikeouts. I believe he's still being priced as an ace when he doesn't quite look like it yet.