Analysis
Best Bets for World Series Game 1: Philadelphia Phillies vs Houston Astros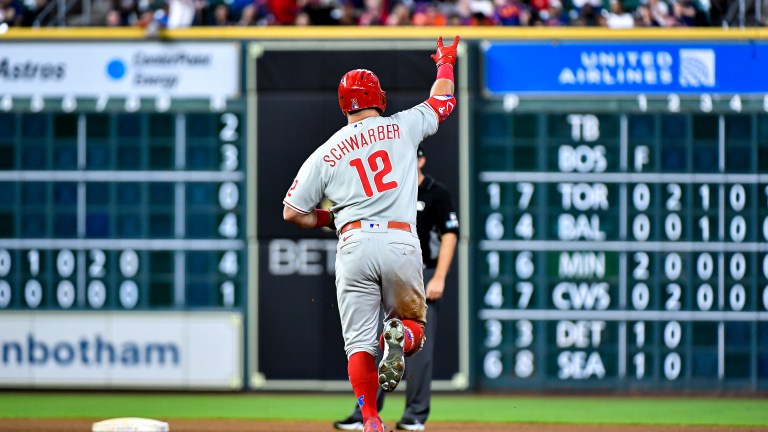 The World Series!!!!
I'll be parked in front of the TV tonight to watch every pitch of this game, and I can't wait. I have a pick for you, plus three props available on the podcast. Let's start the World Series off on the right foot.
2022 MLB Regular Season Record: 229-188 (55%) +42.09 Units
Philadelphia Phillies: vs. Houston Astros: 8:03 pm EST
Aaron Nola (RHP, Phillies) [3.25 ERA, 205 IP, 29.1% K, 2.74 xERA, 2.58 FIP, 2.77 xFIP]
Justin Verlander (RHP, Astros) [1.75 ERA, 175 IP, 27.8% K, 2.66 xERA, 2.49 FIP, 3.23 xFIP]
Game 1 of the World Series between the Phillies and the Astros. What a time to be alive.
This game is fascinating on so many levels. We have two very different teams with entirely different paths to get here. Check out my betting preview if you're curious about how these teams arrived at the World Series.
Let's evaluate each facet of the game to find our edge.
Starting Pitching
News flash, both of these starters are elite. At this point in the World Series, the game one starters will be fantastic, but it's not often we get this level of greatness. As you can see from the statistics above, Nola and Verlander had similar seasons even though the ERA was 1.5 runs apart.
Nola's advanced stats have looked like this before and are a product of his environment. Not only does he pitch at a well-known hitters' park, but his defense behind him this year is the issue. When we look at xERA, these two pitchers are not far apart. xERA is a translation of xWOBA to an ERA scale. This measures the pitchers' quality of contact allowed (launch angle, exit velocity) with the amount of contact (strikeouts, walks, hit by pitches).
Justin Verlander will win the CY Young in the American League this year, but by the numbers, Nola has been just as good.
These two pitchers don't have much experience against each opposing offense, but when they have, it's been as perfect as humanly possible.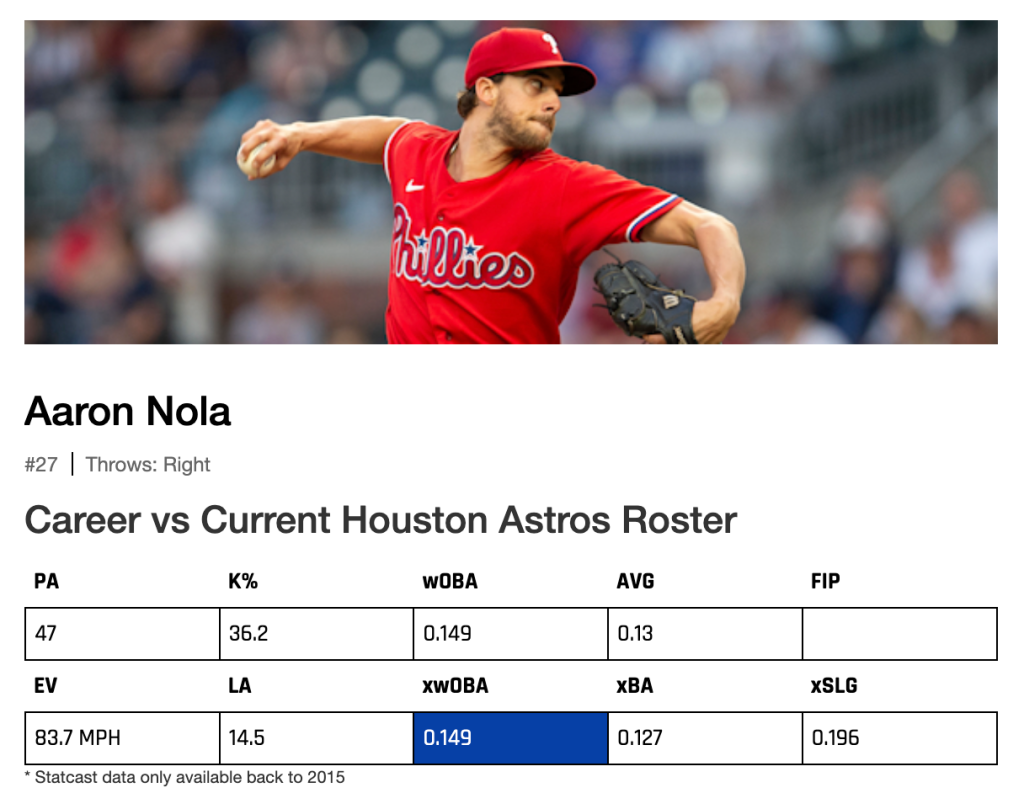 Aaron Nola's last start of the regular season was against the Astros on October 3, where he threw 6.2 innings of shutout baseball while only allowing two hits and striking out nine. Verlander was just as good, if not better, against the Phillies. He pitched the next day and threw five no-hit innings while striking out 10. Between them, only two hits were allowed.
Aaron Nola will be making his first World Series appearance, so the nerves will most likely be there. At the same time, Justin Verlander has been terrible in his career in the World Series. He is 0-6 with a 5.68 ERA.
The closest comparison to Verlander that the Phillies have faced this postseason is Joe Musgrove. Musgrove relies mainly on a fastball/slider/curveball combination, and the Phillies beat him up for four earned runs in five innings. They also mashed Max Fried's curveball.
The closest comparison to Aaron Nola that the Astros have faced this postseason is George Kirby, who features six pitches he can throw in any count with excellent command. Kirby is mostly fastball/curveball/cutter/sinker, while Nola is mostly fastball/curveball/sinker/changeup. Kirby threw seven shutout innings against the Astros in the 18-inning game.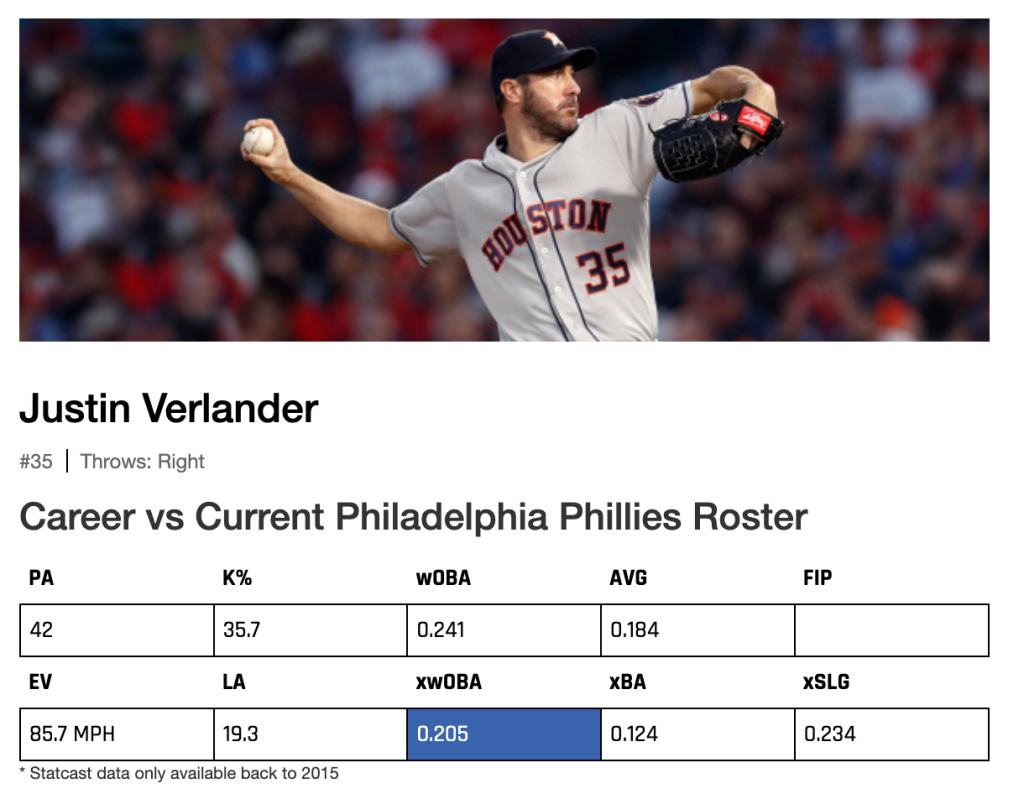 In this postseason, Verlander has a 6.30 ERA in 10 innings after a rough start against the Mariners and a great start against the Yankees. Aaron Nola has made three starts, recording a 3.12 ERA in 17.1 innings. Verlander has performed better during the regular season, but Nola is pitching better now, and Verlander has a bad history in the World Series.
Lean: Phillies
Offense
The Phillies have a balanced lineup of righties and lefties, while the Astros lean more right-handed. Both offenses had great seasons overall, but the regular season numbers for the Phillies are somewhat skewed. Bryce Harper didn't play all year, Brandon Marsh is a new addition, and Bryson Stott has emerged as a threat at the bottom of the order. The Astros look similar to how they've looked all year, which is incredibly elite.
There are two main differences between these offenses. The Phillies will display more power, but the Astros will strike out less. During this postseason, the Phillies' offense towers over the Astros in most categories, but they've also played more games.
The Phillies' lefties will see mostly fastballs and curveballs. Kyle Schwarber could struggle today as he has not performed well against the curveball, but hitters like Bryson Stott, Brandon Marsh, and Bryce Harper have performed well against those offerings.
The righties in the Phillies lineup will see primarily fastballs and sliders, and the player who has crushed both fastballs and sliders is Rhys Hoskins. JT Realmuto is also above average against both of those pitches.
It's more accessible to game plan for Verlander, considering his lack of offerings. It's clear what you'll see from Verlander; it's just a matter of putting it into action, which is very tough. With Nola, his command is impeccable with five pitches, so the batter has to go up to the plate without looking for a specific pitch to react to.
Yordan Alvarez and Kyle Tucker, the lefties in the Astros lineup, will see a wide array of pitches from Nola. Verlander is focused on three offerings, while Nola features a five-pitch mix.
We know Nola has been tougher on lefties all year, holding them to a .557 OPS versus righties at a .646 OPS. Yordan Alvarez should do damage today, as his only real weakness is the elite velocity at the top of the zone, which Nola won't provide.
Verlander has been tougher on lefties this year as well, but some of the righties match up better against him than the righties do against Nola. It's very close overall in this matchup.
Lean: Push
Umpire
The home plate umpire should help these pitchers. His name is James Hoy; he has, on average, a larger strike zone than most umpires. This should allow for more strikeouts, which would favor the Astros as they are a more contact-oriented team. At the same time, it should favor Nola as he has the higher strikeout rate.
Ballpark
Minute Maid Park grades as a pitchers' park, ranking 23rd in Park Factor on baseball savant. The roof will be closed, adding some benefit to the hitter and be easier for the defense due to the lack of wind.
My Pick
You're probably wondering, what about the bullpen? I don't want anything to do with the bullpen in this game. We'll be sure to factor in the bullpen in other articles, but my play will be through the first five innings today.
The most significant edge in my eyes is the Phillies against Justin Verlander. Considering his lack of success in the World Series, his shaky playoff resume so far this year, and the Phillies matching up well against his pitch mix, I love the value with the Phillies through the first five innings.
I think this overall line should be much closer than +135 with these two starters. I think the Phillies have a real shot at winning this game, but the tie being a push is very enticing.
I think the Phillies can jump out early but with the safety of the tie, give me the Phillies ML through the first five innings.
The Pick: Phillies First 5 Innings ML (+135)
1 Unit to Win 1.35 Units