List
Freshman Spotlight: First-Year Impact Players in Omaha
Highlighting the best Freshmen in the Men's College World Series.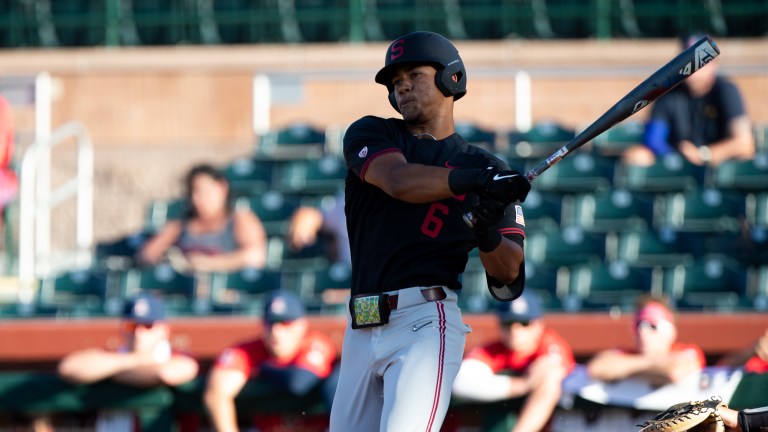 Omaha in late June is the desired destination for every single NCAA Division 1 baseball team when they begin mapping out their blueprint to the season. Only eight teams get to take to Charles Schwab Field, and more often than not, they're littered with veteran stars vying to hoist the trophy.
The best teams in the country, however, have a mix of veterans and supremely talented Freshmen and Sophomores. Here, we take a closer look at some of the best Freshmen taking the field this week in the Men's College World Series.
Braden Montgomery (Stanford)
The Pac-12, along with the rest of the nation, is terrified that Montgomery has at least two more years left before he turns pro. Listed at 6'1", 207 pounds, he's a switch-hitting outfielder with a cannon of an arm that won the Pac-12 Freshman of the Year.
Montgomery batted .297 with 18 home runs, 57 RBIs, and an OPS at .970 for No. 2 Stanford. He had a hit in 14 of his last 15 games, until game 3 against UConn where he went 0-1, but had 2 walks, a HBP, and an RBI sac fly.
Maybe the best part: Montgomery simply doesn't need to rake to contribute. In the Super Regionals, he had two homers and six RBIs batting in the fifth spot of a really potent offense. He was the No. 23 overall prospect in the class of 2021 and a Perfect Game All-American. Also a pitcher, Montgomery had 28 strikeouts in less than 19 innings of work. A serious prospect, he translates extraordinarily well at the next level.
Jack Findlay (Notre Dame)
Findlay's a 6'3", 200 pound left-hander out of the bullpen for the Irish. Findlay carries a 1.99 ERA and 0.97 WHIP over 45 1⁄3 innings coming into Omaha with 51 strikeouts and just 15 walks, while keeping opposing hitters to just a .182 batting average this season.
Findlay made the Freshman All-American Team while attacking hitters with his low 90's fastball. Most notably over the last several weeks, Findlay went the final two innings in Game 1 against No. 1 Tennessee, then shut them out over five innings in Game 3 to clinch a spot in the College World Series.
He's a clutch performer and a really valuable piece to the Notre Dame staff. Don't be surprised if he starts a game, with John Michael Bertrand being the only reliable pitcher they've had so far.
Peyton Stovall (Arkansas)
The pre-season SEC Freshman of the Year, Stovall batted .285 with 21 RBIs in just 47 games for the Razorbacks. While Stovall may not have the year long stats that rival Braden Montgomery, he's been tearing it apart this postseason.
Stovall has 12 hits in six postseason games so far and has been a really lethal bat at the end of the Arkansas lineup. He crushed a home run in Game 1 and then had a three hit day in Game 2 of their Super Regional sweep over No. 10 UNC
He was the No. 47 ranked player in his class coming out of high school. While he used to be a shortstop, he's been primarily a first baseman for Arkansas. Stovall doesn't have the notoriety like Cayden Wallace and Jalen Battles, but he's a significant piece for the revenge team of the year, and someone to look out for over the next two to three years.
Hunter Elliott (Ole Miss)
Elliott stands at 6'3", 205 pounds for an Ole Miss team that got the last invite into the tournament. The lefty went 7 1⁄3 shutout innings against No. 11 Southern Miss in Game 2 of the Super Regionals, where he only allowed three hits and retired 16 in a row while striking out 10.
Despite issuing 13 walks over the prior 3 starts, he didn't give up any free passes in his Super Regional start. Elliott carries a 2.82 ERA and 1.17 WHIP, while only giving up four long balls over 67 innings for the Rebels this season.
Ole Miss head coach Mike Bianco put him in the bullpen to start the year, but Elliott then transitioned to the rotation as the season progressed. A Mississippi native, Elliot is a must watch and could possibly start Game 1 against Auburn in Omaha.