Analysis
Washington Nationals Top Prospects
A farm system that was quite literally built overnight, the Nationals have improved their prospect pool drastically after trading Juan Soto.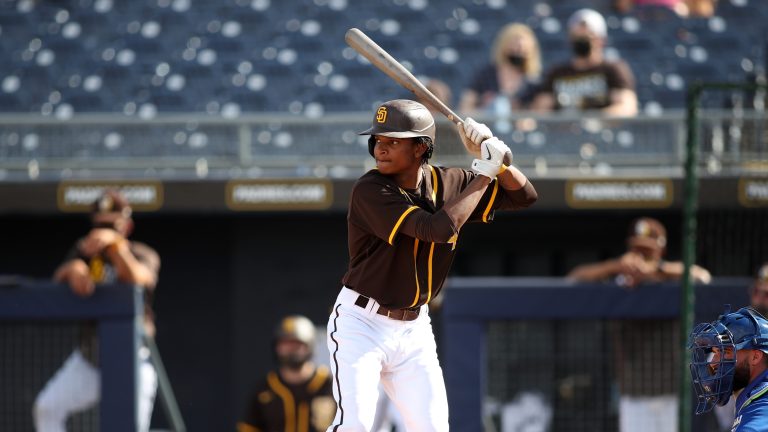 On August 1, the Nationals had one of baseball's weaker farm systems. One trade later, Washington leapfrogged a third of the league and easily stacks towards the middle of the pack.
Only a trade of a player like Juan Soto with more than two years of control can bring in such a franchise-altering package and while things may look bleak at the big league level, this farm system just became much more fun to write about.
1. C.J. Abrams – SS – (MLB)
Age: 21 | Height/Weight: 6'2′, 185 | Bat/Throw: R/R | 1st Round (6), 2019 (SDP) | ETA: 2022
| | | | | | |
| --- | --- | --- | --- | --- | --- |
| HIT | RAW POWER | GAME POWER | RUN | FIELD | FV |
| 60/70 | 45/55 | 40/50 | 80/80 | 50/55 | 60 |
A dynamic athlete with a great fee to hit, Abrams has fast tracked himself to the big leagues despite limited Minor League experience. With only 114 minor league games under his belt, Abrams is a rare example of a young player who will do much of his developing at the highest level.
Offense
Abrams utilizes an upright set-up with small hand load and minimal leg kick. His moves are simple and repeatable mechanics which is why he is able to make so much contact and frequently be on time.
Abrams has the potential to add to his power profile if he continues to add weight. He has made a concerted effort to get his lower half more involved in his swing and we started to see him generate some more natural carry, even launching a few backside homers.
Before being lost for the season with a sprained MCL, Abrams was enjoying a great year despite an aggressive Double-A assignment to start the season. The 21-year-old made improvements to his already solid approach, walking more than 8% of the time and leveraging his hitter's counts a bit better rather than just looking to put the ball in play and trusting his speed.
Defense/Speed
Once viewed as a likely candidate to move to center field, Abrams' 80-grade athleticism has helped him make major strides at shortstop. His range is unsurprisingly great and his actions have come a long way, but his arm is fringy. Abrams has good instincts and is quick enough to be able to get himself in positions to make a strong throws. At worst, Abrams projects as an average defender at shortstop.
We haven't totally seen Abrams elite speed translate into stolen bases at the big league level, though Abrams has swiped 46 bases in 109 MiLB games. It shouldn't be long before we see Abrams steal 30+ bases at the MLB level with ease.
Outlook
Abrams is an elite athlete and runner. Combined with a plus hit tool, we could be looking at a top of the order table-setter and a perennial All-Star. While the 21-year-old struggled a bit offensively after being fast-tracked to the Padres, it is important to note that he entered the 2022 season with a total of 76 professional games under his belt–nearly half of which were at the rookie level.
While he may not be a 30/30 threat, we believe in Abrams being able to tap into at least average power as he matures both physically and with his approach. Ironically, the new Nationals prospect is a bit reminiscent of a young Trea Turner.
2. James Wood – OF – (Low-A)
Age: 19 | Height/Weight: 6'7′, 220 | Bat/Throw: L/R | 2nd Round (62) – 2021 (SD) | ETA: 2025
| | | | | | |
| --- | --- | --- | --- | --- | --- |
| HIT | RAW POWER | GAME POWER | RUN | FIELD | FV |
| 35/50 | 60/70 | 45/65 | 60/55 | 40/50 | 60+ |
James Wood could wind up being one of the steals of the 2021 Draft. Signed away from Mississippi State for twice the slot value at $2.6M, he has top of the scale power potential in a surprisingly athletic XXL frame.
Offense
Wood has a quiet upright set up, with simple pre-swing moves that are easier for him to repeat with his long levers. After showing flashes of his ability at the complex last year, Wood made some small tweaks to get his lower half more involved and has started to tap into his elite raw power.
Wood's lower half adjustability is extremely impressive for a player of his stature, as is his barrel control. Despite standing at 6-foot-7, Woods' ability to repeat his pre-swing moves and barrel adjustability has helped him limit the whiffs. Not only is Wood striking out at a low clip through the early stages of his pro career, but his in-zone whiff rates are impressively low.
There's probably even more room for strength with the 19-year-old which is absurd considering the fact that he has already hit a ball 114 mph this year and boasts a 90th percentile exit velocity of 110 mph.
Boasting the ability to leave the yard foul pole to foul pole, Wood has a chance to develop into elite power paired with bat-to-ball skills that most wouldn't expect with his profile.
Defense/Speed
A good athlete, Wood played basketball as well before moving down to Florida to focus on baseball (smart move). Wood is an above-average runner with an above=average arm. His long strides help him close in on the baseball in the outfield, which has helped Wood actually look pretty good in the early going in center field. Should Wood move to a corner, he would be an above-average defender there.
Outlook
There have been few players with Woods' profile, so projecting a player like him is extremely difficult. Wood has as much upside as any prospect in baseball and his relatively advanced feel to hit for his age/experiences hedges the extreme perceived risk.
Impressive knowledge of the strike zone and the ability to play all three outfield spots have him looking like a potential Aaron Judge type of talent, but for every Judge there are dozens of John Mayberry Jr.'s.
That said, the more James Wood I see, the more belief I have that he can be closer to Judge than Mayberry.
3. Robert Hassell III – OF – (High-A)
Age: 20 | Height/Weight: 6'2, 195 | Bat/Throw: L/L | 1st Round (8) – 2020 | ETA: 2024
| | | | | | |
| --- | --- | --- | --- | --- | --- |
| HIT | RAW POWER | GAME POWER | RUN | FIELD | FV |
| 50/60 | 40/50 | 40/50 | 55/55 | 45/55 | 55 |
Nearly a .300 hitter in his two professional seasons, there's little question in regards to Hassell's hit tool. With above-average speed and a good chance to stick in center, how much power Hassell develops at the plate will ultimately decide whether he is a solid regular or perennial All-Star.
Offense
Featuring a simple and easy swing with quiet, repeatable mechanics, Hassell's quick bat and ability to control the barrel allow him to get to tough pitches. Hassell's an extremely athletic hitter who can spray the ball foul line to foul line with a good approach.
As he mentioned on our prospect podcast, "the Call Up" Hassell is still working on his lower half consistency in order to tap into a bit more power. He has a tendency to get on his front foot on occasion, cutting off his swing a bit and leading to occasional top spin ball to right field.
This is very common in young hitters and it should be cleaned up with with more at-bats. Even so, Hassell is such a good athlete and so twitchy that he can get still drive the ball even when he is off-balance.
It looks like Hassell could put on anywhere between 20 and 30 pounds of muscle over the next couple of years if that's the route that he wants to go, but as he continues to solidify himself as a true centerfielder, he could ultimately continue his development as more of a gap-to-gap hitter with good complementary tools.
Defense/Speed
He's currently a fringe plus runner who takes long strides and has great closing speed in the outfield. If Hassell slows down a bit due to added strength, there is a chance he moves to a corner where his arm would more than play.
It seems like Hassell is not too eager to put on weight and slow down as the speed component of his game is something he prides himself on. Hassell stole 34 bags on 40 attempts last year and is on pace to match that total in 2022.
Outlook
Hassell has the potential to be an impact, middle of the order bat once/if he fills out. As time passes, I continue to see more of a young Christian Yelich profile for Hassell, rather than a guy who is going to throw on 20 pounds of muscle and anchor a corner.
Athleticism and mobility is a big part of Hassell's game from the batter's box to center field and the base paths. Naturally, the 20-year-old should start to impact the baseball with a bit more authority and should be able to tap into 20 homer power, but a 20/20 profile with a high batting average and staying power in center field seems like the most likely profile for Hassell.
4. Elijah Green – OF – (CPX)
Age: 18 | Height/Weight: 6'3, 215 | Bat/Throw: R/R | 1st Round (5) – 2022 | ETA: 2025
| | | | | | |
| --- | --- | --- | --- | --- | --- |
| HIT | RAW POWER | GAME POWER | RUN | FIELD | FV |
| 30/50 | 60/65 | 40/60 | 70/70 | 40/55 | 55+ |
One of the best athletes we have seen in years, Green is built like a linebacker and flies. This does not come as a total shock given the fact that his father was an NFL tight end for a decade, but Greene's physical talent gives him sky-high upside to dream on.
Offense
Already pretty maxed out physically, Green has flashed exit velocities that you rarely see from a player his age. Green utilizes a simple toe tap and hand load, relying on his impressive bat speed and strength to impact the baseball, which is a bit reminiscent of Starling Marte.
Green uses the whole field really well and controls his body impressively for such a raw hitter. Green seems to know his swing and repeats his moves pretty well. With the way Green's hands work, he can get to tough pitches and is able to get around on hard stuff in.
It's easy to see big time upside with Green offensively and given how hard he hits the baseball, there is big power potential. That said, Green's swing is more line drive-oriented which is not necessarily a bad thing provided his elite speed.
Defense/Speed
Green ran a ridiculous 6.16 60-yard dash as a high schooler and his electrifying speed helps him cover a ton of ground in center. Like many other young outfielders, Green could improve upon his reads and routes, but there's no doubt that he can be a great defender up the middle. Green gets to his top speed quickly and should be a menace on the base paths.
Outlook
A potential No. 1 overall pick candidate, the Nationals were thrilled to nab Green with the fifth pick of this year's draft. Green has as much upside as any player in the 2022 class and the more I watch, the more I believe that there is above-average bat-to-ball skills in there as well.
Green should have no problem sticking in center and has a chance to produce impressive power numbers. While there is not much more room to fill out for Green, he is as physically imposing of an 18-year-old as we have seen in pro-ball in a while.
With tools across the board and impressive bloodlines, there's plenty to dream on with Green. The Nationals are hoping for a five-tool centerfielder here and if he hits enough, they might just get one.
5. Cade Cavalli – RHP – (Triple-A)
Age: 23 | Height/Weight: 6'4′, 220 | Bat/Throw: R/R | 1st Round (22), 2020 (WSN) | ETA: 2022
| | | | | | |
| --- | --- | --- | --- | --- | --- |
| FASTBALL | SLIDER | Curveball | CHANGEUP | COMMAND | FV |
| 60/70 | 50/55 | 60/70 | 50/55 | 35/45 | 50+ |
Some of the most effortless triple-digit fastballs you will see complemented by nasty stuff, it all really comes down to the command and health for Cavalli.
Arsenal
Big, athletic right-hander with an over the top delivery that features some deception due to the natural funkiness. Big time fastball that sits in the mid-to-upper 90's with some ride when located at the top of the zone. It generates swing-and-miss in the strike zone and is extremely difficult for hitters to get to.
Cavalli's fastball command has improved and he has found more confidence in his plus curveball in the mid 80s as a put-away pitch. The right-hander's 88-90 mph changeup flashes plus and has been around the zone much more this season and he is comfortable throwing his above-average slider in the upper 80s for strikes as well.
While the strikeout numbers may not quite be where you'd expect for a guy with multiple plus offerings, the improvements made by Cavalli in the command department is encouraging.
He is still developing feel for the pitch and has a tendency to miss badly when his mechanics aren't in sync. When he locates it down and to his glove side it features sharp, late bite and tremendous shape that gives it plus-plus projection. He has trouble consistently landing it for strikes, and as he develops, it will be key to be able to do so.
Cavalli rounds out his arsenal with a mid-to-upper 80's change-up that features late arm-side run and sink and flashes plus when located down and to his arm-side. It produces both swing-and-miss as well as soft contact, and Cavalli is already deploying the offering against both lefties and righties. He has good feel for the change and it gives him another bat-missing pitch.
Outlook
Cavalli's upside rivals that of any prospect in the minor leagues, as he features three swing-and-miss offerings and the size and athleticism seen in big league aces. He will need to improve his command and feel for pitching in order to achieve his ceiling, which remains sky high. Cavalli's floor is also high due to his pair of plus-plus offerings and worst case-scenario, he is a dominant back of the bullpen piece for Washington. Given that he has only thrown 230 innings dating back to college, we believe Cavalli will continue to develop.
6. Brady House – SS – (Low-A)
Age: 18 | Height/Weight: 6'4′, 220 | Bat/Throw: R/R | 1st Round (11) – 2021 (WSN) | ETA: 2025
| | | | | | |
| --- | --- | --- | --- | --- | --- |
| HIT | RAW POWER | GAME POWER | RUN | FIELD | FV |
| 35/45 | 50/70 | 35/60 | 45/45 | 35/50 | 55 |
Arguably the best raw power prep bat in the 2021 class, House instantly became the most exciting offensive prospect in the Nationals system the second they selected him. House will take time, but could be worth the wait with his offensive upside.
Offense
House really impressed at the Complex League last year, showing off his absurd raw power, while making a decent amount of contact. House is a bit of a polarizing prospect with evaluators split on whether they believe he can hit enough to succeed.
There's some length to House's swing at times, but he has a very simple set up in the box, minimizing movement and prioritizing being on time. House's raw strength allows him to tap into impactful pop without much effort, so the simplified setup is encouraging. There's no doubt that House can make any field look small to his pull-side and he has already shown plenty of comfort letting the ball travel and going the other way.
Pitch recognition has unsurprisingly been a hurdle for the young, raw prospect. House's simple set up and present body control is encouraging and as he gets more at-bats under his belt, his ability to read spin should improve.
Defense/Speed
House moves well for his size, however speed will never be a part of his game. The 18-year-old is currently listed as a shortstop, but projects as a third baseman long-term, where is plus arm and range should give him a chance to be an above-average defender.
Outlook
House boasts as much offensive upside as anyone you're going to find in the latter half of the top 100 list. It is extremely difficult to project a teenager who is a physical monster with mixed reviews on his hit-tool, though there is just too much to dream on with House to not have the power-hitting infielder in our top 100.
7. Jarlin Susana – RHP – (Low-A)
Age: 18 | Height/Weight: 6'6′, 230 | Bat/Throw: R/R | IFA: 2021 – $1.7 million | ETA: 2025
| | | | | |
| --- | --- | --- | --- | --- |
| FASTBALL | SLIDER | CHANGEUP | COMMAND | FV |
| 60/70 | 50/60 | 30/50 | 30/45 | 50+ |
The top arm in 2021's IFA class, Susana pumps a triple digit fastball with decent command relative to his profile.
Arsenal
A gigantic 18-year-old, Susana's explosive fastball earned him nearly $2 million in international free agency coming into this season. The heater has topped at 102 mph, while sitting in the upper 90s with elite spin.
Susana throws the fastball from a high release point and it explodes out of his hand, but he has the tendency to fall off to his glove side a bit which can cause him to lose his fastball. Even so, Susana repeats mechanics pretty well for an 18-year-old of his stature.
The right-hander also has a hard slider that ranges from 88-91 mph slider with sharp bite. The pitch flashes plus and Susana already has a decent feel to throw it for a strike. Susana's distant third pitch is his changeup, but he has already shown a willingness to mix it in already and it has flashed above-average.
Outlook
Susana has more upside than any arm in the Nationals system, but is also quite far off. Unlikely to pitch above the complex this year, patience will be a virtue with the 18-year-old. Unteachable size and velocity is what made Susana the top pitching prospect in last year's IFA class and early looks at the right-hander have reinforced the kind of potential he has.
There's plenty of reliever risk when you have a pitcher of his profile, but the fastball and slider have been around the zone in the early going of his professional career and the ability to even mix in a changeup is encouraging considering how raw he is.
There's a wide range of outcomes here and a ton of risk, but even if things don't work as a starter, I like Susana's chances as a lights out reliever.
8. Cole Henry – RHP – (Triple-A)
Age: 23 | Height/Weight: 6'4′, 195 | Bat/Throw: R/R | 2nd Round (55) – 2020 | ETA: 2023
| | | | | |
| --- | --- | --- | --- | --- |
| FASTBALL | Curveball | CHANGEUP | COMMAND | FV |
| 55/60 | 45/55 | 55/60 | 40/50 | 45+ |
Injuries have interrupted what has been a really good professional career since being drafted in the second round of 2020's draft. Henry has a strong four-pitch mix, but an iffy delivery and a laundry list of injuries cast a shadow over his starter outlook.
Arsenal
Henry has an assortment of four pitches that he is comfortable throwing with his high spin, mid 90s four seam fastball leading the way. The heater really takes off from Henry's low release point, making it a good swing-and-miss pitch at the top of the zone, but he also throws a two-seamer with plenty of arm-side run.
Along with his plus fastball, Henry's change-up has the looks of a plus offering. Henry repeats his unique arm-slot with his change-up, making it difficult to differentiate out of his hand and tunneling well with his fastballs with nearly 10 mph of separation.
Henry also has a curveball that flashes above average, but he throws non-competitive pitches far too often with it. While he will steal strikes from time-to-time with the pitch, Henry's inconsistency with it has hitters not too worried about it. He has used it less this year than last.
Great command of his fastballs have helped Henry keep his walk rate at just 7% since his debut, but he will need to command his secondaries a bit better to stick as a starter.
Outlook
The results for Henry have been extremely encouraging through his first 20 professional starts, however the Nationals probably would have hoped that their second rounder would have made more starts over the last two years.
With that same notion, perhaps the only reason Henry was available in the second round of 2020's draft is because of injury concerns that dated all the way back to his early days at LSU. The Nationals are still trying to use Henry as a starter and his four-pitch mix and overall decent command give him a shot to stick as a starter.
If it weren't for his high injury risk, I would be much more confident with tabbing Henry as a starter, but if he moves to the bullpen, he could be a lights out back-end reliever.
9. Jeremy De La Rosa – OF – (High-A)
Age: 20 | Height/Weight: 6'0′, 180 | Bat/Throw: L/L | IFA: $300K – 2018 | ETA: 2025
| | | | | | |
| --- | --- | --- | --- | --- | --- |
| HIT | RAW POWER | GAME POWER | RUN | FIELD | FV |
| 35/45 | 50/60 | 40/50 | 60/60 | 40/55 | 50 |
Above-average power and plus speed make De La Rosa an interesting prospect to follow, but he will have to overcome some hit tool concerns.
Offense
An athletic hitter who has flashed impressive raw power, De La Rosa generates plenty of bat speed and whip. De La Rosa sets up on the toe of his front foot with most of his weight pre-stacked on his backside.
The 20-year-old stays in his back hip really well and generates impressive pop to his pull side which has included exit velocities as high as 110 mph. Aware of his plus pull side pop, De La Rosa can find himself looking to yank the ball a bit too much, which has resulted in a high pull rate and more rollovers.
The fact that De La Rosa controls his body so well and has found the cues that help him stay in his back hip allows him to drive the ball with authority to all fields when he looks to do so. De La Rosa is still young and the gaps in his approach have been revealed a bit in High-A.
There's no doubting De La Rosa's natural gifts and his swing is pretty advanced for his age/experience. Approach and consistency will be two things to monitor with the 20-year-old as he looks to adjust to High-A pitching after demolishing Low-A.
Defense/Speed
A plus runner, De La Rosa has played the vast majority of his pro games in centerfield. De La Rosa moves well in center and puts his closing speed on display. With a fringy arm but the ability to cover plenty of ground, center sounds like the home for De La Rosa, but he could also be an impactful defender in left.
Aggressive on the base paths, De La Rosa swiped 26 bags in 31 chances at Low-A and hasn't slowed down in High-A. He should be a threat to swipe 20-30 bags annually at the highest level if he gets on base enough.
Outlook
Despite receiving mixed reviews on his raw power, I think De La Cruz has plus pop in the tank. His lack of approach holds him back from tapping into the pop consistently, but I've seen enough swings–whether it be a pull side mammoth shot or opposite field liner–to feel confident about an above-average power grade at the very least.
De La Rosa has 20/20 upside as a centerfielder, but it will all come down to how much he hits.
10. Cristhian Vaquero – OF – (DSL)
Age: 17 | Height/Weight: 6'3′, 180 | Bat/Throw: S/R | IFA: $4.93M – 2021 | ETA: 2027
| | | | | | |
| --- | --- | --- | --- | --- | --- |
| HIT | RAW POWER | GAME POWER | RUN | FIELD | FV |
| 35/55 | 40/60 | 30/55 | 70/70 | 40/60 | 50+ |
Arguably the top overall prospect in the 2020-21 IFA class, the Nationals shelled out nearly their entire signing pool allotment on the Uber-talented outfielder. Vaquero has five-tool potential as a switch-hitter, but is also as early in his development as a prospect can be.
Offense
Originally just a left-handed hitter, Vaquero picked up switch-hitting late and the Nationals signed him with the plan to develop him as a switch-hitting centerfielder. Just 17 years old, Vaquero is extremely raw in the batter's box. He is very swing-happy and has struggled with secondary stuff in the early going.
As good of an athlete as you're going to find, Vaquero very much relies on his athleticism at this point, but many evaluators are extremely eager to see what Vaquero will look like as he matures and gets at-bats under his belt.
Standing at 6-foot-3, 180 pounds with top-of-the-scale speed, it's easy to understand why teams were willing to pay big bucks for Vaquero. He has a ton of room to fill out and his hands already work really well from the left side. Vaquero's right-handed swing already looks to be a bit ahead of what would be expected, providing plenty of optimism in regards to what he can turn into as a hitter.
Defense/Speed
Vaquero is an elite runner who glides both in the outfield and on the base paths. A 70 runner with a plus arm, it is easy to dream on elite defensive potential in center field as his instincts out there are already ahead of what you'd expect from a 17-year-old.
Outlook
Projecting a 17-year-old who has only played 50 games in the Dominican Summer League is admittedly a crapshoot, but Vaquero's upside alone makes him a top 10 prospect in this system. Newer to switch-hitting and just an extremely raw prospect in general, it will be a while before we can really see what kind of hitter Vaquero can be, but his athleticism and frame provide plenty to dream on.
Vaquero's elite speed and defensive potential take some pressure off of his bat though the Nationals are very much hoping they have a five-tool player here.
Other Names To Watch
Jackson Rutledge – RHP – (Low-A): A first rounder in 2019, Rutledge got his work in at the alternate site in 2020 and then missed a large portion of last year with shoulder issues. The 6-foot-8 right-hander has a power fastball and three secondaries he is comfortable throwing which provides hope that he can stick as a starter. However, he is 23 years old in Low-A.
Andry Lara – RHP – (Low-A): Still 19 years old, Lara has looked like a potential top 100 prospect in flashes, but has struggled with consistency. Another big righty (6'4″) with several above-average offerings, Lara has a mid-90s fastball, a sharp slider and a changeup with potential.
T.J. White – OF – (Low-A): An overslot fifth round pick in 2021, White is a switch-hitter with exciting tools. White has 30-homer potential and has a great feel for the strike zone. He will need to iron out some swing inconsistencies to reach his potential.
Armando Cruz – SS – (CPX): A $3.9 million IFA in 2021, Cruz has the ingredients to be an elite defender at short. How much impact Cruz will have offensively remains to be seen, but he boasts really impressive bat-to-ball skills and is an above-average runner.
Mitchell Parker – LHP – (High-A): A funky lefty with a pair of solid secondaries, Parker has racked up the strikeouts in bunches, but has fought command issues. Parker's ability to miss bats has helped him keep runs off of the board, but his 15% walk rate will need to be slashed to reach his upside of a No. 4 starer.
Jake Alu – UTIL – (Triple-A): A 24th round pick out of Boston College in 2019, Alu has put up really solid numbers through his first two professional seasons and has produced more power this year. Alu could be a utility piece for the Nationals if he continues to hit.