Analysis
Underrated Arizona Fall League Prospects
While they may not highlight any list of top prospects, here are some of the underrated players who are thriving in the Arizona Fall League.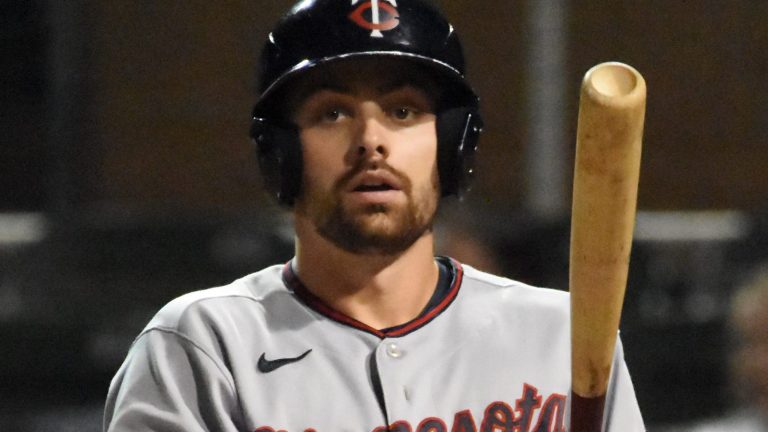 Earlier, I detailed the biggest standouts from the Fall League games I took in during my time in Arizona. As I wrote the article, there were so many more names I wanted to mention that I just simply did not have room for. That's why this time around, I am going to highlight the underrated or lesser-known prospects who caught my attention.
Werner Blakely – Infield – Angels
A fourth round pick in 2020 out of the Detroit area high school ranks, Blakely was viewed as a high risk, raw prospect. The Angels took a chance on the athletic infielder, signing him to an over slot $900,000 bonus with the 111th overall selection.
Blakely's pro debut at the complex in 2021 was a rocky one. He struck out 37% of the time in 44 games as a 19-year-old. He made a big leap this season in Low-A, producing a .295/.447/.470 line in 55 games with 24 stolen bases, while cutting his strikeout rate to 29.8%.
Injuries cut Blakely's season short and the Angels decided to send Blakely to the AFL to build off of the momentum he generated in Low-A. This was my first in-person look at Blakely, but even comparing his present swing to the video from his 2021 season, it was easy to see how much he has improved.
The 6-foot-4, 185-pound 20-year-old looked much more under control with his body and more efficient to the baseball. A premium athlete, Blakely generates plus bat speed with ease and has more room to fill out. There's potential for a plus power and speed combination here and it will likely come down to whether Blakely can hit enough. While he still has some ways to go, it was clear from even my limited looks that he is headed in the right direction.
Edouard Julien – Second Base – Twins
A ridiculous season in Double-A that saw Julien hit .300/.441/.490 with 17 homers in 113 games has catapulted Julien onto more radars, yet he is still somehow underrated. With a minuscule chase rate, high average exit velocities to all fields and sneaky speed Julien checks enough offensive boxes to be a fringe top-100 prospect.
His lack of defensive home hurts him as do his slightly high strikeout rates. Ironically, Julien does not whiff that much. His swing is compact, repeatable and quick. His willingness to get deep into counts leaves him exposed to strikeouts a bit more than you'd expect (24.2%), but also contributes to his insanely high walk rate (19.8%). Julien also struggled against LHP.
It's just so easy to see a big leaguer here with Julien though. An OPS well over 1.000 as a 22-year-old in Double-A speaks for itself and his command of the strike zone is impressive. There's mixed grades on his power, but after seeing him take BP as well as square some baseballs up in game, paired with the data, I'd put a plus power grade on Julien.
It's the swing and pitch recognition skills that really sold me on Julien. The swing is built to catch up to velocity–which is more than evident by his insane 1.168 OPS against fastballs this season–and his pitch rec and plate discipline will keep him competitive against breaking balls. At worst, you have an MLB platoon piece.
Zach Britton – Catcher/Outfield – Blue Jays
Not to be confused with the longtime reliever, Britton was a fifth round pick in the shortened 2020 Draft after a strong career at Louisville. Nothing jumps off of the page with Britton, but he has consistently hit since I saw him dominate the New England Collegiate Baseball League after his Freshman season in 2018. I saw more of Britton on the Cape in the next summer where he put up an .858 OPS with sneaky pop.
Drafted as a catcher, Britton lacks the catch and throw skills to contain the run game but is a solid receiver. Britton split time behind the dish and in the outfield this season between High-A and Double-A, but has exclusively played the outfield in the AFL.
The newly-turned 24-year-old slashed .238/.381/.444 with 10 homers and 31 extra base hits in 76 games between High-A and Double-A this season and has been putting up video game numbers in Arizona.
As has always been the case for Britton, he has a feel to hit that continues to shine through no matter the level. A left-handed hitter, Britton has consistently posted solid splits and has the makings of a doubles machine who can mix in some homers. His long-term home is likely left field and it's becoming increasingly difficult to ignore his sneaky good bat.
Kevin Kendall – Utility – Mets
A seventh round pick out of UCLA in the 2021 Draft, I got my first look at Kendall on the backfields during Spring Training this year. Kendall is always going to be one of the smaller guys on the field at 5-foot-10, 175 pounds and lacks any crazy tool, but I continue to be impressed with the way he plays the game.
An injury limited Kendall to just three games this season, which is why the Mets sent him out to Arizona to make up for lost time. He has done just that hitting .286/.444/.405 while splitting time between shortstop and second base.
Kendall is scrappy and extremely difficult to strikeout with doubles power. His actions in the field are silky smooth, projecting as a plus defender at second base and a solid defender at short. He also played plenty of outfield in his amateur career.
The 23-year-old utility-man will likely never be a top prospect, but I think he can grind his way to the show.
Mason Auer – Outfield – Rays
It was a fantastic season for the Rays fifth round pick in 2021 as Auer mashed to a .290/.372/.487 line with 15 homers and 48 stolen bases in 115 Low-A and High-A games. Auer is an athletic freak reminiscent of Tyler O'Neil with his combination of brute strength and plus speed.
A JuCo product from the pipeline that is San Jacinto in Houston, Auer's ridiculous tools were more than evident in the games I saw. On top of the speed and strength, Auer has a plus arm that could profile in right field, if he does not stick in center though, I expect Auer to be able to play all three outfield spots.
There's some swing and miss concern with Auer, but for the most part he kept that in check in his first season and has so far in the Fall League. The 21-year-old's blend of athleticism and strength make him one of the higher upside prospects you'll find outside of our top 100 list.
Connor Thomas – LHP – Cardinals
A fifth round pick in 2019, Thomas has quickly climbed through the minors thanks to his polish and strike-throwing ability. After a strong showing in Triple-A last year, Thomas struggled in his second season at the level in 2022. The 24-year-old posted a 5.47 ERA while seeing his strikeout rate drop by more than 3%.
Thomas operates at just 88-90 mph with his fastball and towards the end of the season, he started going to his heavy sinker much more frequently. Thomas carried this into the Fall League, wearing out the bottom of the zone with his heavy sinker and using his above-average slider off of it.
It's obvious that Thomas is more advanced than most of the players in Arizona, but his numbers have been impressive regardless. The southpaw has allowed just three earned runs in 17 2/3 innings with 24 strikeouts and just four walks.
Thomas has a small margin for error, but his ability to locate and give hitters different looks was impressive. He can manipulate his fastball to have varying amounts of arm-side run while doing the same with his slider in the other direction. With strong numbers against lefties, Thomas could be a useful swingman.
Abner Uribe – RHP – Brewers
Uribe may be the most anonymous flame thrower in the Minor Leagues. Injuries and an $85,000 signing bonus have caused Uribe to fly under the radar, but when he is on the mound, his stuff is head-turning.
Touching 102 mph several times, Uribe sits 99-100 mph with his fastball. He also features a sharp slider in the upper 80s. The arm speed from Uribe is ridiculous and he can attack hitters with a riding fastball and a sinker with late run.
Aside from injuries, command issues have really held Uribe back over the last couple years. Though it's a small sample size, Uribe is enjoying the best stretch of his career command wise. After walking 17 batters in the Fall League in nine innings last year, Uribe has handed out just two free passes in his two innings of work this time around.
If Uribe can even develop fringy command, he has the stuff to be a high-leverage big league reliever.