List
Arizona Fall League Prospect Standouts
Top takeaways from a week in Arizona watching some of the best prospects in baseball get extra reps.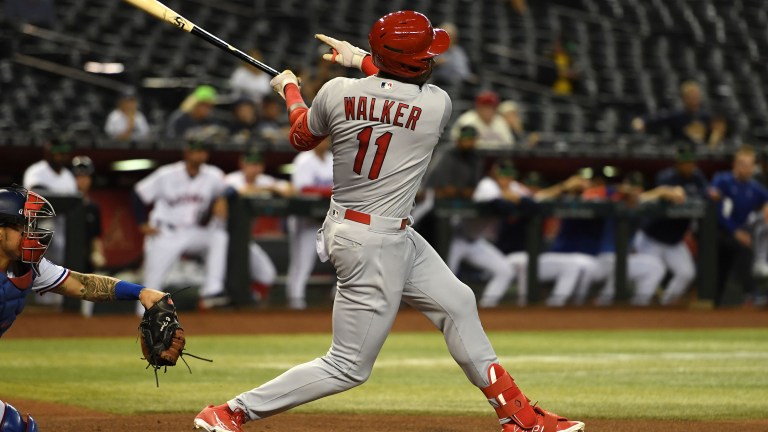 It was an awesome week out in Arizona to watch some of baseball's best prospects square off in MLB's Arizona Fall League. Every game was chock-full of elite talent and inevitable stardom. I watched as many games and batting practice sessions and had as many conversations as possible in my week out west.
Below are some of the names I saw the most of and came away with enough takeaways to write about. There's several other prospects who stood out, both in a good way and not so good way, that you can hear me talk more about on "The Call Up" podcast.
Jordan Walker – Outfield – Cardinals
I'm running out of things to say about our No. 8 prospect in baseball. He was the best player I saw in the Fall League, yet he's one of the younger players there. Though the pitching may be a tick down overall from what Walker saw consistently in Double-A this season, there were some specific at bats that really stuck out to me.
A slight nitpick with Walker this season was that he would sometimes have the tendency to pull off with his front side on pitches middle-away. The way Walker punished fastballs and really anything middle-in all year, it's easy to see why he would be looking to do pull-side damage.
In the at-bats I saw, there was a clear effort to work through the middle of the field and Walker had no issue doing so. He hit a hard slider from Sandy Gaston back up the box and then also drove a backside double into the right center gap.
Walker is still just 20 years old and seems so in-tune with himself as a hitter. It's evident that nobody in the AFL hits the ball as consistently hard as him, but he really doesn't whiff much either. There's some players out there battling, and then others are just getting work in; Walker aligns with the latter. If I came away with anything more on Walker from the firsthand looks I got, it's that he is closer to big league ready than we may have thought. He just needs to get a bit more comfortable in the outfield.
Jeferson Quero – Catcher – Brewers
Turning 20 years old at the start of the Fall League, Quero is quickly becoming one of the most underrated young catching prospects in baseball. Between Low-A and High-A this season, Quero hit .286/.342/.439 while punching out just 19% of the time.
From video I had seen prior, I was very intrigued by Quero's bat, but the in-person look really allowed me to see how hard he works behind the dish. He moves well back there and already is a good receiver. His arm is above average and he has no fear snap-throwing from his knees. Quero gunned down 30% of attempted base stealers this season, but has taken things to another level in the AFL. Eight of the first 15 potential base stealers thus far have been erased by Quero.
The bat looks just as good in person as it did in on video. Quero has a good feel for the barrel and above average power potential. He is too aggressive right now, often swinging at pitcher's pitches early in counts and expanding the zone too often resulting in avoidable weak contact. This is extremely common for young, confident hitters and as he matures with his approach, Quero projects as an above average bat. Look out for him in or next top 100 update.
Matt Mervis – 1B – Cubs
I found it rather surprising that the Cubs decided to assign Mervis to the Fall League after the incredible season he had, but he has continued to do what he has done all year: mash. The breakout prospect is tied for the Fall League lead in homers with four, but it was the base hits that stood out to me.
Mervis is not the kind of hitter that has to sell out or cheat. He hits the ball where it's pitched, but if you make a mistake, he has the ability to put it in the seats. Several times I saw Mervis drive a fastball on the outer half into left for a base hit or stay back enough on a breaking ball and sneak it up the middle.
After demolishing Triple-A pitching, it is not surprising to see Mervis with an OPS better than 1.000 in the AFL, but four homers against just three strikeouts only further solidifies the fact that Mervis is just a well-rounded hitter. If the Cubs needed any more conformation, here it is: you have your starting first baseman for 2023.
Jackson Merrill – Shortstop – Padres
Merrill mentioned to me in a pregame interview for "The Call Up" Podcast that he wasn't even really expecting to go to the AFL. After playing only 45 games this season due to a wrist injury–he looked fantastic in those 45 Low-A games–the Padres wanted their 2021 first round pick to get more reps.
The 19-year-old has made the most of those reps, posting strong offensive numbers while flashing really exciting upside. What stood out to me with Merrill was his athleticism. He doesn't seem to get enough credit in that regard, but he is an explosive athlete and you can see it both in the field and the batter's box.
His actions at short are smooth and he has a great shot to not only stick at the position, but be an above average defender there. He commands his at-bats pretty well and has flashed plus power. Merrill can get a bit long to the ball at times though he has a great feel for the barrel. There's five tool potential here, and Merrill is one of my favorite breakout candidates for 2023.
Lawrence Butler – Outfield/First Base – A's
Too athletic for first base, Butler has continued to see more action in the outfield where he has started to develop nicely. Butler struggled with whiffs early in the regular season before finishing the year on a torrid stretch, hitting .309/.394/.594 over his last 50 High-A games of the season.
Butler's swing looks shorter and more efficient to the ball while his body is under control. The 22-year-old hit the ball hard all year (105 MPH 90th percentile exit velocity), but he was putting the ball on the ground far too often in the early parts of the year. Butler looked much more comfortable staying in his back hip and driving the ball in the air.
One of the youngest players in the 2018 draft class, Butler is still young with plenty of upside and he's trending in the right direction.
Joe Mack – Catcher – Marlins
The 31st overall selection in 2021's draft, injuries limited Mack to just 35 Low-A games in what was supposed to be his first full season this year. While Mack put up solid numbers for 35 games in the graveyard that is the Florida State League, the Arizona Fall League assignment for the 19-year-old was expected to be a challenge for him.
So far, Mack has handled everything thrown his way. Mack's three homers are tied with Andy Pages and Ronny Simon for the second most homers in the league. What stands out the most with Mack is how much more repeatable and smooth his swing looks.
Sure, the ball flies out there, but Mack launched a pair of 106 MPH homers, looking more physical as well. Like most young catchers, Mack has some work to do in the blocking and receiving department though he showed plenty of promise there too. I wouldn't be shocked if Mack is one of the Marlins best position player prospects by some point next season.
Andy Pages – Outfield – Dodgers
I'm convinced Pages is a victim of prospect fatigue. After posting a ridiculous 152 wRC+ with 31 homers in High-A as a 20-year-old last year, Pages saw his offensive output tick down in Double-A this season. A lower on base percentage resulted in just a 102 wRC+ for Pages in Double-A this season, but he still launched 26 homers and maintained the same 24.5% strikeout rate he had in High-A.
The leap from High-A to Double-A is an extremely tough one and Pages didn't see any jump in his whiff rates while still tapping into his 70-grade raw power. I was really impressed with the at-bats from Pages, and in batting practice it was easy to appreciate not only how effortless his power is, but how his athleticism helps him repeat his swing so well.
After a prospect puts up the 2021 season that Pages did, it's easy to pit him against himself when the subsequent season does not quite meet expectations. I feel confident that Pages will build off of last season and his strong Fall League performance to put up a big season next year again.
Zack Gelof – Third Base/Second Base – A's
Gelof makes me want to pull out all the old baseball cliches. He's a ballplayer, does all the little things well, etc. The newly-turned 23-year-old is just so polished with solid tools as well. A second round pick in the 2021 draft, Gelof has already reached Triple-A. Nothing quite jumps off of the page with him, but he commands his at bats as well as anyone in the Fall League and continues to get better at tapping into his above average power.
There's slightly more whiff there for Gelof than you'd like to see, however he hedges that with a phenomenal approach and the ability to drive the ball to all fields with authority. Gelof is a sneaky athlete who can play multiple infield positions and mix in some stolen bases. His game just screams "big leaguer" and he has the tools/intangibles to be an above average one at that.
Ronny Simon – Shortstop – Rays
Targeted by the Rays in the Jordan Luplow trade with the Diamondbacks, it's easy to see what Tampa loves about Simon. Though the numbers have never quite matched the talent, Simon finished the 2022 season really strong in Double-A and put his exciting upside on display in the few games I saw him.
A compact switch-hitter, Simon's twitchiness and explosive bat speed give him above average power from both sides of the plate. Simon swiped 34 bags this season and easily has 20/20 potential if he can hit enough.
The issue with Simon is how raw he still is as a prospect. Success in Double-A at 22 years old is encouraging, but he lacks an approach, chasing at a 35% clip this season. The same struggles with swing decisions were evident in the games I watched as well. If Simon can develop even a decent approach at the plate, his exciting tools would shine through.
Defensively, Simon has the ability to play all over. There's similarities to longtime Rays prospect Vidal Brujan, in the good ways and the bad.
Evan Reifert – RHP – Rays
Full transparency on this one. I watched Reifert throw a couple sliders and said, "Who the hell is this guy?!" After a quick google search, I found out that Reifert was an undrafted free agent in the 2020 who pitched to a 6.49 ERA at North Iowa Area Community College in 2019 before tossing just 2.2 innings at Central Missouri prior to the COVID shutdown.
Reifert appeared in 31 games this season, striking out 62 in just 37.1 innings, but also walked 20 with a 4.58 ERA. So far in the Fall League, Reifert has pitched 6.1 perfect innings with 12 strikeouts. His slurvy breaking is simply one of the best I've seen in the minors this year.
At 83 mph with sharp late break, the pitch is dominant to both lefties and righties. Reifert went to the pitch 55% of the time and held opponents to a .075/.212/.088 line with 61 strikeouts in 94 plate appearances. With a mid 90's fastball to go with it, Reifert will be the next Rays reliever where people will ask where in the world he came from.
Quinn Priester – RHP – Pirates
Priester had a really nice season in the upper minors for the Pirates, however he only threw 90 innings so it makes sense that the team wanted to get their top pitching prospect more work. Priester shook off a couple tough outings with a strong two innings when I was in attendance.
I was set up nicely behind home plate, and it was clear that Priester has made an effort to use his sinker more than his four seamer in the Fall League. This was extremely encouraging because Priester's four seamer fits the shape of a dead zone fastball, and was crushed by opponents this year.
The 22-year-old had much more success with his heavy fastball, getting more grounders and even more whiffs. There's no questions in regards to the rest of Priester's arsenal and his ability to get weak contact early in the count with his 92-94 mph sinker along with a pair of great breaking balls give him a really high floor with a middle rotation ceiling.
Tink Hence – RHP – Cardinals
Everything I love about Hence was evident in the limited action I saw of him. He's one of the more explosive athletes you'll find on the mound with the potential for three plus pitches. After the Cardinals did not quite take the training wheels off during the regular season, I was hoping to see Hence get stretched out a little more.
That hasn't been the case as the 20-year-old has pitched in one inning spurts in the AFL. In the single inning outings, Hence touched 98 MPH and flashed his plus curve and developing changeup. While I didn't get to see Hence stretched out, I did get to see him make quick work of older, more experienced hitters.
Assuming the Cardinals loosing up their grip on Hence a bit next season, he could turn into one of baseball's best pitching prospects soon.
To hear more about all of the Arizona Fall League performers as well as a handful of interview with exciting prospects, be sure to tune into "The Call Up" Podcast.