Analysis
Prospects Who Have Boosted Their Stock in the Arizona Fall League
These MLB prospects have taken their game to the next level in the Arizona Fall League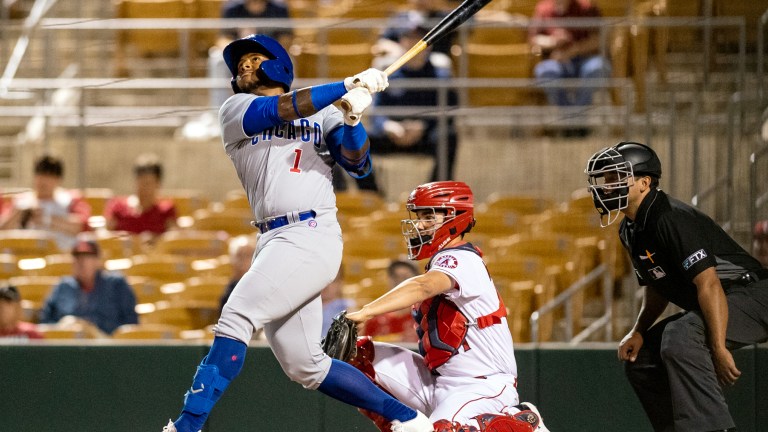 The Arizona Fall League has long served as an opportunity for teams to get their prospects more reps since 1992. Typically, the league would be filled with prospects who may have missed time during the regular season due to injury or just players whose organization felt could use some more at-bats or innings.
This year, things were a bit different. While the aforementioned criteria still holds true, there are more blue chip prospects than ever before in this year's Fall League. With the cancellation of the 2020 MiLB season, almost every prospect could use more reps. Here are some of the prospects who have made the most of their time in the Arizona Fall League so far.
Nelson Velazquez – OF – Cubs
2021 Stats (A+/AA): .270/.333/.496, 20 HR, 45 XBH, 122 wRC+, 31 K%
AFL Stats (23 G): .371/.481/.742, 9 HR, 15 XBH, 26 K%
If I hadn't made a trip out to South Bend during the regular season, Velazquez would have totally caught me off guard with his Double-A performance which he has parlayed into his show-stopping run in the AFL.
Even though his numbers were not fantastic at the time, Velazquez had a presence in the box. Despite only being listed at six-foot, 190 pounds, he has a solid frame and wiry strength that can be seen when he unleashes his violent swing. I was really impressed with the amount of power Velazquez was able to produce with minimal effort. His swing was smooth and repeatable and he got better at repeating it as the year went on.
A big reason for Velazquez's twitchy power and ability to repeat his swing movements well is his athleticism. While he is likely to wind up in a corner, Velazquez has above average speed, making 35 starts in center field and swiping 17 bases.
Thanks to his explosive lower half, Velazquez has already been able to produce exit velocities above 110 MPH on several occasions. Swing and miss was always a bit of a concern with the 22-year-old, but some simplifications in the batter's box have helped him make more consistent contact and he has shown an ability to hit all types of pitches well.
Velazquez was already a prospect who was hitting his way onto radars with his torrid end to the regular season in Double-A, now that he is pacing the Arizona Fall League in homers, it is time to take this kid seriously.
JJ Bleday – OF – Marlins
2021 Stats (AA): .212/.323/.373, 12 HR, 45 XBH, 97 wRC+, 22 K%
AFL Stats (21 G): .325/.434/.602, 5 HR, 13 XBH, 19 K%
There's no way around it, the 2021 regular season was a disappointing one for JJ Bleday. The No. 4 overall pick in the 2019 MLB Draft was viewed as one of the safest bats available after a track record of hitting and an explosion of power in his junior season at Vanderbilt.
Bleday fit the description of the kind of prospect who just needed to go get more at-bats. The Marlins remained adamant that they were not worried about their top outfield prospect, citing the batted ball data as an indicator of some potential positives.
Whether that was front office speak or not, it was clear that Bleday needed to make some adjustments to his swing and he did just that. Bleday quieted down some of his pre-swing movements which were difficult to time up and also worked on keeping his weight stacked in his back side a bit more. Since making the adjustments, Bleday has been on time more often and has hit the ball with more authority thanks to his lower half being more involved and his weight staying behind the baseball.
Even if the competition is a bit weaker overall than what Bleday saw day in day out in Double-A, the fact that his swing looks different and he is hitting the ball harder than ever before should have Marlins fans excited about Bleday's turnaround.
There really was never much of a question of Bleday's bat to ball skills, even during his Double-A struggles; Bleday was just not impacting the ball in a way that a player with his profile has to in order to have success. That all has changed here in the Fall League for Bleday and I expect the success to continue into big league Spring Training.
Elijah Dunham – OF – Yankees
2021 Stats (A/A+): .263/.362/.463, 13 HR, 40 XBH, 124 wRC+, 21 K%
AFL Stats (20 G): .356/.472/.603, 2 HR, 11 XBH, 10 SB, 9 K%
Signed as an undrafted free agent in 2020's shortened five round draft, Elijah Dunham has swung it well since joining the Yankees organization. Dunham has taken his game to the next level in the Fall League, which is a great sign for his preparedness for Double-A in 2022.
Had the 2020 NCAA season not been cut short, Dunham easily could have played himself into top five round consideration. As a draft eligible sophomore, Dunham was selected in the 40th round of the 2019's draft by the Pittsburgh Pirates, opting to return to Indiana University for his junior year. Prior to 2020's stoppage, Dunham was hitting .390/.495/.559 in 15 games for the Hoosiers.
Dunham has a really impressive feel to hit, timing a rhythmic leg kick consistently well ahead of a smooth swing that is geared for line drives. The left-handed hitter does have sneaky pop to the pull-side however, showing an ability unload on baseballs if a pitcher leaves one middle-in.
That above average pull-side power can result in Dunham getting a bit pull-happy at times, but his strong overall approach, great feel for the strike zone, and fantastic bat to ball skills all make up for that. Dunham is not quite a player who is getting a ton of buzz in the prospect rankings, but I'd bet that when the Yankees start looking to make some trades, Dunham will be a complementary piece that teams are asking about.
Dunham's athleticism has really been put on display too, pacing the Fall League with 10 stolen bases. The 23-year-old has the ability to play all three outfield spots and profiles as an above average defender in either corner.
There is a lot to like with Dunham and plenty of reason to believe that the Yankees got a steal here as an UDFA. Dunham's bat to ball skills and athleticism give him a high floor and I think there is some more power in there than people give him credit for.
Owen White – RHP – Rangers
2021 Stats (Rk/A): 35.1 IP, 3.06 ERA, 2.69 FIP, 1.075 WHIP, 56 K/12 BB
AFL (5 GS): 23.1 IP, 1.16 ERA, 0.94 WHIP, 23 K, 11 BB
One of the more anonymous players with Top 100 upside, Owen White's stuff is legit. An over slot second round pick in 2018 for $1.5 million, White did not make his professional debut until 2021 due to Tommy John surgery 2019 and no season in 2020.
White's first season was cut a bit short as well due to a broken hand in May, but once he returned, he put his big time stuff on display and has continued to do so in the Arizona Fall League. A lively fastball that sits 94-96 MPH with big time spin, White gets a ton of whiffs on the pitch–especially up in the zone.
I have been really impressed with White's pair of breaking balls as well. His upper 70s curveball is already plus with two-plane break. Hitters have really had no chance against the offering, going 3 for 28 with 18 K's this year against the offering.
White's slider gives him a third speed in the mid 80s. The offering is above average, flashing plus to his glove side. Thanks to the pitch's sharp horizontal break and White's glove side command of it, he is able to bury it on the back leg of left handed hitters and sweep it off the plate away from right handed hitters.
Those three pitches are enough for White to have success and he has shown that so far. The 22-year-old does mix in a changeup as a fourth offering that is fringe-average, but play up to an above average offering thanks to the life on his fastball.
As long as his command continues to improve, White has the kind of stuff that could make him a legit No. 3 or even No. 2 starter in the big leagues.
Cole Henry – RHP – Nationals
2021 Stats (A+): 43 IP, 1.88 ERA, 2.86 FIP, 0.79 WHIP, 63 K/11 BB
AFL Stats (6 G): 19 IP, 3.32 ERA, 1.10 WHIP, 30 K/9 BB
There's a pitch sequence that Henry had to Curtis Mead–our No. 58 prospect in baseball–that I just cannot get out of my head. Henry started Mead off with a nasty first pitch slider which he waved at on the outer half. The next pitch, Henry painted the inside corner with a heater and Mead could do nothing but spit on it. Then 0-2, Meade was presumably looking for a breaker away and Henry went back to the express and blew it by Mead at 95 MPH.
The point is, Henry can attack you in a lot of different ways. Mead is one of the best pure hitters in the AFL and Henry made him look like me out there because of his ability to pitch backwards and go to any offering in any count.
A second round pick out of LSU in 2020, Henry was viewed as a bit of a developmental project after only throwing 77 innings in college. Since joining the Nationals, Henry has displayed the polish of not only an experienced collegiate arm, but a pitcher who has pro innings under his belt as well.
Henry's command has been impressive, his changeup has developed a ton since college, and his curve is downright nasty. While he did have a great stretch in High-A, only 43 innings pitched kept him from jumping onto prospect radars the way his fellow 2020 Nationals draftee Cade Cavalli did.
Now doing more of the same in the AFL, and against many hitters who excelled in the upper levels of the minors this year, Henry has done nothing but boost his stock and make that 2020 draft class look really strong for the Nationals.
There's no denying the quality of Henry's stuff, but the fact that he is comfortable going right on right with his changeup and starting hitters off with his breaking ball has me confident that he will develop into a really good starting pitcher. There are some shades of Shane Bieber here.