Rankings
MLB Rookie Rankings: Julio Rodriguez Has Stolen The Show
The Mariners' star will cruise to an AL Rookie of the Year award. But who are the other top youngsters?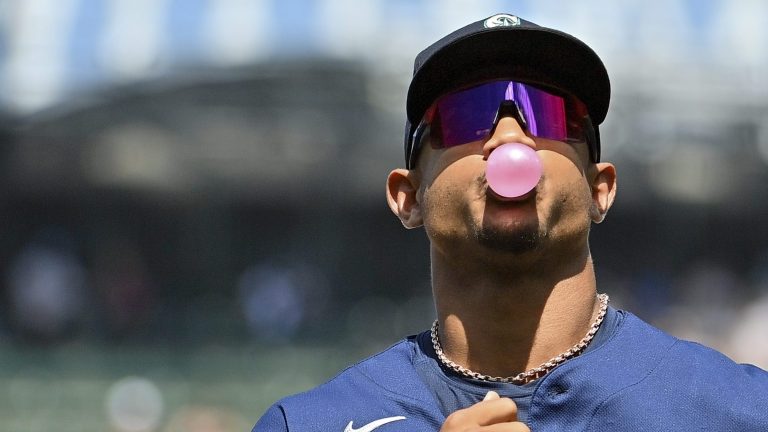 With about 50 games remaining in the 2022 Major League Baseball season, the races for the yearly awards are starting to take on their final form. While Aaron Judge and Shohei Ohtani duel for the American League MVP and Sandy Alcantara controls his own destiny in the National League Cy Young race, Rookie of the Year favorites are starting to separate themselves from the pack.
In the American League, baseball's newest superstar seems to be a runaway favorite. In the National League, two Atlanta Braves seem to be battling each other for the hardware. However, there's many more young stars that deserve recognition for their efforts in their first season of big league ball.
1. Julio Rodriguez – OF – Seattle Mariners
2022 Stats: 96 G, .271/.334/.482, 19 2B, 18 HR, 57 RBI, 21-27 SB, 3.1 fWAR
Rodriguez has quickly graduated from the "top rookie" debate and has since climbed into the top-flight player discussion. While his counting numbers are exceptional, but Rodriguez's 92.2 mile-per-hour average exit velocity on batted balls is a top-15 mark in all of baseball and he ranks 10th among all outfielders in Outs Above Average. The J-Rod Show is a full-service performance; it provides ample entertainment with power, speed, defense, and flare. 2022 simply marks the beginning of a storied career for a bright young superstar in Julio Rodriguez.
2. Adley Rutschman – C – Baltimore Orioles
2022 Stats: 62 G, .254/.365/.437, 22 2B, 5 HR, 19 RBI, 14% BB%, 17% K%, 2.6 fWAR
Despite a slow start to his Major League career after injuries hampered his first couple of months in 2022, Rutschman has shown why he has the tools and the maturity to quickly become the best catcher in the game. The offensive numbers have improved, as Rutschman's hitting .353 with a 1.019 OPS since the All-Star Break while continuing to hardly ever chase or swing and miss. Defensively, the former No. 1 overall pick ranks in the 93rd percentile in pitch framing, and is in the 88th percentile among catchers with a 1.92 pop time to second base.
3. Spencer Strider – SP – Atlanta Braves
2022 Stats: 24 app. (13 GS), 89.2 IP, 3.11 ERA, 1.96 FIP, 1.05 WHIP, 138 K, 34 BB, 3.1 fWAR
Velocity is the name of the game in modern pitching, and the best rookie pitcher in all of baseball is indicative of just that. Aside from a rough outing in New York over the weekend, there haven't been many nights where Spencer Strider has looked like a typical rookie going through run-of-the-mill growing pains. Among pitchers who have thrown 80 or more innings so far this season, Strider ranks second in average fastball velocity at 98.1 MPH (only behind the Reds' Hunter Greene) and leads all of baseball with a 38% strikeout rate (Shohei Ohtani is second at 35.9%).
4. Jeremy Peña – SS – Houston Astros
2022 Stats: 87 G, .248/.292/.427, 12 2B, 15 HR, 38 RBI, 6 SB, 2.6 fWAR
Jeremy Peña burst onto the scene over the first two months of his Major League career, quelling any concerns among Astros fans that they couldn't thrive without Carlos Correa. Recent weeks haven't been as kind to Peña, however, who's hitting .191 with a .546 OPS since the All-Star Break. Still, Peña's 2.6 fWAR this season ranks tied for second among all rookie hitters with Baltimore's Adley Rutschman, and ranks fourth among shortstops in Outs Above Average.
5. Michael Harris II – OF – Atlanta Braves
2022 Stats: 63 G, .286/.322/.482, 10 2B, 10 HR, 33 RBI, 12-12 SB, 2.2 fWAR
Not only is Harris a contender for NL Rookie of the Year, but also a possible front-runner for the NL Gold Glove in center field. A free swinger, Harris hasn't been necessarily burned by his highly-aggressive approach with a .286 average. Harris opened the year in Double-A Mississippi; he now seems to be a franchise cornerstone for a team stamped for October.
6. Steven Kwan – OF – Cleveland Guardians
2022 Stats: 95 G, .298/.371/.381, 17 2B, 2 HR, 28 RBI, 9-11 SB, 37 BB, 36 K, 2.2 fWAR
All hail King Kwan. The Guardian's unearthed gem us not only second in all of baseball in contact rate behind Minnesota's Luis Arraez, but he also chases fewer pitches outside the strike zone than all but seven players in Major League Baseball. Kwan's 2.9% whiff rate has allowed him to hit to a .298 clip at this point in his first season with a 119 wRC+. With Cleveland's gluttony of riches in the Minor Leagues, there may be one fewer spot for the farm to fill with Kwan manning an outfield spot.
7. Bobby Witt Jr. – SS – Kansas City Royals
2022 Stats: 98 G, .257/.301/.451, 19 2B, 15 HR, 56 RBI, 21-25 SB, 1.9 fWAR
Witt's first month of Major League Baseball didn't quite go as planning, hitting .216 with a .558 OPS in April. However, as Detroit's Spencer Torkelson continued to sputter, Witt rose to the occasion in May with an .829 OPS. The production has continued to be spotty with a recent downtick post All-Star Break, but Witt has some of the loudest tools not just among rookies, but in all of baseball. Him being the fastest man in the game with a max exit velocity of 113.7 MPH is certainly indicative of that.
8. Jose Miranda – INF – Minnesota Twins
2022 Stats: 71 G, .279/.327/.475, 14 2B, 11 HR, 47 RBI, 1.2 fWAR
One of professional baseball's best performers in 2021, Miranda has dovetailed a .973 OPS in the minors last year into an OPS flirting with .800 in the big leagues. While he may be a free swinger to a fault at points, he's a line drive machine that hits the ball with authority and has thrusted himself into the middle of an order that seems primed to take on October as the lone representative from the AL Central.
9. Cristopher Morel – UTIL – Chicago Cubs
2022 Stats: 68 G, .263/.333/.463, 13 2B, 10 HR, 31 RBI, 9 SB, 1.5 fWAR
The Cubs' lack of transparency on the true direction of the organization could leave a sour taste in its fanbase's mouth. Is it a rebuild, or will they be in the hunt for one of the prized shortstops on the market this year? Regardless, Morel has been the ultimate palette cleanser for Cubs fans this season. Aside from elevated walk numbers, Morel's game is eerily reminiscent of former Cub Javier Báez, burying plate discipline concerns with eye-popping athleticism and top-flight exit velocities. And, like it or not, Cubs fans were in love with a young Javier Báez.
10. George Kirby – SP – Seattle Mariners
2022 Stats: 15 GS, 79.1 IP, 3.40 ERA, 3.60 FIP, 1.17 WHIP 81 K, 11 BB, 1.3 fWAR
Kirby, along with Strider, seems to be one of the select few that could be in line to start postseason games as a rookie. We know Kirby's backstory is built on a command-first approach and the "stuff" ticking up later. We've seen the start of his Major League career follow that trend, relying on a 96 MPH fastball and the confidence to deploy a slider, curveball, an changeup, while walking just 3% of opposing hitters. Kirby is exactly who we hoped he'd be; a reliable, middle-of-the-rotation start from the very start of his tenure at the highest level.
Honorable Mentions (Alphabetical Order)
Brock Burke (RP, Texas Rangers): 36 App., 56.2 IP, 1.11 ERA, 0.95 WHIP, 63 K, 13 BB, 1.4 fWAR
Burke was tried as a starter last year, but his lack of stuff resulted in struggles to miss bats. A move to the bullpen has allowed Burke's stuff to tick up several notches, as his fastball is up 3 mph and his slider has jumped by 5 mph.
As a result, Burke's strikeout rate has nearly tripled from 11.7% last year to 28.8% this year. Safe to say the newly-turned 26-year-old has found his home in the bullpen.
Reid Detmers (SP, Los Angeles Angels): 17 GS, 89.0 IP, 3.44 ERA, 4.23 FIP, 82 K, 31 BB, 1.0 fWAR
Detmers looks like he's figured things out and we'd venture to say that he will be in the top 10 by the time we update these rookie rankings again. The southpaw tweaked his slider and has been downright unhittable since.
Over his last five starts, Detmers has pitched to a 1.16 ERA while striking out 38 batters in 31 innings. Hop on the Detmers hype train while there's still room.
Brendan Donovan (INF, St. Louis Cardinals): 80 G, .282/.401/.373, 2 HR, 30 RBI, 1.4 fWAR
Donovan seems like he's come out of nowhere, but he has hit at every level and hasn't stopped in the big leagues. Donovan has made starts at six different positions while producing above average offensive numbers. The Cardinals have their super-utility man in Donovan.
Jhoan Duran (RP, Minnesota Twins): 40 App., 48.2 IP, 2.03 ERA, 0.99 WHIP, 61 K, 11 BB, 0.9 fWAR
A former top-100 prospect as a starter, Duran has seamlessly transitioned to the bullpen to become the dominant closer-of-the-future for the Twins. Duran rides a fastball that sits at 101 miles-per-hour that accompanies his 96 MPH "splinker" and a devastating power curveball that opponents are hitting .104 against. Duran has the makings of one of the best relievers in all of baseball.
Nolan Gorman (INF, St. Louis Cardinals): 63 G, .238/.313/.450, 12 HR, 26 RBI, 0.9 fWAR
A first-round pick by the Cardinals in 2018, Gorman mashed his way to the show, debuting at just 21 years old. Big power with plenty of swing and miss, Gorman has done everything the Cardinals could hope for, launching 12 homers while striking out at a 31% clip.
MJ Melendez (C/OF, Kansas City Royals): 78 G, .236/.320/.442, 13 HR, 38 RBI, 0.5 fWAR
A catcher who is athletic enough to play the outfield when Salvador Perez is in the lineup, Melendez led the minors with 41 homers last year, and is already flashing the power at the MLB level.
Melendez has hit 13 homers in his first 80 big league games and is improving with more reps defensively behind the dish.
Andre Pallante (SP/RP, St. Louis Cardinals): 29 app., 86.0 IP, 3.03 ERA, 3.95 FIP, 61 K, 0.6 fWAR
A bit of a Swiss army knife for the Cardinals this year, Pallante has made 10 starts as well as 19 relief appearances. The stuff doesn't jump off the page, but Pallante mixes well and gets a ton of ground balls. He's been a valuable swingman for the Cards.
Joe Ryan (SP, Minnesota Twins): 17 GS, 90.2 IP, 3.67 ERA, 4.21 FIP, 89 K, 25 BB, 1.2 fWAR
Ryan came out shoving to start the season and has been solid ever since, though one blow up start against the Padres (10 ER) really inflated his ERA.
Despite his fastball sitting in the low 90s, it is one of the better heaters in baseball thanks to the riding life it has along with Ryan's deception. The lack of a plus secondary pitch will probably keep Ryan fro being a frontline guy, but it is probably safe to expect a mid-threes ERA for the right-hander.
Seiya Suzuki (OF, Chicago Cubs): 69 G, .245/.316/.412, 8 HR, 32 RBI, 0.5 fWAR
Injuries and struggles with hitting breaking balls have slowed Suzuki a bit in his rookie season, but the high-priced international free agent has shown plenty to lend belief that he can be as advertised once he settles in.
Alek Thomas (OF, Arizona Diamondbacks): 77 G, .254/.310/.402, 8 HR, 29 RBI, 1.5 fWAR
Thomas was as high-floor of a prospect as you're going to find and has proven that in his MLB debut. While Thomas has not lit the world on fire, he has produced decent numbers offensively while playing fantastic defense in center and adding some value on the base paths.