Analysis
William Contreras Trade Looking Like a Heist for the Brewers
The Brewers came out big winners when they acquired William Contreras, who has been one of the top catchers in baseball this season.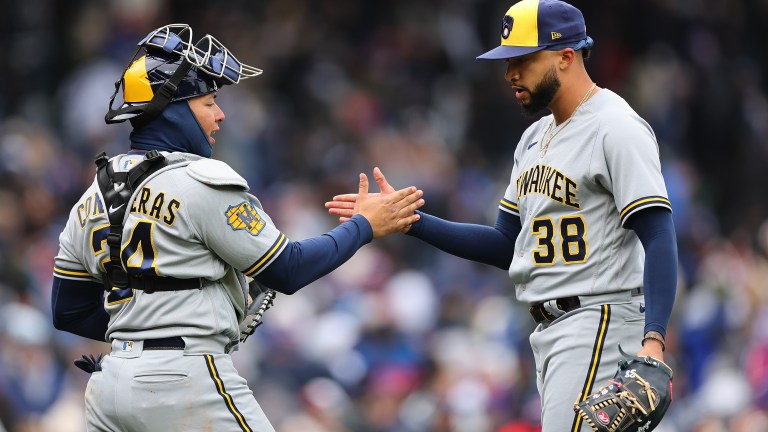 Last December, a blockbuster deal went down that sent All-Star catcher Sean Murphy from Oakland Athletics to the Atlanta Braves. While the Braves clearly did well in that deal, the Milwaukee Brewers made out like bandits in the trade.
Not only did the Brewers acquire budding catcher William Contreras from the Braves, who still has years of team control, but they also received reliever Joel Payamps from the Athletics, who has seized Milwaukee's primary setup role in the Brewers' bullpen this season. And the only player that the Brewers departed with in the deal was outfield prospect Esteury Ruiz.
Ruiz has astounding levels of speed, as he leads the American League in stolen bases with 58. However, he was buried on a list of talented outfield prospects in the Brewers' system, and his departure would not be one that the Brewers would lose sleep over, especially considering the return that they received.
The trade hasn't even had a full season to develop, and it's already looking to be a complete heist for the Milwaukee Brewers.
At the time of the trade, Contreras wasn't expected to bring much value defensively to the Brewers. Statistically speaking, he graded out as a poor defender behind the plate, but was expected to bring an elite power bat to the lineup who was susceptible to some swing-and-miss concerns.
Evidently, that expectation sold Contreras short on his potential.
This season, Contreras has evolved into a completely different caliber of player, and he has made strides in his player development both offensively and defensively.
Contreras has dialed-back his power stroke a small degree, but in turn he has developed into a more polished and overall well-rounded hitter. He has been Milwaukee's best hitter this season, and he has established himself as one of the top offensive catchers in the game.
Premier Offensive Catcher
Contreras provides a unique and valuable approach to Milwaukee's lineup. He brings a true power threat to each at-bat, but he also demonstrates his ability to manipulate his swing and hit to all fields when needed. In turn, it has not only made him one of the best run producers in the Brewers' lineup, but it has made him one of the top offensive catchers in baseball.
| Metric | 2023 | Brewers Rank | MLB Catchers Rank* |
| --- | --- | --- | --- |
| BA | .279 | 1st | 1st |
| OPS | .814 | 1st | 2nd |
| wOBA | .352 | 1st | 2nd |
| wRC+ | 121 | 1st | 3rd |
*Minimum 350 plate appearances
Contreras has an fWAR of 4.3, which is not only the highest mark on the Brewers, but it's the highest mark among qualified MLB catchers. In fact, of catchers with a minimum of 350 plate appearances, he's second only behind the aforementioned Sean Murphy.
Contreras has shown his ability to alter the game with both power and contact, and that formula has made him a model of consistency for the Brewers this season. On top of being top-three in the offensive categories listed above, Contreras' counting statistics have been excellent this season as well.
He has 33 doubles on the year, which is the most on the Brewers and the sixth-most in the National League among all positions. Contreras has continued to work the long ball into his game, as his 15 home runs are the third-most on the Brewers. His impressive capability to rack up extra-base hits has led to him being one of the most efficient run producers in the Brewers' lineup this season.
Contreras has 66 RBIs thus far, which is the second-most on the Brewers only behind Christian Yelich. Contreras' instinctual approach and innate ability to alter his swing depending on the game state has been especially noticeable.
For example, he shows the ability to swing for the fences when ahead in the count, but he has the awareness and body control to shorten up his swing and slap the ball to the opposite field when he needs to put the ball in play. It has been an extremely valuable approach to have from your two-hole hitter, and it's one that the Brewers are grateful to have.
His ability to take what the defense is giving him is why he has been so successful with runners in scoring position, where he is hitting .346 with a .949 OPS and a 156 wRC+ in 119 plate appearances.
Evolving as a Hitter
Contreras' strong quality of contact is what made him such an intriguing young bat, but his offensive game had holes entering the season. Impressively, he has managed to improve in his areas of weakness while maintaining his impactful contact in 2023.
Contreras isn't hitting home runs at the same clip that we saw last season, as his home run per plate appearance has dipped from 0.053 last season to 0.030 this year, but he has still managed to keep the home run threat as a part of his offensive repertoire while actually improving some of his quality of contact metrics from 2022.
His average exit velocity sits at 91.2 miles per hour, which is in the 78th percentile and a 0.8 mph bump from 2022. Relatedly, Contreras' hard hit rate is also up nearly two percent from last season and currently sits at 48.3%, which is in the top 15 percent of baseball. While it has decreased from last season's mark, his barrel rate is still well-above league average and sits at 10% on the year.
Contreras' ability to maintain some of the league's best quality of contact, while improving his approach has been essential to his development as a hitter. He has managed to post his best chase rate of his career at 25.2%, which is in the 72st percentile and a 2.6% improvement from 2022.
In turn, he is posting a career-low in strikeout rate at 20.1%, which is a substantial drop of 7.6% from last season. Meanwhile, he continues to draw walks at an above-average rate of 9.9%. Contreras has been much more selective with pitches this season, and it's fueled his improvements in his approach.
Not only is his overall swing rate down on the year, but his first pitch swing rate sits at 28.7%, which is down 3.6% from last season. He has harnessed a sense of patience at the plate, and he has managed to improve his bat-to-ball numbers when he does find a pitch that he likes.
Contreras has cut his whiff rate by 6.4% from last season, and while it's still higher than you'd like to see, it's a major improvement nonetheless. Additionally, his zone contact rate took an enormous jump this season, as it has climbed to 80.2%, which is a six percent increase from 2022.
Contreras was expected to bring a substantial threat to Milwaukee's lineup, and he has surpassed any and all expectations that were set from him heading into the season. However, improving his approach is not the only area of his game that he has improved upon.
Improved Defensive Performance
As previously mentioned, Contreras greatly struggled with his defensive abilities in his time with the Braves. However, the Brewers' coaching staff has managed to completely flip the script with Contreras' performance behind the dish in 2023.
The improvements that Contreras has made defensively are far from inconsequential. He has improved his pitch framing and blocking in such a significant way where he has graded as a well-above average defender in 2023
| Year | Catcher Framing Runs | Blocks Above Average |
| --- | --- | --- |
| 2021 | -3 | -5 |
| 2022 | -3 | -3 |
| 2023 | 6 | 5 |
Stats via Baseball Savant
In 2022, Contreras was in the 22nd percentile in blocks above average and in the 20th percentile in pitch framing. This season, Contreras finds himself in the 83rd percentile in blocks above average and in the top eight percent of baseball in pitch framing.
Contreras' elite pitch framing is on display nearly every time he is behind the plate. His six catcher framing runs is tied for eighth in MLB, and he has seen his strike rate jump from a subpar 45.1% last season to an above-average 48.3% in 2023.
Contreras has room to grow with catching runners on the base paths, but he has made slight improvements in both his exchange time and his pop time to second base this season, which is noteworthy and encouraging.
On top of the stats illustrated in the table above, Contreras also has the highest defensive rating (Def) among qualified catchers at 15.6, according to FanGraphs.
Contreras' ability to produce on offense was never in question. However, the jump in defensive efficiency is what has taken his game to the next level. It has heightened Contreras' value to the Brewers, and it's a major reason why he leads Milwaukee in fWAR.
Closing Thoughts
Since the All-Star break, Contreras is hitting .304 with an .870 OPS to go along with 19 doubles, six home runs, and 34 RBIs. He's been swinging a hot bat down the stretch for Milwaukee, and he recently had a 14-game hit streak snapped on Tuesday night, which was the third time this season that Contreras had a hitting streak of 10 games or more.
His bat is a large reason why the Brewers offense got so hot over the past few weeks, and it will continue to play a major role for the offense as they attempt to fend off the Cubs in the midst of an epic pennant race.
William Contreras has been extraordinarily valuable for Milwaukee in his first season in a Brewers uniform.
Offensively, he has been able to generate high-quality of contact while enhancing other aspects of his game, such as a developing a more patient approach at the plate, while simultaneously improving his contact rates. He has done so by making slight adjustments to his swing depending on the game state, and it's a process that has paid off for Contreras and the Brewers this year.
Defensively, Contreras went from being one of the worst defensive catchers in MLB to becoming a well-above average defender this season. He did so by improving his blocking and pitch framing, and it has created yet another avenue for Contreras to make an impact on the game.
Contreras, still just 25 years old, and in pre-arbitration until 2025, and the Brewers managed to pry him away from the Braves without scarifying a major organizational asset. It's a move that is paying enormous dividends for the Brewers this season, and Milwaukee will continue to reap the benefits of their masterful trade for years to come.