Analysis
William Contreras: More Than Willson's Brother
William came into this season most known as Willson's younger brother, but the Braves catcher is starting to make a name of his own in Atlanta.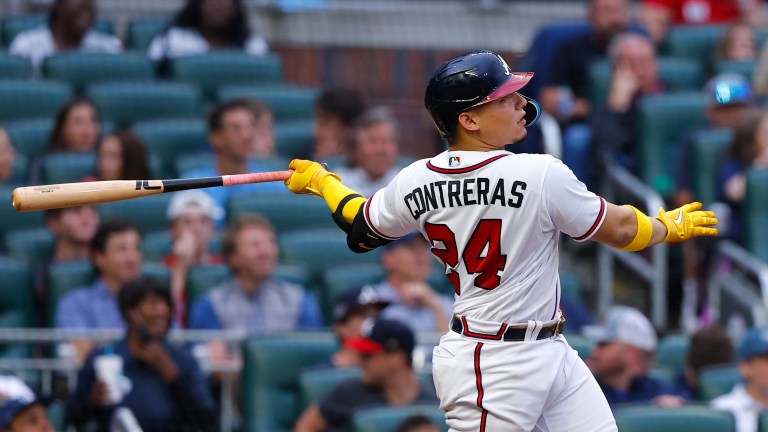 After winning the 2021 World Series, the Atlanta Braves made the difficult decision to let franchise stalwart Freddie Freeman walk. Atlanta replaced former MVP by acquiring Oakland Athletic, Matt Olson. No slouch himself.
The return going back to Oakland was headlined by 24 year-old catching prospect, Shea Langeliers (Just Baseball's #69 prospect). Letting go of Langeliers hurts, but the pain was eased by another 24 year-old catcher in Atlanta's system: William Contreras.
The Contreras family must having catching in their blood. William's brother, Willson, is widely considered a top tier offensive catcher in all of baseball. William is starting to follow his footsteps.
After a cup of coffee in 2020, Contreras saw action in 52 games last season. He flashed some pop with eight home runs but the rest of his game still needed some fine tuning. The Braves brought in Manny Pina, a glove-first catcher, but an injury has limited him to five games, forcing Contreras into the primary back-up spot.
While the work behind the plate needs polishing, the bat is playing at a big league level. In fact, his 196 wRC+ through 71 plate appearances confirms that. In 2022, Contreras is slashing .302/.380/.714 with seven home runs. His .324 BABIP would suggest his numbers will tick down a bit, but when 50% of your fly balls leave the yard that BABIP will remain high.
Through 44 events, Contreras owns a 18.2% barrel rate and 50% hard hit rate. Both are crazy good, although the sample size is small. The Braves obviously see something in Contreras. Not only did the trade one of their top prospects, they have played Contreras in the outfield (once) in a desperate act to get his bat in the lineup. Atlanta has worked him into the lineup at designated hitter as well, especially against left-handed pitchers where he is slashing .316/.458/.790 on the year.
Atlanta has rotated players into the designated hitter spot, giving Marcel Ozuna and Ronald Acuna a break from the field. Once Acuna settles into right field, Contreras could see more action at designated hitter. A combination Marcell Ozuna, Travis Demeritte, Adam Duvall, and Guillermo Heredia have filled out the corner outfield innings, but all have a wRC+ under 100.
At some point, Ozuna and/or Duvall will play less if their performance keeps up. Contreras needs to capitalize on the opportunity. Who knows how he will pan out. Maybe we are seeing a flash in the pan. Maybe we are seeing a legitimate offensive weapon. Either way, the 27-27 Atlanta Braves need to find out by giving Contreras regular at-bats.