Analysis
Why the Colorado Rockies Should Trade C.J. Cron at the Deadline
While C.J. Cron has been a bright spot for the Colorado Rockies in 2022, now might be the time to maximize his value at the trade deadline.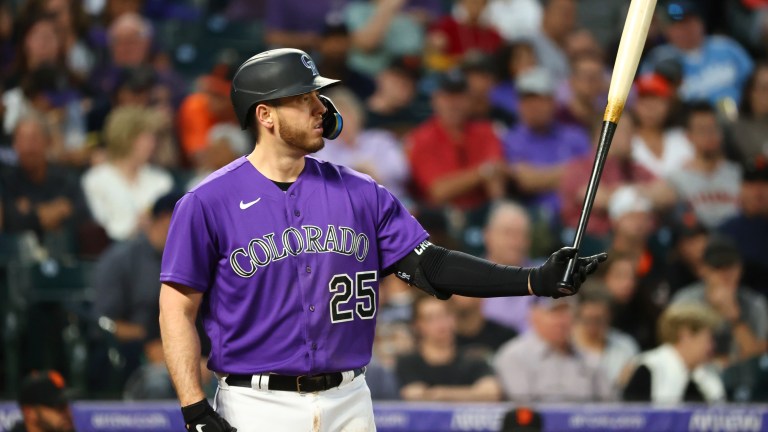 C.J. Cron has been a machine in the 2022 season. At the ripe age of 32, Cron was named an All-Star for the first time in his career. He is putting up numbers that we've never seen him put up before.
While that may seem like it is all rainbows and butterflies, there is one problem for C.J. Cron: He plays on the Colorado Rockies. Despite his incredibly productive season, Cron has no chance whatsoever of sniffing a postseason in 2022. Or does he?
Rockies fans may not like this as I'm sure they're tired of losing key players on their team (Nolan Arenado and Trevor Story in recent years still bites I'm sure). However, this organization has done absolutely nothing to make me believe they are any closer to contention in the coming years as they were when they had acquired pieces in exchange for Arenado.
In our preseason top 100 list, Zac Veen (No. 38) was the only prospect featured from the Rockies system. If Colorado wants to compete at some point, there are moves they need to make in order to bring in pieces for the future.
C.J. Cron has one more year on his deal. He will be entering his age-33 season next season. His numbers have never been higher in his career than they are this season and one has to wonder if he can ever touch these numbers again as he gets older.
It would behoove the Colorado Rockies to maximize Cron's value, bite the bullet, and acquire prospects in exchange for one of the most elite power hitters in the game, while he still has value.
Heading into Wednesday, Cron has posted a .287/.342/.546 slash line, good for an .878 OPS. Following a breakout 2021 campaign in which Cron posted a .905 OPS, it is obvious this is a game-changing bat that teams with deeper farm systems may be open to pursuing.
In my eyes, there are three incredible landing spots for Cron that can help bring Colorado pieces that can help them build for the future.
While I don't expect teams to trade away their best prospects for the 32-year-old, I do believe the Rockies can find prospects that make the move of trading Cron worth it in the end.
New York Mets
The New York Mets quietly could be a solid fit for the Rockies to trade Cron with a fair return in place. The Mets have been reportedly interested in Josh Bell, a division rival, as well as Willson Contreras from the Cubs and Trey Mancini with the Orioles.
If the Mets do not wind up with any of those players, there may be some desperation to acquire a power bat. The combo of Cron and Alonso in the same lineup could be devastating for pitchers in the postseason.
The Mets have several controllable MLB-ready prospects that may be appealing to Colorado, including names like Mark Vientos, Khalil Lee, Nick Plummer and Jose Butto that may be of interest for Colorado. They also have stopgap veterans like J.D. Davis and Dom Smith that could be had in any deal, who the Rockies can hope will resurrect their careers in the friendly confines of Coors Field.
Houston Astros
The Houston Astros have Yordan Alvarez in their everyday lineup at DH. However, they currently have Yuli Gurriel playing first base and, while that has worked for them in the past, Gurriel is starting to show his age (he's 38).
Gurriel is also a free agent at the end of the season. Houston could make a win-now move to bring in Cron to replace the .234/.286/.383 slash line Gurriel has posted. The Rockies may be intrigued by MLB-ready players in Houston's system, including Peter Solomon, Shawn Dubin, Jonathan Bermudez, Tyler Ivey, Jimmy Endersby, Corey Julks, and even J.J. Matijevic.
St. Louis Cardinals
The St. Louis Cardinals have a man by the name of Albert Pujols currently slotted as their everyday DH. While the storyline of Pujols is great, the Cardinals also need some help in the heart of their order and his .228/.311/.386 isn't good enough for the nostalgia to outweigh production in the Cardinal lineup.
St. Louis has a very deep system of solid prospects, probably the best pool out of the three teams listed here. I would be intrigued to see if an exchange of Moises Gomez, who has destroyed minor league pitching, for Cron would be a win-win for both sides.
Alec Burleson, Luken Baker, Connor Thomas, Delvin Perez, Freddy Pacheco, Julio E. Rodriguez, and Jake Walsh could all be intriguing pieces for Colorado.
While I don't believe Cron will bring back a massive return, I think now is the time to get as much value as possible for a player who may never have more value. These kinds of trades are the quiet ones that make the loudest noise down the road. If they want pieces to build around Kris Bryant, this is a move they need to make, as hard as it may be.