Analysis
Who Is the Most Underrated MLB Free Agent at Each Position?
Which under-the-radar players can provide the biggest impact at each position in this year's 2023-2024 MLB free agent class.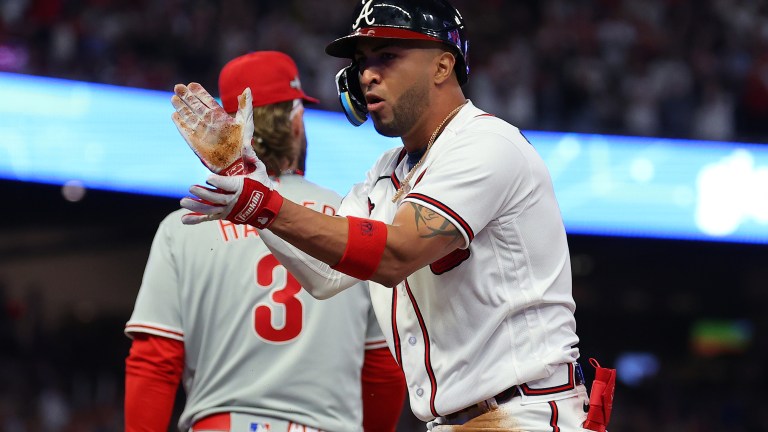 For a lot of baseball fans, we are entering one of the more exciting times of the year.
Now that the Major League Baseball season has concluded, we are awaiting the landing spots for the top free agents on the market.
We all know who the top players available are but, as you can probably tell from the title of this article, I am going to highlight an underrated asset at each position that is currently a free agent.
We recently released a 2023-2024 Free Agency Guide on the website that highlights each of the players available at each position. While there may be some overlap in the players mentioned in this article, I am going to give you a reason as to why they are of value this off-season, and why your team should be the one to bring them in to help them reach the next step next baseball season.
One thing you are going to notice is that most of these players are closer to the end of their careers than most, but that does not mean that they cannot be contributors in 2024.
Catcher: Francisco Mejia (28)
2023 Stats: .227/.258/.400 with 5 home runs, 19 RBIs, and a -0.3 WAR
Formerly ranked amongst the top of multiple prospect lists while in the Minor Leagues, Francisco Mejia has not had the opportunity to truly settle into one spot throughout his time in the majors. From San Diego to Cleveland, then ending in Tampa Bay before getting designated for assignment late last season, Mejia now finds himself in a position where he gets to decide where he wants to play and get a chance to settle in.
Francisco Mejia is still young enough where a new landing spot, where he gets to truly be comfortable, could do him some good.
The switch-hitting catcher might be smaller in stature, but his defense behind the plate has been more than serviceable throughout his time in the majors, specifically in his caught stealing and pop-time percentile which are both above the MLB average.
Given a newfound opportunity to have a choice as to where he wants to play, I am sure Mejia is going to decide on a situation that is going to be the most beneficial for him going forward.
While many teams are in need of a catcher, with how much of a revolving door it is for most organizations, I believe a team like the Milwaukee Brewers can use a nice compliment to William Contreras. It would allow him to provide Contreras with more opportunities to fill the DH role and preserve him down the stretch of the year.
First Base: Garrett Cooper (32)
2023 Stats: .251/.304/.419 with 17 home runs, 61 RBIs, and a 0.3 WAR
After having watched Garrett Cooper's career closely throughout the past couple of seasons, I am convinced that he is one of the more underrated hitters in the game today.
When he is on one of his heaters, it is tough to pitch to him. The issue that has plagued him consistently is the obscure injury bug that he catches.
The body does, in fact, take such a beating throughout a season, but it is never a traditional injury that keeps Cooper out of the lineup as much as he is. For example, he missed a long stretch of games this past season dealing with an ear infection.
Add that to the elbow, finger, and leg injuries he also sustained in 2023 and you likely find the reason why he is not mentioned when talking about one of the better hitters at the first base position.
It is also the reason why the Marlins chose to deal him at the deadline and acquired Josh Bell.
Defensively, he is not the best. A DH role is likely better-suited for him, but you would be remiss if you believed that he could not go out onto the field for 40% of games for a team looking to compete this year.
Every team could use a hitter like Cooper on their roster.
With his splits, he could be a good option for a team that is looking for a good platoon/lefty masher. When I think of a good landing spot, I continue to revert back to a team like the Texas Rangers and know he would compliment that lineup well.
Honorable Mention: C.J. Cron
C.J. Cron was another player I considered for first base. Throughout the years, he has continued to be floated around trade discussions for teams looking to acquire hitting down the stretch. I could see him taking a one-year deal this off-season and finding his way onto a contender during the second half of the 2024 season.
Second Base: Jean Segura (33)
2023 Stats: .219/.277/.279 with 3 home runs, 21 RBIs, and a -1.3 WAR
Coming off of a year in which he was a big part of the Phillies run to the World Series in 2022, Segura was able to secure a two-year deal fairly early in the off-season with the Miami Marlins.
The only difference was that he was no longer going to be playing second base, and would have to learn the intricacies of the third base position. From the very beginning, Segura was put in a rough situation and it showed after the Marlins quickly moved off from him and then proceeded to be DFA'd by the Guardians before even recording an inning with them.
We have seen in the past how a player's struggles on the field can translate to the plate. Recent examples are Eugenio Suarez when he moved from 3B to SS in Cincinnati and Gleyber Torres who moved from shortstop to second base.
Prior to his unsuccessful 2023, Segura had been one of the more consistent bat-to-ball hitters in baseball. He always kept his strikeout rate low, and had an ability to draw walks at an above-average rate.
He now finds himself back on the market with an opportunity to pick a location that will give him an opportunity to play a position he is comfortable with. While it may seem unprecedented with how things played out his first stint with the team, the Seattle Mariners seem like a good fit for Segura heading into 2024.
Honorable Mention: Donovan Solano
An honorable mention for me here, even though he has the ability to play anywhere on the infield, is Donovan Solano. His versatility on the infield, and his consistent approach at the plate, would provide a team with a sense of security heading into next season with the ability to depend on him each day.
Third Base: Jeimer Candelario (30)
2023 Stats: .251/.336/.471 with 22 home runs, 70 RBIs, and a 3.3 WAR
Prior to his breakout this season, Candelario's ability was shadowed by the Tigers' struggles during his first six seasons in the Majors. 2023 was not the first season where he had success at the plate, but it really stood out when his name was one of the more coveted around the Trade Deadline, where he was ultimately dealt to the first team he debuted for in the Chicago Cubs.
It was a bit of a surprise when the Tigers decided to non-tender Candelario heading into 2023, which led to him signing a one-year deal with the Nationals prior to the trade. Now after having the success he did this past year, and exposing his talent amongst the national audience more, Candelario looks to be in line for a decent pay day that gets him a multi-year deal with a team.
He has the ability to play the corners fairly well, and also is a good hitter from both sides of the plate. While Matt Chapman headlines the third basemen in this class, Candelario is no consolation prize. In fact, for the price difference, he might be the best option available in some respects.
A team like the Arizona Diamondbacks would be a great fit for him and the young group of ascending players they have on their roster.
Honorable Mention: Giovanny Urshela
My honorable mention here is going to be Giovanny Urshela. Like Solano, Urshela has been the definition of consistency wherever he has been. He does not have much power in his bat, but his bat-to-ball skills and plus defense will give any team who signs him a great potential one year stop-gap option.
Shortstop: Amed Rosario (27)
2023 Stats: .263/.305/.378 with 6 home runs, 58 RBIs, and a 0.2 WAR
The ride of Rosario's career has been a roller coaster. Once ranked amongst the top of the Mets prospect lists, then headlining the return package for Francisco Lindor between the Mets and Cleveland, Rosario has not been able to show the consistency needed to establish himself in the big leagues.
While his inconsistencies led him to getting traded for his former teammate Noah Syndergaard at the deadline, Rosario was still an intriguing enough talent that the Dodgers took a flier on him.
Rosario played a better with the Dodgers than the Guardians, because of course he did, but one of the biggest changes was the fact that he played second base for the first time in his MLB career. Worth 3 Defensive Runs Saved in 190 innings, the sample size is small but Rosario might be able to simplify things at second base moving forward.
In a typical year, that would probably be the best thing for Rosario's career moving forward. But with this current free agent class, there is a great chance Amed is signed to be a team's Opening Day shortstop, or at least given every opportunity to be that.
Still just 28 years old, Rosario's best season may still come, but the best we have seen so far is rather serviceable. Across five full 162-game seasons, Rosario has eclipsed an fWAR of 2.0 three times and had an fWAR over 2.5 in each of his first two seasons in Cleveland.
Playing in a contract year, Rosario struggled in 2023, but if there is one thing that can be said for him at this point, he is a big leaguer and will be one for some time. All he has to do is shake off the down-year and get back to the player he was in 2021 and 2022.
Rosario is a career .272/.308/.400 hitter, who's .709 OPS and 95 wRC+ are a bit below league average. Capable of clearing double digits on home runs and steals every season, with proven durability throughout his career, teams could do a lot worse than Rosario.
When Rosario popped into my head for this position, I immediately thought of the Miami Marlins. A team that has been in search for a long-term option at the shortstop position, Rosario could be the answer to their issues that have plagued them for years.
Honorable Mention: Brandon Crawford
This may be a surprise to some, but an honorable mention here is Brandon Crawford. Yes, the bat just isn't the same anymore, it might not even be there, but the defense is still elite. At 37, he will likely be looking to serve as a one-year option for a team transitioning to new era.
Outfielders: Tommy Pham (36), Harrison Bader (30), Eddie Rosario (32)
Tommy Pham:
2023 Stats: .256/.328/.446 with 16 home runs, 68 RBIs, and a 1.8 WAR
At this point, Pham's name might not be under the radar, but his production sure has been. While that is likely due to his off-the-field shenanigans, Tommy Pham is still a good baseball player. If you watched him play during this postseason, like I am sure all of you did, you would have noticed Pham hitting clean up for the Diamondbacks consistently and it was not a surprise their offense struggled a little bit while he was dealing with his injury.
Not only can Pham still produce at the plate, but he is still playing above-average defense as well, with the ability to play all three spots. A multi-year deal isn't likely, but a team like the Astros may be in need of an outfielder now that Michael Brantley is no longer on the roster, and it allows them the opportunity to keep Yordan Alvarez in the DH role.
Harrison Bader:
2023 Stats: .232/.274/.348 with 7 home runs, 40 RBIs, and a 1.0 WAR
Bader is well-known for the web gems he generates playing the center field position since he arrived to the big leagues with the Cardinals in 2017. Since then his biggest detractor has been his inability to stay on the field. Bader has been a bit injury-prone during his career as he has only played in over 100 games three times.
The Yankees acquired him at the 2022 deadline for Jordan Montgomery in hopes that he would be a longer-term option for them in center field, while keeping Aaron Judge in a corner spot. Unfortunately, that did not play out the way they expected. Now that he is a free agent, and premiere center field defense is still highly coveted around the league, I believe a team like Minnesota, who is looking to keep Buxton in the DH role, would be a great fit for Bader.
Eddie Rosario:
2023 Stats: .255/.305/.450 with 21 home runs, 74 RBIs, and a 1.4 WAR
You can't hit what you can't see and that was never more prevalent that it was with Eddie Rosario. Prior to getting an eye surgery to help correct his vision in 2023, Rosario was struggling mightily at the plate. Rosario was a staple for the Minnesota Twins prior to the trade to Atlanta. He was a fan-favorite there and was one of the flurry of trades Atlanta made during their run to winning the World Series in 2021.
After the strong finish to the 2023 season, where he hit eclipsed 20 home runs for the fourth time in his career but for the first time since 2019, Rosario will still be a strong option for a team looking for a reliable hitter in their lineup they can plug in each day.
Rosario would be a great addition to a team looking to contend in 2024, and maybe one looking for a veteran presence to teach a group of young hitters in their lineup. I believe a team like the Cincinnati Reds or the Detroit Tigers fit that bill and would be a good landing spot for Rosario.
Honorable Mention: Michael A. Taylor
As for my honorable mention at the outfield position, I refer to the reliable Michael A. Taylor who just seems to continue to be disregarded. Providing gold-glove caliber defense at a premiere position, and also being able to hold his own at the plate when given the opportunity, Taylor fits the perfect high-end fourth outfielder role for any team needing stability in the grass.