Analysis
Were We Too Quick to Judge the Cincinnati Reds Offseason?
The Reds were widely panned for their moves this offseason, but as we look back now, it is hard to be too critical of how they went about their latest rebuild.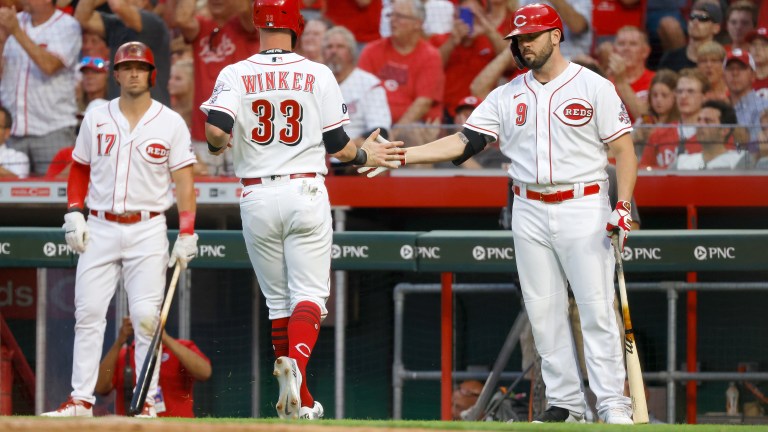 The Cincinnati Reds have not won a postseason series since the 1990s. The proud days of the Big Reds Machine are approaching 50 years in the past. The faithful Cincinnati fans have every reason to be upset with ownership and their lack of production.
After a disappointing 2020 playoff appearance and 83-79 record in 2021, the Reds front office decided to move on from a few cornerstone veterans and focus towards the future. What looked like a disaterous offseason on paper might be better than we initially thought.
Keep in mind we are near the end of June, and and each move's impact can and likely will drastically change. This exercise is just to see how early returns have faired for the Reds in 2022 and beyond.
Reds Do Not Pick Up Miley's Option
Wade Miley was injured the majority of 2020 before turning into one of, if not the best, Reds pitcher in 2021. In a bizarre sequence of events, Miley was not traded, but instead claimed by the Cubs. There must be more to this than the public knows. A one-year $10 million contract for a quality starter is fairly cheap.
The Reds were not concerned about the money as they replaced Miley with Mike Minor at a similar cost (more on that later) leaving injury as the most likely concern. In 2022, Miley has four starts and a couple trips to the injury list. Of course, Mike Minor has been injured as well.
Conclusion: Even. Miley would have taken Minor's role this season. Each have been injured and have not made much of an impact for their clubs. One-year vets on bad teams, the hope from each would be trade value at the deadline, which now looks unlikely.
Tucker Barnhart Traded to Detroit
Return: Nick Quintana
After eight seasons in Cincinnati, Barnhart was shipped north to the Tigers in a salary dump move with an older prospect in return. Tyler Stephenson was ready to assume everyday catching role and the Tigers were looking for a veteran to work with their young starters. A rare win win for both sides.
Through 46 games, Barnhart is slashing .226/.274/.255 with no home runs and a 54 wRC+. Barnhart is known for his work with the pitching staff and behind the plate, which is much more difficult to quantify. The Reds were able to move off $7.5 million while creating everyday at-bats for Stephenson.
Quintana is slashing .244/.362/.390 with a 116 wRC+ as a 24 year-old in High-A. He is unlikely to factor into the future.
Conclusion: This was a good move by the Reds. Yes, they would love to have Barnhart with Stephenson out but this was about more than catcher depth. Cincinnati wanted to do Barnhart right and give him an opportunity to start elsewhere.
Sonny Gray Traded to Minnesota
Return: Chase Petty
Gray to Minnesota might have been the moment the fanbase started to lose their cool. Gray had been a solid number two, who did not reach free agency until 2023. However, Gray had struggled with injuries and ability to work deep into games. I personally thought it was the right time to move on with the amount of rookies taking the next step.
Chase Petty is a teenager with high velocity and first rounder on his resume. Still years away from the big leagues, it is hard to say what Petty might become. The return, as a whole, seemed underwhelming. Then again, Gray came with some injury concern, which has appeared twice this season, limiting him to eight starts.
Conclusion: The Twins have the early edge on this one. Even with the injuries, Gray is rather cheap and has been great when healthy this season. I don't view this as a "loss" for the Reds, however. Gray was never in the long-term plans and they brought back a high-upside arm. I just wish the return was different.
Jesse Winker & Eugenio Suarez Traded to Seattle
Return: Justin Dunn, Jake Fraley, Brandon Williamson, Connor Phillips
This particular trade caused a wave of emotion in Cincinnati. Two fan favorites. Two All-Stars. Two staples of the Reds lineup. Both shipped across the country.
However, of the moves made this offseason, this one is my favorite. The pieces moved and acquired have multiple benefits now and in the future.
Suarez $11 millon per year until 2024 (Club option '25) is gone.
Winker is a terrific hitter, but sub-par against lefties, in the field, and on the base paths while struggling with injuries his entire career. Sold at his highest value.
Justin Dunn and Jake Fraley are MLB-ready and under team control for multiple years. Both with limited upside, but still upside.
Williamson is a top 100 prospect who could factor into the rotation in the next year.
Phillips has a very high upside and likely is a couple years away, staggering the arrival of other young arms.
Conclusion: Both teams win. Seattle is in win-now mode and filled two holes. The Reds decided their makeup of the roster would hold them back and decided to focus on the future. They added two high upside arms and inexpensive, yet MLB level depth.
Suarez is playing well in Seattle (122 wRC+) and a change of scenery seemed necessary. His contract of $11 million is not high for what he brings, but the Reds valued having financial flexibility in the future. Winker has gotten off to a slow start since being traded. His .209/.327/.299 and 93 wRC+ are well below career averages.
Williamson has flashed at times in Double-A, while Phillips is starting to look like the prize of the package. Dunn and Fraley are working back from injury.
Amir Garrett Traded to Kansas City
Return: Mike Minor
By far the hardest trade to understand from the offseason. The Reds brought in veteran lefty at $10 millon (see Miley) who can be moved on from after the season. Minor has been a solid starter throughout his career and likely was brought in to round out the rotation until the prospects were ready to go.
Garrett was a mixed bag during his time in Cincinnati. Emotional, confident, and inconsistent. Loved by some across the league and hated by others.
Conclusion: Both teams lose. I really have no idea what to make of this trade. Minor has been injured and ineffective in his four starts. Garrett has been used as today's version of a lefty specialist with mixed results. Both have a negative WAR.
Free Agents Lost: Nick Castellanos, Michael Lorenzen
Castellanos (PHI)- Five-years, $100 million
Lorenzen (LAA)- One-year, $6.75 million
We will start with the easy one. Michael Lorenzen was never returning to the Reds. After voicing his desire to start, the Reds had other plans. With the youth movement in the rotation, Lorenzen knew his best opportunity would be with another organization. Lorenzen has pitched well with the Angels this year but would not have his desired role in Cincinnati if he stayed.
Bringing back Nick Castellanos served as the last thread of hope in many fans eyes. In my eyes, letting Castellanos walk was the right decision. Paying a player coming off a career year is always risky and expensive. Castellanos 2022 slash of .253/.312/.401 is drastically different from his .309/.362/.576 2021 season.
Castellanos currently has a 99 wRC+ with seven home runs, while his atrocious defense has made him a -0.3 fWAR player. Cincinnati prioritized financial flexibility going forward over an aging (once Reds are in contention) designated hitter. Yes, I think Castellanos will have better stats at the end of the year. I still do not think it was the right contract and timing for him to have returned to Cincinnati.
Free Agents Signed/Claimed: Tommy Pham, Brandon Drury, Albert Almora Jr., Hunter Strickland, Donovan Solano, Matt Reynolds, Colin Moran
When 34-year-old Tommy Pham headlines your offseason free agent list, you might be in trouble. A list of underwhelming veterans in April has turned into several key contributors in June.
Signed late in spring training, Tommy Pham needed some time to get back up to speed. Through 58 games, Pham has slashed .258/.358/.431 with a 118 wRC+. At $6 million for 2022 with a $6 million option in 2023, Pham is looking like the perfect trade chip to be dangled at the deadline.
Brandon Drury has perhaps been the biggest surprise as he pushes for an unlikely All-Star bid. A depth option in spring training, injuries pushed Drury into a starting role which he has now cemented himself in.
After hitting .268/.332/.516 with 14 home runs and a 130 wRC+, fans are now questioning if an extension could be in his future. If not an extension candidate, Drury will go from depth to sought-after trade piece quickly.
Albert Almora Jr. (97 wRC+) and Matt Reynolds (94 wRC+) have been welcomed additions to the Reds bench, performing better than their career averages. Strickland and Moran have not been as fortunate and Solano has yet to play do to injuries.
Final Thoughts
Whether or not the Reds should have added instead of subtracted is no longer the discussion. The moves were made and the direction was set. All we can do now is analyze the moves and how they have turned out. Overall, I do not feel as if the Reds completely missed on any of them. Some better than other of course, but a complete L? I don't think so.
The Reds have one of the stronger farm systems in baseball. A youth movement has begun with more talent on the way. Joey Votto and Mike Moustakas' options are the only guaranteed contracts on the books in 2024, giving the Reds financial freedom to add where they see fit without many budgetary restrictions.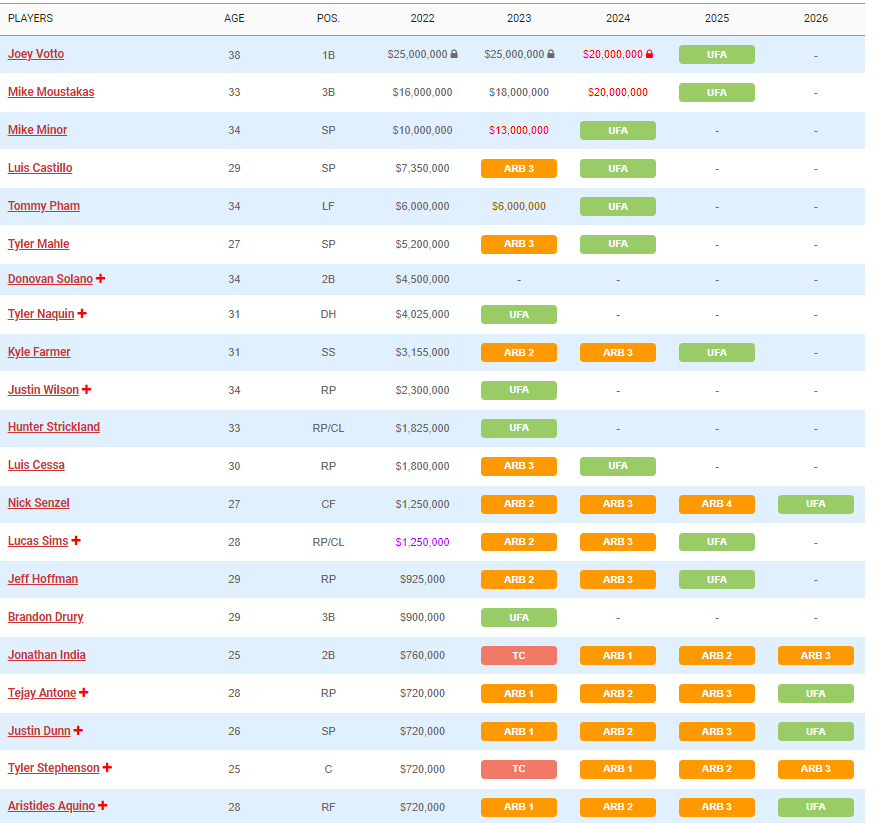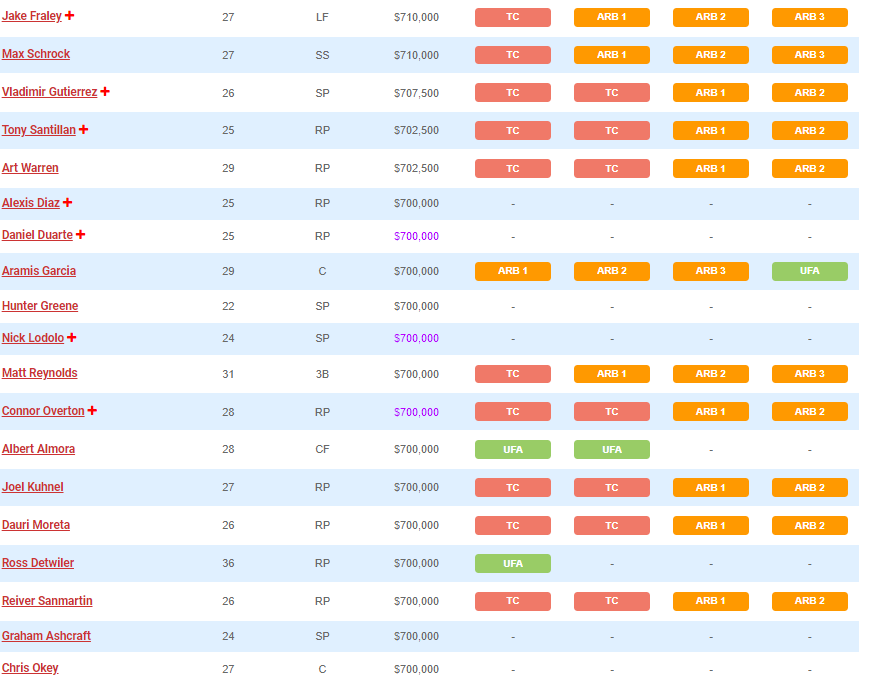 If the plan is a true retool with a 2024 window similar to the 2019 offseason, Cincinnati is in good shape. A mix of 2021 rookies, 2022 prospects, money and not obscene contracts positions the Reds well for the future.
The next stop is for the front office to extract as much prospect capital as they can at this year's deadline, moving on from the veterans on their roster who don't have much team-control and are outproducing their current contracts.
At some point the onus will be on ownership to spend again, something fans rightfully have little confidence in. But at least the Reds are moving in the right direction for now.