Analysis
Can Jesse Winker Bounce Back to His 2021 Form?
The Mariners big offseason trade acquisition has struggled mightily in his first season in Seattle. Is there any hope for a second-half bounce back?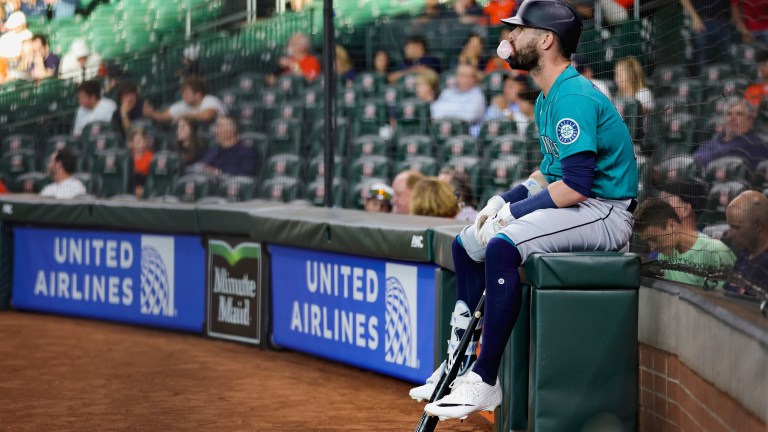 Jesse Winker is one of the most interesting players to analyze in MLB. Last season, the 28-year-old racked up a 148 wRC+ en route to his first All-Star appearance. The combination of both him and Nick Castellanos provided an immense amount of offense for a Cincinnati Reds team that narrowly missed out on the final Wild Card spot last season.
Despite their 2021 success, the Reds decided it was time to move into a rebuilding phase. With Castellanos signing a five-year deal with the Philadelphia Phillies, this sent Cincinnati into nuclear mode. Minnesota dealt for Reds pitcher Sony Gray. Reliever Michael Lorenzen and Castellanos left in free agency. And the largest move involved both Winker and third baseman Eugenio Suarez departing for Seattle.
The Mariners thrived in 2021 under a young core, and they decided to reload with a flurry of moves including this trade. They looked like a legitimate contender entering play this season.
Have they lived up to these expectations? Not even close.
Seattle currently sits 28-35, fourth place in a somewhat mediocre AL West. Their fall from grace after a miraculous 2021 has been catastrophic. Of course, there is always still time for this team to turn it around. However, the highlight here has to be the underperformance of Jesse Winker.
Personally, I somewhat have always been a fan of Winker. Maybe it's the fact that we both share incredible beards (in my opinion)? I'm not sure. It's always been a joy to watch him swing the bat, but he doesn't seem like the same player.
After mashing in Great American Ballpark last season, Winker has been a complete shell of himself. Slashing .214/.326/.308 with just a 94 wRC+, he's been poor for Seattle. Can he turn it around and drive the Mariners into playoff contention? Let's take a dive.
Maybe the grass isn't greener on the other side?
One piece of criticism Winker has received refers to his puzzling splits between his time in Seattle, and with his previous team in Ohio. His former home in Cincinnati includes the highest park factor of any major league stadium at 113, the most hitter-friendly park in all of baseball. Naturally, moving to a stadium that ranks dead last in park factor with T-Mobile Park (93) hasn't been kind to the player in 2022. Hence the decrease in production.
While not the largest of Winker's issues, there's still a discussion to be had here. Winker's 151 home wRC+ was countered by a 146 away wRC+ in 2021. Not a drastic dip at all. What is noticeable though, is Winker's isolated power numbers between different ballparks. Ranking in the 89th percentile of exit velocity in 2021, there's an apparent drop off when he isn't playing at home.
The outfielder's .285 ISO at home provided results. However, his ISO of .220 away from Great American Ballpark did not.
Winker was not only comfortable playing at Great American Ballpark. He also raked in all of those NL Central parks he had grown accustomed to hitting in across his first five seasons in MLB. Winker has a career OPS of .800 or better in each of the NL Central ballparks and had a ton of success playing in them last season.
He hit five home runs in just seven games played at Busch Stadium last season, with an OPS over 1.000 at Wrigley Field and a .535 batting average at PNC Park. Now Winker not only had to adjust to a new home ballpark, but also an entirely new division in a different league entirely.
This season, his average exit velocity has dropped to a horrific 22nd percentile, compared to the 66th percentile the year prior. Barrel percentage? Same situation, 74th to just the 38th percentile. Everything is down all across the board. His hard hit rate, expected slugging and his expected batting average have all taken drastic dips.
Playing at the least hitter-friendly ballpark in all of baseball has provided negative results for Winker. And yes, these trends will continue as he isn't going anywhere anytime soon.
Winker's confusing hitter profile
Jesse Winker can't decide what kind of pitcher he prefers facing. In 2021, he straight up couldn't hit a left-handed pitcher. Now in 2022, he's finding more success against them as compared to a righty.
Against right-handed pitchers in 2021, he slashed an incredible .346/.428/.642 with a staggering 178 wRC+ in 321 plate appearances. Those are among some of the best numbers in baseball against righties. You would think by this mark that Winker is an elite hitter. Until a lefty is called in from the bullpen…
In 100 plate appearances against left-handed pitching, Winker slashed an abysmal .176/.288/.284 with a minimal 57 wRC+, providing a negative impact on his team during this stretch. Clearly, this was noticeable for the Reds coaching staff, hence the increased amount of at bats against righties. His isolated power dropped from .298 against right-handers all the way down to .108 against left-handers.
In 2022, it's shockingly the complete opposite.
While Winker's 2022 has been incredibly underwhelming, he's hit well against left-handed pitching. With a .779 OPS and a 130 wRC+ against lefties, he's provided decent value. But from right handers, it's the complete opposite. A wRC+ of 79 and an OPS of .542 show this. And the power numbers are also drastically different, with his ISO against lefties .212 against .044 against right-handed pitching.
What is going on here?
The 28-year-old is seeing the most fastballs he's ever seen in the bigs, with opposing pitchers throwing a heater 43% of the time against the lefty. This hasn't resulted in positive at-bats whatsoever. Winker is hitting a mere .155 against fastballs in 2022, down from a whopping .314 in 2021. His hard-hit percentage is also down against fastballs from 51.9% to 34.3% this season.
Winker's confusing hitter profile has led many of us to question what's going on with the outfielder. Couldn't hit lefties in 2021, now can't his righties in 2022, and straight up isn't connecting on fastballs.
Can Winker return to his true form?
Chances seem slim for the left fielder to return to his peak with his new team, but I wouldn't count anything out just yet. We've seen many players take about a year or so to get adjusted to a new ballpark, the most recent example being Francisco Lindor with the New York Mets.
Something has to give with Winker. His previous inability to hit left-handed pitching, now paired with the same effect against right-handers makes zero sense. Maybe there's a chance he entered the 2021 offseason with the intent of strictly focusing on lefties, so much to the point where he forgot how to hit right-handed pitching. It's odd.
Leaving Great American Ballpark for T-Mobile is also a huge factor in his extreme fall from grace. going from an absolute bandbox in Cincinnati to the place where baseballs die is a bit extreme.
However, I wouldn't close the door on a return to form for Winker. He's shown us in the past that he has had success with the bat, despite playing in such a hitter-friendly park. Maybe he just needs some more time to adjust. And if the Mariners want to make a late push at the playoffs, they'll need Winker to get going immediately.