Rankings
Top 10 Free Agent Outfielders in the 2023-2024 Class
This year's MLB free agent class is regularly labeled as "too weak", but there are many solid outfielders available. Let's rank the top 10.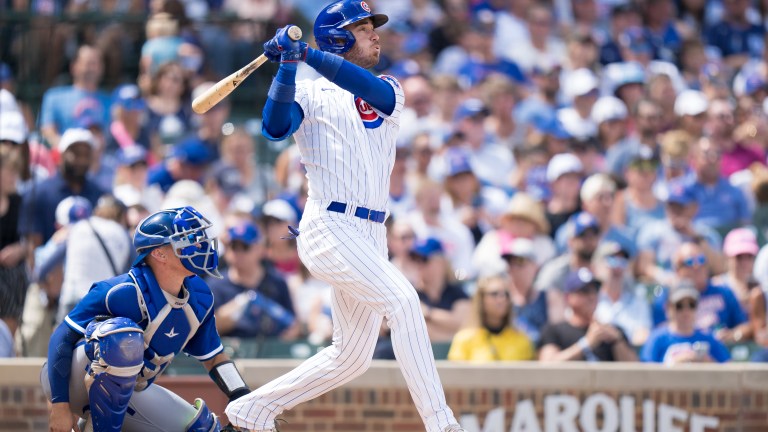 Now that the offseason is well under way, the general consensus on this year's MLB free agent class is that it's too weak.
Last year's class included names like Aaron Judge, Trea Turner, Jacob deGrom, Carlos Correa and Xander Bogaerts. Back then, we were spoiled.
This year, it's the Shohei Ohtani show. He is far and away the biggest name available, but behind him it is slim pickings.
In this year's class, at least the group of outfielders presents more star power than other positions around the diamond. From former MVPs, to annual All-Stars, to Japanese imports looking to make the jump to Major League Baseball; there are quite a few notable names available on the grass.
Let's check out who we're dealing with and rank the top 10 free agent outfielders.
10. Jason Heyward, 34
Boy, it's hard to believe that Heyward found himself on a list like this again.
The 14-year veteran played 124 games in 2023 for the Dodgers, hitting 23 doubles with 15 home runs and 40 driven in. His 117 OPS+ seemingly came out of nowhere after he struggled with consistency throughout his seven-year stint on the Cubs.
Any team looking for a left-handed hitter with some pop would be smart to pursue Heyward in free agency. His days in the middle of a contender's lineup are likely behind him, but a team in need of a veteran presence in the locker room could conceivably bring him aboard on a low cost, two-year deal.
9. Tommy Pham, 35
Pham has always been a player who flies under the radar, and his 2023 season was no different.
At 35 years old, he showed no real signs of slowing down as he hit 16 home runs and drove in 68 runs in 129 games between the Mets and Diamondbacks. His 111 OPS+ is the highest he had in a full season since all the way back in 2019.
Pham should have a long list of suitors who are attracted to his profile on the field as well as the veteran presence he provides off of it. He has extensive playoff experience and boasts a .313 batting average in 31 career postseason games. A one-year deal on virtually any club in the league seems reasonable for the aging veteran.
8. Michael A. Taylor, 32
In 2023, Taylor enjoyed one of the best offensive seasons of his career with the Twins.
The 10-year veteran hit a career-high 21 home runs with 51 driven in and an OPS+ of 94. His defense remained electric as he ranked in the 94th percentile in OAA and 90th in Arm Strength per Baseball Savant.
Teams looking to shore up their outfield defense will surely be in on this free agent this offseason. His experience on both playoff contenders and rebuilding teams means he'd be a fit for all 30 clubs.
7. Adam Duvall, 35
Speaking of a player who can't stay healthy, Adam Duvall is a free agent for the third time in his career. The former All-Star managed to play just 92 games for the Red Sox, but when healthy, he was great. In his shortened season, he hit 21 homers with an OPS+ of 119, the highest he's ever had in his career.
For Duvall, a one-year, "prove it" type of deal feels like the most likely outcome. He has some serious pop in his bat and can still play all three positions out on the grass, so there will be plenty of suitors.
6. Kevin Kiermaier, 33
Long considered a player who would do special things if he remained healthy, Kiermaier (finally) did just that in 2023. In 129 games for the Blue Jays, he hit eight home runs with 36 RBI and an OPS+ of 104. He won his fourth career Gold Glove Award and has easily earned himself a multi-year pact in his second trip through free agency.
The Yankees have been tied to Kiermaier already, as their need for a center fielder is well documented. A two-year deal worth around $30 million feels more than fair for a talent like this.
5. Joc Pederson, 31
Pederson once again remained a threat with the bat in 2023. In his second year with the Giants, the 10-year veteran hit 15 home runs with an OPS of .764 in 121 games. The biggest hole in his game remained hitting against left-handed pitching, though, as he hit .186 in 43 tries this past season.
Being a platoon player is likely going to hurt Pederson's overall value, but a two-year deal doesn't feel out of the realm of possibility for him. Teams in search of power, like the Blue Jays or the Giants, could use his bat in the lineup.
4. Teoscar Hernández, 31
An offseason trade last year sent Hernández from Toronto to Seattle, where he thrived. "Teo" made it into 160 games for the Mariners and hit 26 home runs with 93 RBI. The 2023 season marked the seventh-straight year in which he had an OPS+ north of 100.
A team like the Angels feels like the perfect fit for Hernández. A three or even four-year contract feels reasonable, as the club desperately needs to fill Shohei Ohtani's shoes this offseason.
3. Lourdes Gurriel Jr., 30
Another player the Blue Jays shipped away this past offseason, Gurriel enjoyed a bit of a breakout performance with the Diamondbacks this year. He played a career-high 145 games while making the All-Star Game for the first time in his six-year career.
He has been an above-average hitter in every season since his big league debut and he will be paid as such this offseason. Especially since he showed himself to be a great defensive left fielder, posting 14 defensive runs saved and 1 OAA.
The first-time free agent will undoubtedly be able to turn a solid track record into a nice contract this offseason. Look for contending teams in need of thump (Dodgers, Braves, etc.) to bring him aboard on a nice multi-year deal.
2. Jung Hoo Lee, 25
Lee just wrapped up his seventh year in the KBO and appears to be the real deal. His career batting average in 884 games is .340 and his OPS is .898. That'll play. He has quite a bit of gap and home run power, can steal bases and is a capable defender at all three spots on the grass.
There is virtually no team that won't be interested in the switch-hitting phenom this offseason. The Giants, Tigers and Yankees all have expressed early interest in his services, with San Francisco feeling like the best fit on paper.
1. Cody Bellinger, 28
When it comes to this year's free agent class of outfielders, it feels like it's "Cody Bellinger … and everyone else." The former MVP had an incredible return-to-form type of season for the Cubs in 2023, as he hit 26 home runs with 97 RBI in 130 games. His 133 OPS+ is the highest he's had in a single season since 2019 and his .307 batting average was a career-high for him.
Any team with the financial flexibility to land Bellinger will be pursuing him this offseason. In the early days of the offseason, the Giants, Yankees and Blue Jays have already been labeled as early fits. Looking for him to sign a massive contract that could be as long as 10 years in the coming months.
Honorable mentions
There are plenty of names on the free agent market who qualify as "just missed".
Jorge Soler is to be viewed more as a designated hitter than an outfielder at this point, so he misses the cut.
Harrison Bader, who split his time between the Yankees and Reds this season, remains a defensive wizard but just barely missed out on the top 10.
Beyond that, Michael Brantley, Joey Gallo, Eddie Rosario, Andrew McCutchen and David Peralta represent the best of the rest.