Analysis
The Tigers' Rotation Looks Barren Without Eduardo Rodriguez
E-Rod's tenure with the Tigers has come to an end, giving the team one more hole to fill on a staff already bursting with question marks.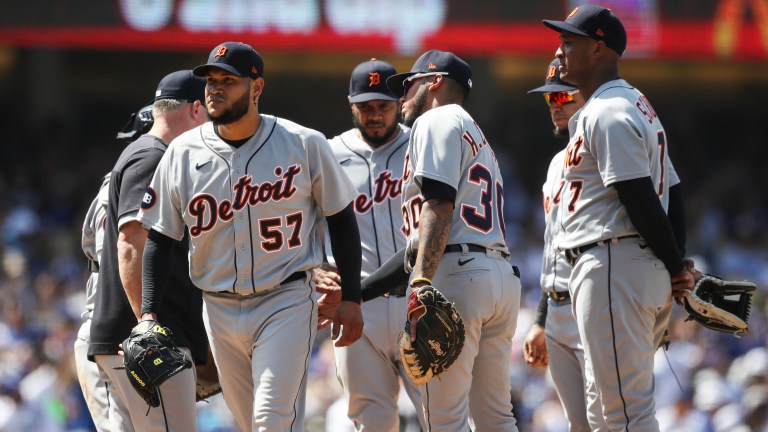 Eduardo Rodriguez's bizarre, roller coaster tenure with the Tigers came to an end this week, as the veteran lefty opted out of his contract with two years remaining. His decision was a surprise to no one after the 30-year-old posted a career-best 3.30 ERA. He will look to cash in this winter.
The front office had discussions with Rodriguez in hopes of keeping him in Detroit, but the two sides never agreed upon a deal. His departure leaves a hole in a rotation that was already in dire straits. However, there is a silver lining: His money is now off the books and can be allocated toward another pitcher or improvement elsewhere on the roster.
Before discussing their options, we need an understanding of where the Tigers are in their team life cycle and if they plan to compete this coming year. I see 2024 as the start of Detroit's path toward contention. They have the beginning of a good young core with a couple of prospects set to debut next year.
Furthermore, while trading for Mark Canha did not change the trajectory of the team much, it did indicate the direction in which they're headed. It's not going to be an all-in offseason, but expect the Tigers to look to improve.
The Tigers are not in a spot where they can roll out a rotation of prospects and see who sticks. At the same time, they aren't a proven contender that top free agents would be willing to sign with at a discount in hopes of winning a World Series ring. That puts them in a position for the following types of arms:
Veterans looking to sign one-year prove-it/bounce-back from injury deals
Tier two or three starters that will demand an overpay to sign with a rebuilding club
Luckily, Detroit has a coaching staff, particularly pitching coach Chris Fetter, that will be a positive in negotiations. Also on their side is a pitcher-friendly ballpark, which can help build a pitcher's value and make his stats look pretty.
Yes, trades are possible, but I am going to focus on free agents. I don't see the Tigers trading their top prospects for the type of pitcher we are discussing today. Maybe someone like Akil Baddoo is moved for an arm, but I don't see the return netting a top-three arm for the rotation. Keep the prospects for 2024, sign your needs, and consider bigger moves next winter.
Current State of the Rotation
Options: Tarik Skubal, Matt Manning, Reese Olson, Casey Mize, Spencer Turnbull, Joey Wentz, Sawyer Gipson-Long, Keider Montero, Jackson Jobe, Ty Madden, Wilmer Flores, Brant Hurter
A quick glance at this list will show one bona fide frontline starter (Skubal) followed by a lot of question marks. I see Matt Manning as a back-end guy who deserves a spot in the rotation but has limited upside. Olson and Gipson-Long deserve an extended look. Turnbull is likely gone or a non-factor, while Wentz should be depth only. Jobe has tons of upside but cannot reasonably be counted on this year.
The other prospects, such as Montero, Madden, Flores, and Hurter, all come with intrigue but are not likely to play a big role in the 2024 rotation.
Casey Mize is the wild card. The 2018 first-overall pick has struggled with injuries, and even when healthy, he has been just okay. The chances of him reaching what many thought he could be back in 2018 are looking slim. Can he still be a major league starter? Absolutely. But a front-of-the-rotation guy you can count on in a playoff series? Well, I'm not there right now.
Looking further into the future, I see a one-two of Skubal and Jobe with at least two of the others on the above list being adequate back-end options. I could be talked into one of Mize or Olson pitching well enough to look like a top-three option, too. That said, the odds of that happening aren't high, and it's time to lessen the "what ifs" on this team. Counting on Mize can no longer be plan A.
That leaves the Tigers with a need for a top-three profile pitcher – not only for 2024 but for the next couple of seasons. The front office has positioned the team in a good spot – they look to be headed in the right direction – which should help attract free agents to a certain extent.
One-Year Prove-It/Bounce-Back Options
Detroit is in a great position for these types of deals this winter. As I mentioned before, a great pitcher's park and a team-friendly market are just the start. The opportunity to pitch near the top of the rotation is also a plus. Moreover, Detroit has all of their starters in arbitration or pre-arb, giving them the flexibility to offer a higher contract than many other teams.
Lucas Giolito, 29
2023 Stats: 4.88 ERA, 5.27 FIP, 184.1 IP
Bouncing around to three teams, two after the trade deadline, is usually not a recipe for success.
From 2019-21, Giolito strung together a strong three-year stretch in Chicago that looked much different than the past two seasons, in which his ERA has hovered near 5.00. Another positive: He'll eat some innings. He's started 29 or more games in each full season he's pitched. While his fastball has taken a step back, his changeup is still a plus pitch.
At only 29, Giolito can take the one-year route to hopefully bounce back. He will likely get offers for a two-year deal as well, so he will have a tough decision to make. If the Tigers look back at last year, when only E-Rod made more than 20 starts, there's a good chance they'll value a durable arm like Giolito.
Luis Severino, 29
2023 Stats: 6.65 ERA, 6.14 FIP, 89.1 IP
Now let's talk about some risky options. Severino has the most upside of the one-year deal candidates, in my opinion. From 2017-22, he regularly had an ERA in the mid-threes or lower while posting decent to plus strikeout numbers. The issue has been health. He started three games in 2019, did not play in '20, and made just four appearances (no starts) in '21, 19 starts in '22, and 18 starts in '23.
Even with the injuries, Severino is expected to get a decent amount of money, north of $10 million on a one-year deal. That's a number the Tigers can easily work into their payroll.
That said, whatever team signs Severino will be taking a risk, and it's just too soon to say if the Tigers' new front office is willing to play that game.
Frankie Montas, 30
2022 Stats: 4.05 ERA, 3.78 FIP, 144.1 IP
After being traded from Oakland to New York, everything went south for Montas. He struggled in eight starts with the Yankees in 2022 before missing almost all of the 2023 season due to injury. Anyone who looked at his splits with the A's knew a move away from the Coliseum would cause his numbers to take a hit.
So, let's get him back in a pitcher-friendly situation. Presumably, his deal will also breach the $10 million mark, but it could have longer-term payoffs. Of these three one-year options, Montas could be the one to sign an extension if all goes right. He's dabbled in the large market world, and I cannot imagine it was the best experience. Montas is my pick and the one I feel most confident could happen.
Multi-Year Possibilities
With so much uncertainty and so little money committed to the rotation, a multi-year deal is very much in play for Detroit. Sometimes it takes giving out that extra year to a pitcher to get him to come to a team that is not 100% a contender. The new front office has not had a chance to make anything close to a splash move, and this could be the first.
I want to preface this by saying Aaron Nola would be the ideal signing, but that is far from likely. The "tier one" options will have suitors lined up, and honestly, many of them will be more attractive than Detroit. Let's go ahead and eliminate Shohei Ohtani, Jordan Montgomery, Blake Snell, Yoshinobu Yamamoto, Shōta Imanaga, and, of course, E-Rod. I'll presume Sonny Gray wouldn't be interested, and Jack Flaherty doesn't do much for me. Julio Urías is left out due to uncertainty with his legal situation.
Tyler Mahle, 29
2023 Stats: 3.16 ERA, 4.19 FIP, 25.2 IP
Mahle was traded to Minnesota at the 2022 deadline and missed the majority of 2023 due to injury. With news of the Twins looking to decrease payroll, I do not see him going back to the Twin Cities.
Mahle is a proven middle-of-the-rotation arm who performed well outside of Great American Ball Park. In my opinion, he would be a great fit. He'll need to work back from injury, but now is the time to get him on a reduced deal.
The Tigers could tack on the extra year that other teams might not be willing to do. With Detroit still playing the long game and not needing 2024 to be the win-now year, this move just fits like a glove. Mahle's deal would be up before arbitration is over for the majority of the roster, so Detroit would not be tied into long-term money.
Seth Lugo, 33
2023 Stats: 3.57 ERA, 3.83 FIP, 146.1 IP
Lugo made the rare move from the bullpen to the rotation without skipping a beat. After five seasons of mostly pitching out of the 'pen, Lugo made 26 starts and performed well. He has a five-pitch mix with a lethal curveball and enough control to limit walks.
At 33, this is likely his last chance to cash in on a significant deal. I doubt any team will get to four years for Lugo, but two or three feels like the sweet spot. The risk here is wondering if a bullpen arm who became a starter so late in his career will be more prone to injury. I would say no, but it is something to consider.
Michael Wacha, 32
2023 Stats: 3.22 ERA, 3.89, 134.1 IP
Wacha has bounced around the past few years after leaving the Cardinals in 2019. Each of the past two seasons, he's posted an ERA in the mid-to-low threes and a respectable FIP. I would imagine he's tired of moving and would welcome as many years as someone is willing to give him.
Just how interested the top contenders will be in Wacha is the key here. Does someone else view him as a top-three arm for their rotation, or will they see him as a secondary option, more like a high-end four? Detroit is positioned to give him a legitimate offer if they are interested.
Sean Manaea, 31
2023 Stats: 4.44 ERA, 3.90 FIP, 117.2 IP (10 starts)
Like Montas, Manaea saw a dip in his numbers after leaving Oakland. He bounced back from a poor 2022 with a solid season in San Francisco, where they used him in multiple roles. Much of his success was due to the Giants' willingness to use him out of the bullpen or in limited starts in favorable matchups.
Personally, I am not as interested in Manaea. I think his improvements were mostly due to the Giants' unique usage of his arm, and the Tigers cannot afford to have him pitch in that role at a starter's price tag. If the Tigers do sign Manaea, expect another rotation addition as well. Simply put, I don't like multi-year deals for this particular kind of pitcher.
Conclusion
There's no doubt the Tigers will look to add at least one, and likely two, veteran starting pitchers. They need a replacement for Rodriguez but also depth and insurance for the unknowns on the roster. It's hard to say exactly what the front office prefers due to how new the group is, but I do feel confident in saying they will be more aggressive than last year.
If it were up to me, I'd try to sign Tyler Mahle plus one of Montas/Severino. If that's too rich, give me Mahle plus a lower-end, one-year option. Allow the one-year option to fill a need while Mahle works back from injury. Once Mahle is healthy and/or Jobe is ready, the one-year guy can either be moved or, if injury has set in somewhere else, the team will be happy to have some extra depth.
Regardless of which players are added, it's refreshing to see the Tigers in the free agent mix and headed in the right direction. They have an ace-level pitcher, something a lot of teams cannot say. Now it's time to fill out a rotation and compete in a weak division.