Rankings
The 10 Worst Pitches of the 2022 MLB Season
Some pitches are better than others, but these offerings from MLB starters were the absolute worst in the game during the 2022 season.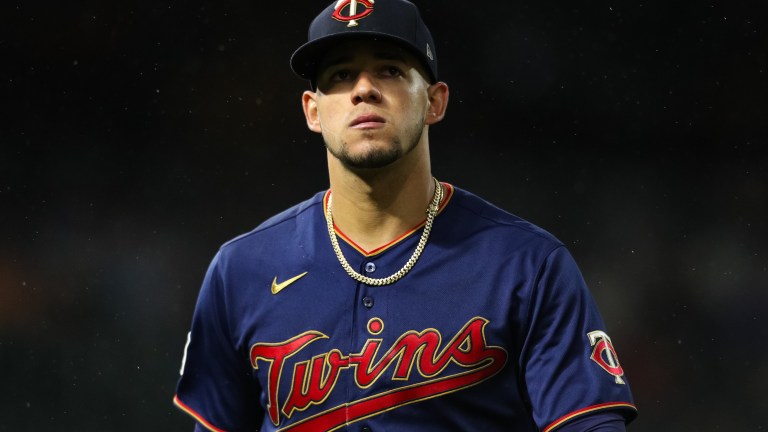 In my last piece, we went over the best pitches from 2022. This article won't be as kind as we evaluate the least valuable pitches in baseball.
We are ranking these pitches by run value. It's a stat to define "the run impact of an event based on the runners on base, outs, ball, and strike count." It's a great way to define the impact of a pitch when it comes to run production. A pitcher wants a negative run value on a pitch, which means that a particular offering subtracted a certain amount of runs.
Unfortunately, this is a list of pitches with the highest run value.
Run value isn't everything when evaluating a specific pitch, but in my opinion, it's the best overarching stat we have to quantify the value of a pitch. There are pitches with less movement or thrown at lower velocities, but these pitches produce the most runs. When a batter stepped into the box against these pitchers last year, they were licking their chops.
RV/100 is another way to evaluate pitches that weren't thrown as much as these, which you can find on Baseball Savant. Some pitches performed worse on a per-100 basis, but these are the 10 worst by total value.
1. Chad Kuhl's Sinker (26 RV)
Not only was Chad Kuhl's sinker the worst pitch in baseball by total value last season, but it's also the worst since Baseball Savant started tracking total run value in 2019. The sinker had a 53.7% Hard-Hit rate. For reference, Aaron Judge had a 54.7% Hard-Hit Rate in 2017, where he set the rookie record for home runs.
Chad Kuhl finished the 2022 season with a 5.72 ERA, which makes sense considering this sinker was his most-used pitch. It doesn't have much movement, and he averages 92.8 MPH on it. Regularly, opponents hit it harder than it came in, with an average exit velocity of 93.9 MPH.
Opponents hit .367 against the sinker and only swung and missed 11.8% of the time. If I'm Chad Kuhl, I'd go back to throwing a four-seam or make the sinker my least used pitch.
2. Madison Bumgarner's 4-Seam Fastball (24 RV)
What a fall from grace for Madison Bumgarner. During his epic 2014 season, where he established himself as one of the best postseason pitchers of all-time, opponents hit .205 against his fastball. Fast forward to 2022, and opponents hit .326 against it.
It's dropped nearly two MPH in velocity and has no natural movement. It's his second-most used pitch to his cutter, which also surrendered a .306 batting average against. His curveball and changeup still get the job done, but the hard stuff keeps getting shelled.
If I'm a hitter facing Bumgarner, I'm not swinging at anything slow. Try and get it by me with the cutter or the four-seamer. He could get it by me because I suck, but he can't get it by big-league hitters.
3. Patrick Corbin's Slider (23 RV)
Patrick Corbin has been the worst-qualified pitcher in Major League Baseball for a while now, and it has a lot to do with the slider's drop-off in production.
It has the highest whiff rate on this list, but when batters square it up, the ball flies. It's routinely distributed extra-base hits, 23 in 175 ABs. This led to a .571 SLG against the pitch.
Back in 2019, opponents only hit .158 against his slider. Last year marked the first season since 2016 when it wasn't his most-used pitch. The Nationals, or Corbin himself, decided to throw it less because now opponents hit .309 against it. Corbin has put together back-to-back seasons with an ERA over 5.75.
4. Josiah Gray's 4-Seam Fastball (22 RV)
Josiah Gray was the main piece in the Max Scherzer trade from the Dodgers to the Nationals, and it hasn't gone well for Washington. He's started 41 games in his career, and his ERA is 5.17. It has a lot to do with how bad his fastball is.
Opponents looking to do damage on a fastball hope to face Josiah Gray. His four-seamer had a .738 SLG against it, the highest on this list besides Dallas Keuchel's cutter. It does have a decent amount of movement, but he continually leaves it in the middle of the zone.
Gray could be a good pitcher in this league if he figured out his fastball. He throws two above-average breaking balls, but the hard ball keeps him from reaching his potential.
5. Austin Gomber's 4-Seam Fastball (21 RV)
Austin Gomber was the main piece in the Nolan Arenado trade from the Rockies to the Cardinals. Gomber's fastball is a perfect symbol of how that deal has aged.
We can't blame the Coors' effect when he performed worse in road starts last season. Opponents hit .376 against his fastball, the highest on this list outside of Dallas Keuchel's cutter.
Nothing is appealing about this fastball. It doesn't produce whiffs, it doesn't put away hitters, it's slow, it doesn't have movement, and it doesn't produce soft contact. He doesn't locate it well, either. It's a very weak fastball.
6. Kris Bubic's 4-Seam Fastball (20 RV)
In 2021, Kris Bubic's fastball was his best pitch. In 2022, not only was it his worst pitch by total value, it was the sixth-worst pitch in baseball and the fourth-worst four-seamer.
Bubic has gotten worse and worse by ERA over his first three seasons, and it has a lot to do with the usage of this fastball. His worst year was 2022 when his fastball was at its absolute bottom. He was throwing it harder than ever at 91.8 MPH, but it got hit harder than ever, averaging 90.8 MPH off the bat.
Opponents hit .348 against the pitch, with plenty of doubles and home runs. It has some movement but was routinely left over the heart of the plate.
7. Kyle Bradish's 4-Seam Fastball (19 RV)
Kyle Bradish's slider was one of the better breaking balls last year, but his fastball was easily one of the worst pitches in 2022. We should see him up the slider usage, while letting his fastball take a back seat after posting a 4.89 ERA in his first year.
With this fastball, he can reach 96 MPH, so the issue isn't velocity. It appears to cut slightly, but the overall movement profile is far below average. It gets hit hard, averaging 91.3 MPH in exit velocity. Opponents hit .212 against his slider, but .321 against the four-seamer.
We saw a few sinkers from Bradish last year. I expect we'll see more of that and less of the fastball in 2023.
8. Joan Adon's 4-Seam Fastball (17 RV)
Joan Adon threw five different pitches in 2022 and, for some reason, decided to throw his worst pitch 65.5% of the time. Granted, his curveball was also far below average, but the fastball makes this list.
His four-seamer has an above-average amount of horizontal movement but tends to move directly into the bat's barrel. He averages 95 MPH on the pitch, but with a lack of vertical movement, it's not difficult to square up.
The worst part about the pitch isn't the physical pitch; it's Adon's command of it. He regularly misses his spots leading to a juicy meatball left down the middle.
9. Jose Berrios 4-Seam Fastball (17 RV)
Jose Berrios' fastball has been an issue for a few years, but it hit the fan this past season. Everything went wrong for Jose Berrios in 2022, and the fastball was the worst.
He allowed 11 home runs on his fastball alone, while only throwing it 27.9% of the time. For reference, his teammate Kevin Gausman allowed 15 home runs over the entire season. Opponents hit .349 with a .618 SLG against his fastball with an average exit velocity of 91.8 MPH.
Berrios also struggled with the command of the four-seamer. He kept serving up a 94 MPH balloon, which continually landed on the upper deck of stadiums.
10. Dallas Keuchel's Cutter (16 RV)
In my opinion, this is the worst pitch in baseball, but it lands at 10 on this list. Keuchel only had eight starts last season, so the total value of the pitch didn't reach the limits that the other pitches did. He threw this pitch 178 times, the only pitch on this list thrown less than 750 times. That goes to show how bad it indeed was to make this list.
Opponents slugged 1.000 with a .455 batting average against the pitch. It's his third most-used pitch at 15.3%. If I were his pitching coach, I'd suggest he lower that to zero percent.
It barely moves. The average exit velocity on his cutter is 90.2 MPH, a far cry from the average velocity of the pitch at 85.2 MPH. In 44 ABs, the pitch resulted in 20 extra-base hits. It doesn't get much worse than that.
Just Missed
Nick Pivetta's Curveball (16 RV), Kyle Wright's 4-Seam Fastball (15 RV), Vladimir Gutierrez's 4-Seam Fastball (15 RV), Louis Head's 4-Seam Fastball (15 RV), Ryan Feltner 4-Seam Fastball (14 RV)