Analysis
The Domino Effect of Aroldis Chapman's Struggles
Aroldis Chapman's recent meltdown is hurting the Yankees in more ways than one.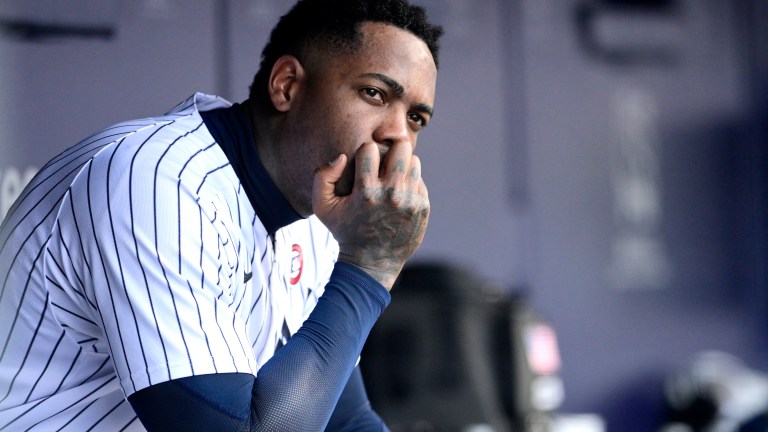 Virtually no one on the 2021 New York Yankees has been immune to stretches of frustration and disappointment this season. That includes seven-time All-Star closer Aroldis Chapman. Currently mired in the worst slump of his career, Chapman has gone from valuable cog to major liability in a matter of months. Issues with control and his normally electric fastball have done him in. While his struggles have obviously had a negative impact on New York's win-loss record, the ramifications don't end there.
Sensational Start to the Season
Given Chapman's current 4.40 ERA and 1.47 WHIP, it's hard to believe that he was virtually unhittable through the first two months of the season. Through his first 23 innings this year, Chapman had a 0.39 ERA, 0.78 WHIP and 43 strikeouts. He was also 12-for-13 in save situations and the Yankees had a 19-4 record in games that the 33-year-old appeared in. Quite simply, he was the best he's ever been.
Chapman has always been elite, but he took a step forward in large part due to the addition of a filthy splitter to his repertoire. Hitters are just 1-13 against it with 11 strikeouts and a 61.5% whiff rate. However, Chapman is only throwing it 8.3% of the time for some reason. It could be a lack of feel for the pitch, or a desire to keep it under wraps, but it seems like a pitch Chapman should utilize a little more often.
Worst Stretch of His Career
We've gone over how incredible Chapman was to start the year. However, everything changed on June 10th, when Chapman allowed four runs on four hits (two home runs) without recording an out in a blow save against Minnesota. From that point onward, Chapman has a 16.43 ERA and 3.52 WHIP in 7.2 innings over 11 games. I know those numbers seem like they can't be true (even I double-checked myself), but they are. He has blown three out of seven save chances and the Yankees are just 6-5 in those 11 appearances. For a pitcher that has never had an ERA over 3.60 in any season, this is almost unthinkable.
So what has gone wrong? For one, Chapman can't throw strikes. Over his last 14.2 innings, he was walked 18 batters (19:18 K:BB ratio). Compare that to the first 16 innings of the season when he walked just five batters (34:5 K:BB ratio) and it's obvious that has been a major cause of his downturn. His current 6.8 BB/9 is the second worst rate of his career.
Additionally, a new development this year is how hittable his fastball has been. Hitters have a .320 batting average and .580 slugging percentage against his four-seamer. Before this season, .301 was the highest SLG against his fastball in his career. As a result, Chapman has already allowed five home runs in 2021 (the second highest amount of his career). The velocity and spin rate are on par with previous seasons, so it's likely that his lack of command is to blame. Whatever it is, it's extremely concerning.
Overworking Other Pitchers
With Chapman becoming completely untrustworthy over the last few weeks, the burden has been thrown on Jonathan Loaisiga and Chad Green to pick up the slack. As a result, Loaisiga (47.0) and Green (46.2) both rank in the top seven of all relievers in innings pitched this season. While both of them have largely been outstanding this season, they've also been overworked and the Yankees need to find a way to lighten their load in the second half.
Green has a 4.15 ERA with two or less days of rest this season (30.1 innings pitched), compared to a 0.55 ERA with three or more days (16.1 IP). Similarly, Loaisiga owns a 4.80 ERA with a day or less of rest (15 IP), while his ERA drops to 0.84 with two or more days on the shelf (32 IP). Some of the team's most crushing losses have come with one of those two pitching on limited rest (see the Astros game last week). Getting Zack Britton back from injury should help, but they also need Chapman to return to form.
How Should the Yankees Handle it?
It's important to remember this isn't the first time Chapman has hit a rough patch with the Yankees. He temporarily lost the closer's job after posting a 9.00 ERA in August of 2017. The move worked out great, as Chapman finished the season with just one run allowed over 20 September and October innings.
If the Yankees decide to go down a similar path, they could turn to Zack Britton. He has ample closing experience (153 career saves) and could move into that role in the short-term, if healthy. Personally, I'd like to see more of a committee or hot-hand approach with Chapman, Britton, Green and Loaisiga all being utilized. Whatever they opt to do, the Yankees need Aroldis Chapman right if they're going to turn their season around.