Analysis
Morning Metrics: June 24, 2021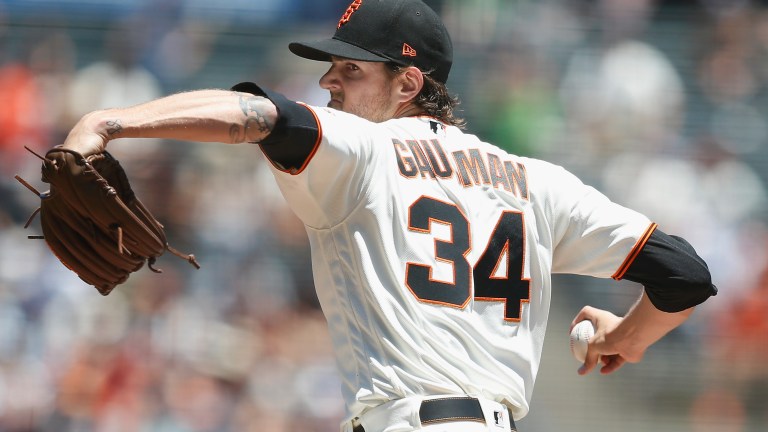 Numbers of the Night
Hardest Hit Ball: CJ Cron blasted one 114.5 MPH into the Denver sky off the top of the wall in center for a stand up double. Cron finished with three hard-hit balls on the night and the Rockies went on to beat the Mariners 5-2.
Farthest Home Run: Yordan Alvarez has never met a baseball he didn't like. "Cheap home run" isn't in his vocabulary as he sent a Mickey Jannis knuckleball 448 feet into the right-center seats. Mickey's not getting that one back.
Filthiest Strikeout: Kevin Gausman gives Shohei Ohtani some of his own medicine on a 84.8 MPH Splitter with 39 inches of vertical drop.
Top Grab: Joey Gallo and Eli White make back to back diving catches with a one run lead to stop a possible A's rally in the 8th. Rangers went on to win 5-3!
Nightly Rundown
Trevor Bauer pitch type usage:
It's clear that Trevor Bauer is no longer using sticky stuff. His spin rate was down 174 RPM from his season average of 2795 RPM on his four-seam fastball. He was true to his word about just wanting an even playing field, but that hasn't come without frustrations about MLB's handling of the entire situation. Bauer stated in a recent interview, "It's nice that they tried, but it's the wrong time to do it in the middle of the season. Needs to be done in the off-season". Regardless of Bauer's feelings on the subject, he has drastically adjusted his repertoire since the June 3rd announcement of possible suspension for foreign substance use.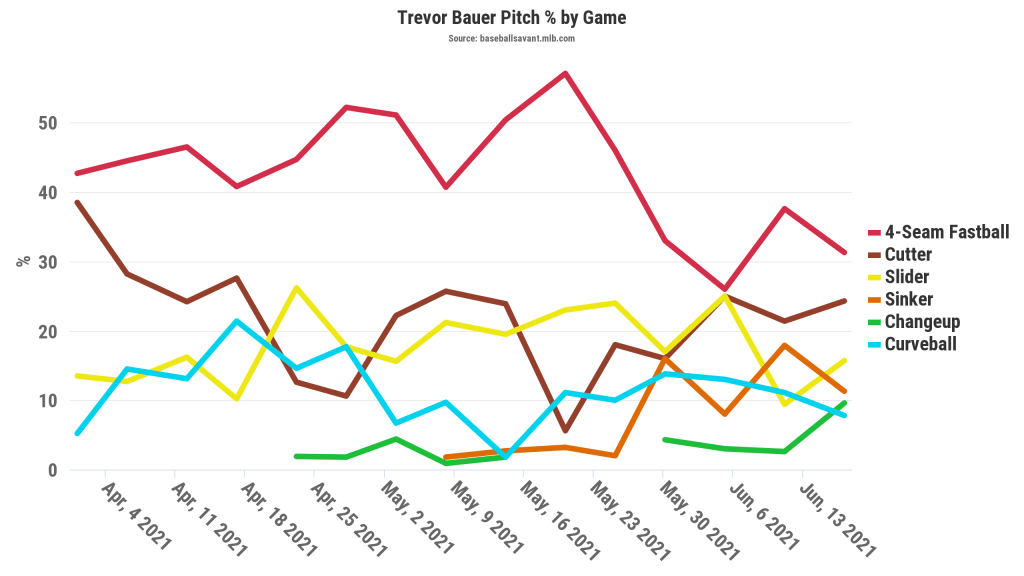 The trend of Bauer throwing his 4-seamer less continues as he only went to it 25% of the time last night, which is a season low. He utilized his sinker 20% of pitches, which is a season high. Bauer's strategy is to rely on increased movement from his sinker, which also tunnels well with his slider (25% usage) and cutter (20% usage).
He threw sinker-slider, slider-sinker, sinker-cutter, cutter-sinker on back to back pitches 16 times last night, so tunneling a mission for Bauer. It's always impressive to see Bauer adapt to any situation and create new pitch strategies. He finished his night with 10 K, 5 H, 4 BB and 3 ER through 6 IP. It wasn't the smoothest performance, but Bauer showed he is still able to generate whiffs without sticky stuff as 38% of swings were whiffs.
Pitcher of the Night – Kevin Gausman
Pitching line – 7IP, 9K, 4H, BB, HR, ER, 100 pitches
It just so happens that the pitcher of the night also had the nastiest strikeout. Gausman somehow lowered his already insane 1.51 ERA to 1.50. Angels hitters struggled to square up Gausman's splitter all evening. They swung on 34 of 49 splitters thrown and whiffed 18 times and contact that was made only averaged 79.1 MPH exit velocity. Gausman was baiting Angels hitters into swinging at his splitters low and out of the zone by tunneling with four-seam fastballs up in the zone. He only threw 13 non-fastballs. What a season Gausman continues to put together. These performances aren't going away anytime soon. I'm beginning to forget he's the same pitcher that rocked Orioles orange not too long ago.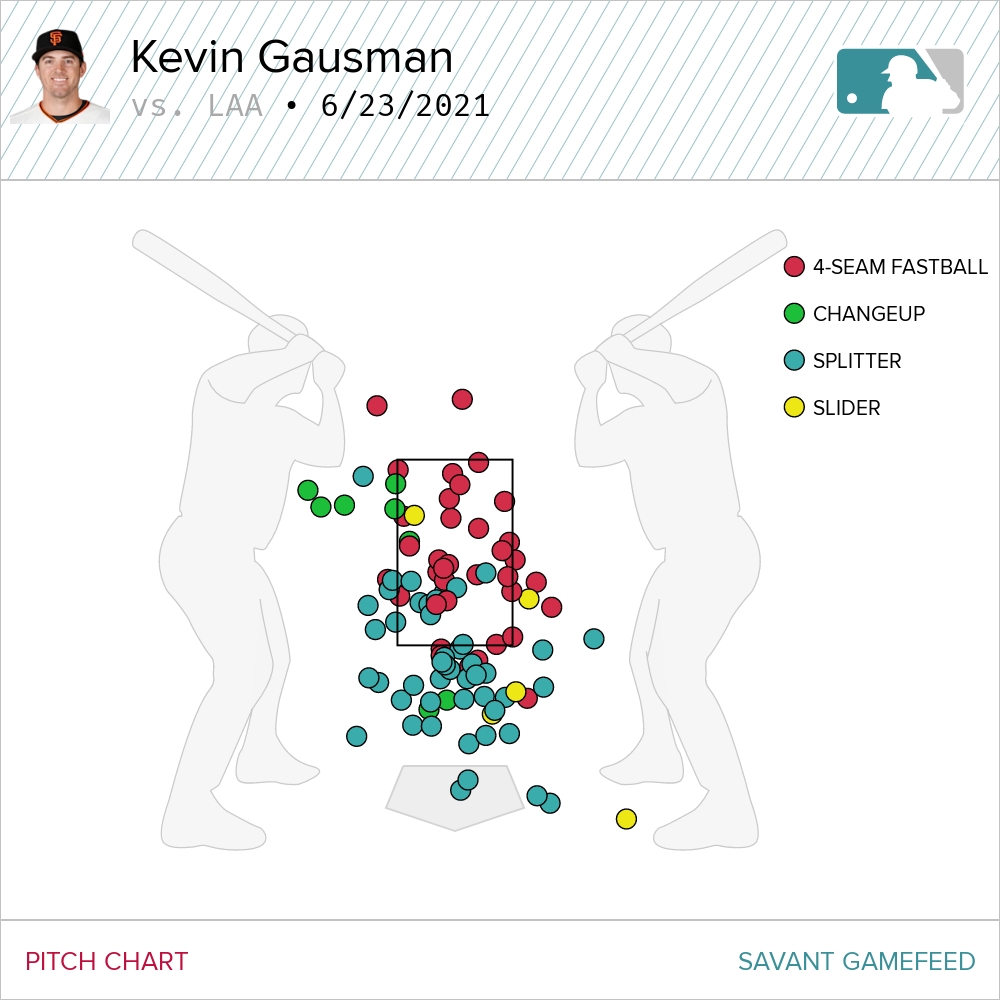 Hitter of the Night – Wander Franco
Batting line through two games – 2-7, HR, 2B, 3 BB, 1 SO, three hard-hit balls
I am going to cheat a little bit here because I want to talk about Wander's first two MLB games and my first impressions.
It amazes me how advanced 20 year-old hitters such as Ronald Acuña Jr, Juan Soto, Vlad Guerrero Jr. and Wander Franco have been since the day they stepped in the Big Leagues. I already talked about Wander's ability to limit strikeouts and the rarity that is in the game today, but I am also impressed with Wander's tactical approach to the zone. He took a 93 MPH slider from Garrett Richards no more than half-an-inch off the plate for ball four.

Franco displays the confidence of an MLB veteran, which puts him in the same conversation as the other young phenoms in baseball. It's going to be fun to see Franco adjust to pitchers as they adjust to him, but his knowledge of the zone is going to disrupt pitchers attempts to fool him

He hits the ball really hard. Wander has hit the ball over 105 MPH twice already and it's only a matter of time before he clears the 110 MPH hurdle.
Could Wander Franco be coming for Adolis Garcia's ROY trophy?!