List
MLB's 10 Best Prospects Under 20
The next wave of baseball's elite prospects.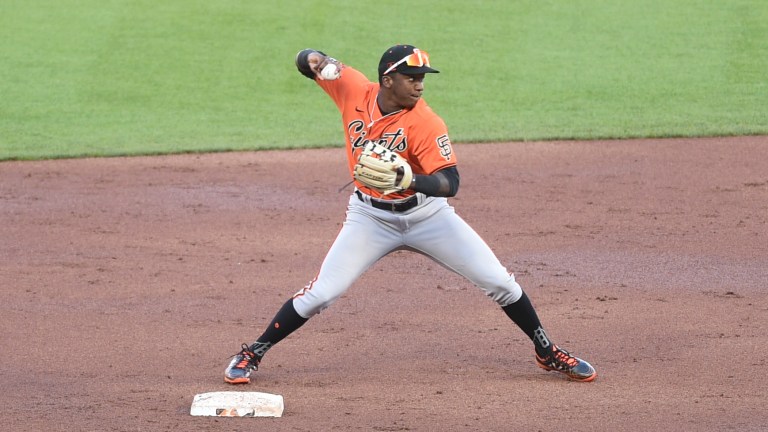 There has been a wave of young talent taking over baseball the last few years led in part by the trio of Jr.'s. Fernando Tatis Jr., Ronald Acuña Jr. and Vladimir Guerrero Jr. are all under 24-years-old and are among the best hitters in the game. Add Juan Soto, Luis Robert and now Wander Franco and it is safe to say that the future of baseball is in good hands talent wise.
As players continue to break into the Big Leagues at younger and younger ages, it won't be too long until the next surge of youthful talent will make their mark on the game. Lets take a look at who those next players may be.
1. Marco Luciano – SS – San Francisco Giants (Age: 19)
Luciano is one of the names who will be firmly in consideration for top overall prospect in baseball when Wander Franco officially graduates from the throne. Other elite shortstop prospects Bobby Witt Jr. and CJ Abrams may just have the edge over Luciano at the moment, but both are 21 and 20-years-old respectively making them ineligible for this list.
While not the most physically imposing build wise, The 19 year-old Luciano has otherworldly power. Luciano grabbed headlines from the alternate training site when he blasted a baseball 119 MPH and over 450 feet off of well-regarded Rockies prospect, Ryan Rolison.
For reference, Luciano's 119 MPH home run is nearly three MPH faster than any batted ball by a San Francisco Giant's Major Leaguer since the Statcast was birthed in 2015. Luciano has been red-hot after a slow start in Low-A, mashing four homers in June along with a .294/.402/.559 slash line.
Defense is not Luciano's calling card, but with the offensive ability he has, it doesn't really matter. A move to third could be imminent, which his power production and 70-grade arm will easily accommodate. As Luciano continues to drop his K-rate into the teens, a call up to High-A could be imminent.
2. Francisco Alvarez – C – New York Mets (Age: 19)
I really just marvel at this guy. Francisco Alvarez plays as if he has been behind the dish at the highest level for a decade, but he hasn't even been alive for two. Another 19 year-old stud, it is hard to find a hole in Alvarez's game and he has offensive upside that you don't see often from catching prospects.
Alvarez has 30+ home run power potential while not risking contact to attain it. Between Low-A and High-A this season, Alvarez has produced 25 walks against just 29 strikeouts while slugging at nearly a .600 clip. You wouldn't know Alvarez was four years younger than his competition in High-A by the way he confidently commands the game from behind the dish which is why he is the only player on this list playing above Low-A. Not only is Francisco Alvarez one of baseball's best catching prospects, but he is one of the game's best prospects period.
3. Noelvi Marte – SS – Seattle Mariners (Age: 19)
There are a lot of similarities between Noelvi Marte and Marco Luciano. Marte is another wiry strong kid with enviable bat speed and raw power that almost defies his 185 pound frame. One of the prized international free agents in the 2018 class, Marte has an advanced approach and really knows himself at the plate which is rare for a player of his age with his tools.
Marte has made a mockery of Low-A pitching this season hitting .299/.409/.529 with eight home runs and a 150 wRC+. Already establishing himself as a legitimate power threat, Marte is starting to see more pitches outside of the zone, but has showed discipline with his 13% BB rate.
Similar to Luciano, the bat and athleticism is Marte's forte, but the defense…not so much. That being said both prospects are still just 19-years-old, to say they are incapable of figuring out shortstop would be shortsighted. Regardless, it is worth noting that Marte's compact and powerful right handed stroke along with his above average arm will allow him to produce at third if a move is required.
4. Luis Matos – OF – San Francisco Giants (Age: 19)
The San Francisco Giants' 2018 International free-agent class was just unfair. Along with Marco Luciano came Luis Matos who signed for $1 million as well as intriguing outfield prospect, Jairo Pomares. All of which are playing for a loaded San Jose Giants roster in Low-A.
Matos is another guy whose raw power defies his 5'11, 160 pound frame. The center fielder was posting exit velocities up to 111 MPH at instructs and has already slugged 11 home runs in 89 professional games. Matos has tools across the board with his plus raw power, above average speed, projectable defense in center field and a great feel to hit for a 19 year-old. He has also stolen 13 bags already this season, showcasing his 20/20 potential.
Striking out just 13% of the time, Matos has really impressed with his barrel and body control. As Matos climbs through the minors, it will be interesting to see if his aggressive approach (5 BB%) will affect him against stronger pitching, but from what I've seen, I think the kid will continue to advance his game. He is just too gifted.
5. Robert Hassell III – OF – San Diego Padres (Age: 19)
Generally, it is a pleasant surprise when a high school bat is able to jump right into A-ball and hit, but this was somewhat the expectation with Hassell. The left-handed hitting center fielder had arguably the best hit tool among the prep bats in his draft class thanks to his sweet, smooth swing.
The questions around Hassell are mostly power related. It is probably just above average raw and average power for Hassell, but I would be willing to be on the hit tool catapulting him into being an every day player. Especially if he sticks in center field.
So far this season, Hassell is slashing .285/.375./.476 with four home runs and 17 stolen bases. A move up to High-A could be imminent given Hassell's advanced hit-tool. His hit-tool combined with above average speed and strong makeup should give the Padres a lot of confidence in his ability to translate into an above average regular. However, his ceiling will be dictated by his power output.
6. Jasson Dominguez – OF – New York Yankees (Age: 18)
As I have been running through this list, I can literally hear the Yankee fans screaming "Where is Jasson Dominguez?!" The irony here is that I am screaming the same thing. We have yet to see the teenage phenom outside of backfield games and mostly see clips or highlights in small snippets of "The Martian".
That being said, the limited video is enough to be able to see where the hype has originated. Signed for $5.1 million in the 2019 IFA class, Dominguez along with Oakland's Robert Puason led the way as the two most coveted names. Dominguez is by all accounts a physical freak. His bat speed is elite, he's a plus runner who hits from both sides of the plate and has 30/30 potential based on the caliber of his tools. It all almost sounds too good to be true and maybe it is. We wont really find out until Dominguez is unleashed into full season ball.
7. Tyler Soderstrom – C/1B – Oakland A's (Age: 19)
If I believed that Tyler Soderstrom could stick behind the plate, he would probably be even higher up on this list, because the bat no doubt plays. When Oakland took him 26th in the 2020 MLB Draft they were well away that they were betting on the bat and that bet has paid off so far. In his first pro season, Soderstrom has pulverized Low-A pitching as his .310./.397/.560 line would support. Soderstrom's eight homers trail only Marco Luciano for players under 20-years-old and he has consistent splits against lefties and righties as a left-handed power bat.
Frankly, I have no questions around his bat. That swing, approach and power all play. Soderstrom's defense behind the plate is a major question mark, however. In just 27 games at catcher, Soderstrom has already made five errors and yielded 11 passed balls. If Soderstrom has to move to first base, he will be able to produce more than enough offensively to accommodate the move, but my goodness, could you imagine his offensive potential coming from a catcher?
8. Diego Cartaya – C – Los Angeles Dodgers (Age: 19)
After discussing a player who has concerns about whether he can stick behind the dish, we now pivot to a guy who is as polished of a backstop as you'll find at his age. Cartaya earns high marks for how advanced he is in all aspects of his game.
Cartaya has a plus arm and has a chance to be a plus defender with a bit more refinement. Offensively, he has impressed, slashing .324/.434/.662, while supplying power with six home runs in just 18 games.
The adjustment to full-season ball has resulted in Cartaya being a bit pull-happy along with some swing and miss (28 K%). Long term, I am not too worried about his ability to hit consistently thanks to his short, quick swing and impressive bat speed. With how lauded Cartaya's presence behind the dish is, especially for a player his age, continued development behind the dish and at the plate should allow him to climb the prospect rankings rather quickly.
9. Kyle Harrison – LHP – San Francisco Giants (Age: 19)
Harrison was drafted in the third round of the 2020 Draft by the Giants, who offered him $2.5 million ($1.8M over slot) to sign the southpaw away from UCLA. Giants fans would have to wait nearly two years to see Harrison debut, due to the 2020 season being cancelled, but it has been well worth the patience for all parties involved.
Harrison has been one of the most dominant pitchers in the lower levels, outrageously striking out 63 batters in 36.2 IP (15.46 K/9). The lefty features a funky delivery that makes the ball really difficult to pick up from a low arm slot and has a ton of life on his fastball. The heater has jumped from the low-90s to now sitting in the mid-90s and topping at 97 MPH with run.
Citing Chris Sale as a point of reference, Harrison uses the deception paired with premium stuff to make for a miserable at-bat. His slider is a sweeper that is brutal left-on-left, but also has the ability to back leg right handed hitters. The changeup is flashing above average, but should play up thanks to the effectiveness of his fastball (See: Trevor Rogers). Yes, Harrison is walking a lot of guys (5.89 BB/9), but remember this is his professional debut. I'll take what we've seen from him so far.
10. Eury Perez – RHP – Miami Marlins (Age: 18)
Maybe the most low-key name on this list wont be kept under wraps much longer as the 6-foot-8 right-hander is starting to turn heads outside of the Marlins organization. An 18 year-old pitcher with a power forward's height has the makings to be a very slow developing project, but Perez has exceeded expectations with his strike throwing and quality of stuff.
Through 27 IP in Low-A, Perez has pitched to a 2.33 ERA, while striking out 37 and walking 11. The newly turned 18 year-old has shown ability to repeat his mechanics with little effort and has already touched 97.6 MPH on the heater. Perez has had success spinning the breaking ball and has flashed plus with his changeup. With the way the Marlins have been able to develop changeups in their organization, I'm going to bet that Perez will be the latest installment.