Analysis
St. Louis Cardinals Offseason Outlook for 2023-24 Free Agency
The Cardinals have a lot of work ahead of them if they want to put a disastrous 2023 season in the past and return to contention in 2024.
The St. Louis Cardinals enter this offseason at a crossroads.
St. Louis finished 2023 with a record below .500 for the first time since 2007 and as the last-place club in the NL Central for the first time since the division's introduction in 1994.
Coming into the year with expectations of making a fifth straight trip to the postseason, the 2023 Cardinals never really found their groove and ended up sellers at the trade deadline.
Now, with its core coming off a down year, St. Louis will need to revamp its pitching staff and find a way to get its MVP candidates back to playing at an All-Star level.
Regardless of any additions made, there will be a changing of the guard in the rotation as Cardinals legend Adam Wainwright has officially retired after his 18th season with the team.
St. Louis won't be losing many players to free agency this offseason, and if their stars bounce back and they make the right moves on the pitching side, the Cardinals can be right back in contention in 2024. So, let's dive in and see what the 2022 NL Central champs can do this winter to find their way back into the playoff picture.
Contract Decisions
The only players coming off the books in St. Louis are Wainwright, Drew VerHagen, Taylor Motter, Jacob Barnes and Tres Barrera. VerHagen may be the only one of the five with a shot of returning to the team in 2024 after throwing 61 innings of relief in 2023.
The Cardinals also have eight players eligible for arbitration, who are projected to make the following amounts next season (all projections via MLB Trade Rumors):
Tyler O'Neill: $5.5MM
Dakota Hudson: $3.7MM
Tommy Edman: $6.5MM
Ryan Helsley: $3MM
Andrew Knizner: $2MM
Dylan Carlson: $1.8MM
Jake Woodford: $1.1MM
JoJo Romero: $900K
St. Louis could non-tender the likes of Barnes, Hudson, Knizner and Woodford to clear up some roster spots and reallocate that money elsewhere.
Starting Pitching
Internal options for 2024: Miles Mikolas, Steven Matz, Zack Thompson, Dakota Hudson, Matthew Liberatore, Drew Rom, Connor Thomas, Tink Hence, Gordon Graceffo
This is where the heavy lifting will need to be done this offseason.
With Wainwright riding off into the sunset and St. Louis dealing Jordan Montgomery and Jack Flaherty at the trade deadline, it seems like the Cardinals will need to add a minimum of three starters externally.
Steven Matz looked solid before hitting the IL to end the season, posting a 1.86 ERA and 2.84 FIP after being moved back to the rotation in August. So, as far as their internal options go, the Cardinals have Matz and Mikolas, but outside of those veterans, there aren't a lot of options that inspire a ton of confidence.
Potential free agent targets: Sonny Gray, Aaron Nola, Jordan Montgomery, Eduardo Rodriguez, Marcus Stroman, Blake Snell, James Paxton, Kyle Gibson, Michael Lorenzen, Shota Imanaga, Yoshinobu Yamamoto, Rich Hill
Name a free-agent starter this offseason, and you have a pitcher who is likely a good fit in St. Louis.
According to Katie Woo of The Athletic, the Cardinals have identified Nola and Gray as two arms they will look into.
Either would fit atop the team's rotation but wouldn't be enough to turn the second-worst group in 2023 into a legitimate postseason threat. Of course, there are likely to be multiple free-agent additions, but the Cardinals could turn the depth of their outfield core into a key starter as well.
Shane Bieber, Dylan Cease and Tyler Glasnow are just a few of the names that might be available via trade this winter.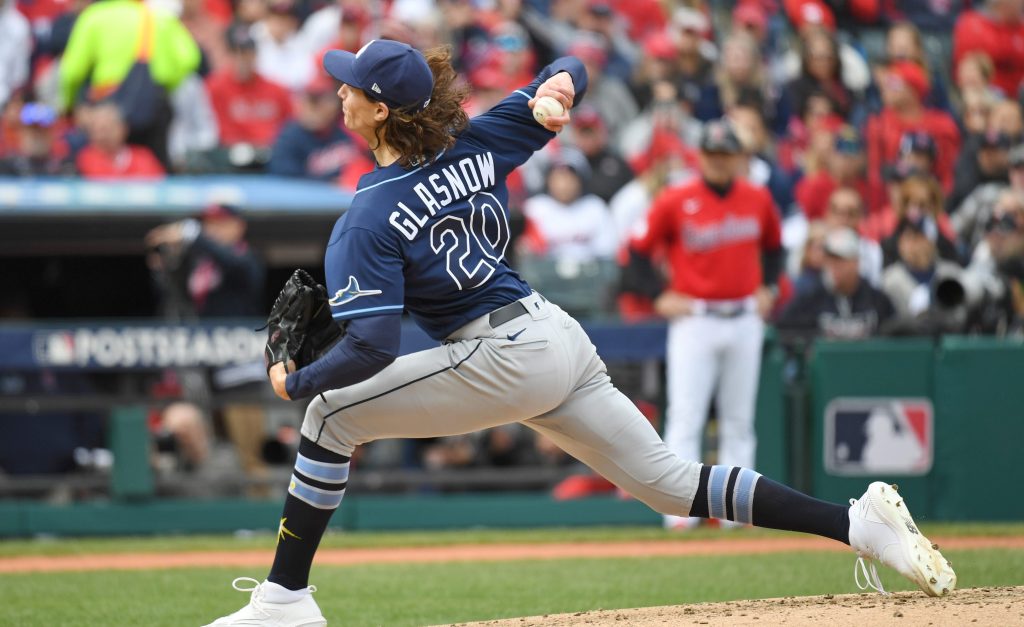 Along with the Cardinals' offense taking a step back in 2023, their defense fell off as well. The team went from tied for fourth in DRS (67) and fourth in OAA (26) to 20th in DRS (-7) and 19th in OAA (-5).
Meanwhile, just four St. Louis pitchers that threw more than 40 innings with the team had a strikeout rate over 25% (Jordan Hicks, Chris Stratton, Giovanny Gallegos and Zack Thompson). Thompson, of course, is the only one of the four to make any starts for the team.
So, if the Cardinals' defense isn't going to perform at its 2022 levels, the front office should prioritize adding some swing and miss to the rotation.
Out of all the players listed above, some of the best fits would be Cease, Snell, Glasnow and Paxton.
Bullpen
Internal options for 2024: Ryan Helsley, Giovanny Gallegos, JoJo Romero, Andre Pallante, John King, Jake Woodford, James Naile, Wilking Rodriguez, Guillermo Zuniga, Packy Naughton
With Helsely, Gallegos and Romero locks to return to the back end of the bullpen, there is less work needed for St. Louis among its relief corps, but still, adding some pieces would go a long way towards a return to the top of the division.
Retaining VerHagen would help in adding some depth to the bullpen, but another free agent addition or two could really round the group into shape.
Potential free agent targets: Jordan Hicks, Keynan Middleton, Reynaldo López, Chris Stratton, Phil Maton, Emilio Pagán, David Robertson, Matt Moore, Josh Hader, Aroldis Chapman
Could a reunion with Hicks or Stratton be a viable option in free agency? The Cardinals tried to extend the flamethrowing right-hander ahead of the trade deadline, but when they couldn't come to an agreement, they dealt him to the Toronto Blue Jays instead.
So, perhaps with some of the groundwork laid back in July, the two sides might be able to finalize a deal with Hicks coming off a career-best season.
Outside of the two former Cardinals, it's hard to identify any specific arms the team will pursue. However, with just Romero, King and Naughton as the only lefties on the internal option list above, it might make sense to add a more experienced southpaw into the mix.
Infield
Internal options for 2024: Paul Goldschmidt, Brendan Donovan, Nolan Gorman, Nolan Arenado, Tommy Edman, Jose Fermin, Willson Contreras, Ivan Gerrera, Luken Baker, Buddy Kennedy, Masyn Winn
Barring any trades, the Cardinals' infield should be more or less set for 2024. With Donovan returning from injury, the group of Goldschmidt, Gorman, Arenado, Edman, Contreras and Donovan should account for the majority of the reps between the five positions.
No matter what the team does or doesn't do in free agency, the infield core could be what makes or breaks the Cardinals' season in 2024. After Goldschmidt won the 2022 MVP and Arenado finished third in the voting, the duo combined for nearly eight less fWAR in 2023.
With Goldschmidt entering the final season of his five-year, $130 million extension signed in 2019, St. Louis could have theoretically looked into moving the 36-year-old. However, the club has committed to putting a winning team back on the field next season.
Getting a full season from Donovan should be a big boost to the infield, as well. The 26-year-old posted a 118 wRC+ and increased his power output in just 95 games in 2023, while logging time at six different positions.
The Cardinals will have a decision to make with Winn and Baker. Both got a chance to make their big league debuts at the end of the season but didn't make much of an impact in their limited at-bats. So, with the likes of Edman and Goldschmidt set at short and first, will St. Louis prefer to keep the two in Triple-A to get reps, or will they give them a shot at being bench options out of spring training?
With Winn being just 21 years old and getting out to a slow start at the plate in his time in the majors, it would make sense to see the Cardinals prioritize adding some depth at shortstop to give Winn some more minor league at-bats before giving him a full-time shot in the bigs.
If they do decide to start Winn in Triple-A, it would make sense to add a backup shortstop type and maybe some depth options, but outside of some minor moves, don't expect St. Louis to crash the already limited infield market.
Outfield
Internal options for 2024: Lars Nootbaar, Jordan Walker, Tyler O'Neill, Dylan Carlson, Richie Palacios, Moises Gomez, Alec Burleson, Juan Yepez, Michael Siani
This group feels ripe for a trade this offseason.
With Nootbaar and Walker likely entering the year written into the lineup in pen, could O'Neill or Carlson be part of a trade to bring in a reliable starting pitcher while clearing out the logjam in the outfield?
| | | | | | | | | | | | |
| --- | --- | --- | --- | --- | --- | --- | --- | --- | --- | --- | --- |
| Player | PA | HR | AVG | OBP | SLG | wOBA | xwOBA | wRC+ | K% | BB% | OAA |
| Tyler O'Neill | 266 | 9 | .231 | .312 | .403 | .312 | .338 | 97 | 25.2 | 10.5 | 0 |
| Dylan Carlson | 255 | 5 | .219 | .318 | .333 | .293 | .320 | 84 | 19.2 | 10.2 | 2 |
2023 statistics
Neither was particularly effective in 2023, but with Carlson's pedigree as a top prospect and O'Neill being just two seasons removed from a 5.5-win season that saw him hit 34 home runs, win a Gold Glove and finish eighth in MVP voting, it wouldn't be shocking to see some team in need of offensive help take a swing on either outfielder.
Carlson has three more years of team control, while O'Neill has just the 2024 season remaining before he hits free agency.
So, if the Cardinals are looking to deal from their crop of outfielders, Carlson may be able to net a more significant return. Of the potential starters St. Louis could look at dealing for (as listed earlier), Bieber might be the one that would fit a Carlson deal the best. With just a year of control remaining and some potential red flags popping up in his profile over the past couple of seasons, he won't command as much in a trade as Glasnow or Cease.
Of course, St. Louis could also look at dealing other young outfielders like Burleson or Yepez, who have both gotten their fair share of major league at-bats over the past two seasons. But neither would land the Cardinals much in the way of proven MLB-level arms.
With versatile defenders like Edman and Donovan also able to take up some innings in the outfield, it almost makes too much sense for the Cardinals to deal one, if not more, of their internal options.
Final Thoughts
This offseason is about one thing for the Cardinals: pitching.
They are tasked with overhauling nearly their entire staff, and they will have plenty of competition for the top arms on the market. Essentially, the team can't add too much pitching this winter.
While there is plenty of talent available on the open market, there is an opportunity for John Mozeliak and St. Louis' front office to get creative on the trade front as well. Keep an eye on the Cardinals for some names you might not expect to pop up in negotiations.
The Cardinals have more than enough talent to work their way back to October if they can lock things down on the mound in 2024.