Analysis
Seattle Mariners Offseason Outlook for 2023-2024 Free Agency 
The Seattle Mariners must be active this offseason if they are going to take the next step to compete atop the AL West in 2024.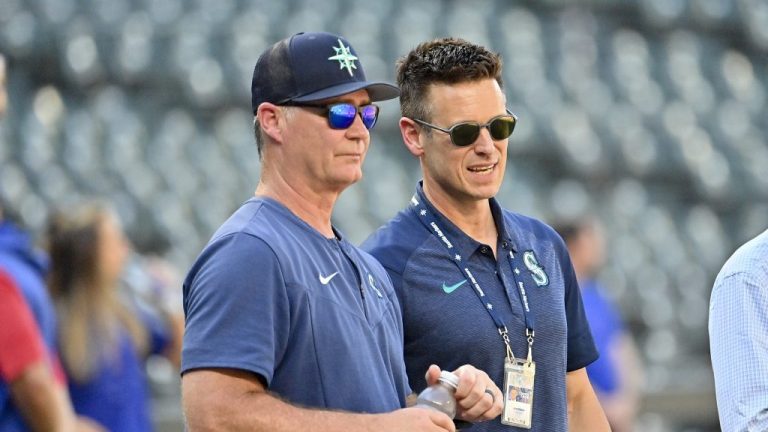 The 2023 Mariners season held expectations as lofty as they had been before any year since 2001.
A 22-year-old superstar leading the way in center field with a contract extension that will last a lifetime and a half, a very young rotation that shaped up to be one of the best in baseball, yet another dynamite bullpen group and the surging momentum from a season ago after breaking their 21-year postseason drought.
Not to mention that they went toe-to-toe with the reigning world champion Astros in every contest during a three-game set in the ALDS. Unfortunately, said expectations were not met. 
The Mariners finished the year with 88 wins (emerging victorious in 54% of their games, a win percentage that President of Baseball Operations Jerry Dipoto infamously coined in his end-of-season press conference). They fell one game short of reaching the postseason, finishing as the No. 7 team in the American League just behind the Blue Jays, while placing just two games back of the Rangers and Astros in the AL West.
Between a sluggish offense for the entire first half of the season, some key players underperforming to their career norms, and having to sustain their fair share of injuries, there are plenty of reasons as to why Seattle's season did not go as planned.
But the past is the past. All that matters now is what the organization does to improve the roster moving forward in order to push this team into perennial playoff and World Series contention.
And there is serious work to be done.
More Offense
The Mariners rotation and bullpen were both top five units throughout the 2023 campaign. And they don't have a single key player from either of those groups departing in free agency. If they were to leave those two area completely untouched, they would shape up just fine come 2024, if not fantastically well.
The lineup? Not so much.
From Opening Day through the end of June, the Mariners were the 19th-best offense in baseball by WRC+ (95). They were a team built on hitting the long ball despite ranking 25th across the game in Slugging Percentage throughout that time span (.385). As a team they were striking out at the second-highest rate in the league (25.7%).
And truthfully, the strikeouts didn't stop all season as they finished with the second-highest K% in the league for the season's entirety as well.
Julio Rodriguez really struggled throughout the first half. Teoscar Hernadez was a disaster through the first two months. Eugenio Suarez was not mirroring what he had done a season prior in 2022. The Mariners heavy hitting bats were not carrying their weight.
While they scaled out as a top five lineup in the second half by fWAR (15.9) and WRC+ (127), it was too little too late. Their inability to put the .500 mark in the rearview mirror for nearly the entirety of the first three and a half months caught up to them in the end, despite a red-hot August that had them sitting at first place in the AL West.
They need impact hitters, plain and simple. If Hernandez leaves in free agency, they will need at least one newly acquired hitter. And truthfully, they may need two outfield bats, period. For as nice a surprise as Mike Ford was a lot of the year, the club certainly needs more production at the DH spot. And there are arguments to be made to upgrade at first base too after the disappointing season that Ty France just had (.250/.337/.366/.703 with 12 home runs, a 104 WRC+ and an 0.5 fWAR).
The issue is the free agent class is not at all deep for bats past Shohei Ohtani.
And let's be clear: the Mariners will likely be very competitive in the Ohtani sweepstakes. Truthfully, they may be on the short list just as they were six years ago before landing in Anaheim.
But they cannot by any means bank on him to sign.
If Ohtani chooses elsewhere, the Mariners will be forced to scour the rest of the free agent class.
And sure, there are some bats out there that can help. Mitch Garver is someone who would slide in perfectly at the DH spot, while also possessing the capability to serve as the second catcher when Cal Raleigh needs off days.
Jeimer Candelario is coming off a sturdy three-win season and can play both corner infield spots. Mark Canha is a player that the Mariners have been linked to a lot over the last couple seasons, can play a flurry of positions and almost always put up a WRC+ in the 110's and 120's (although there is a club option in his contract, so it is yet to be seen if the Brewers will pick it up or not). 
There is also the possibility of a reunion with Hernandez as well.
Additionally, there are a couple of higher end names out there such as Cody Bellinger and Matt Chapman. But Seattle paying the money that Bellinger and Scott Boras will ask for seems unlikely, especially considering the wild inconsistencies of his career (47 WRC+ in 2021, 87 WRC+ in 2022).
And the Mariners seem content with Suarez at third base, who has a year left on his contract and just strung together the best defensive season of his career (11 OAA, ranking in the 97th percentile per Baseball Savant).
Adding a couple of the tier-two players (such as Candelario, Canha and others) is necessary for the Mariners this winter. But to find the game wreckers? They will have to get creative.
Sign An Arm And Trade For A Bat
What this free class does have is a long list of high end starting pitchers. Starters such as Blake Snell, Aaron Nola and Sonny Gray will all be in search of new area codes, among others.
The Mariners currently have seven starters to fill five spots next season (Luis Castillo, George Kirby, Logan Gilbert, Bryce Miller, Bryan Woo, Marco Gonzales, Emerson Hancock). When 2021 AL Cy Young winner Robbie Ray returns (which is expected to be sometime around the All-Star Break), he will be slotted back into the rotation and take yet another spot in the rotation.
That is more depth than anyone in baseball. But if the Mariners want to keep an unprecedented laundry list of starters while also acquiring true thumpers in the lineup, they could do some addition by subtraction.
There is the option for the team to pay one of those starters in free agency, and as a result package some of their young pitching such as Miller or Woo in a trade to get back the bats that they are looking for.
Snell is from Seattle, has always talked about wanting to return home, and now reportedly has real interest in signing with the Mariners. He will not be cheap, and it may require getting into a bidding war to ink the likely NL Cy Young winner (something Dipoto and the Mariners almost never do). But it is worth the consideration.
Nola is a prototypical Mariners starter. Throws a ton of strikes, regularly works deep into games and doesn't walk many guys despite not racking up a crazy number of punchouts. Despite having an ERA that is a bit loftier at 4.46, his xERA sat at 3.77 with a 3.63 xFIP, suggesting that he was a product of some poor luck throughout the year.
Who could they trade for?
I have thrown the idea of a Luis Robert trade out there as he has the most star power among any team that might be looking to sell this winter. But the likelihood of that one is slim.
So, could the Mariners call John Mozeliak and the Cardinals? St. Louis needs arms and Seattle needs bats. Could a Nolan Gorman trade be on the table? Would they consider moving Jordan Walker? 
Truthfully, Brendan Donovan may make the most sense in terms of a player the Cardinals would consider moving. He has proven to hit over his first couple of seasons, posting a 128 WRC+ in 2022 and a 118 WRC+ this past year. He walks enough, doesn't strike out (14.3% K% in 2023) while also able to be deployed at third base or the corner outfield spots.
They could get on the phone with Mike Elias and the Orioles too, another team that is in dire need of young starting pitching. The Orioles will not part ways with Gunnar Henderson or Jackson Holliday, but some of their other young bats may be on the table. Players by the likes of Heston Kjerstad, Jordan Westburg and Colton Cowser. These two clubs linking up as trade partners would make a lot of sense.
Final Thoughts
The Mariners are behind the eight-ball now. While there is not an acre of ground to make up on Houston and Texas, they cannot be complacent this winter either.
Their season was not awful. They weren't a bad team. But they simply weren't good enough, particularly on offense for far too much of the season.
The team cannot afford to make marginal moves and rely on the hope that many of the underperforming players correct themselves for next season. A couple of deals for role players and mid-level bats is okay. They cannot be the headline moves.
The best things in life are free. In Major League Baseball? Different ballgame.