Analysis
Why the Seattle Mariners Should Try to Trade For Luis Robert
Needing to boost their offense this offseason, should the Seattle Mariners pursue a blockbuster trade with the White Sox for Luis Robert?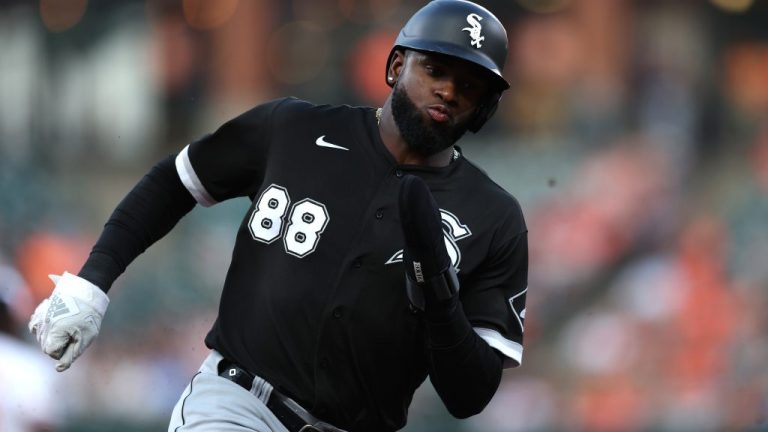 So this article will probably not sit well on the south side of Chicago.
Scratch that. I know it won't.
Because I was (un)fortunate enough to learn that the hard way over this past week.
(Side note, the MLB Trade Simulator is a nightmare. It has completely twisted the minds of way too many fans, giving them unrealistic expectations of what they believe a trade should look like).
Regardless of all that, it is time for the Mariners to make some waves this winter. And not the soothing kind that softly mosey their way up the white sand beaches. No, they need to create a true splash. And one that revolves around the offensive side of the ball.
And if everything doesn't come up Ohtani in Seattle (sweepstakes in which the Mariners will absolutely be in on, but it is far from a guarantee on landing him), there are no other free agent bats that can truly turn heads and create that tidal wave in their lineup.
Something that they desperately need to stay on par with or surpass the two teams in their own division currently fighting for the AL Pennant in the Rangers and Astros.
That would leave the trade route, an avenue in which Jerry Dipoto (or "Trader Jerry" as he has been tabbed) is more than comfortable with.
The Mariners are in need of outfielders, especially if Teoscar Hernandez departs in free agency. They have young and controllable starting pitching with very bright futures. And the White Sox have stated in the past that they would listen to offers for their shining star for the right price.
After all, Chicago is not in position to win and appears to be in need of yet another rebuild.
So, why not Luis Robert?
What Robert Would Bring To The Mariners
To state the obvious, the Mariners would be getting a dude in Robert.
He corralled the eighth-highest slugging percentage across baseball (.542). He ranked ninth in the game with 38 bombs in 2023. He sat at 18th in the game with a 128 WRC+. He racked up a five WAR season which was within the top 25 of the sport. 
You can hear the ball explode off of Robert's bat from the next county. He absolutely tees up baseballs, ranking in the 93rd percentile of the league in Barrel% (per Baseball Savant).
He also has fantastic speed. Robert swiped 20 bags this season, qualifying himself as one of just six players to hit 30+ home runs and steal 20+ bases for the year. His Sprint Speed ranks in the 83rd percentile of baseball.
And those wheels play a part in his elite level defense. Robert recorded 13 OAA for the year in center field. That ranked second among all outfielders in baseball and in the 98th percentile of all players.
Now, he is not perfect. Robert strikes out more than his fair share. At a 29% clip to be exact. And for a team that's Strikeout% stood at second in baseball in 2023, he would not lessen that issue.
Robert also does not walk. Since 2021, he has never drawn free passes at anything higher than a 5% rate, which is well below league average. He does have the tendency to chase a lot of pitches rather than working counts.
And he has also had trouble staying healthy throughout his career. 2023 was the first time that Robert played more than 100 games over the course of a big league season.
Between wrist injuries and a groin strain in 2022 along with a torn hip flexor in 2021, a clean bill of health has not often been Robert's friend. 
All that said, the positives still far outweigh the negatives. Robert would add an imposing presence in the heart of the Mariners lineup along with Julio Rodriguez, J.P. Crawford and Cal Raleigh while also aligning with Rodriguez defensively to form what would be the best defensive outfield in the business.
The Hefty Cost
This trade will be far from a walk in the park. In fact, the White Sox may still view him as borderline untouchable. So if the Mariners truly feel the incentive to execute this acquisition, they will have to put together their best at-bat. Especially when it regards a superstar player that has four years of club control (Robert has two club options in his contract after 2025).
There are a couple of different trade proposals that we can look at here.
Trade No. 1
The first is the one that I proposed on the "Marine Layer Podcast": Bryan Woo, No. 1 prospect Cole Young, and outfield prospect Jonatan Clase who is fresh off a 20 home run, 79 stolen base season
(This did not sit well with the White Sox faithful, as the aforementioned comments will tell you).
At age 23 in his rookie season, Woo showed tremendous upside with stuff (especially with his two fastballs) that has the potential to profile long-term as a true frontline starter. He made 18 starts. In starts No. 1 and 17 he got lit up in Arlington by the Rangers. Between those two outings he held a 3.32 ERA with a 1.69 ERA in August.
Woo also has all six years of club control to his name. His service time clock has not yet started due to not getting called up until early June.
Young comes off a spectacular first full season in the minors in which he posted a 128 WRC+ in Low-A Modesto, followed by an .884 OPS and 142 WRC+ across 48 games in High-A Everett. He swatted 34 doubles in total for the year along with nine triples and 11 home runs, while walking over 14% of the time and punching out under 16% of the time. His game only continues to elevate despite just concluding his age 19 season.
And while Clase still has some developing to do with his hit tool, he has next level speed and can switch hit with some intriguing power. That speed also translates to the outfield which allows him to cover significant range.
But let's throw one other trade package out there.
Trade No. 2
Our second proposed package would consist of Logan Gilbert, Emerson Hancock and Gabriel Gonzalez.
This one may be even heftier than the first. The return to Chicago would feature two big league starting pitchers and a top-five prospect in Seattle's system.
Gilbert has established himself as one of the upper end starters in the American League. He finished top five in baseball in BB/9 and had his second consecutive three WAR season. And he has four years of club control remaining before free agency.
Hancock made just three big league starts before getting injured to end his 2023 season. However, in two of his three starts he looked sharp. He may not quite have the top-end starter ceiling he once possessed when the Mariners drafted him No. 6 overall in 2020, but he is still more than capable of being a contributing piece in a big league rotation. He is set to be more than ready by Spring Training, with eyes on remaining healthy and returning to major league action.
Gonzalez is a pure hitter who makes a lot of contact and still has some power to tap into at just 19 years old. While he struggled after his promotion from Low-A to High-A, he still managed to put up a .298/.361/.476/.837 slash line while maintaining a strikeout rate that was under 14% in Modesto. The White Sox would add a fairly high upside outfield bat to their farm system who could be a real contributor in a couple of years.
Final Thoughts
It is very possible that none of this would move the needle for the White Sox. They may opt to take the route of building around Robert moving forward rather than using him as the golden ticket to their rebuild.
But it should not hold the Mariners back from pulling out all of the stops to try and acquire the 26-year-old phenom. It is imperative for them to take a massive leap forward offensively. And under no circumstances can they rely on Ohtani choosing to sign in the Pacific Northwest.
There are very few game-changing bats that will be dangled out in trade talk this winter. Certainly none to the level of Luis Robert. And to be fair, the Mariners will not be chomping at the bit to give up significant assets for what would be their second blockbuster trade in the last two calendar years (they acquired Luis Castillo in late July of 2022 in exchange for Noelvi Marte, Edwin Arroyo, Levi Stoudt and Andrew Moore).
But they are at a crossroads. The Astros and Rangers are not going away. Seattle cannot wait around to win any longer. And to play catch-up will revolve around what they do at the plate.
A Luis Robert trade would undoubtedly close the gap.