Analysis
San Diego Padres Offseason Outlook
In 2022, the Padres acquired a superstar under the age of 25, saw another one suspended for PEDs and made it to the NLCS. What comes next?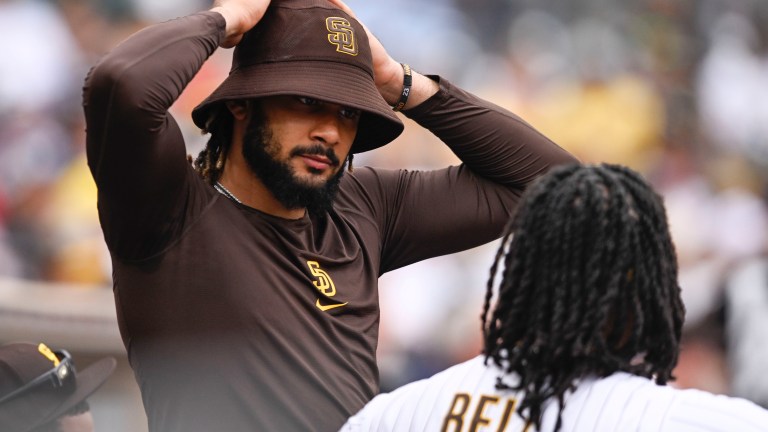 There is nothing normal about the San Diego Padres. The team entered the season with its star player, Fernando Tatis Jr., revealing his side hustle as Evil Canevil and a slew of questions surrounding their starting rotation that disappointed mightily in 2021.
Then, for reasons attributable to dark magic, the Padres ended up making one of the biggest blockbuster trades in the history of the game (Juan Soto) and beating not just the 101-win Mets in the playoffs, but also the perennial playoff bozos — the Peyton Manning of baseball, if I may — the Los Angeles Dodgers.
Indeed, while the Padres did end up losing to the Philadelphia Phillies in the NLCS — a series that was a lot closer than its 4-1 result suggests — there was a LOT to talk about for San Diego in 2022.
And much of it was good! Very good!
But even with all of the Dodger-slaying and Twitter-exploding trades, the Padres still have plenty of questions looming for them this offseason. And with reports that the team is going to maintain its commitment to being competitive — a stark contrast, seemingly, to the rest of MLB — there's certain to be plenty of headlines incoming.
So let's, like, totally get into those very questions, man.
Why Do Batters Get Worse With the Padres?
Oh what? Thought I was going to start with the aforementioned superstar shortstop and his suspension? Here at Just Baseball, we don't believe in following the mainstream media's tired talking points.
Instead, we must discuss the Padres offensive acquisition problem. Just take a look at the highly-detailed and smart table below in regards to the trio of players they acquired at this year's deadline:
| | | |
| --- | --- | --- |
| Juan Soto | Pre-Trade: .246/.408/.485, 152 wRC+ | Post-Trade: .236/.388/.390, 130 wRC+ |
| Brandon Drury | Pre-Trade: .274/.335/.520, 135 wRC+ | Post-Trade: .238/.290/.435, 105 wRC+ |
| Josh Bell | Pre-Trade: .301/.384/.493, 143 wRC+ | Post-Trade: .192/.316/.271, 79 wRC+ |
Oof!
And that's just from this year's trade deadline. In 2021, the Padres big deadline splash was then-All-Star Adam Frazier. With the Padres, Frazier regressed from a 127 wRC+ to an abysmal 86 mark.
Luke Voit, who was unceremoniously sent to the Shadow Realm (Washington Nationals), was somehow one of the least disappointing players when he was still with the Padres, but still a bit underwhelming. And the less said about Trent Grisham's decline, the better.
With the exception of Soto, it's certainly fair to chalk all of this up to the Padres buying high on players that were obviously due for regression. But what if it's something deeper?
Could it be a coaching problem? Perhaps their infamously pitcher-friendly Petco Park is to blame? Is AJ Preller a fraud? I'm not sure, but fact of that matter is that many of the major offensive additions the Padres have acquired over the last few years haven't complimented their stars nearly enough.
This offseason, the Padres need to figure that out.
Will Nick Martinez Opt Out?
Despite being out of Major League Baseball since 2017 — and hardly being productive while with the Rangers — Nick Martinez returned with a gentle vengeance in 2022. While his numbers might not jump off the page, he has an elite change-up (batters hit .155 against it) and can be an electric multi-inning reliever or even a soft No. 5 starter when absolutely necessary.
The question is, after signing a four-year, $25.5 million dollar contract prior to the season, whether or not Martinez will attempt to cash-in on the open market and exercise his player option.
Remember, we've seen time and time again that players can leave a lasting impact on the league when performing well in the playoffs, which Martinez very much did (0.82 ERA).
We'll call this the Pablo Sandoval effect, and given that plenty of teams could use a swing-reliever like Martinez he may very well net himself a pretty penny. If that's the case, the Padres will have to figure out a decent enough replacement, which isn't an easy task for a team that's struggled with cultivating depth.
Can the Back End of the Rotation Get Some Help?
In the past I've, in a way that some (everyone) might call smug, complained about baseball fan's penchant for claiming their team NEEDS another starting pitcher as if it's somehow unique to that team. In keeping with that theme, the Padres don't NEED starting pitching help, but there's still some questions that need to be answered. Namely, pending free agents (and recent playoff disasters) Mike Clevinger and Sean Manaea.
It's possible the Padres may bring back one of the two on a cheap contract, which isn't an entirely outrageous idea even with their struggles. This could especially be true given the Padres don't have quite trade capital left following the Soto trade.
The starting pitching market isn't quite as lucrative as last offseason, but there's still some interesting players like Tyler Anderson, Martín Pérez, and José Quintana out there.
It'll also be interesting to see if the team's top of the rotation can continue to be as dominant as it was in 2022. Yu Darvish is a year older and Blake Snell has been an infamously inconsistent regular season pitcher, so the optimal route may be for the Padres to go for depth, rather than a major splash on the level of Carlos Rodón.
Will Anyone Else in Baseball Try to Get Good Players?
There's admittedly, some tension with this one. Because, as is the case seemingly every offseason for the Friar Faithful, the Los Angeles Dodgers continue to be in the mix for the absolute best talent on the market.
First, it was Mookie Betts after the Red Sox, who have won quite a lot of championships in the 21st century, successfully convinced their fans that operating like the Rays — who have won quite a lot of nothing — that trading away their best player in 20 years was a good idea.
The second straw was a pitcher that doesn't, honestly, deserve to have his name even uttered on any website. Then there was Max Scherzer and Trea Turner. And then, even though nearly any team could've used him, was Freddie Freeman.
And now, perhaps as sure a sign the rapture is upon us, the Dodgers are reportedly in on the Aaron Judge sweepstakes. Pain!
While this doesn't have to do as much with the Padres as it does the larger picture of where baseball unfortunately continues to head, it's still worth monitoring. As much as Dodgers fans claim a rivalry between the two teams doesn't exist, the regular season head-to-head matchups have been quite lopsided in LA's favor. Adding Judge, or any number of other prized free agents, could make the dragon-slaying all the more difficult for San Diego.
Or, if you're more of an optimistic type, one can hope that the Dodgers absorbing every talented player like Kirby may make it easier for them to compete for the Wild Card spots. Who knows! I don't know anything anymore.
The Tatis Guy
Oh, this silly little goober. The merchant of malarkey. The sargent of silliness. What in my brother in heaven is going to happen with Fernando Tatis Jr.?
There has been, rightly, much discourse regarding the superstar shortstop. Initially refusing to get surgery for a shoulder that plagued much of his 2021 campaign, (multiple?) motorcycle accidents, and PED suspensions usually have that effect. But there's, of course, a reason why Tatis' off-field tornado is covered so much: he's extremely good at baseball.
Much was made at the deadline of the possibility of Fernando Tatis Jr., Manny Machado, and Juan Soto all at the top of the lineup, and for good reason that doesn't need much explanation. But even still, there's so much unknown here for the Padres, which will make every single push notification worthy of examining this offseason for an update.
Will he continue to play shortstop, or has Ha-Seong Kim earned the favor of the team at this point? Has the entire experience humbled him? Or will something inevitably pop up that only brings more drama to a team that, if 2022 was any evidence, has no interest in procuring?
Plus, there's still the issue of his suspension to start the season AND returning from a lengthy history of injuries. There's a lot of If's here!
Tatis is, bar none, the biggest wild card for not just the Padres, but perhaps the entirety of the National League for 2023. Even if he does return fully healthy and fully humbled, it's hard to immediately plug him in for another 6 WAR season. Baseball has a knack for making player's vacillate in production more than Aaron Rodgers' temperament at a press conference.
Tatis could very well be the biggest addition the Padres make this offseason, but he could also be what holds them back from finishing what they started in 2022.