Analysis
How Badly Do the Padres Need Starting Pitching Help?
The Padres rotation left a lot to be desired in 2021, but is it something the team should be that desperate to improve upon this offseason?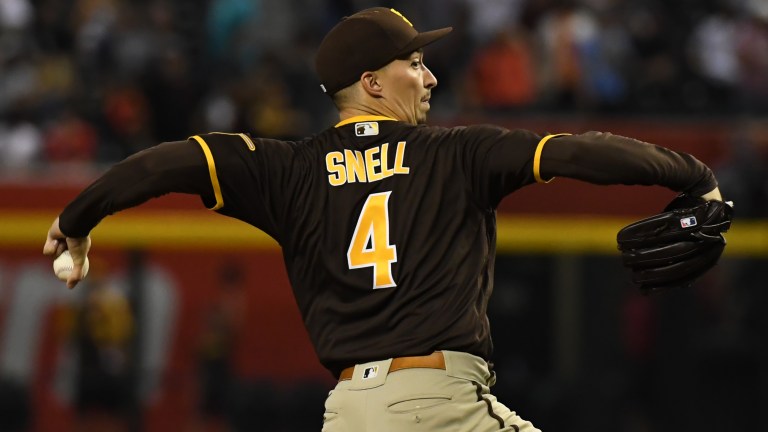 Some of you need to learn how to act. The baseball offseason is only just underway, and we're already being inundated with the vilest of offseason takes.
You're all freaks, trying to masquerade as experts. The Hall of Fame debates? Trash.
The justification for not having a universal DH? Abysmal.
The CBA negotiations? Deplorable.
The mock trades? Atrocious.
You know the part in 2012 where the entirety of California is destroyed?
That's what baseball discourse has done to my soul.
But perhaps most unique to my mentally dilapidated brain, one of my biggest — admittedly, irrational — pet peeves is fans who believe suggesting their team needs to go out and get a starting pitcher is somehow a deep fulcrum of analysis to bring to the table. Why, you ask? Because every team needs starting pitching!
The question is, rather, how badly does a team need starting pitching?
And one of the most interesting teams to go over this offseason is the San Diego Padres. Going by the scale of Defcon (which I have to google every time to figure out whether the higher number is the worst or not), we're going to figure out just that.
Here's how I see it in a vacuum, excluding farm system situations because I'm not a nerd who knows about every team outside the one I cover:
| | |
| --- | --- |
| Defcon 4 (e.g. Brewers, Marlins, A's) | Sure, you could always use another starter, but it's not like you're relying on Tyler Anderson to give you major contributions. You're doing great! |
| Defcon 3 (e.g. Yankees, Braves, Blue Jays) | You have some high-quality arms with upside, so all you need is some guys to provide some average output and that could be enough. |
| Defcon 2 (e.g. Astros, Mets) | Another starter, preferably a reliable one, is definitely needed. But it's not necessarily your team's primary need. |
| Defcon 1 (e.g. Angels, Orioles) | This is truly the only category of NEED when it comes to starting pitching. If your team is at Defcon 1 (and sometimes Defcon 2), then you're permitted to share your "We need to go out and get a starting pitcher!!!" take without any potential jail time. |
That's just a rough table I concocted at 1:30 in the morning, but the point remains the same: viewing a team's starting pitching needs, by my approximation, needs to be viewed through a lens of a tiered system.
Using those tiers as a guide, let's break down where the lovely Padres rotation would fit! The answer, depending on your view of the team's second-half collapse, can vary.
2022 Padres Rotation Outlook
The Padres rotation for 2022 should theoretically feature Joe Musgrove, Blake Snell, Yu Darvish, Mike Clevinger, and Dinelson Lamet. Now, it's important to emphasize that this is all can change quickly, because AJ Preller is a madman capable of making a massive acquisition at any time. But in terms of what is currently constituted, the Padres rotation is in an odd spot.
Despite being projected by many — and especially FanGraphs — to be one of the best starting rotations in baseball, the Padres had a rollercoaster season from their frontline starters. With the exception of Joe Musgrove, who also threw the first no-hitter in franchise history, there wasn't exactly much to be thrilled about.
As a whole, Padres starting pitching cratered in the second half of 2021; despite having the 3rd-best team ERA (3.41) in the first half of the season, only trailing the divisional rival Dodgers and Giants, they plummeted to having the 7th-worst ERA (5.04) in baseball. They went from contending with the Dodgers and Giants to having a worse team ERA than the lowly Arizona Diamondbacks in the second half.
Indeed, the Padres rotation was a tragedy. Yu Darvish's production plummeted thanks to back injuries or the sticky substance ban, depending on who you ask. Blake Snell was one of the biggest starting pitcher busts in all of baseball. Dinelson Lamet couldn't stay healthy, and Chris Paddack managed to be not just a bust, but also unhealthy. The Padres rotation was so dilapidated that they had to bring in Jake Arrieta and Vince Velasquez, which is not a winning strategy but, perhaps more boldly, a strategy to drive oneself into madness.
When you just take those factoids into account, the obvious assertion to make is that the Padres desperately need some help with their rotation. You're not totally wrong but, again, refer to the table; [extremely Kendrick Lamar voice] there's levels to this, you and I know, so be humble.
The Padres situation is, in a similar vein to the end of Whiplash, open to interpretation. Blake Snell, in particular, was one of the most dominant pitchers in baseball down the stretch thanks to changing up his mechanics and, more simply, just pitching better — going 7-plus innings of no-hit ball on multiple occasions.
Ryan Weathers, while a disaster (his ERA jumping from 2.73 to 5.40 by the end of August still haunts me to the core), was still just a rookie after all, and Chris Paddack is in a somewhat similar boat. Perhaps the addition of pitching coach Ruben Niebla is a sign the Padres are improving their pitching development, which they've struggled with for what seems like an eternity.
Then, there's the hope that you have a healthy and fresh trio of Mike Clevinger, coming off of Tommy John Surgery — same with Adrian Morejó — and Dinelson Lamet.
On the other hand, you could just as easily view things negatively. Despite the hiring of Niebla, the Padres hardly have a stellar history of developing pitchers. You could just as easily argue that Paddack, Weathers, and even former top prospect MacKenzie Gore are commodities that you can't trust at the given moment. Also, can you count on players being healthy? Never.
But really, even with those concerns, the Padres rotation isn't something that feels like it needs a major overhaul. Is it messy — frustrating, even? Yes!
But it's full of guys with upside and players who have succeeded before. And more importantly: do we really want the Padres, after trading away as many assets as they did last winter — and even the year before — to go big yet again?
One of the reasons 2021 was such a mess is because the team didn't have enough depth down the stretch, resulting in guys like the aforementioned Arrieta and Velasquez making starts for a team in the thick of a playoff race.
Pitchers like Eric Lauer and Cal Quantril, while not stars by any stretch, could've aided quite a bit not just for the starting pitching as a whole, but as a means to ease the burden on the bullpen (which also regressed tremendously in the second half).
This isn't the NBA; depth matters even if it doesn't make the headlines. The Padres going all in for a superstar ace, whether it be by trade (e.g. Luis Castillo), or by signing (Robbie Ray, Max Scherzer, Kevin Gausman, etc.) — on top of the tremendous salary they're already committed to — could handicap the future and stymie any room for maneuverability if anything else goes wrong.
Padres Starting Pitching Threat Level: Defcon 3
The Padres have plenty of areas to improve — like finding a way to convince a team to take first baseman Eric Hosmer in exchange for literally ANYTHING — but acquiring major starting pitching talent isn't one of them. Instead, a low-cost addition with marginal upside may be something to look into, similar to the approach they took when acquiring Zach Davies in 2020.
There are some pitchers, like Jon Gray and Anthony DeSclafani, who could help provide some insurance if anything goes wrong. They'd also be best advised to check in on what the A's are offering, only because that franchise is hellbent on spending as little money as possible and resetting, at any cost, every four years. Perhaps pitchers like Sean Manaea, Chris Bassitt, and Frankie Montas could be had without selling the farm. It's worth a shot!
The Padres rotation is a lot like that kid in your fantasy league with a solid team that complains all year. Sure, having Tyler Higbee as your tight end and the Raiders as your starting defense leaves a lot to be desired, but you're also in possession of Cooper Kupp, Deebo Samuel, and Najee Harris.
There is certainly room for improvement with the Padres rotation, but there is also foundation that could bounce back in a big way in 2022. So while the Padres will of course be looking to add pitching this offseason, the situation isn't so dire that it's worth yelling about.