Analysis
Rookie Report: Which MLB Prospects Are Standing Out in 2022?
Julio Rodriguez headlines this year's MLB rookie class, as the Mariners new star looks like the favorite to win the AL Rookie of the Year.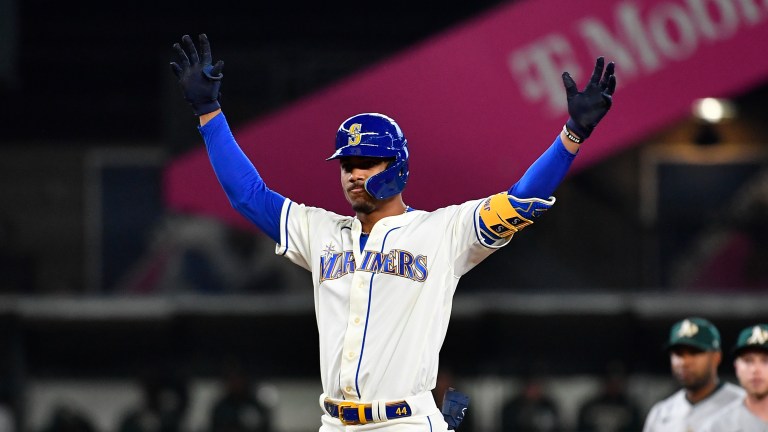 Welcome to the halfway point of the season. While most discussion is about the trade deadline and All-Star game, I wanted to take a moment to dig into the rookies. Rarely do rookies hit the ground running, instead having to struggle and adjust to life at the highest level. Today we are going to dive into which rookies are trending up, and which are trending down.
Trending Up
Julio Rodriguez – OF – Seattle Mariners
2022 Stats: .275/.335/.489, 15 HR, 20 SB, 140 wRC+
Talents like Julio Rodriguez do not pop up every year. An elite ability to barrel up a baseball, defend at a high level in center field, and change the game on the basepaths.
After a frustrating start to his career, Rodriguez has taken off in the summer months. There's a chance Rodriguez could put up a 30-30 rookie season.
Although the American League has plenty of big name rookies, Julio (he's earned the first name identifier) looks like the favorite to run away with the hardware. I would not be surprised if he makes his first All-Star game, at 21 years old. We are watching something special in Seattle.
Brendan Donovan – UTL – St. Louis Cardinals
2022 Stats: .295/.405/.411, 138 wRC+
Paul Goldschmidt and Nolan Arrenado are stealing every headline in St. Louis. The veteran duo has led the Cardinals to a 44-38 record, second place in the NL Central. However, the impact Brendan Donovan has made cannot go understated. Donovan has provided a steady bat with an exceptional ability to get on base while batting up and down the lineup.
Versatility has been Donovan's greatest attribute to the 2022 Cardinals. Donovan has played third, right, left, shortstop, first, and second. He's also taken at-bats in every spot in the batting order. The swiss army knife has allowed the Cardinals to mix and match and not miss a beat.
Michael Harris – OF – Atlanta Braves
2022 Stats: .302/.338/.508 5 HR 4 SB 132 wRC+
Michael Harris was often the third outfielder mentioned in the Braves system. Cristian Pache, Drew Waters, and then Michael Harris. Drew Waters is still in the minors and, well, Pache you will read about shortly. Harris, meanwhile, is blossoming into the best centerfielder in the NL East.
You won't find too many holes in his game. Power, speed, and defense all check out. Once he starts drawing more walks, we could be talking about an All-Star year in and year out.
Spencer Strider – SP – Atlanta Braves
2022 Stats: 4-2, 2.87 ERA, 90 SO, 59.2 IP
The Atlanta Braves have two rookies who could legitimately win Rookie of the Year. Strider started the season in the bullpen, before earning a spot in the rotation and hasn't looked back. The rookie flame thrower only uses three pitches, and his 100 mile-per-hour fastball is the key to his success.
Strider's 13.58 strikeout percentage ranks in the 99th percentile in baseball. His fastball velocity (98.3 MPH) ranks in the 98th percentile. Strider has established himself atop of the long list of promising young pitchers in Atlanta's organization.
Felix Bautista – RP – Baltimore Orioles
2022 Stats: 3-2, 1.39 ERA, 1.02 WHIP, 38 SO, 32.1 IP
Bautista does not carry the same prospect pedigree as the other names on this list, but it's time to put some respect on his name. After seven seasons in the minors, Bautista earned a role in the Orioles bullpen thanks to his high velocity fastball, averaging 98.5 miles per hour.
The key to Bautista's success has been the movement of his pitches. His slider is averaging 39.9 inches of vertical movement while his four-seamer averages 8.5 inches. Both grade out as elite movement compared to the rest of the league.
Trending Down
Vidal Brujan – UTL – Tampa Bay Rays
2022 Stats: .164/.224/.246, 39 wRC+
Brujan's name has appeared up and down prospect lists for a few seasons. The speedy utility player is finally getting regular playing time in Tampa, but has yet to produce. Questions about Brujan's bat have swirled for a couple of seasons, and his lack of power limits his impact and upside.
Brujan's speed and versatility should lead to a longer leash than some prospects. With Wander Franco back, Brandon Lowe nearing a return, and Isaac Parades swinging a hot bat, Brujan could see his opportunities dwindle.
Cristian Pache – OF – Oakland Athletics
2022 Stats: .159/.203/.224, 23 wRC+
Shea Langeliers and Cristian Pache headlined the Matt Olson deal this past offseason. So far, Langeliers looks like the only big leaguer from that return. In fact, Pache's struggles have recently pushed him to Triple-A.
Of qualified hitters, Pache was in the bottom five in most offensive categories.
An elite fielder who would have to learn to hit. The Athletics thought he could take his lumps and develop at the big league level. Pache was due for a reset and an opportunity to come up for air.
Reid Detmers – SP – Los Angeles Angels
2022 Stats: 2-3, 4.66 ERA, 1.10 WHIP, 44 SO, 58 IP
Throwing a no-hitter and getting demoted a month later is not something you see too often. The 2020 first-round pick out of Louisville struggled mightily. His pitches have good movement, but location resulted in a lot of hard contact.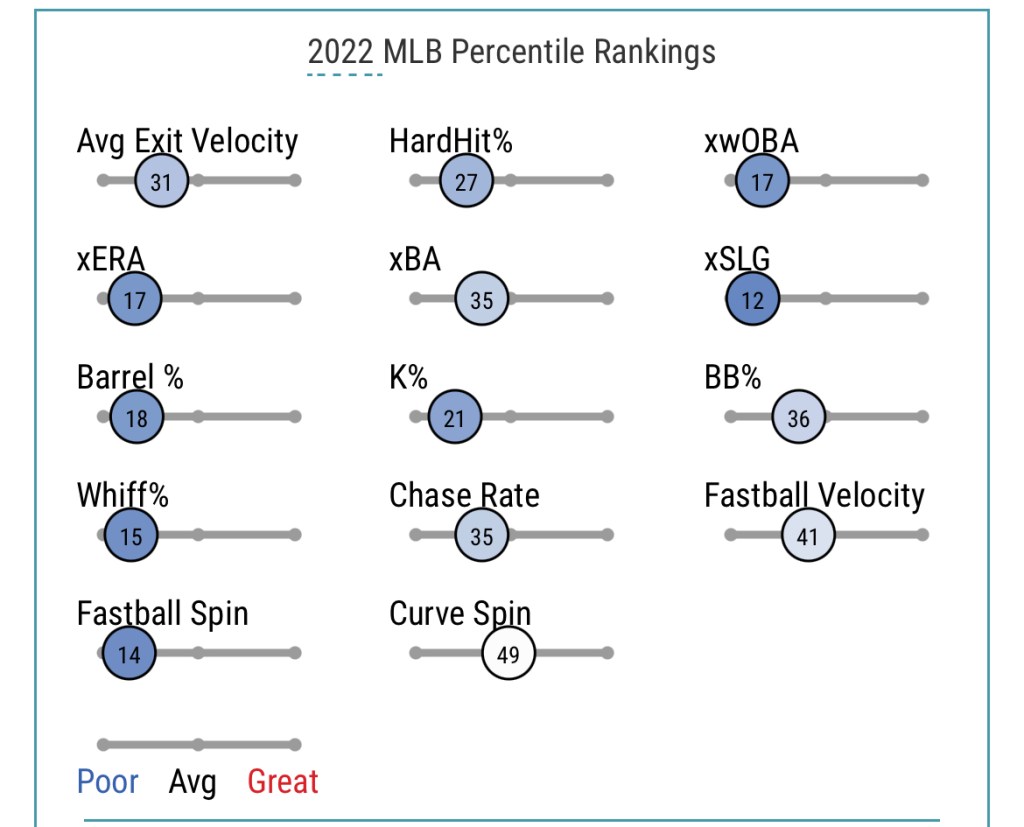 Detmers has one start in Triple-A going six innings of three-hit ball. He also struck out 14 batters. The Angels will need pitching, especially going into 2023, and Detmers will need to iron out the kinks to contribute at the big league level.
Roansy Contreras – SP – Pittsburgh Pirates
2022 Stats: 2-2, 4.09 ERA, 1.55 WHIP, 43 SO, 44 IP
The Pirates have seen a number of rookies make their debut since 2021, most in the field. But Roansy Contreras is a big piece in their future rotation. Since moving to the rotation, he's shown flashes of his upside but throwing strikes has been a struggle.
His fastball will play, ranking in the 86 percentile in spin and 88th percentile in velocity. Command of his fastball has been iffy and batters have hit it hard, slugging .552 off the pitch. If he can tighten up his command, he will be able to work his secondary pitches off his fastball better. Contreras still profiles as a plus starter, but questions arise if he can become the ace of the staff.