Analysis
Philadelphia Phillies Offseason Outlook for 2023-2024 Free Agency
The Phillies improved in 2023, but once again, a championship fell just out of reach. How will Dave Dombrowski prepare for another run in 2024?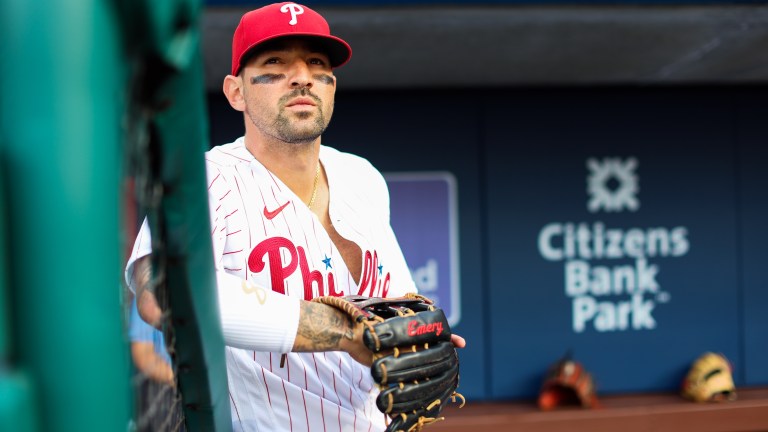 The Phillies were a better team in 2023 than they were the year before. They won 90 games, taking the top NL Wild Card spot, and while many of last year's powerhouse teams stumbled and fell, the Phillies grew in almost every respect.
They boast a deep and powerful offense, one that finished fourth in the National League in runs scored and wRC+. Their offense made noise on the basepaths, too, finishing third in the NL in stolen bases and stolen base success rate.
On the other side of the ball, their pitching staff led the Senior Circuit in FanGraphs WAR by a wide margin. Their new and improved bullpen was a true strength for the first time in years. They took a big step forward on defense, too, with Bryson Stott excelling at second base, Johan Rojas eventually taking over in center, and Kyle Schwarber moving into a full-time DH role down the stretch.
Over the final four months of the season, the Phillies went 65-42 (.607), outperforming every team except the Braves, Dodgers, and Orioles. There's no denying they were one of the best teams in baseball.
Yet still, the Phillies need to be better in 2024. They fell short of their ultimate goal once again, and as good as they were, they have areas to improve.
President of baseball operations Dave Dombrowski has a couple of big decisions to make about some long-time Phillies, and he'll surely work to find upgrades at the margins as he has done in each of the past two winters.
Starting Pitching
Impending Free Agents: Aaron Nola, Michael Lorenzen
Contract Decisions: Ranger Suárez (Arbitration)
Potential Rotation
PITCHER
Zack Wheeler (RHP)
?
Ranger Suárez (LHP)
Taijuan Walker (RHP)
Cristopher Sánchez (LHP)
The emergence of Cristopher Sánchez as a legitimate rotation piece gives the Phillies one less thing to worry about entering the offseason. Four of the five spots in the starting rotation are set, with Matt Strahm, Nick Nelson, and Michael Plassmeyer around to provide additional depth. Moreover, top prospects Mick Abel and Griff McGarry will be waiting in the wings for a potential midseason call-up.
The Phillies could probably still use a veteran or two on a minor league contract – additional rotation depth is never a bad thing – but their primary focus will be re-signing or replacing Aaron Nola.
Aaron Nola
Dombrowski has already expressed that re-signing Nola is a top priority, and it's not hard to see why. He's the longest-tenured player on the roster, and in his nine-year career with Philadelphia, he has made 235 starts with a 3.72 ERA and 33.9 fWAR.
Since his return from a lower back strain in early 2017, he has been one of the most durable pitchers in baseball. He ranks first in games started, second in innings, third in strikeouts, and fourth in fWAR – with an additional nine starts and a 3.70 ERA in the playoffs. His only stint on the injured list in that time was due to COVID protocol in 2021.
Outside Additions
Still, Dombrowski also clarified that the Phillies won't put all their eggs in one basket. The team needs a No. 2 starter, whether it's Nola or one of the other top free agents on the market, such as Blake Snell, Jordan Montgomery, or Sonny Gray.
Snell, the presumptive NL Cy Young, will be an intriguing option, but considering the fact that Philadelphia already has two lefties penciled into the rotation, he isn't the best fit. The same is true of Montgomery. Gray, however, could be exactly what the Phillies are looking for, and entering his age-34 season, the veteran righty won't be making the same lofty contract demands as Nola.
Bullpen
Impending Free Agents: Craig Kimbrel
Contract Decisions: Gregory Soto (Arbitration)
Potential Bullpen
Pitcher
José Alvarado (LHP)
Seranthony Domínguez (RHP)
Jeff Hoffman (RHP)
Gregory Soto (RHP)
Orion Kerkering (RHP)
Matt Strahm (LHP)
Dylan Covey (RHP)
?
The Phillies bullpen turned into a true strength in 2023, and most of the key players are coming back next season. The lone exception, of course, is closer Craig Kimbrel, who will be a free agent once again following the expiration of his one-year, $10MM contract.
With José Alvarado looking healthy and the emergence of Jeff Hoffman and Orion Kerkering, the Phillies don't need to pursue a top-of-the-line closer this winter. However, they could certainly use some more depth. The first six spots in the 'pen seem to be locked down by Alvarado, Hoffman, Kerkering, Seranthony Domínguez, Gregory Soto, and Matt Strahm. After that, however, it's slim pickings.
The Depth
Dylan Covey is a fine mop-up man, but that's about it. Nick Nelson was solid in a similar role in 2022, but he spent most of the 2023 campaign working as a starter at Triple-A.
Andrew Bellatti was the breakout star of the 2022 bullpen, but he struggled in 2023. Connor Brogdon struggled, too, despite his promising performance over the previous three seasons. Both have potential, but neither should be counted on for the Opening Day bullpen.
Luis F. Ortiz showed some promise this season, but he is a 28-year-old rookie who has bounced between several organizations in his career. Yunior Marte is depth and not much more.
Outside Additions
Josh Hader will be the crown jewel of the free agent class, but don't expect the Phillies to pursue him – barring a situation in which they miss out on all the frontline starters and have to bolster the bullpen as a backup plan.
More likely candidates include Chris Stratton, Emilio Pagán, and Reynaldo López.
Robert Stephenson is an interesting option after his breakout season with the Rays, while Dylan Floro could be a good buy-low candidate. He was released by the Twins in September after posting a 4.76 ERA in 62 games, but he is a durable veteran with underlying numbers that suggest he's due for some regression.
Offense/Defense
Impending Free Agents: Rhys Hoskins
Contract Decisions: Jake Cave (Arbitration), Edmundo Sosa (Arbitration)
Potential Lineup
Player
Kyle Schwarber (DH)
Trea Turner (SS)
Bryce Harper (1B)
J.T. Realmuto (C)
Nick Castellanos (RF)
Brandon Marsh (LF)
Alec Bohm (3B)
Bryson Stott (2B)
Johan Rojas (CF)
While the lineup is mostly set for 2024, the Phillies are facing a couple of interrelated questions.
The first: Will Bryce Harper return to right field next year? And if so, will the Phillies extend Rhys Hoskins the qualifying offer?
The Phillies and Harper have not yet decided if the superstar will return to his natural position in the outfield next year. In the past, Harper has expressed a willingness to play anywhere on the diamond that helps his team, but Dombrowski has also made it clear that the Phillies will not force Harper to stay at first base if he wants to go back to the outfield.
If Harper wants to play first long-term, the Phillies are unlikely to give Hoskins the qualifying offer. They would love to reap the benefits of an extra draft pick if he signs elsewhere, but they wouldn't have a job for him if he accepted the offer.
However, if Harper is going to be an outfielder once again, the Phillies will have an opening at first base, and it would be foolish not to give Hoskins the QO. If he accepts, the team will have his veteran bat back in the middle of the lineup. If he declines, the two sides can either work out a longer-term deal, or the team will get draft pick compensation when he signs with another club.
The second: How will the Phillies split playing time between Brandon Marsh and Johan Rojas?
Marsh had an excellent breakout season in 2023, slashing .277/.372/.458 with a 125 wRC+. However, Rob Thomson was always hesitant to start him with a lefty on the mound; he posted a 96 wRC+ against southpaws. What's more, while he is a capable defender in center field, he looks much more comfortable in left.
Rojas, on the other hand, is an elite center field defender, but he still needs to prove he can hit big league pitching. He posted impressive numbers, especially against southpaws, during his rookie season. However, his .302 batting average was buoyed by an unsustainable .410 BABIP, and his .268 xwOBA suggests he's due for some major regression.
If Harper is playing right field, that would push Nick Castellanos over to left, meaning Marsh and Rojas could platoon in center. Meanwhile, if Harper plays first, there will be two open spots in the outfield, so the Phillies will have to decide if they trust Johan Rojas and Brandon Marsh in full-time roles, or if they need to add another outfielder.
If the Phillies do look to the free agent market, it's unlikely they'll pursue any of the top options. Instead, guys like Tommy Pham and Adam Duvall seem like the best fits – above-average bats and capable defenders who will be looking to sign short-term deals.
As for the bench, the Phillies have a capable backup catcher in Garrett Stubbs, a slick utility infielder in Edmundo Sosa, and a promising fifth outfielder in Cristian Pache. Outfielder/first baseman Jake Cave is a non-tender candidate, and his roster spot could eventually go to a free agent bat.
Payroll
Estimated Luxury Tax Payroll in 2023: $262.9MM (per Roster Resource)
Estimated Luxury Tax Payroll in 2024: $228.7MM (per Roster Resource)
If the Phillies are planning to run a similar payroll in 2024, they have approximately $34MM to spend in free agency. That should be enough to sign a No. 2 starter and a veteran reliever, and given the way the team has spent over the past few years, it's hard to imagine ownership wouldn't increase the budget for Hoskins and/or the right outfield bat.
Conclusion
After two straight NLCS appearances, the Phillies are hungry for a championship. From the veterans to the rookies, the whole roster is infected with World Series fever.
Dave Dombrowski wants another title. Managing partner John Middleton wants his trophy back. The whole team wants to win it for Topper.
This team is good, but they haven't been good enough. So this winter, they must grow even stronger.
The Phillies know how important a dominant starting rotation can be in the playoffs. They know what happens when the bullpen falters. They know that a deep lineup is never deep enough. Dombrowski will take those lessons into the offseason and improve the team once again.
Will it be enough? Unfortunately, we'll have to wait another year to find out.