Analysis
Padres vs Reds: Battle for the Final Wild Card Spot
With the Wild Card race coming down to the wire, how do our resident Padres and Reds fans think it's going to play out?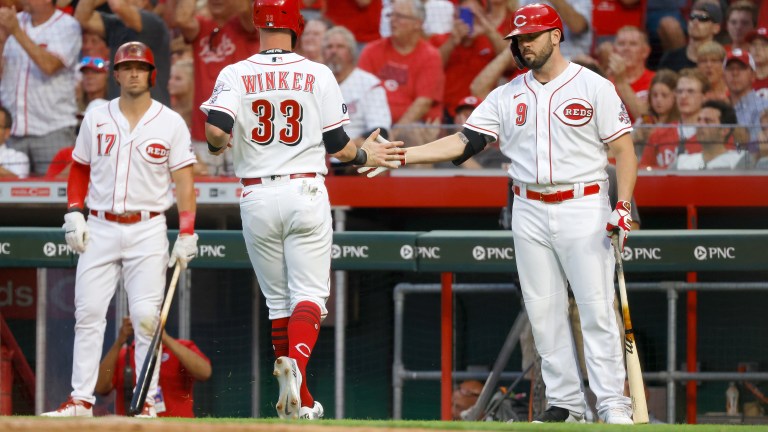 Can I be honest with you all for a second? Like, I mean, extremely honest — the kind of honest that may very well get me fired. That's okay with you? Great, because I'm honestly thrilled beyond belief that the baseball season is almost over. Let it end.
Will Aram Leighton fire me after saying this? Not sure, really, because considering his Marlins are as anemic a team to follow as any in sports, he might be thinking the same thing. Bring on the Wild Card game I say!
Speaking of which, that's what we'll be talking about today: the damn NL Wild Card game, and whether or not the Padres, or Reds, are more likely to earn the spot.
I understand that was one of the worst intros ever, and I'll be sending out a Notes App Apology at a yet-to-be-determined date. For now, though, Clairborne Snowden (recent addition to the Just Baseball Mafia) and I had a back-and-forth discussion on the Padres and Reds playoff pursuit of the playoffs. Basically, it's just us rambling like the big goons we are. Read it, enjoy it, and absorb it into your very soul.
Javier: Alright, listen up Clay, I know what you're thinking. You're thinking that you're a hotshot. You're thinking that you're going to walk in here, as a brand new addition to the Just Baseball Mafia, and are going to absolutely eviscerate my team and explain why they have no shot at beating out the Reds for the Wild Card spot. Well, my friend, let me start off by saying I believe that's EXACTLY what's going to happen here.
Clay: As much as I would love to do that, let's get some things straight. The Reds and the Padres are both playing like they don't even want the final Wild Card spot. Cincinnati continues to struggle against teams much worse than them and the Padres, well, they just keep blowing their chances as well. Are they really that terrified of the big bad Dodgers?
Javier: The Padres are basically allergic to winning in general. It's, like, remember that movie Thunderstruck? The one with Kevin Durant swapping basketball skills with a kid? The Padres second half has kind of been like that. Getting swept by the Rockies? Mhmm. Getting no-hit by the Diamondbacks and a guy making his FIRST major league start? Oh yeah!
Clay: What a movie reference. I prefer Like Mike if we are talking about subpar basketball movies. Speaking of subpar, the Padres and Reds have plenty of subpar, overpaid players. Pham, Myers, and Hosmer for the Padres; Moustakas, Suarez, and so on for the Reds. If one of these teams is going to get in, their non-stars will have to step up. How confident are you in the Padres "ehhh" players stepping up? Feels like Profar might have a big moment for absolutely no reason.
Javier: First of all, Profar is a handsome lad and I wish him all the best. But that's a good point: one of the things I've been mentioning on (looks into the camera) MY PODCAST is how the Padres need guys to be solid. I don't need Tommy Pham turning into prime Willie Mays, but can you at least be as good as, say, Dylan Carlson? Can Yu Darvish be as good as, say, Jordan Montgomery??? That's all I'm asking for! Just be decent! Not the worst in the whole league!
Clay: Darvish is an issue. Since the sticky stuff crackdown, he's been ineffective. The Reds have been struggling offensively as well. India, Stephenson, Castellanos, and at times Votto are about all you can count on. The Aquinos and Farmers of the world just don't scream OFFENSIVE THREAT. I'm worried the roster just isn't good enough. Suarez and Aquino are damn near an automatic out. The team can't hit a lefty, and the Dodgers have a couple of LHP waiting in the Wild Card Game.
Javier: You and me both, pal. And I love how you just said "Darvish is an issue." as if that isn't the understatement of the year! The man may very well be a fraud! Yet he's only one of the, like, nine disastrous developments going on for the Padres. I'm starting to think baseball is bad, actually.
Clay: The Padres starting pitching struggles reminds me of the Reds bullpen struggles. Just a bunch of disappointment. Soooooo let's get to the elephant in the room. Who's getting into the final Wild Card spot? What needs to happen for the Padres to get in and what needs to happen for the Reds to get in? What needs to happen for us to not both have a meltdown?
Javier: Easy sir! One question at a time!
Clay: Sorry, sorry, sorry. The Reds just lost to the Pirates so I'm not well. The Cardinals just grinded out an extra-inning win against the Mets. I know their schedule is tough, but man I have a gut feeling the Cardinals are going to make it in. It would be a very Cardinals thing.
Javier: It would be an exceptionally Cardinals thing; I'm almost certain that they themselves are surprised neither of our teams seems inclined to make the postseason. What are, say, two areas/players that need to improve for the Reds to make it? Hehe, excellent transition there I know!
Clay: The big issues right now are hitting lefties and the offense. Since Winker hit the IL, the offense has struggled. Losing to bad teams and not putting up runs leads to disappointment. Castellanos and India can only do so much. Votto has struggled, especially against lefties, and the rest of the roster hasn't exactly stepped up and picked up the slack. I'd say there's more going wrong with the Reds right now than going right. Will the suffering ever end!?!?
Javier: Look, I'm an idiot boi, but I do wonder: why does it feel like the Reds always make big offseason/trade deadline moves when they're NOT contending and never make big major moves when they actually ARE contending? How much does that play into this, Calamitous Clay (still workshopping a nickname for you, just give me more time!)?
Clay: Keep working on that nickname! The Reds added Moustakas, Shogo, Castellanos, and Miley before the 2020 offseason. I liked the moves, but they didn't build off those moves this offseason. Instead, they decided to move on from Archie Bradley and Rasiel Iglesias and what do you know, the bullpen struggled! They improved the pen at the deadline but did nothing else. Centerfield and shortstop needed to be addressed but ownership didn't make a move. It's frustrating because the fans are super engaged and ready to support, but ownership decided to be cheap. A tale as old as time.
Javier: I just don't get that about them. So you're down to make all those additions, you can't even get, like, one worthwhile reliever? This is a good example of why baseball can be such a cursed sport. I'm not saying everyone needs to spend the same Avengers: Endgame-level budget of the Dodgers, but not doing ANYTHING at all? Wack.
But then again, my Padres made, as a conservative estimate, about 19 big moves this offseason, and now they're a clown show. So what do I know?
Clay: The Reds had a good chance to strike. The Cubs being down gave them a window, and they simply decided Suarez and Farmer would be the answer at short. Nope. Senzel is cooked, the bullpen is a bunch of waiver wire guys, and the roster construction has been weird, to say the least. Where would this team be without India? There would be a huge hole in the leadoff spot. He's been the best surprise on the team.
Oh, and the Reds just dropped a series to the Pirates. They are 4-12 in their last 16. Everything is fine, but the end of the season looks a lot like the Titanic sinking.
Javier: Out of a fear of going too deep into depression, I won't talk too much more about the Padres side of things. I simply do not have the mental fortitude to even make a case for them. They aren't making the playoffs! As I'm typing this, Blake Snell was just put on the IL and Manny Machado came up limping after sliding at home plate!!!
Last question: who do you think, just from a simple entertainment perspective, deserves the final Wild Card spot?
Clay: Several AL teams should just take the last NL spot. BUT, the Phillies would be the most entertaining. Bryce Harper is having an MVP year, Segura doesn't get enough love, and we all know Brad Miller would have a random big moment. Sign me up for that!
Javier: Since I wrote about the Reds, I'm going to say the Reds. Nothing would be funnier than Wade Miley beating the Dodgers in a one-game playoff. Who do we think is actually going to get the final spot? The Cardinals?
Clay: My gut tells me the Cardinals. I hate that, but that's what I'm feeling. Sad to say it.

Javier: Yep, Cardinals.