Analysis
MLB Best Bets Today: Predictions, Odds for Reds vs. Guardians, Diamondbacks vs. Cubs for May 19, 2022.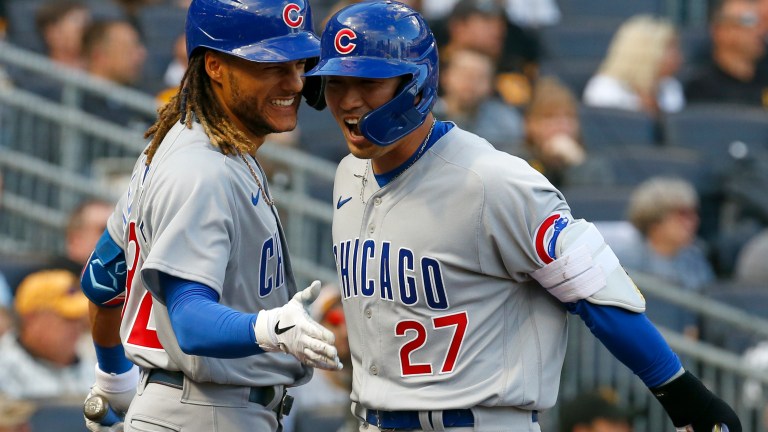 We are starting to roll. We had our second consecutive winning day yesterday with a 2-1 performance.
We gave our four picks, but Reds vs. Guardians got postponed, so only three could count. We took the Dodgers on the spread, and they won 5-3. I was surprised Arizona kept it that close, but we got the win.
We took the Mets to win through the first five innings, which started well, got bad quick, then was great again. The Mets started the game with two runs, but Scherzer allowed two runs. The Mets put up four runs in the bottom of the fifth to seal the victory.
We took the Blue Jays on the run-line, which did not work out. I thought the Blue Jays would break out of their slump against a pitcher due for regression, but that wasn't the case. The Blue Jays couldn't manufacture runs even with runners in scoring position. It was terrible, but we learned from it.
There are only eight games on the slate today, so I have two MLB Best Bets. Let's stay in the green.
Peter's 2022 MLB Regular Season Record: 67-51 (57%) +12.06 units
Subscribe to my New Gambling/Fantasy Baseball Podcast: Not Gambling Advice.
Cincinnati Reds @ Cleveland Guardians: 1:10 PM EST
Tyler Mahle: (RHP, Reds) [2-4, 5.89 ERA, 1.47 WHIP, 36.2 IP, 40 K, 18 BB]
Cal Quantrill: (RHP, Reds) [1-2, 3.93 ERA, 1.28 WHIP, 34.1 IP, 20 K, 15 BB]
This is a repeat of yesterday's pick, which was postponed due to rain yesterday. We knew the weather would be bad; that was a part of why we loved this under. The weather should be better today, but I still lean heavily towards minimal run scoring.
Tyler Mahle's 5.89 ERA won't last long. He's a much better pitcher than the counting numbers would indicate. His 3.56 xERA and 3.44 FIP tell us that, but so does the eye test. In my eyes, he's been the unluckiest pitcher in the majors, and he has a stellar matchup on the road, where he's thrived in the past.
Last season, Mahle rocked a 2.30 ERA on the road versus a 5.63 ERA at home. In 2019, it was closer, but his ERA on the road was an entire run lower than at home. He's rocking a 6.50 ERA on the road, and I think the drops substantially today.
In Mahle's last start against the Pirates, he produced 16 swings and misses and only allowed one walk. Command has been his early problem, but it's been much better in his previous few starts. He'll face a Guardians lineup struggling in May and over their last three games.
The player we have to worry about against Mahle is Jose Ramirez, as he's 3-8 against him in his career. Ramirez is 1-12 in his last three games and looks to me as if his timing is slightly off. Josh Naylor will also not play in this matchup, who has killed right-handed pitching all year.
Opposing Mahle will be Cal Quantrill, who is also much better than his ERA dictates. The advanced numbers never like Quantrill, as he doesn't strike out opponents at a high rate, and he allows harder contact than the major league average. Since the beginning of last season, I have discounted those numbers, and he's been incredibly profitable for me.
This season, he's faced some tough competition. In his last five starts, he's faced the Giants, Yankees, Angels, Padres, and White Sox. He's still holding an ERA below four, and he'll have the easiest matchup to date.
The Reds are heating up by their standards in the win column, but it's come from good pitching and defense rather than the offense. They've scored just six runs in their past three games and are working with the worst road OPS of any team in baseball.
The Reds bullpen scares me, so I'd prefer to isolate this starting pitching matchup and take the under through the first five innings.
The Pick: Reds vs. Guardians First 5 Innings Under 4 Runs (-105)
_________
Arizona Diamondbacks vs. Chicago Cubs: 7:40 PM EST
Zac Gallen: (RHP, Diamondbacks) [2-0, 1.05 ERA, 0.67 WHIP, 34.1 IP, 35 K, 5 BB]
Marcus Stroman: (RHP, Cubs) [1-3, 5.13 ERA, 1.18 WHIP, 26.1 IP, 22 K, 7 BB]
We head to Chicago for what should be a dull, slow game with not a lot of runs scored. It may not be crazy exciting, but I'll take a winner any way I can get it.
The Diamondbacks are coming off a hard-fought four-game series against the Dodgers, where they dropped all four. They have lost six straight games, with two of those coming against the Cubs just last week.
In that series against the Cubs last weekend, each game averaged six total runs, and we should see much of the same with a travel day from the Diamondbacks but an excellent outing from Zac Gallen.
Zac Gallen is pitching like a CY Young contender. His 1.05 ERA is the best in baseball with at least 30 innings pitched, and his 1.89 xERA is in the 96th percentile in baseball. His fastball velocity sits at 94.4 MPH, where it was just 93.4 MPH last year. He started throwing a cutter more, and it's been one of his best secondaries.
He threw against the Cubs this season, limiting them to one earned run on two hits over six innings of work. Through 36 PA against the Cubs' current roster, he's held them to a 3.32 FIP, a .194 opponent batting average, a .324 xwOBA, and a .403 xSLG. He should limit damage early against a Cubs team that ranks 28th in wRC+ since May 1st.
The Diamondbacks rank 15th in wRC+ since May 1st but will face Marcus Stroman in Wrigley today. Stroman is better than what his ERA indicates. His 4.72 xERA, 4.19 FIP, and 3.63 xFIP tell us that, but so does prior success and the eye test.
None of his pitches have lost any life; he's just been a bit spotty in the early goings with his command.
I think this is a big "get-right" game for Stroman facing a Diamondbacks team that will have to travel from Los Angeles to Chicago without an off-day. They'll lose two hours in their travels, which doesn't seem like a big deal, but it is consistent how teams come out to slow starts after traveling without an off-day.
They are human, after all; taking a long plane right after a four-game series and then immediately playing the next day doesn't sound fun.
In their careers, Ketel Marte and David Peralta are the only hitters in the Diamondbacks lineup with multiple hits against Stroman. Peralta should play, but Marte is day-to-day with a hand injury that kept him out of Wednesday's game. He might be ready to go, but it's doubtful he'll be 100%.
I prefer to isolate the starting pitching matchup and take the under through the first five innings, as I believe both teams will be slow out of the gate.
The Pick: Diamondbacks vs. Cubs First 5 Innings Under 4.5 Runs (-115)
__________________________
I've written up a quick guide with critical terms and helpful tips.