Analysis
Milwaukee Brewers Trade Deadline Outlook
The Brewers have relied on their pitching to lead the NL Central, but if they want to make a run, they need to add some bats at the deadline.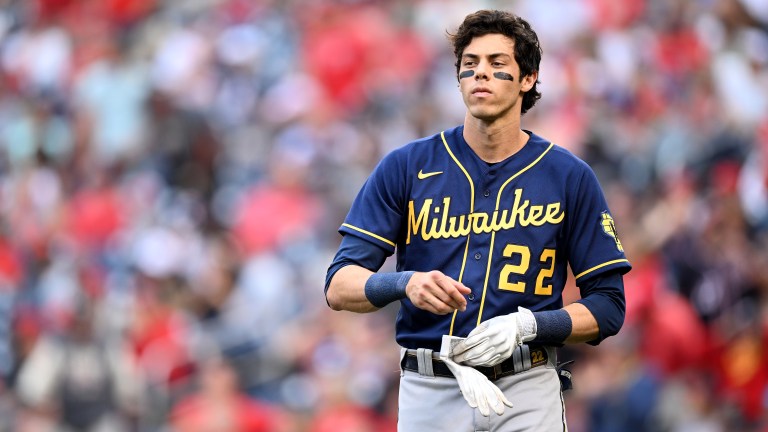 In 2021 the Milwaukee Brewers won the NL Central riding the coattails of their "Big Three" starting pitchers and two shutdown back-end bullpen arms. Their 95-win regular season did not equate to playoff success as they fell to the Atlanta Braves three games to one. Areas of concern were obvious and a big offseason was likely ahead.
Coming into 2022, the Brewers added a few minor pieces with their major moves being trading for outfielder Hunter Renfroe and signing outfielder/DH Andrew McCutchen. A bit of a lackluster winter for a team positioned so well in a weak division. Even with these additions, the primary need from last year still exists; offense.
Yes, the Brewers are in first place. Griping about the issues of a first-team place might be tacky, but the Brewers need to focus on a Playoff run and not just winning the weak NL Central. With the deadline around the corner, here are a few needs for Milwaukee:
Add to the Offense
The Brewers currently have a 102 wRC+, good for 14th in the league and second in the NL Central. They are 24th in average, 16th in on-base percentage, and ninth in slugging. While the bats have done enough to keep them in first place, I worry if they will once again falter against playoff teams.
Designated Hitter
The easiest solution to improve the offense comes at the designated hitter's spot. Currently, the Brewers play a few different players at DH, but Andrew McCutchen seems to get the bulk of the action. The 35-year-old has been around league average while providing a bit of pop (10 home runs) and walking at an 8.2% clip. No, "Cutch" has not been terrible, but an upgrade from a 101 wRC+ bat in the middle of your order can raise this teams ceiling significantly.
Once known for hitting lefties well, McCutchen is slashing .226/.280/.405 against southpaws this season making him less attractive as a platoon option. The Brewers simply need an impact bat, regardless of position. Of the top available players, several would be great fits in Milwaukee. One I'd like to focus on is Josh Bell.
The switch-hitting first baseman has posted a 145 wRC+ through 96 games this season. An 11.1% walk rate combined with his low 13.5% strikeout rate would bring a patient presence and on-base ability the Brewers desperately need. Bell could start at first, pushing Rowdy Tellez to the DH spot, allowing the Brewers to have a plus hit tool and power bat in the lineup.
The price to acquire Bell is not cheap, especially as several teams will likely enter the bidding war. His expiring contract will spare the Brewers of having to shell out multiple top-end prospects, while also giving Milwaukee the financial freedom to move on after this season. Bell would immediately become the best hitter in the Brewers lineup.
Centerfield
Since the Lorenzen Cain departure, the Brewers have deployed Tyrone Taylor and Jonathan Davis to center field duties. Taylor brings a bit of power to the lineup but his 94 wRC+ is evidence that an upgrade is needed. Davis was used as an injury replacement for Taylor and looked completely lost at the plate. If Milwaukee sees a DH upgrade as a luxury, a center field upgrade is a necessity.
Two players that would fit the Brewers needs are Ramon Laureano and Michael A. Taylor.
Laureano will be one of the top center field options on the market, likely driving up his price. With two more years of control, the prospect package might surprise some people. Other contenders with a deeper farm system will likely outbid the Brewers for Laureano.
Michael A. Taylor would be less expensive and is signed through next season at a reasonable $4.5 million contract. He could solidify center this year and be insurance to the prospects coming up in 2023.
Taylor is slashing .272/.347/.401 with a 113 wRC+. His 10.2% walk rate is the best of his career. The center field market is weak making Taylor one of the best options. I'm sure fans would like a bigger name, but acquiring Taylor would still leave Milwaukee with enough assets to add a second bat, such as DH. The return will likely be a couple of middle-tier prospects, something the Brewers can afford.
Milwaukee's pitching is set up to win any playoff series. Three high-end starters and a couple top-tier bullpen arms that can shorten games. With the way their roster is constructed and the limited resources they have, their deadline needs are straight forward. Improve center field and add an impact bat.