Feature
Mark McGwire Destroyed a Randy Johnson Pitch 25 Years Ago
On this day a quarter-century ago, we got to see how far a Randy Johnson fastball could travel after meeting the barrel of the mighty Mark McGwire.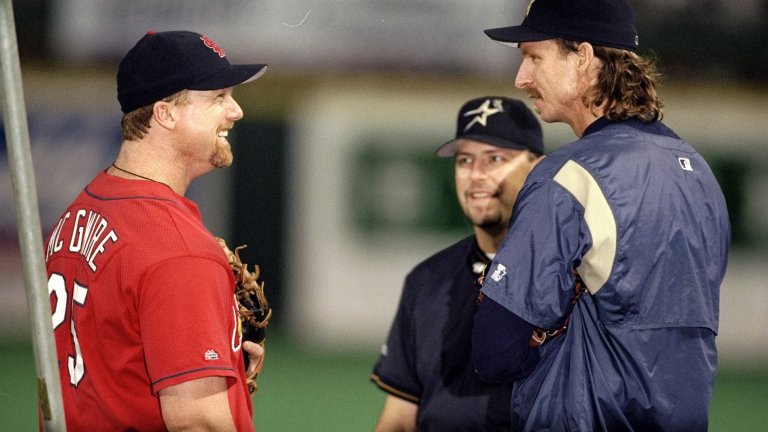 What happens when the fastest pitcher in baseball meets the strongest hitter in baseball? That experiment took place inside The Kingdome on June 24, 1997 – with an explosive result.
Both players were among the best in baseball at the time. Johnson, who was the game's most intimidating presence on the mound, already had a Cy Young Award and would come narrowly close to winning another in '97. McGwire was likewise a frightening sight to pitchers, blasting home runs at an astonishing clip. He hit a league-high 52 in 1996 and was on his way to 58 more.
Thanks mostly to being in the same division, the pair faced off frequently during the 1990s. But they were familiar with each other beyond their major league matchups. McGwire and Johnson overlapped at the University of Southern California, and were on the same roster at one point – both as pitchers.
Before it was determined he was better suited hitting pitches than throwing them, McGwire made 28 appearances and had a 2.93 ERA. And he was superior to Johnson, who walked six batters per nine innings in 1984 and led the NCAA in free passes with 52.
Their journeys to MLB stardom went at contrasting paces. McGwire's rise was immediate. He established the rookie record for home runs in 1987 and was an All-Star in each of his first six seasons with the A's.
Johnson, meanwhile, was rather unimpressive over a year-and-a-half in Montreal. He was traded to Seattle, where he would become Hall of Fame caliber pitcher.
In 49 plate appearances, Big Mac hit .225 against The Big Unit with six RBI and three home runs. One of those homers is remembered above all else.
It was the fifth inning on a Seattle summer evening when McGwire sent Johnson's 3-2 offering to the moon – or perhaps at least to Olympia.
Johnson tried to fan McGwire on the outside part of the plate. The Oakland slugger had the strength to not only pull the ball, but demolish it. How far did it fly? The initial estimate was an incredible 538 feet, although the distance been debated in the years since.
It was one of the rare times this night in which Randy Johnson couldn't get a strike out. He would register 19 K's in a complete game, but the A's figured out a way to win, 4-1.
Neither stayed with their teams much longer. McGwire was dealt to St. Louis later that season and the next year briefly set the single-season home run record that has since been overshadowed by Barry Bonds and his own performance-enhancing drug admission. Johnson moved to Houston near the '98 trade deadline for what would be a three-month stay before racking up additional Cy Youngs and a World Series co-MVP in Arizona.
The Johnson-McGwire showdown a quarter century ago completely obscured two other Hall of Famers were in this game: Ken Griffey Jr., who went 3-for-3 with a triple and a double as well as Edgar Martinez, who was 0-for-3 but drove in a run.