Analysis
Remembering the 1998 Home Run Race: A Long Ball Tall Tale
Looking back at one of the most iconic and polarizing seasons in MLB history 25 years later, where Sammy Sosa and Mark McGwire made history.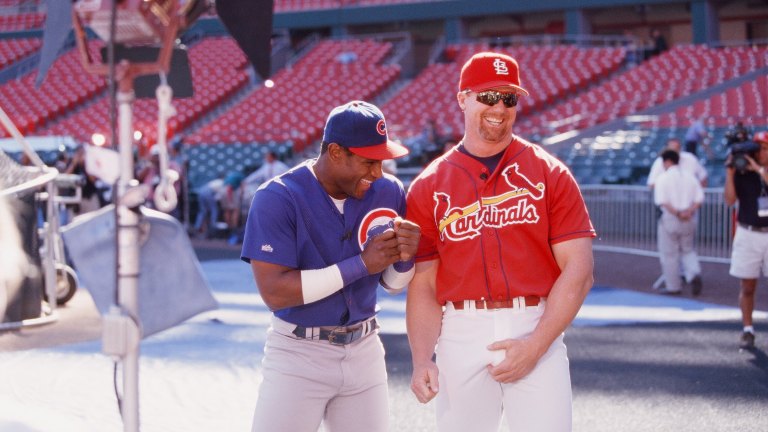 It was too good to be true. We wanted to believe it was true.
Looking back, the evidence was there in front of us. But in the wake of the 1994-95 player's strike, almost everyone didn't dare to look at the ugly truth. That includes Major League Baseball itself.
The storylines were perfect. And the main characters were out of central casting.
One had the look of an American hero — Paul Bunyan in stirrups. The other was a relative unknown prior to '98, born and raised in poverty in the Dominican Republic, quickly building his legend in two nations.
In the time that passed after this home run record chase for the ages, Mark McGwire and Sammy Sosa's reputations became tarnished. The incredible stats each put up that season aren't removed from the record books. There are no asterisks. There doesn't need to be any.
What transpired 25 years ago, in many ways, was and remains unbelievable.
McGwire, at age 34, came into 1998 an established slugger, having set the rookie mark for homers and blasting over 300 as a member of the Oakland A's. Traded to the St. Louis Cardinals in July '97, McGwire finished that year with 58. It gave the public good reason to feel he was a prime candidate to surpass the single-season home run record set by the New York Yankees' Roger Maris: 61 in 1961.
The other likely contender was Ken Griffey Jr., Seattle's superstar outfielder very much in the prime of his career.
Baseball's climate in the 1990s lent itself to power hitters. From 1978 through 1993, there was a grand total of two players who hit more than 50 home runs. In 1996 and 1997 alone, there were four. The top 10 each year had at least 40.
Little did we know the real reason ultimately would be the era by which it's now referred. But this, plus multiple expansion teams thinning the quality of pitching and smaller ballparks, added to the belief that one of the most hallowed records was ready to fall.
The first two months of the season only enhanced those beliefs. McGwire notched 11 homers by the end of April and 16 in all of May. Griffey was well within the pace at 19 as June arrived.
Then along came Sammy. If what Kyle Schwarber did in June is considered hot, Sosa was "touching the sun" hot. Sammy finished the month with 20. To this day, no one has tallied more home runs in a single month.
While he did have a 30-30 season in 1996, Sosa was hardly considered a star player. He was on a middling franchise and was known for a lack of plate discipline. But in 1998, Sosa become a national sensation with his torrid month of June.
Griffey eventually became third on the interest list. To say he faded wouldn't be fair. He simply felt the "dog day" struggles most ballplayers encounter. In the end, Griffey's homer total matched what he did the previous year. But it paled in comparison to his competition.
The McGwire-Sosa Summer Tour took over. It was a sensation that everyone — fans, coaches, teammates, rival players, broadcasters, writers — was enamored with. Every stadium, at home or on the road, was filled to capacity. McGwire and Sosa got standing ovations from the opposing crowd — and curtain calls if they happened to go deep.
"Did they hit one?" became a daily question. Batting practice became a must-watch. Charting the sluggers's respective pace compared to Maris' 1961 was tracked. It didn't take long before the comparison was meaningless. Each would break the record, but who would get there first?
The chase was reinvigorating the sport — a much-needed salve in post-strike baseball.
Skepticism was seldom found, even when Associate Press writer Steve Wilstein did what reporters are supposed to do. He noticed androstenedione (banned in other sports, but not baseball) in McGwire's open locker. A sign of the times, Wilstein was ridiculed and the chase pressed on without interference.
September began with both at 55 home runs. McGwire hit two apiece on the 1st and 2nd. Sosa went deep on the 2nd, 3rd, and 4th. The Cardinals began a home stand and Big Mac obliged. He matched Babe Ruth's 1927 total with his 60th on Sept. 5. Then for perfect schedule symmetry, St. Louis hosted Sosa and the Cubs.
The record-tying 61st was hit off Mike Morgan on Sept. 7: McGwire's father's 61st birthday.
The next night Busch Stadium was primed for history. The family of the late Maris was in attendance, joined by Commissioner Bud Selig, Cardinals legends, and other dignitaries.
It happened on the first pitch of McGwire's second at-bat in the bottom of the fourth, a sinker from Steve Trachsel. Most of McGwire's home runs in 1998 were towering drives. This was a searing line drive that barely cleared the left-field fence. His shortest homer was the most historic.
Play stopped for 11 minutes. McGwire greeted the Maris family and even Sosa ran over to greet his newfound compatriot. It was certainly a moment where even the most cynical would've been touched.
Sosa jokingly pleaded afterward that McGwire should wait for him to catch up. Mark did, whether he wanted to or not. Sammy went on a tear. Less than a week later he had 62 as well. His moment also came at home, but without the extended fanfare, Maris', commissioner's presence, and postgame festivities. Still, it was an emotional and genuine tribute from the Wrigley crowd.
They were now tied with two weeks left and were tied again at 66 into the final weekend. McGwire hit two in Game 161 and two more in Game 162, including in his final at-bat to punctuate the year with a shiny, round number for the history books.
But while Sosa fell four short, it was the Cubs star who led his team to a playoff appearance and his ridiculous numbers were worthy of the National League's MVP award.
Even by the outsized standards of the day's hitting, the bar that McGwire set would be hard to exceed. But in the years that followed, baseball's homer-happy era only got happier.
Big Mac and Slammy Sosa had pretty good encores in 1999, with 65 and 63, respectively. But for McGwire, the injuries that prevented him from threatening the record earlier in his career ultimately caught up to him for good. He retired in 2001.
Sosa, meanwhile, went on to top the league in homers twice and finish with 609.
Barry Bonds was set to surpass them all. Only three seasons after Mac and Sammy, Bonds went all the way to 73.
The doubts and scrutiny became even more prevalent. Testing, punishments, reports, admission of guilt, testimonies to Congress. Many who were the benefactors of the late 1990s and early 2000s were ostracized. Sosa was found to have tested positive for performance-enhancing drugs in 2003 and McGwire admitted to steroid use in 2010
This all naturally deterred the magic of '98. The purity of the sport was to some, irreparably damaged.
Neither has made the Hall of Fame. Neither probably will. Mark McGwire and Sammy Sosa's exploits remain among the most egregious of what will forever be known as the "Steroid Era." The authenticity isn't all there, but it's a story that'll be retold. It's just more fiction than we realized.