Analysis
Seattle Mariners Players Speaking Out Confirms Win-Now Window
Players have expressed their frustration about the franchise's lack of spending, putting pressure on the Mariners to make moves this winter.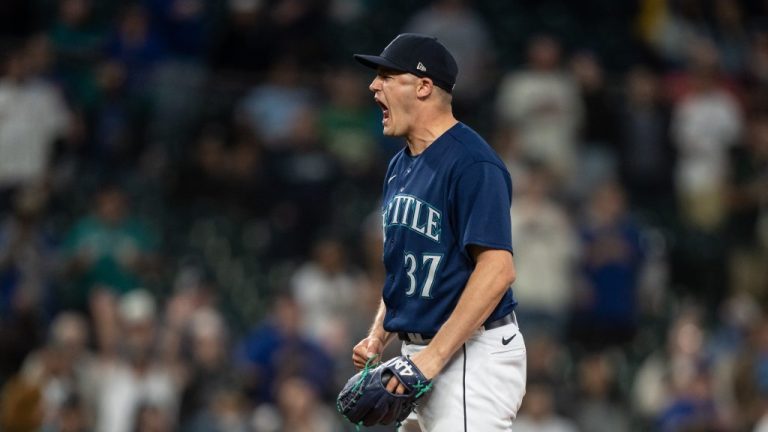 This is the most important off-season in Mariners history.
No, that's not hyperbole.
The franchise is in a contention window. They have won 88+ games each of the last three seasons. They have an extremely exciting young core highlighted by one of the game's best players in 22-year-old Julio Rodriguez, complemented by a rotation that has a real case to be deemed the deadliest in franchise history.
That being said, they have still only reached the playoffs once in the last 22 seasons. They are coming off a disappointing 2023 in which they did not qualify for the postseason field and were surpassed in their own division by the eventual World Series champion Texas Rangers, along with still looking up at the Astros.
Fans were already impatient before, and now are getting especially antsy. But that isn't unique. What fanbase doesn't let their voice be heard on a daily basis throughout the social media verse regarding what they believe the best course of action is for their team?
If you are Jerry Dipoto and the Mariners, (along with any front office), that is a non-factor.
What is much more concerning is that there are now players publicly taking issue with how the Mariners are going about building a championship roster, highlighted over the last week by Paul Sewald (in spite of now being a member of the Diamondbacks).
Before we get further into that, let's set the stage chronologically.
It all started with Cal Raleigh's postgame comments the night after Game 161 against the Rangers when Seattle was officially eliminated from playoff contention. He clearly had some thoughts to get off his chest, and he didn't miss his opportunity to let them be heard.
Those quotes made waves. It fired up the fans. It didn't sit well with the front office who was directly thrown under the bus in the public eye, and it raised some question if there was bad turmoil within the walls of T-Mobile Park between the governing bodies.
Raleigh issued an apology the following morning, but when teammates Logan Gilbert, J.P. Crawford and Ty France stood by the comments in their final postgame comments on the last day of the season, the questions still very much remained.
Now enter Sewald.
A couple weeks ago on "The Chris Rose Rotation" podcast, Rose asked Sewald about Raleigh's comments. The former Mariners closer backed him one hundred percent, and you can hear the frustration in his voice about how the off-season was handled a year ago.
Then this past week, Sewald was asked in an article by the Seattle Times further about the subject of the Mariners failing to spend and acquire top level talent. While he acknowledged that it is no longer his team and indicated that he has moved on since the trade to Arizona in early August, Sewald once again did not hold back.
That's five players that have now outwardly called for action by ownership and the front office in one way or another.
Sewald was a very vocal leader in that clubhouse during his time in Seattle. Much of the same can currently be said about both Raleigh and Crawford.
And if they all feel that way, how many other players on the roster have similar feelings and simply have not taken them public? In all likelihood, it is a significant number.
Seattle has never been through a scenario like this, where they have players openly unhappy about the franchise's lack of spending.
Dipoto has stated in the past that they have the green light from owner John Stanton to go out and spend the necessary dollars for marquee free agents to help put their ballclub over the top. Stanton has issued similar remarks as well.
But a lot of people, players included, seem to be sitting around and asking themselves the same question: "where are the actions to back that up?"
The Mariners are in a very fragile place right now. They are only a month removed from Dipoto's infamous end-of-season press conference in which he ignited an unwanted fire. They know their players are on edge. The fanbase is certainly on edge. And they already have trouble bringing in free agents to begin with.
This is not to say that Seattle has spent no money. They inked a deal with Robbie Ray right after he took home the AL Cy Young in 2021. They traded for and extended Luis Castillo in 2022. They signed Rodriguez to a gargantuan, near-lifetime contract last August.
But in spite of all of that, they finished 2023 at 18th in the league in payroll with a little over $134 million on the books. In addition to not bringing in any game-changing free agents last winter, they have yet to put pen to paper with any of their other young players outside of Rodriguez. 
The Mariners were tabbed as the most profitable team in baseball before the start of 2023 (via Forbes). They ranked top 10 in the league in attendance this year. They own their own TV network, ROOT Sports, that also broadcasts Seattle Kraken and Portland Trailblazers contests in which they receive significant profits that do not have to be revenue shared. 
They absolutely have room to add a sizable chunk of payroll.
No one is expecting them to have a top five payroll like the Rangers, Mets or Padres. But the blueprint of the Mariners rebuild that began after 2018 seems to have some shades of how the Astros and the Braves executed theirs (though nowhere near the success level yet).
Because of that, it is worth acknowledging that those two organizations did not get to where they are without spending a lot of money. The Astros ranked seventh in payroll in 2023, while the Braves stood at 10th. When the time was right, they did not hold back in shelling out coin.
Well, the time has never been more right for the Mariners. Whichever way they approach this ever-so-monumental off-season will undoubtedly result in a major ripple effect. The question is: will it be positive or negative?
An in-division rival passing them by and winning it all after a 68-win 2022 should motivate Dipoto and the Mariners enough to take expedited action. But maybe, just maybe, the words of Sewald, Raleigh and others will give them the extra push.