Analysis
Los Angeles Angels Offseason Outlook for 2023-2024 Free Agency
After a very difficult season trying to build around Shohei Ohtani before he hit free agency, the Angels are in a tough spot this offseason.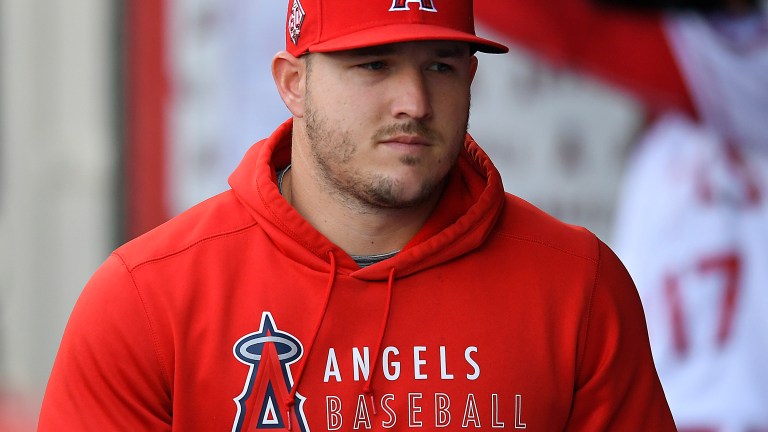 For what feels like 20 years, the Los Angeles Angels have been a team that looks great on paper but can't ever pull off a deep postseason run. Unfortunately, 2023 was not the year the club changed its fortunes much.
Instead, a fourth-place finish in the AL West and a dismal 73-89 record is what the team was left looking at. The organization now faces some significant decisions in regard to the direction of the club. Is a rebuild imminent? Does Mike Trout get traded? Has Shohei Ohtani played his last game as an Angel?
Two Superstars, Zero Championships
For the longest time, Trout's presence in the starting lineup was predicted to be all the Angels needed to get to the promised land. After all, he has made quite the case to earn the "best player of all time label. Still, his annual trip to the All-Star Game and MVP trophies haven't been enough to single-handedly get it done.
The answer to these struggles? What about bringing aboard a second player who has the potential to be the greatest to ever do it: Shohei Ohtani?
Ohtani, the two-way phenom, put together both an MVP-caliber season at the plate and a Cy Young-worthy season on the mound in 2023. His OPS+ was 184 and his ERA+ was 142, numbers which combine to form one of the best individual seasons in baseball history.
With two of the best players on the planet in tow and zero championships to show for it, the Angels are suddenly on the verge of losing what could be both superstars in a single offseason. Ohtani is set to hit free agency and is almost guaranteed to sign elsewhere, as the Angels have yet to show that they're serious about winning ballgames.
Then there's Trout, who could be traded. USA Today columnist Bob Nightengale reported that, for the first time ever, the Angels could be open to trading Trout if he requests to leave. Of course, Trout has full no-trade rights and could reject a deal to any club, but if he is eyeing a World Series ring before he hangs it up, now is the time.
What Went Wrong for the Angels in 2023
Despite their two stars, the Angels remain stuck in neutral. It turns out that handing the majority of your playing time to aging veterans like Mike Moustakas, Anthony Rendon and Hunter Renfroe was not the answer on offense.
The pitching staff also fell short, combining to put up the eighth-highest ERA in the majors (4.64). Beyond that, they allowed the third-most walks (636) and sixth-most home runs (209). Through and through, 2023 was not pretty. Lucas Giolito and Reynaldo López were brought aboard at the trade deadline to help the staff, but they did not even finish the year on the Angels.
What Went Right for the Angels in 2023
Let's give credit where credit is due, though. It wasn't all bad this year. Mickey Moniak (.280 AVG, 113 OPS+) stepped up in his first full season with the Angels and now appears to be a potential building block in the outfield. Logan O'Hoppe (14 HR, .796 OPS, 111 OPS+) looks to be a legitimate long-term answer behind the plate for the club.
Heck, even Nolan Schanuel, who was drafted this season, came up and drew more walks (20) than strikeouts (19) and posted a 103 OPS+ through his first 29 games.
So, where do we go from here? There are quite a few glaring roster holes moving forward, none bigger than the one Ohtani is leaving when he hits the open market in a few weeks. Let's take a closer look at the offseason and address the needs of the Los Angeles Angels.
Pending Free Agents
DH/SP Shohei Ohtani, INF Mike Moustakas, INF Gio Urshela, 1B C.J. Cron, OF Randal Grichuk
Options: INF Eduardo Escobar ($9MM team option, $500K buyout), LHP Aaron Loup ($7.5MM team option, $2MM buyout)
Losing Ohtani is obviously going to be the biggest blow of the offseason. He has become a once-in-a-lifetime type of talent, and the fact that the Angels failed to build a contender around him is rather disappointing. He figures to sign a record-breaking contract, with teams like the Dodgers, Mariners, Mets and Giants all potential fits.
Moustakas, Cron, Grichuk and Escobar all came over in mid-season trades, none of which worked out in the Angels' favor. The former three are set to become unrestricted free agents, while the latter is certainly going to have his team option declined.
A few years ago, Loup appeared to be a reliever worth keeping around for the long haul. He's extremely durable and typically does a great job keeping runs off the board. Yet in 2023, his 6.10 ERA in 55 outings was easily the highest of his career, and that $2MM buyout has never looked more attractive for the Angels.
Arbitration-Eligible Players
Here's a list of arb-eligible players for the Angels this offseason, along with their projected raises per MLB Trade Rumors:
RHP Griffin Canning ($2.5MM)
RHP Jaime Barria ($1.5MM)
LHP José Quijada ($1MM)
LHP José Suarez ($1.1MM)
LHP Patrick Sandoval ($5MM)
C Chad Wallach ($1.1MM)
INF Luis Rengifo ($4.2MM)
INF Jared Walsh ($2.7MM)
OF Taylor Ward ($4.5MM)
OF Brett Phillips ($1.4MM)
Clearing the deck a bit, four of these players were already outrighted off of the 40-man roster and are virtual locks to elect free agency.
Of the remaining group, Suarez and Quijada are non-tender candidates. Sandoval, Canning, Rengifo and Ward are all expected to play key roles for the club moving forward.
The Angels Have a Few Holes To Fill in the Lineup
A look at the returning hitters suggests that the offense could use some work this offseason. Sure, there are going to be quite a few returning members from this year's team that could play pivotal roles, but the lineup is going to need some attention.
Trout and Brandon Drury should once again occupy middle-of-the-order spots, while Moniak, O'Hoppe and Rengifo are going to return to their spots in the lineup.
Beyond that, the Angels desperately need to fill the void that Anthony Rendon has left in their daily lineup for years. As of right now, there's no indication that he'll be good to go for Opening Day 2024, so the club needs to fill that hole.
There's no guarantee that Schanuel will be ready to run with an everyday starting role, either. He's only 21 years old, and while he looked sharp in his first taste of big league action, perhaps some additional seasoning in the minors would do him well.
David Fletcher and Jo Adell are two promising players who have not delivered on the hype over the course of the past two seasons. As things currently stand, they'd fill bench roles in 2024, so upgrading the bench is going to be another need.
Which Hitters Could the Angels Target in Free Agency?
There are going to be a ton of players hitting the open market in a few weeks. The only problem is that the quality of these players is not very high.
Corner infield: Jeimer Candelario feels like the best fit to address any questions about the Angels' corner infield situation. The 29-year-old plays both first and third base and is coming off of a season in which he hit 22 home runs with a 119 OPS+. He's not going to command a massive, multi-year pact, but he will most definitely represent an upgrade over the current options.
Matt Chapman, one of the best defensive third basemen of this generation, will also be available, but his price tag is going to be considerably higher than Candelario's.
Bench bats: Utility players like Whit Merrifield, Tony Kemp and Isiah Kiner-Falefa are all low-cost options with experience that the Angels could plug into their bench.
Should the Angels need a bat with pop, a pair of Brewers' free agents in Carlos Santana and Mark Canha (if his team option is declined) would be reasonable fits. The Angels' lineup, as currently assembled, could use some more power, so either of these veterans would work nicely.
How Does the Pitching Staff Look for the 2024 Angels?
Not great. Each of Reid Detmers, Griffin Canning, Patrick Sandoval and Chase Silseth will be returning, but each comes with his fair share of question marks. Left-hander Tyler Anderson is going to be back for another year as well, but he had a 5.43 ERA last season and shouldn't be counted on to return to his All-Star form.
In the bullpen, Carlos Estévez is likely to remain the team's closer, which is a role he has more than earned. It wasn't always smooth sailing for him this past year, but he made the All-Star Game and had a career-high 31 saves, striking out well over 11 batters per nine innings along the way.
José Soriano was nearly lost to the Pirates a few years ago when he was selected in the Rule 5 Draft. However, he was returned to the Angels and finally made his big league debut in 2023. Now, it's looking like the Angels got lucky that the Pirates returned him. In 38 appearances, he had a 3.64 ERA and 123 ERA+. He has earned a spot in next year's bullpen.
Ben Joyce and Kolton Ingram are a pair of intriguing relief pitching prospects that cracked the majors for the first time this year. Even if they don't make the Opening Day roster next year, they're both going to stick around.
That leaves multiple spots in the bullpen currently filled by questionable arms. Jimmy Herget and Andrew Wantz both performed well in 2023 but could easily be replaced by upgrades via free agency.
Which Pitchers Could the Angels Target in Free Agency?
Don't expect the Angels to make a massive splash by signing someone like Jordan Montgomery, Sonny Gray or Aaron Nola.
What feels more likely is a starter in the tier just below them. Perhaps old friend Michael Lorenzen could be brought back aboard. Otherwise, Hyun Jin Ryu is a possibility, as are Marcus Stroman and Eduardo Rodriguez, both of whom can opt out of their current deals.
When it comes to relief pitching options, there's not a whole lot available for the Angels. Craig Kimbrel will be a free agent, as will Emilio Pagan, Jordan Hicks and Joe Jiménez.
Most of them come with their fair share of warts, but these are all arms that possess the ability to be reliable late-inning options for the Angels.
Why Not Just Stay Internal for These Roster Upgrades?
The answer to this is a simple one: The Angels have traded prospect depth for big league help for so long that the cupboards are bare. Schanuel and Joyce are both in the top seven in the system per MLB Pipeline, but most of the other top prospects have ETAs of 2026 or even later.
Caden Dana, Nelson Rada and Alberto Rios are the No. 2, 3 and 4 prospects in the system. Each of them looks promising, but they fall under the "2026 ETA" category.
Kyren Paris (No. 5), Jordyn Adams (15), Liván Soto (16), Víctor Mederos (20) and Trey Cabbage (26) all got big league cameos in 2023. Paris and Adams both looked severely overmatched in around 40 at-bats each, so don't count on them helping out in the majors just yet. At least not to start the 2024 season.
Cabbage, 26, hit just .208 in 53 at-bats, but his minor league track record suggests he could be a significant contributor to the Angels' lineup in no time. In 107 games this year at Triple-A, he hit 30 home runs with 89 RBI, 32 stolen bases, a .306 batting average and an OPS of .975. He seems like the real deal and is likely the club's closest prospect to consistent playing time in the big leagues.
Overall, the Angels are sitting in a precarious position, as they have tried to win over the last few years without much success. This has burned many of their assets moving forward.
They really have one of two options this offseason. Either they spend big, trying to retool the roster around Trout again (assuming Ohtani walks), or they could look to trade Trout, strip whatever is left of their roster and enter a rebuild.
If there is a third option, it's standing pat with what they have, but in that case, they would be no closer to contending in either the short or long term.