Analysis
Kansas City Royals Trade Deadline Outlook
The Royals are in the midst of another frustrating season, but outside of Andrew Benintendi, there isn't much they can sell at the deadline.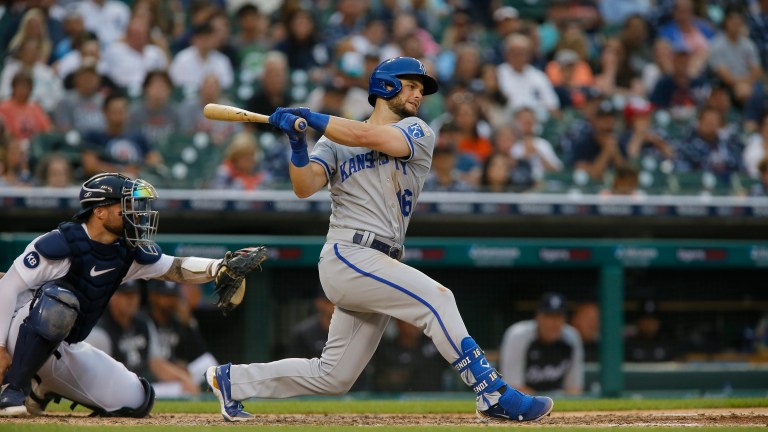 The Kansas City Royals are yet again one of the worst teams in Major League Baseball. This was supposed to be a step in the right direction up the rebuilding staircase, instead, the team lays lifeless on the bottom floor.
Kansas City received praise for making "competitive" moves by doing the bare minimum in signing Carlos Santana, Mike Minor, Michael A. Taylor, and trading for Andrew Benintendi during the 2021 MLB offseason. Two of the four have already been moved, with the pair of outfielders soon to be shipped off as well.
Outside of Bobby Witt Jr, nothing particularly feels good in Kansas City right now. For all their investments in College pitching through the MLB Draft, they have nothing but the worst pitching staff in baseball to show for it.
With the rebuild stalling, and the team clear sellers, what names can be on the move by the August 2nd MLB Trade Deadline?
Andrew Benintendi – OF
2022 Stats: .317/.386/.401/.786, 3 HR, 37 RBI, 124 OPS+
Potential Fits: Yankees, Padres, Mets
Andrew Benintendi was the Kansas City Royals All-Star representative this season, and for good reason. The former Rookie of the Year runner-up, and last year's Gold Glove Winner, is in the middle of a fantastic season on a dreadful club without much lineup protection. However, despite the eye-popping numbers, one trip up on the trade market could be his vaccination status.
The Kansas City Royals had a league-high 10 players unable to travel to Toronto last weekend, one of whom was Benintendi. The 28-year-old kept his statement brief, citing "personal reasons" as to why he was not vaccinated against COVID-19. That might sway AL teams away from trading for the outfielder out of fear of a possible postseason matchup with the Blue Jays.
Benintendi is a free agent following this season and is owed $8.5 million for the 2022 season. The contract is of great value for the production the Arkansas product can provide on both sides of the ball.
As an added bonus, Andrew Benintendi has a playoff pedigree, winning the 2018 World Series with the Boston Red Sox. In the postseason, Benintendi owns a .272/.322/.407 slash line with a .729 OPS in 87 playoff plate appearances.
Michael A. Taylor – OF
2022 Stats: 1.7 WAR, .264/.340/.385, 5 HR, 24 RBI
Potential Fits: Any contender due to the value and low asking price
Michael A. Taylor is another former World Series winning outfielder on the Royals roster, collecting a ring in 2019 with the Washington Nationals. Like Benintendi, Taylor took home a Gold Glove last season in one of his better offensive seasons as well.
In 2022, he is having far and away his best MLB season at 31 years of age. Taylor has a career-high 106 OPS+, while still playing fantastic defense in center field at the K.
Michael A. Taylor is under contract for the 2023 season and owed $4.5 million before becoming an unrestricted free agent in 2024. The return for Taylor should not be steep, this gives contenders a cheap upgrade in the field. In the playoffs when saving runs are at a premium, Taylor could be the difference in any series.
Whit Merrifield – OF/2B/3B
2022 Stats: -0.4 WAR, .240/.292/.343, 5 HR, 36 RBI
Potential Fits: Whoever will take him
Unlike Andrew Benintendi, Whit Merrifield was not as brief in his COVID-19 anti-vaccination explanation, which made waves through Kansas City and had most fans turn on him. Merrifield did say if he was on a contender that his stance would change, but what value does Merrifield provide?
The Kansas City Royals have had plenty of chances to ship off Merrifield for a decent haul, but in classic Dayton Moore fashion, they waited a bit too long and all of the utility man's value has dried up.
Whit Merrifield has a -0.4 WAR, He has a career-low batting average, on-base percentage, slugging percentage, OPS, OPS+, WAR, and a dreadful -0.6 defensive war which is by far his career-worst.
The 33-year-old is on the decline, still owed $6.7 million next year, and an $18 million mutual option in 2024. The bet for whatever buying team would want Merrifield is you are getting a two-time All-Star on the cheap asset-wise, and betting that putting him in a winning environment could re-energize a player that has never played on a winning club.
The Kansas City Royals are in the midst of an embarrassing season on and off the field. Despite that, I still do not see them moving on from Salvador Perez, and while they would likely give away anyone on their pitching staff, let's just say that is the 50-cent pile at the garage sale that at the end of the day you end up tossing in a dumpster.
For a team that is clearly a seller, there is just not much the Royals have that contending teams are looking for at this year's trade deadline.