Feature
Just Baseball Highlight Reel: Sox Win With Late Heroics
All of the highlights you have to see from Monday's MLB action.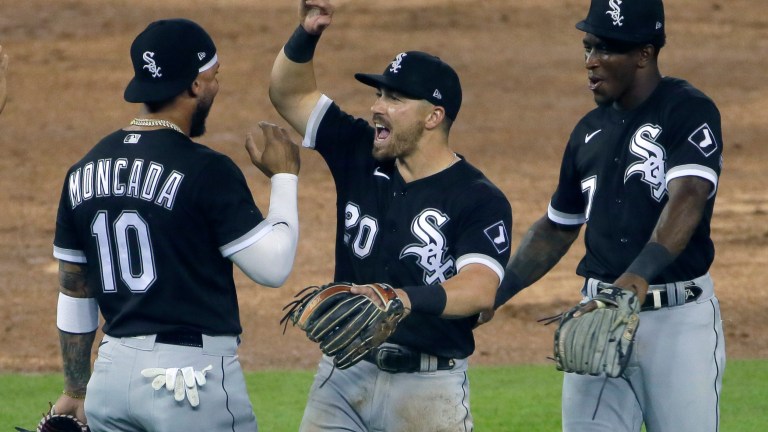 A new week of baseball began with a more packed Monday schedule than usual. After a postponement between the Mets and Cardinals, there were 12 games on the slate.
If you root for a team that has Sox in their name, last night was one you will want to relive in this highlight reel as the White Sox and Red Sox each won via late-inning heroics.
We begin in Kansas City, where 36-year-old Johnny Cueto returned to the mound in epic fashion Monday night in his White Sox debut. Spoiler alert: he was really good.  
White Sox Avoid Disaster
In the year 2022, Johnny Cueto struck out seven in six shutout innings, allowing just two hits and two walks. As shocking as it may be, it was tremendous to see such a great player back out there and still doing his thing.
The Sox got a run in the third to open the scoring, then put two more up in the fourth. Yasmani Grandal is off to a terrible start for the second year in a row, posting just 59 wRC+ through 29 games. Hopefully he turned himself around Monday, hitting a froze rope that extended the lead to 3-0.
The Sox were cruising along for seven stress-free innings, before the bullpen struck again. Kendall Graveman entered with that 3-0 lead in tact, and it vanished in the blink of an eye. Whit Merrifield doubled in a pair, then scored on a single by Andrew Benintendi and suddenly the game was tied.
Luckily for Graveman, the Sox had a response in their back pocket. With two outs in the 10th, Luis Robert came in clutch by launching a missile to center to give them a 5-3 lead. They could not let another easy victory slip from their grasp, and their star delivered in a huge spot with two outs. They needed that one badly as it gets them back to .500 at 17-17.
Tigers 3, Rays 2
Gator Great Alex Faedo is off to a really solid start to his career and continued it with another nice start Monday. He allowed just one run on four hits and a walk in 5 2/3 innings while striking out four.
The Tigers got out to a 2-0 lead in the fourth on a homer by Jonathan Schoop, then the Rays cut into it with the only run they scored off Faedo. It was one of those weird "homers" you see at Tropicana Field that went off a catwalk from Brett Phillips.
Phillips played a hand in tying the game as well, doubling then scoring in the eighth. However, the Tigers answered right back in the ninth to steal the victory in Tampa. Harold Castro launched a home run, his first of the year, to put the Tigers up 3-2 and set up Gregory Soto for the save.
Marlins 8, Nationals 2
The Nationals are the newly crowned worst team in baseball according to our Power Rankings this week and they showed why Monday. They are comically bad and got destroyed by the Marlins for their fourth loss to Miami this season. Already trailing 4-1, check out how they made it worse and nearly gave Jorge Soler a little-league homer.
Jazz Chisholm Jr. had fun as he always does. He had three hits, as did Bryan De La Cruz, including a double. Jazz should have had a triple, but was held by his third base coach and showed his disappointment in a very funny way.
Meanwhile, Sandy Alcantara was fantastic. He allowed a run in the first inning and threw 23 pitches and still managed to go eight innings. It ended up being the only run he allowed and he finshed at an even 100 pitches.
On his 92nd pitch, he ran it up to 100 for a strikeout, and flashed that incredible changeup on his fifth and final K of the night. His ERA is now down to 2.49 and he has not even had his best stuff this year. A scary thought for NL hitters.
Yankees 6, Orioles 2
They just cannot stop winning. The Yanks are now 26-9 after opening their series in Baltimore with their 19th win in 22 games. They had no problem with Baltimore, taking a 1-0 lead in the third then adding three more to it in the fourth. They scored five-of-their six runs via the homer, the first one a three-run bomb from Jose Trevino.
Anthony Santander homered twice for the Orioles, their only runs of the game. Josh Donaldson and Anthony Rizzo added to it in the ninth with solo shots. Rizzo's was his 10th of the year, which ties him with teammate Giancarlo Stanton for third in the league. Those two, along with Aaron Judge, make up three of the four players in the league with double-digit homers.
Blue Jays 6, Mariners 2
The Jays scored a run on a solo shot in each of the first two innings by Bo Bichette and Matt Chapman. They got ahead by as much as 5-1, never really feeling any pressure from the Mariners. Yusei Kikuchi was great, allowing just one hit and three walks in six scoreless innings.
The M's struggled to put together a challenge to the Jays and posted just four hits. For an offense that is supposed to be very exciting, that just does not cut it. One of their two runs came on a home run by Euegnio Suárez, the 200th of his career. The M's got one in the ninth and had runners on, but never put a true threat together. The Jays are somehow just 19-17, though they feel like a much better team than that.
Red Sox 6, Astros 3
Unfortunately for the Astros, Jake Odorizzi suffered what is being reported as an achilles injury. Jon Morosi said on the MLB Network broadcast it is not a tear, but he was taken off the field in a stretcher. We will have to wait for more updates but it certainly looked extremely concerning and all of us at Just Baseball send him our best wishes.
The game was delayed due to rain at 2-2 in the 6th and picked back up at 10:45. The Astros took a 3-2 lead off Matt Barnes, who always seems to be giving up a go-ahead run at the moment.
José Altuve singled off the $18 million man into center to make it 3-2. Then, Trevor Story finally had a big moment and got his batting average back up to .200. He launched a mammoth blast that I believe cleared the Green Monster and tied the game at three.
Having already extended his hitting streak to an impressive 17 games, J.D. Martinez came up big again by doubling in the go-ahead run. Héctor Neris has been dominant this year, entering play with a 0.56 ERA. That was far from the case Monday as he surrendered the lead to Martinez.
He then made things worse, as he let Xander Bogaerts take him deep into the monster seats to extend the lead out to 6-3. Hansel Robles entered and allowed a base runner, but rolled a double play and then picked up the final out. It was a much-needed stress-free ninth from a Red Sox bullpen that still has more blown saves (8) than saves (7) on the season.
Brewers 1, Braves 0
This was a pretty Brewers win if I have ever seen one. Milwaukee won with just five hits and two runs behind a dominant starting pitcher, Devin Williams and Josh Hader. Freddy Peralta looked more like himself Monday, twirling an absolute gem in seven scoreless. He allowed just two hits and a walk and struck out 10, completely shutting down the Braves offense.
Hunter Renfroe gave the Brewers the only run of the game in the sixth when he doubled and scored on a wild pitch. Once Peralta exited after seven, the Brewers turned to the overwhelming duo of Devin Williams and Josh Hader, who did their thing. They pitched two perfect innings and struck out every single batter they faced to lock down a 1-0 victory. It was even more dominant than it sounds, with all six K's coming on fastballs over 97 mph. You have to see it to believe it.
Cubs 9, Pirates 0
This game ended almost as fast as it started. The Pirates started Dillon Peters and it did not go well. He got just two outs and allowed five runs on four hits and a walk. Willson Contreras doubled to get things started, then scored when Ian Happ traded places with him.
Three more scored that inning before Contreras stepped to the plate again, this time with the bases loaded. You already know what happened next. I would suggest the Cubs extend him, but we have already seen what this organization does with the stars that won them a World Seres. He will likely be on another team come July, and that team will be very happy. Cubs fans could at least smile tonight, as the grand slam lifted them to a very easy victory over the Pirates.
Rangers 7, Angels 4
This game got out to a wild start with nine runs scored in the first inning. In fact, the Angels scored three of their four runs on the night in the opening frame. Brandon Marsh drove in two of those as he landed one in front of Eli White, who mishandled a poor bounce and allowed two to score.
As I mentioned, there were nine total runs in the first. The Rangers proceeded to double up the Angels after they put up three with six of their own. Having cut the deficit to 3-1, the biggest hit of the inning was a double by Adolis Garcia to make it 3-2. They tied it then took and extended the lead on a sac-fly, fielding error and two-run single.
They opened the lead up even more later on as Jonah Heim launched an absolute rocket to center field. He is making the most of his opportunity this year, hitting .277 on the year with an .888 OPS and four bombs. The win cools off the Angels, who had won nine of their last 12, if only for a minute.
Giants 7, Rockies 6
Curt Casali, yes that Curt Casali, is on fire!
After the Giants fell behind early, their catcher tied it with his second home run in three games.
The 1-1 score held until the fifth when Casali struck again for his third in three games. This time it was a three-run bomb that put the Giants up 4-1 and seemed to have them cruising.
However, the balls are beginning to fly at Coors Field and that means no lead is safe. The Rockies clawed back and made it 4-4 on a home run by Ryan McMahon. Then McMahon gave the lead away as he made an error to give the Giants a 5-4 lead, that they extended to 6-4.
The Rockies had an answer again though, putting up two in the eighth against the wicked Tyler Rogers to tie the game at six.
The Giants had one last punch in them in the ninth, as Mike Yastrzemski sent one deep into the Denver night with two outs in the ninth to give them a 7-6 lead. Camilo Doval pitched a shutdown ninth and the Giants took the win thanks to Yaz's heroics.
Twins 3, Athletics 1
The Twins have slowed down a bit and have gone just 5-5 in their last 10 after a win Monday. They got ahead 1-0 on a double by Royce Lewis, before the A's tied it back up the next inning. Byron Buxton drove in what would turn out to be the winning run with an absolute rocket of a single at 106.6 mph.
The Twins got another the next inning and that was it for the scoring in this one. The final run came off the bat of Gary Sánchez, who released the kraken on an absolute shot to deep center.
I struggled to find a whole lot of great defense Monday, but Elvis Andrus gave me a gift. He made a tremendous diving play to rob Gio Urshela of a hit and I had to crown it as the play of the night.
Dodgers 5, Diamondbacks 4
Arizona got ahead early in this one thanks to a Christian Walker home run in the second inning. They extended that lead to 2-0 and seemed to be in good position as Madison Bumgarner was cruising.
That was until the fifth inning when the Dodgers struck as only the Dodgers can. They suddenly flipped a switch on offense and took the lead in a flash. First, Mookie Betts tied it with a two-run single that ended up a three-bagger after a misplay by Alek Thomas. Then he scored to take the lead on a Freddie Freeman double and look how fired up he was coming in to score.
In the next inning, Chris Taylor opened up the lead with a two-run home run to make it 5-2. Tony Gonsolin settled in nicely, going six strong and striking out seven, allowing just the two runs on three hits and two walks. These two teams play a doubleheader tomorrow beginning at 3:10 p.m.
The Diamondbacks got two in the ninth on a home run by David Peralta, but that was all they got. Craig Kimbrel gave up the homer, but finished it off and shut the door once the bases were cleared. He got a strikeout and a groundout following the homer to secure the 5-4 victory.
Tuesday promises to be acton-packed with three doubleheaders scheduled between the White Sox and Royals, Cardinals and Mets and Diamondbacks and Dodgers. The action begins at 2:10 p.m. with game one between Chicago and Kansas City.