Feature
Is San Diego Padres GM AJ Preller the Russell Westbrook of MLB?
The San Diego Padres are the darlings of baseball, and AJ Preller is a major reason for that. But what if he's more flash than substance?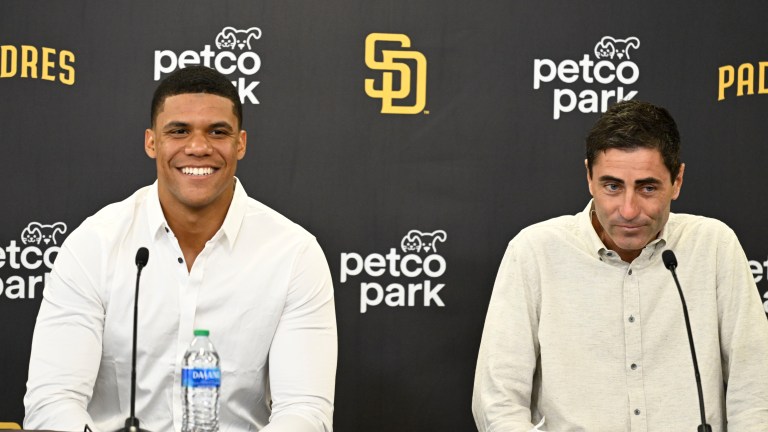 Making cross-sport references is an overdone bit. It's not a bad bit, per se, just needs to be tempered a tad. Whenever someone is young and super-talented, people will call them the LeBron James of that sport, or even something that isn't a sport (e.g. "Patrick Beverly is the Joker of the NBA"). But with all that being said, we're going to do it again, with none other than the wheeling-dealing king, AJ Preller.
The San Diego Padres are the darlings of Major League Baseball, and Preller is a major reason for that. The team has completely transformed itself from being a small-market team in the realm of the Oakland A's and Kansas City Royals to one that signs Xander Bogaerts to an 11-year, $280 million dollar contract…and that was somehow the second-biggest move they'd made in the last six months.
But while things are looking (mostly) good for the Padres now, it wasn't too long ago that they'd suffered the worst collapse in franchise in history. Also their total commitment to long-term contracts — with extension to Yu Darvish, Manny Machado, AND Jake Cronenworth — can raise concerns about the long-term flexibility of this build.
Regardless, Preller's tenure as GM has been exciting, unprecedented, and at times, polarizing.
Your honor, you know who else has been exciting and unprecedented, but yet polarizing. RUSSELL WESTBROOK, the often-mocked former superstar of the NBA. Here is some of my evidence of why these two sports figures may be more alike than you think.
Exhibit A: Blockbuster Quality
Since taking over for the Padres, AJ Preller has made splashy moves with the same frequency of Blue Bloods season renewals. There's his first major offseason whirlpool in 2015, which saw him acquire Matt Kemp, Wil Myers, Justin Upton, James Shields, and Craig Kimbrel. There are the signings of Eric Hosmer and Manny Machado. Then he pulls off the biggest blockbuster trade since the Marlins let go of Miguel Cabrera, with the mid-season acquisition of Juan Soto.
It's Preller's calling card. He loves making every baseball fan feel anxious around the offseason and deadline. The notification that pops up on your phone revealing yet another huge Padres acquisition is a thing of tremendous excitement and drama. I love it. You love it. Everyone will (probably) always love it.
Westbrook, in a similar vein, provided basketball fans with a jolt of thrilling moves. Except these were done on the court (duh), in the form of so much speed and overall athleticism that you can't take your eyes off him. Dribbling past multiple defenders, somehow launching into the air as if a trampoline were beneath him, and the dunks. Oh, those lovely dunks.
The adrenaline rush you get from both Preller and Westbrook, at their best, makes them standouts in their sport.
Exhibit B: Small-Market
Despite what their recent spending bonanza would suggest, the Padres have long been considered to be amongst the lower tier of organizations in Major League Baseball. Thanks to the Prellerpalooza era, they've been anything but.
It's always nice to see franchises that don't have the traditional cache — whether it be for geographical or competency reasons — break out into being something special.
Similarly, Russell Westbrook was a pivotal character for the Oklahoma City Thunder. It felt like because of him and Kevin Durant, they were routinely showcased on national television for all to bare witness to. It wasn't just that they were good — teams like the Raptors and Jazz have had plenty of winning seasons without the same exposure. It was because they were flashy, which Preller and Westbrook both had in common, and helped bring excitement to places that were hardly used to having any.
Exhibit C: The Back-And-Forth Discourse
Now, we get to the ugly side of things.
As eluded to earlier, the Padres have had some up-and-down seasons lately. And after seemingly every downturn, there come the questions of whether or not Prellerpalooza is actually working. Depending on the time of day, you can find plenty of Preller naysayers lurking in the shadows, waiting for the perfect moment to spray their acidic "Preller is a fraud" venom onto the world.
Russell Westbrook is the same, with the height of his naysayers from back when he won the MVP over James Harden and his more recent tenures with the Wizards and Lakers. Preller and Westbrook are two entities that people love to jump on whenever things go bad. But what if the snakes are…somewhat justified?
Exhibit D: Robin, Not Batman
Some would argue that A.J. Preller's spending and trading spree — especially after considering how many misfires it's produced (foreshadowing!) — could only be possible with a particular kind of ownership. The kind of ownership that operates like they don't have anything to lose. The face of that is, of course, Peter Seidler.
Considering how much money and cheap prospects have been dealt by the Padres over the years, one might assume that ownership plays a huge role in it. The Milwaukee Brewers traded one of their best players away, despite being in first place, at last year's deadline and went to an arbitration hearing over $200,000 with their Cy-Young-winning pitcher, Corbin Burnes. Perhaps it is Seidler that deserves the credit.
The same point may be made about Russell Westbrook, too, because of his teammate: All-NBA and MVP-superstar-freakazoid-Hall-of-Famer, Kevin Durant. Without Durant, would Westbrook have actually been as wildly popular? Would the team have been as successful in those early days? The Thunder had one of their best records in 2014 (59-23) despite Westbrook missing so much time.
Are Preller and Westbrook actually just Robins? I'm not SAYING that, but I'm certainly not disagreeing, either.
Exhibit E: Inefficiency
Acquiring superstars is good. Some (i.e. cool people and not nerdy people) might even say it's great. But for AJ Preller, one might argue that his wheeling-and-dealing ways have been more style over substance. He's a volume shooter, making big moves at nearly every conceivable free agency or trade deadline period since 2015, and there's been some…tough beats:
Trading Trea Turner for Wil Myers
Trading Ty France and Andrés Muñoz for Austin Nola
Signing Eric Hosmer to an 8-year, $144 million dollar contract
Trading Josh Naylor, Cal Quantrill, and Austin Hedges on top of prospects Gabriel Arias, Joey Cantillo, and Owen Miller
Trading Jack Suwinski, Tucupita Marcano, and Michell Miliano for Adam Frazier
Trading Yasmani Grandal for Matt Kemp and Tim Federowicz
Not great. Terrible, even, some may say — and only time will tell how the Nationals fare with the players they received for Juan Soto.
While Preller has certainly pulled off some under-the-radar moves that turned out great (e.g. Joe Musgrove, Jake Cronenworth), these are the types of misses that sting quite a lot. Similarly, Russell Westbrook is perhaps the NBA's poster boy for inefficiency. During his post-Kevin Durant stretch, especially, much was made about Westbrook's triple-double numbers.
On the surface, those numbers were impressive — averaging a triple-double for a whole season hadn't been done since the Oscar Robertson era — but it turns out, upon further inspection, that it might've been counterproductive. Is it really that impressive to put up those numbers when your usage rate is as high as Westbrook's was? When you simply have the ball run through you for every single play?
Westbrook certainly isn't a bad player — far from it, really — but there may be a misunderstanding about what actually leads to successful basketball. His style just raises a whole lot of questions due to the amount of ugliness associated with it, and the same goes for Preller.
Of course, there's still a lot of Preller and the Padres story left to tell, while Westbrook languishes as more of a specialist in the right matchups for the Clippers — a team seemingly addicted to adding former, but past their prime, stars (e.g. Jeff Green, John Wall). This comparison isn't meant as an insult, either.
Instead, I hope it's just a reminder of how much more nuanced sports, and their pivotal figures, can be. Are AJ Preller and Russell Westbrook incredibly inefficient? Sure. But, hear me out, what if it doesn't matter? What if we just sit back and appreciate that they're able to even do what they're doing? It's a crazy idea, I know, but just like these two sports individuals: maybe it's the effort that means the most.