Feature
How About That for a First Half?
This is a great time to be a baseball fan, and that's never been more evident than during the first half of the 2023 season.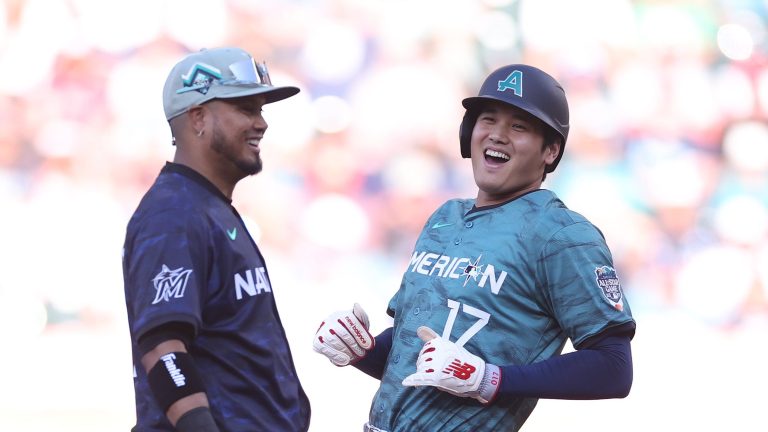 In my tiny little sports brain, the two days following the MLB All-Star Game are the worst of the year. They are the only days on the entire calendar where there are ZERO regular-season games in the four major sports. It brings flashbacks of the early stages of the pandemic and a certain wonder of what there is outside the world of sports.
Outside is scary, but seems nice. That girl I'm dating? She seems pretty cool. There are actual channels besides ESPN, MLB Network and my regional sports channel? Who knew?!
While the misery of a life without sports can be overwhelming, these days also give us a good chance to stop and reflect on what makes sports the best. We can look around and realize how much worse our lives would be without them. On a more positive note, we can also realize how much they add to our lives on a daily basis.
In my reflection over the past two days, I have come to realize just how incredible baseball is right now. In fact, this is the best baseball has been in possibly more than a decade.
Whew buddy, was that first half exciting. There is more parity in the league than we have had in years. New, young, exciting teams are making their way up the ranks. Superstars are emerging, a new generation is thriving, and arguably the greatest specimen we have ever seen take the field is shining brighter than ever.
This really is a great time to be a baseball fan, and that has never been more evident than during the first half of this season.
New Blood
Baseball is a sport that has been dominated by a few teams over the past five to ten years: the Astros, Dodgers, Yankees, Braves, Red Sox, etc. have risen above all with big budgets and bigger names.
This year, we are seeing the power of a young core with exciting talents. The Reds, Orioles and Diamondbacks have all taken the league by storm with athleticism, flare and, most importantly, joy. These teams remind us that baseball is a kids' game that is supposed to be fun. Showboating is encouraged, taking the extra base is mandatory and a smile is a result of getting to play the best game in the world for a living.
Corbin Carroll signed an eight-year, $111 million deal with the Diamondbacks before the season after just 32 MLB games. I called them crazy. All he has done since then is cement himself as the NL Rookie of the Year and put himself in the MVP conversation. This kid does something every night that jumps off the screen and makes you fall in love with the sport all over again.
The Orioles have called up a plethora of young studs and somehow have even more waiting in the wings. None is more exciting than Adley Rutschman, who had his coming-out party in the Home Run Derby earlier this week. The dude hit 27 home runs and is not even known as a power hitter. Were it not for a heroic effort by Luis Robert Jr., he would have been a real threat to win.
I mean, do you understand how insane it is to hit 20 home runs in 3 minutes, then turn around and hit seven in a row from the other side of the plate?! That was an absolute show! Adley announced himself as one of the stars in the league. If people, for some reason, did not know his name, they certainly do now.
Then there is the one who rises above them all, Elly De La Cruz. Our top overall prospect, De La Cruz has turned casual fans onto the game with athleticism unlike anything we have ever seen on a ball field. A straight steal of home is one of the most exciting plays in sports, and he made it look easy. He hit for the cycle in his 15th career game! It took the Marlins 30 years to have a guy hit for the cycle!
Elly is a combination of size, speed and skill that we have never seen on a baseball field. He has the loudest tools in the sport, and just like Carroll, he does something every night that makes you fall in love with the game all over again.
There are plenty of guys on these teams that I missed. Matt McClain, Gunnar Henderson, Zac Gallen, etc. all get you pumped to watch baseball. There are plenty more around the league that make you want to go out to a ballgame. We are entering a new generation of ballplayers; in fact, we are already here. It may just produce the most exciting brand of ball we have ever seen.
A Faster Game
The athletes on the field are not the only ones showing off the speed in baseball. The game itself has become faster, and it has worked with flying colors.
The pitch clock may go down as one of the greatest innovations not just in baseball, but in all of sports. The average time of a nine-inning game is down almost half an hour, and while it may not be my favorite change, there is no doubt it makes the game more attractive for the casual fan.
I was a critic of the pitch clock coming into the year, but everybody that told me I would get over it was 100% right. You barely notice it when watching a game. The only major difference is that you get to sleep earlier when you watch West Coast games. As somebody who watches the Giants from the East Coast a lot, that has been an innovation for all time!
Attendance is up around the league! There has already been nearly 60% of last year's attendance at the break, and about 2,000 more people are attending an average game around the league. Out of the 30 teams, only six of them have seen an average drop in attendance. Out of those six, three have seen minimal changes (< 1,000 people): the Giants, Brewers and Red Sox. The other three have seen major drops in performance by their teams: the White Sox, Rockies and Nationals.
On June 30, Yahoo! reported that MLB TV ratings on the four major networks were up 26%. Those networks are Fox, TBS, FS1 and ESPN, and they are seeing more than 200,000 more viewers year-over-year from 2022 on average.
People want to watch baseball again, and the pitch clock is playing a huge part in that. So many casual fans said baseball is too slow; now, the game is faster than it has ever been. There are no more excuses for people who used to say the games would drone on at too slow of a pace. If you have not already, get yourself out to a ballgame in the second half of the season. Take a friend! They may just find their new passion.
Parity!
There are so many teams in it this year. It seems like every single team is a winning streak away from being right in the thick of things. What that can be attributed to is for someone else to determine, but what I know is that it is great for the sport.
Fanbases all around the country are seeing life in their baseball teams. Most have not felt this way at this time of year in a while. Just ask people in Miami!
The Marlins just had their best first half in team history, and attendance has skyrocketed over the last few weeks. Fans have not had a team to care about at this point of the season in years, and people are starting to catch Marlins Fever. Fans are filling the void with the Fish after the Heat and Panthers lost in the finals, and they finally have good reason to!
We already talked about Baltimore, Cincinnati and Arizona. What about the Giants? The Cubs are right in it. Toronto has a young core that matches the ones I mentioned earlier in terms of excitement. The Rangers had five All-Star starters and four in the infield! The Mariners have a superstar that they clearly adore. Right now, there are eight teams within five games of the first Wild Card spot in the American League. In the National League, there are nine teams within eight games.
We are set up for a mad dash to October, with so many teams in it and pretty much every division up for grabs. The biggest division lead in baseball right now is the Braves at 8.5 games up on the Marlins in the NL East. The next biggest is the Dodgers in the NL West. They are tied with the Diamondbacks and only 2.5 up on the Giants! Here is how things stand around the rest of the league: The O's are within two of the Rays, the Twins are a half-game back of the Guardians, Houston is two behind Texas and the Brewers are one back of the Reds.
Are you kidding me?! More than half the league has a shot at the playoffs in July, and the deadline is around the corner. This could be the most exciting playoff chase we have had in years.
Baseball has been begging for parity for years, and we found it in a big way in 2023.
Shohei Bleeping Ohtani
Baseball finally has a guy that transcends the sport. It is the first time since probably Barry Bonds that this is the case.
Ohtani is a worldwide superstar and is doing things we have never seen before. He has an 181 wRC+, 32 homers and 4.3 fWAR as a designated hitter. On the mound, he has a 3.32 ERA, 11.84 K/9, a 1.10 WHIP and 1.7 fWAR in 17 starts.
He is not "the modern-day Babe Ruth." He is so much better than that. Shohei is starting to receive praise as the greatest player EVER, and it is not unwarranted. Babe Ruth never had more than 4.73 K/9. Different times I know, but the two are incomparable.
Ruth's final year where he actually really pitched also marked the end of the dead-ball era in 1919. He made 17 appearances (15 starts) that year and had 0.5 fWAR. His highest fWAR as a pitcher was 4.5 in 1916. Ohtani had 5.6 in 2022.
Enough about Babe Ruth. Can we please for the love of god talk about Ohtani?! This dude hit a home run 493 feet…and there is actual video evidence to prove it!
It was his 15th home run of JUNE and 30th of the season! He still had two more in him before the All-Star break! On June 27, he hit two home runs and struck out ten batters in the same game. In his previous start before that, he struck out 12.
My favorite Shohei moment of the year came in Baltimore. In fact, it might be my favorite moment around the league this year. Shohei got the start and gave up a home run to Adam Frazier, and the Orioles announcer made one of the worst mistakes in human history.
After that, Shohei absolutely torched the Orioles and damn near hit for the cycle. His next time up he went 456. It was one of the funniest things I have ever seen on a broadcast.
I put it all together in a video for our Twitter account that is absolutely too good to be true. You have to listen to this.
When it comes to Shohei, you mess with the bull and you get the horns. You also get something every night that you have never seen before. It is a different kind of wonder than we talked about earlier with Corbin Carroll and Elly De La Cruz. This is the stuff of legends, these are the things you will tell your kids about. All those home runs people say Babe Ruth hit that never stopped flying, we actually know them to be true with Shohei.
It remains to be seen how long he can do both at this level, but who cares? He is arguably the greatest player ever, and now is the time to just appreciate greatness. We can worry about longevity when the time comes.
Of course, the storyline lingering over the entire league in the second half is what the hell do the Angels do? Do they dare trade him? Do they risk losing him for nothing and make a last-ditch effort to re-sign him? Nobody seems to think they have a chance.
What to do with Ohtani is the biggest conundrum…in the history of sports? That sounds hyperbolic, but when you think about it, it is probably true. I had a long discussion about this with a bunch of buddies the other night, and I came to the conclusion that there is no right answer. Either you trade the greatest thing we have ever seen for a return that will inevitably not be sufficient, or you lose him for nothing in return at all.
Whatever the Angels decide to do, the next few weeks surrounding him are going to be fascinating.
Get Ready For More
The best part about all of this is we are just getting to the good stuff. Trade discussions are revving up, and the intensity is getting hotter each day. July will become August will become September will become October, and with it, the intensity cranks up a notch each time. We are in for such a treat in the second half.
Before we get there, take a second to pause and reflect on what was an incredible first half. Appreciate the game of baseball as you read this. Hell, appreciate life. People always say that what is great about baseball reflects so much of what is great about life. Remind yourself of that today.
Then get ready for what is going to be an insane sprint to the finish. Because if you thought that first half was good, boy are you in for a treat over the next few months.