Analysis
Graham Ashcraft Has Been the Best Surprise of the Reds Rebuild
With Nick Lodolo and Hunter Greene, the Reds always had high expectations, but Graham Ashcraft's ascension has been their biggest surprise.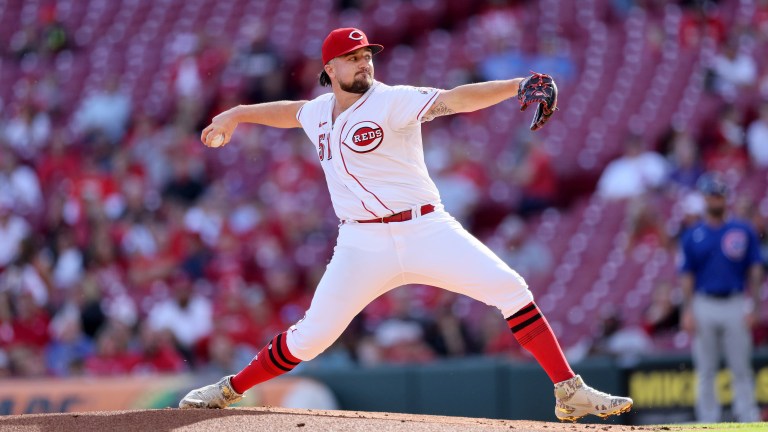 Throughout the past few years prospect evaluators and fans have discussed the future in Cincinnati with Nick Lodolo and Hunter Greene leading the rotation. Two highly touted, first-round draft picks who are now blossoming into what everyone thought they could be – frontline starters.
While their hype and praise is warranted, you cannot talk about the Reds rotation without mentioning Graham Ashcraft.
The former sixth round pick quickly climbed his way through the Reds system, and up the organizations prospect charts after stops in Double and Triple-A, before reaching the majors in 2022. Ashcraft quickly became a fan favorite after his debut in May of 2022, facing a difficult Toronto lineup and managing to get through 4.1 innings surrendering only two runs. You could see the velocity and bulldog mentality from the start.
Most labeled Ashcraft as a projectable #4 or #5 pitcher who could be a plus bullpen option if all else failed. His strikeout numbers were average to below average but a groundball rate over 50% throughout the minors would translate well to Great American Ball Park.
A groundball pitcher who can eat some innings and post a 4.25-4.50 ERA seemed fair. Well, he's showing his ceiling is much more than just that.
Ashcraft entered spring training with a spot in the rotation but not in the conversation with Lodolo and Greene. Fast forward a few weeks and now he's undeniably as much of a factor now, and in the future, as the two first-round picks.
The first difference came in spring training when Ashcraft started missing more bats leading to more strikeouts, a change that has carried over into the early part of this season. After posting a 6.05 K/9 in 2022, Ashcraft has raised that to 8.05. Is that sustainable, or a small sample size?
His 10% swinging strike rate and 19% whiff rate both point more towards a 6.05 K/9 but keep in mind. Ashcraft is a groundball pitcher. Through his first three starts he owns a 1.42 ERA, 3.48 FIP, and 17 strikeouts in 19 innings.
Striking batters out gets you on posters but being a groundball pitcher can be just as effective. We all know deep fly outs tend to find their way over the wall in Great American Ballpark. Ashcraft's profile fits perfectly for this ballpark. His groundball rate sits at 60%, up from 54.5% in 2022.
The ability to induce weak contact and groundballs is mostly due to his cutter, which has also been classified as a "Gyro ball" along with other names. High velocity and movement make it difficult for batters to square up.
This pitch alone is why many think he could be at least a high leverage bullpen option. Sitting 97 mph, can run it up to 100, with movement. We have already seen the whiff rate jump 5% on this pitch, and the strikeout rate double from last year to 18.8%.
The pitch that has really helped Ashcraft stand out this season though has been his slider.
Ashcraft seems to have even more confidence in his slider this season, as we have already seen the usage jump up 10% from last season. Batters are hitting just .179 off the pitch with a 31.3% whiff rate. When you have a cutter moving at 97 mph and an improving slider at 88 mph, you are going to be able to fool a lot of hitters.
No doubt, Ashcraft has the stuff to be a top three in the Reds rotation. With more experience, he'll learn how to fine tune his craft and become more efficient. Let's say he continues to improve throughout the season and establishes himself as a legit top three going forward. Cincinnati would have their top of the rotation under team control through 2028.
Nick Lodolo (25 years old) – Pre-Arbitration, Free agent in 2028
Hunter Greene (23) – Recently signed through 2028, 2029 option
Graham Ashcraft (25) – Pre- Arbitration, Free agent 2029
Having three starters, with team control, in their cheapest season's as professionals gives the front office a lot of room to supplement the roster elsewhere. Signing a No. 3 starter would likely cost between $10-$15 million per year, and the Reds have one who hasn't even entered arbitration. Finding a back of the rotation arm is not only easier, it is cheaper. Cincinnati has other pitching prospects who could fill out a rotation, but adding a veteran No. 4 seems like a wise move.
Small market teams, believe it or not, work with payroll constraints. The Reds have fluctuated up and down, but when competitive, tend to operate between $90-$125 million payroll. With Joey Votto's option likely to be declined, Hunter Greene's new contract is the only guaranteed money on the books past this season.
Jake Fraley, Jonathan India, and Tyler Stephenson are the only significant players reaching their first year of arbitration. Even if you want to work under the assumption $120 million is the "salary cap" for the Reds, they still have plenty of room to work with.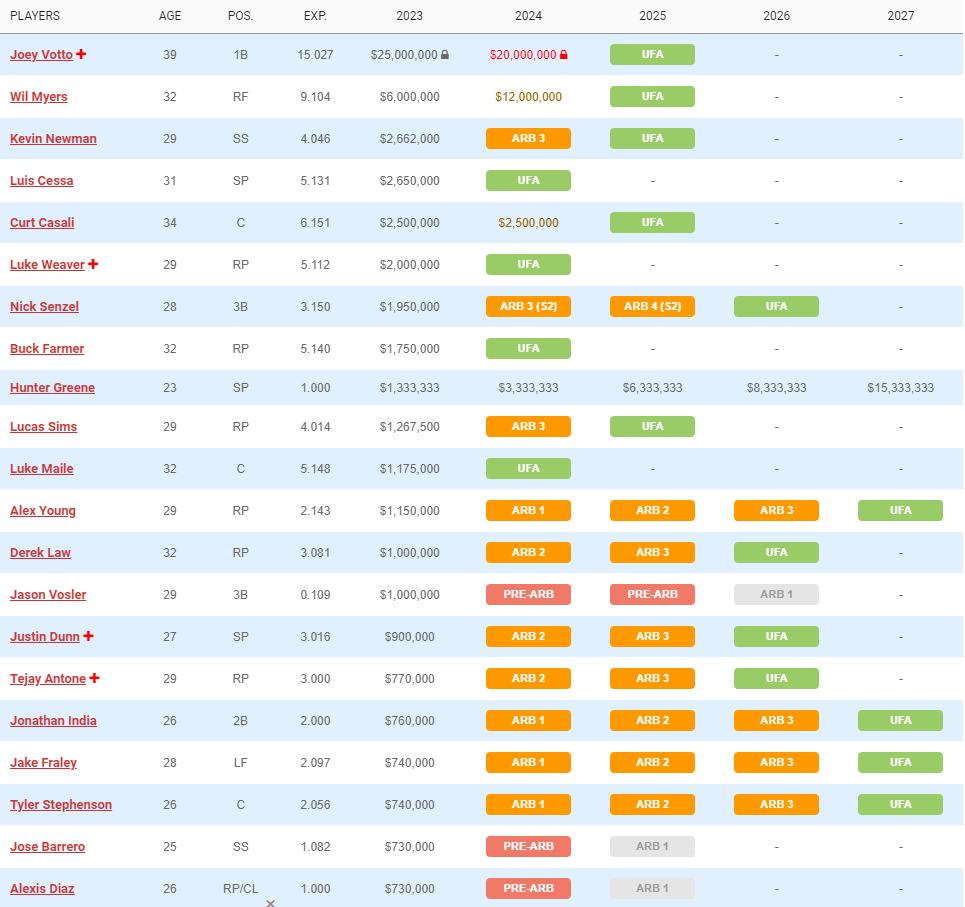 How often do we hear you need three legitimate starters for playoff contention. Look around the league and you'll see the best teams have starting pitching, and more than just an ace. Often times teams are held back because of their lack of high end starters and falter in the playoffs. Teams overpay in hopes of stabilizing their rotation. Run through this list of average annual value's and you'll see $10 plus million for pitchers who might be league average.
Cincinnati doesn't need to throw a big deal with too many years at a free agent in order to feel good about a playoff rotation. Lodolo, Greene, and Ashcraft are tending towards being a lethal playoff rotation. All relatively cheap, young, and ascending players.
The front office has confidence in these players and now can use money toward filling out the roster, instead of building it from the top down.
Take a look at the best rotations in the game. Almost all have two to four players that are more expensive than any of the Reds pitches. You could say "that's why the Reds aren't competing" but look how these rotations on this list were built. Atlanta, Houston, Milwaukee, Los Angels are a few examples that built mostly from within. The Reds have a plan and it is working.
Graham Ashcraft is just one player on a team of 26, I get it. But how often do we see teams ceilings and season outcomes change because they have three legit starters instead of two. Cincinnati is on the verge of an influx of young talent. Some will stick, other will not. You don't have to squint too hard to see a path where the Reds start to play meaningful baseball as early as next year, and Graham Ashcraft is a big reason why.