Analysis
Revisiting Last Year's Blockbuster Francisco Lindor Trade
It has been just over 17 months since the New York Mets acquired Francisco Lindor. Here we look at how that trade has worked out for both sides.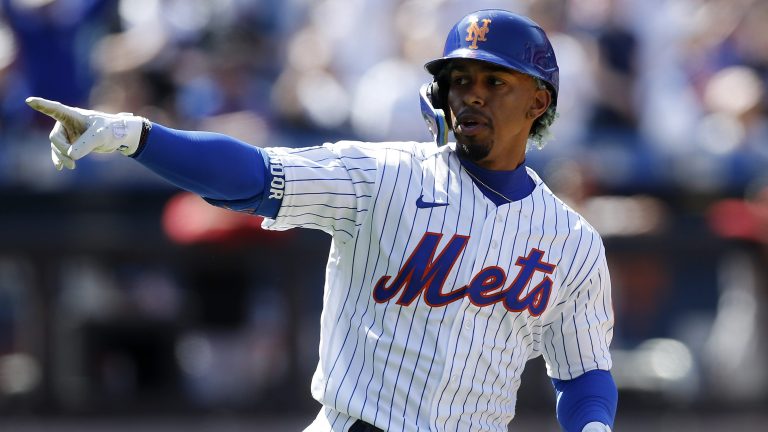 On June 14th, 2015, the then Cleveland Indians debuted their top prospect, shortstop Francisco Lindor. Still just 21 years old, the former eighth overall pick took little time to adjust to playing at the highest level and would go on to finish second in the Rookie of the Year voting.
By his sophomore season, Lindor was an All-Star and the face of a team that made it all the way to the World Series, where they lost in an epic Game 7 against the Chicago Cubs.
Over six seasons spent with the franchise that drafted him, Lindor won two Gold Gloves, two Silver Sluggers and was a four-time All-Star. This made him one of the most valuable trade pieces in baseball once it became clear that Lindor would not be staying in Cleveland due to his aspirations for being the league's top-paid shortstop.
Steve Cohen was more than happy to give Lindor that contract, minting him with a $341 million decade-long extension after trading for the superstar shortstop a few months prior. While his first season in Queens did not go as planned, year two could not have gotten off to a better start. The Mets have built a healthy lead in the NL East and were the first team in baseball to reach 20 wins.
Considering the key roles Lindor and Carlos Carrasco have played in their fast start, the Mets are obviously thrilled right now with their return on that trade. Meanwhile, the Guardians may have finally found their heir apparent at shortstop, as Andres Gimenez is finally delivering on the promise that made him the headlining piece of the Lindor trade a little over a year ago.
Let's revisit the blockbuster trade, and see how it has worked out for both sides up to this point.
Mets Acquire: Francisco Lindor and Carlos Carrasco
If we were to revisit this trade a few months ago, people would probably feel a lot differently about it. Lindor and Carlos Carrasco were both coming off arguably the worst seasons of their careers, as their first year with the Mets was an unmitigated disaster.
The Mets held first place for a majority of the first half of the season, but fell off a cliff post All-Star break. They went 29-45 and ended up finishing in third place in the NL East.
Lindor had the worst offensive season of his career, hitting .230/.322/.412, with 20 home runs and a 103 wRC+. Lindor was still worth 4.2 fWAR, but did not play up the standard he had previously set in Cleveland. Meanwhile Carrasco endured an injury-plagued year that limited him to just 12 starts. He pitched to 6.04 ERA.
Now in their second season with the Mets, Lindor and Carrasco have each rediscovered who they once were and have shined in a big way.
Lindor started the season red-hot, but has cooled a bit as of late. Still, he is responsible for 30 of the Mets runs this season with 18 RBIs and 17 runs scored (five home runs). That ranks third on the Mets behind Pete Alonso (40) and Starling Marte (34). Lindor's defense has not been great this year, so there is still plenty of room for improvement as the season wears on.
Meanwhile Carrasco is performing like the headline piece in this deal, as he has been fantastic through his first six starts. The 35-year-old has pitched to a 3.19 ERA, 3.28 xFIP and 3.29 xERA. If you remove his one bad start where he allowed eight earned runs in 3 2/3 innings against the Cardinals, Carrasco would have a 1.36 ERA.
He has taken the ball into the eighth inning twice already this season, with his best start coming last week when he went eight scoreless against the Atlanta Braves. Carrasco only has 33 strikeouts in 36 2/3 innings pitched, but has also only walked six batters. If his 1.47 BB/9 holds up, it would be the best mark of his career.
The biggest strength for the Mets this season has been their top three starting pitchers, as Max Scherzer, Chris Bassitt and Carrasco have anchored this team. They are all averaging over six innings per start, providing the Mets with real quality veteran starting pitching.
With a $14 million vesting option for the 2023 season, the Mets are likely to keep Carrasco through next year, which is a great luxury to have if he continues to pitch this well.
When looking back at the Lindor trade from the Mets perspective, it is hard to look at the deal as anything but a win at this stage. This team is contending for a World Series this season and Lindor and Carrasco are going to play a major role in that. New York made a trade to win now and as long as they accomplish that, there will be no regrets from making this deal.
Guardians Acquire: SS Amed Rosario, SS Andres Gimenez, OF Isaiah Greene and SP Josh Wolf
When Cleveland made this trade, there was one player that really stood out above all the rest in the package they received. Isaiah Green and Josh Wolf were both lottery tickets. Former second-round picks who had not even turned 21 years old yet, there was no guarantee what the Guardians would be getting with the toolsy outfielder in Greene, or in Wolf's electric yet unproven arm.
Amed Rosario already had four big league seasons under his belt and a career .705 OPS. A poor defender at shortstop, Cleveland acquired a player who could certainly start for a depleted lineup, but not one that had a lot of trade value at the time.
The deal really hinged on the success of Andres Gimenez, who was coming off a solid rookie campaign. Unlike Rosario, Gimenez is a wizard with the glove, capable of becoming a Gold Glove defender at either middle infield position.
In 2020, Gimenez hit .263/.333/.398, with eight stolen bases and a 105 wRC+ in 49 games played. He posted a 1.2 fWAR in 49 games played, which would have equated to nearly being a four-win player if extrapolated over 162.
Cleveland would give Gimenez every opportunity to grab the starting shortstop position, but he failed to do so in his sophomore campaign. Last year, Gimenez really struggled offensively, hitting just .218/.282/.351. He ended up spending half of the season in Triple-A and left a lot of doubt about what his MLB future would be. But this year, Gimenez has been a revelation for the Guardians.
Going into play today, Gimenez is hitting .333/.345/.543, with a 162 wRC+. Among hitters with at least 80 plate appearances, the 23-year-old ranks 18th in wRC+ and is tied for 17th with his 1.3 fWAR.
If we were to poke holes in his fast start, one could look at his .400 BABIP and 2.4 BB% as cause for concern. His walk rates have hovered around 5% dating back to his full season playing in Double-A back in 2019 and he is not going to hit .333 all year. This means his on-base prowess is likely set for a steep regression as the season wears on.
The one saving grace for the left-handed batter is that he makes great contact, as evidence by his .292 xBA and .466 xSLG to start the year. That expected batting average ranks him in the 80th percentile and the expected slugging is in the 63rd. Still, his inability to take walks does hurt his long-term offensive profile for Cleveland.
However, where Gimenez will bring most of his value to the Guardians is with his glove. This year he has already been worth 4 OAA (2 OAA at 2B, 2 OAA at SS), which puts him among the top-three percent of defenders in the league. In only 580.1 innings at shortstop, Gimenez has been worth 8 DRS at the premium position in his career.
Cleveland might not have gotten the next Francisco Lindor in the trade, but they did get a player that could hold down his former position for a decade. If either of the lottery tickets in Isaiah Greene or Josh Wolf pan out, this could be remembered as great trade for the Guardians.
Either way though, this is a deal that both teams are feeling a lot better about now than they did following the underwhelming performances of Lindor, Carrasco and Gimenez in 2021.