Analysis
Five Most Improved MLB Teams Heading Into 2023
Which teams will see the biggest improvement in their win total from 2022 to 2023 based on their moves from this offseason?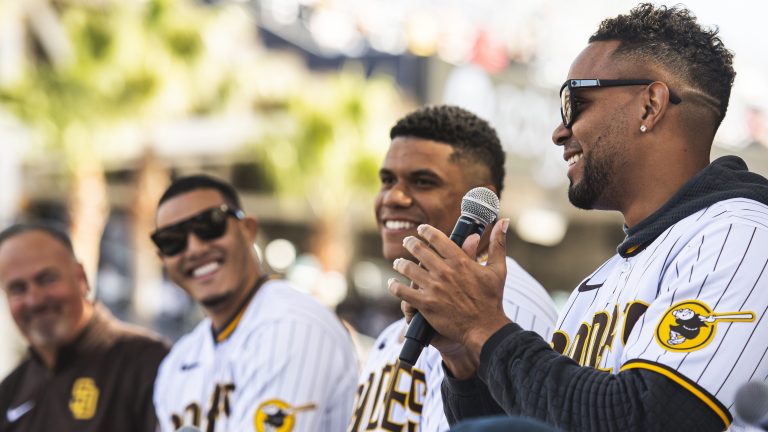 Spring training is finally upon us, with pitchers and catchers officially reporting this week for the start of another MLB season.
Throughout this offseason, we have seen widespread action around the league, with countless nine-figure deals signed and blockbuster trades made. Now everyone begins to look internal, hoping to see some breakout players show themselves in camp before finalizing rosters ahead of Opening Day.
In this piece, we are going to highlight the five teams that have done the most to improve this offseason. This is not a list of the biggest winners of the offseason who did the most, rather it is to highlight the teams that will have the biggest disparity in win total compared to last season.
Looking at teams like the Yankees, Mets and Braves, it is going to be very hard for them to win much more than they already did in 2022, when they won 99, 101 and 101 games respectively. Those teams all had solid offseasons, making additions that could put them over the top in season and more importantly in the playoffs, but their win total isn't likely to take a significant jump.
Instead we are looking at teams like the Texas Rangers who won just 68 games last year but are sure to be far better after rebuilding their rotation through free agency. Let's dive into the top five most improved teams heading into spring training.
*All over/under win totals provided by Caesar's Sportsbook.
1. Texas Rangers
Well since we just alluded to them, might as well start off this list with the Texas Rangers.
Winning the offseason is never a guarantee for future success. Look no further than the 2022 Rangers for an example, as their signings of Corey Seager and Marcus Semien amounted to just 68 wins and a fourth place finish in the NL West.
Still, that was an eight-game improvement over the 60 games they won in 2021 and an even greater improvement is heading their way this year, provided the health of their new starting rotation.
The Rangers basically bought a staff this offseason, signing free agents Jacob deGrom, Andrew Heaney and Nathan Eovaldi, while also trading for Jake Odorizzi for additional depth. If the Rangers got 25 starts apiece from deGrom, Heaney and Eovaldi this year, they will be markedly improved.
DeGrom is still the best pitcher on the planet when healthy and Eovaldi is just a year removed from a near 6-win season when he posted a 5.7 fWAR across 32 starts for the Red Sox in 2021. Heaney is an underrated x-factor as well, having pitched to a 3.10 ERA across 72 2/3 innings with the Dodgers in 2022. The left-hander struck out 35.5% of the batters he faced, showing his truly nasty stuff.
Texas rounds out their rotation with a signing from last offseason in Jon Gray and Martin Perez, who signed the qualifying offer coming off a great campaign.
Offensively the Rangers did not do much to address their team, but with Seager and Semien expected to do more in year two and the full arrival of top prospect Josh Jung, the Rangers have plenty of thump to support this new starting rotation.
2022 Record: 68-94; Over/Under 2023 Win Total: 81.5
2. San Diego Padres
The San Diego Padres are coming off a great season where they made it all the way to the NLCS and beat their chief division rival, the Los Angeles Dodgers, in the process. They now look to build off that heading into 2023 and are set to debut one of the most star-studded lineups we have ever seen.
Having a full season of Juan Soto after acquiring him at last year's deadline was already set to be a big difference-maker for the Padres this season. Throw in the return of Fernando Tatis Jr. off his suspension, as well as the incumbent Manny Machado, and the Padres had a trio of superstars that were the envy of every team in baseball. Then they decided they needed a fourth.
First they made a run at Trea Turner, next it was Aaron Judge. Enter Xander Bogaerts.
A.J. Preller would not be denied in his quest for more star talent and he ultimately found his guy in Bogaerts on a 11-year, $280 million deal. The Padres now feature more star power than any team in baseball.
Aside from adding Bogaerts, the Padres re-signed Robert Suarez to fortify their pen and Nick Martinez to be part of the back-end of their rotation. San Diego also signed former Mets reliever Seth Lugo, who has long been looking for an opportunity to be stretched back out as a starting pitcher and will now get the chance.
Ultimately this offseason comes down to Bogaerts though. With a full year of Soto, the return of Tatis and the addition of Bogaerts, the Padres could add 10 wins to their total from last season and we wouldn't bat an eye.
2022 Record: 89-73; Over/Under 2023 Win Total: 94
3. Chicago Cubs
The Chicago Cubs are still probably a year away, but they made some big strides in the right direction this offseason. First off, they have a new franchise cornerstone in Dansby Swanson.
Swanson may have been the least impactful or the star shortstops on the market, but that does not mean he is not still a great player to add to your organization.
The 29-year-old former first overall pick just won the Gold Glove, hit 25 home runs and finished with an fWAR over 6.0. That's an impressive recent resume for Swanson. The track record is shorter than the Bogaerts' and Turner's of the world, but that is why he received less years and less guaranteed money.
The seven-year, $177 million deal he signed was perfect for Chicago, giving them their new face of the franchise, while allowing them to still spend more in the future. The Cubs also added Jameson Taillon on a four-year, $68 million, solidifying their rotation with a deal that is pretty solid considering this was the same market that paid Taijuan Walker $72 million over that same span.
Chicago landed the best low-risk bet in free agency, former MVP Cody Bellinger, who is set to provide great defense in center field with the hope of some offensive upside.
Add in veteran catcher Tucker Barnhart and first basemen Eric Hosmer, Trey Mancini on the offensive side. As well as relievers Brad Boxberger and the recently signed Michael Fulmer for pitching depth. And the Cubs are much-improved compared to last season.
2022 Record: 74-88; Over/Under 2023 Win Total: 77.5
4. Toronto Blue Jays
This is where this list begins to get tough. When you look at the over/under win totals, a lot of team are hovering right around where they were last season. The Mariners and Phillies made great moves, but are either them going to far-exceed their win totals from last year?
Look at the Blue Jays and you could put them in that same class. Toronto won 92 games last year and Vegas has them at 93.5 right now. Still, I look at a roster that is far-improved defensively, with a new No. 3 starter to pair with their top two arms and think there is a chance Toronto gives the Yankees a real run for their money atop the AL East this year.
The biggest change we see looking at the Blue Jays starting lineup is in their outfield. No longer do we see bat-first outfielders in Teoscar Hernandez and Lourdes Gurriel Jr. who were replaced by Dalton Varsho and Kevin Kiermaeir.
Toronto bet pretty big on their addition of Varsho, dealing arguably the top catching prospect in baseball in Gabriel Moreno to acquire him. This was trading from an area of surplus though and Varsho has the chance to hit 30 home runs and steal 20 bags, all while playing Gold Glove defense in the outfield.
Speaking of Gold Gloves, the Blue Jays brought in a three-time winner in Kiermaier to patrol center field. Then to make up for what they may have lost offensively, the Blue Jays took a flier on Brandon Belt, who could bounce back in a big way in a DH role this season.
The final piece that deserves mentioning is Chris Bassitt. While Ross Stripling was great last year, but Bassitt has been one of the most consistent starters in the game dating back to 2019. Coming off a season where he made 30 starts, set a career-high with 181 2/3 innings pitched at a 3.42 ERA, Bassitt was the perfect starter to compliment Alek Manoah and Kevin Gausman.
2022 Record: 92-70; Over/Under 2023 Win Total: 93.5
Minnesota Twins
Can we count Carlos Correa as an addition to this team, even though his departure never lasted more than a few months this winter?
While Correa was here last year, his return is absolutely massive for this franchise. Simply put, they got their best player back and it makes everything else they did this offseason look that much better.
Minnesota took a chance on Joey Gallo on a one-year deal, which alone isn't too exciting, but as a smaller move of a much bigger plan, is not bad. Gallo isn't far removed from hitting 25 home runs with a 138 wRC+ in Texas during the first half of 2021. Playing in big markets did not work out for him, but moving to a smaller one in Minnesota could actually be a big positive for Gallo.
The Twins also made a trade to acquire Michael A. Taylor to address their outfield further, giving them a backup center fielder to the oft-injured Byron Buxton. Taylor won't hit like Buxton, but he can at least play a great defensive center field in his absence.
Minnesota traded for Kyle Farmar, giving them a solid utility infielder and signed Christian Vazquez to be their starting catcher. Pulling the batting champ Luis Arraez from this lineup hurts, but the hope is that between Jose Miranda, Alex Kirilloff, Jorge Polanco, Nick Gordon and Royce Lewis, the Twins had more than enough infield depth to absorb the loss.
On the other hand, where they did not have a lot of depth was starting pitching and Pablo Lopez is exactly what the doctor ordered in that department. A front-three of Joe Ryan, Sonny Gray and Lopez might not be the most sexy of names, but it could also be the best rotation the Twins have featured in years.
Throw in Bailey Ober and Tyler Mahle, as well as both Kenta Maeda and Chris Paddack coming off Tommy John and the Twins have some depth now to make it through a long season.
2022 Record: 78-84; Over/Under 2023 Win Total: 81.5
Who's Better Baseball
If you want further explanation of my though process behind making this list, check out the latest episode of my new Just Baseball podcast, Who's Better Baseball!