List
The Five Best Trade Deadline Deals Since 2015
Picking the best deadline moves since 2015, and the impact they made on each team and season.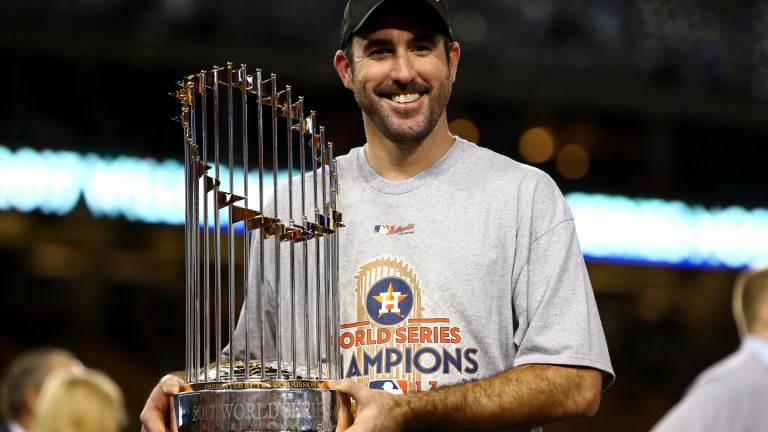 The trade deadline has finally passed. After a flurry of moves, Max Scherzer and Trea Turner are headed to the Dodgers, Joey Gallo and Anthony Rizzo are going to the Yankees, and Kris Bryant is now a Giant. Those are just a few of the many season-altering trades teams made over the last few days. In the months and years to come, we'll look back on which of those moves turned contenders into champions, and which ones set teams back. That's what this article is all about: re-examining the five best deadline deals since 2015 and the impact of each trade.
2017: Verlander Makes the Astros a Juggernaut
Astros Receive: Justin Verlander – RHP
Tigers Receive: Daz Cameron – OF, Jake Rogers – C, Franklin Perez – RHP
The top trade on our list helped the Astros bring home their first World Series title in franchise history. With uncertainty in their rotation behind Dallas Keuchel and Charlie Morton, the Astros needed to make a move. They struck a deal at the 11th hour of the old August 31st waiver trade deadline. After the trade, Verlander pitched to a 1.06 ERA in five September starts. He then delivered on the game's biggest stage, posting a 2.21 ERA in the postseason. The veteran righty followed that up with two All-Star appearances over the next two seasons in Houston, as well as winning the American League Cy Young award in 2019.
On the other end, none of the three prospects that Houston sent to Detroit have panned out yet. Daz Cameron has a career .200/.246/.330 (.576 OPS) slash-line in just 122 MLB plate appearances. Headliner Franklin Perez hasn't pitched above Double-A, and has missed the entire 2021 season with a shoulder injury. Jake Rogers has been the most promising piece thus far, hitting 10 home runs in 255 big league plate appearances. He also has an .802 OPS this season, but hasn't displayed much consistency.
| | |
| --- | --- |
| | WAR Acquired (per Fangraphs) |
| Astros | 13.9 |
| Tigers | 0.3 |
2018: Rays Fleece the Pirates
Rays Receive: Shane Baz – RHP, Tyler Glasnow – RHP, Austin Meadows – OF/DH
Pirates Receive: Chris Archer – RHP
This might be the most lopsided MLB trade of the last decade. The only reason it isn't number one on this list is because it hasn't netted Tampa a World Series (yet). However, the Rays did get a Cy Young-caliber starter in Tyler Glasnow (3.10 ERA in 261.2 innings with the Rays), an everyday player in Austin Meadows (.840 OPS in 1,176 plate appearances with the Rays) and an up-and-coming stud in Shane Baz (2.26 ERA and 13.3 K/9 in the Minors this year). This trade laid the groundwork for Tampa to become the legitimate title threat they've been over the last three seasons.
Nothing about what the Pirates did made any sense. For starters, they were just 56-52 and barely on the fringe of contention. Additionally, Archer was already on the downswing of his career. He hadn't posted an ERA under 4.00 since 2016 and had a career-worst 4.31 ERA and 1.38 WHIP at the time of the trade. Giving up two top prospects and another promising young arm in Baz was an extreme overpay. Pittsburgh missed the 2018 playoffs and Archer never regained his early-career form. To make matters even worse, Archer resigned with Tampa Bay during this past offseason, meaning Pittsburgh is left with nothing from this disastrous deal.
| | |
| --- | --- |
| | WAR Acquired (per Fangraphs) |
| Rays | 12.0 |
| Pirates | 1.5 |
2016: A Pair of Relievers Steal the Show
Cubs Receive: Aroldis Chapman – LHP
Indians Receive: Andrew Miller – LHP
Yankees Receive: From Cubs: Rashad Crawford – OF, Billy McKinney – OF, Gleyber Torres – IF, Adam Warren – RHP; From Indians: J.P. Feyereisen – RHP, Clint Frazier – OF, Ben Heller – RHP, Justus Sheffield – LHP
After the Royals won the 2015 World Series largely on the backs of their bullpen, teams were looking for impact relievers at the 2016 deadline. The Yankees, sitting outside of the playoff picture, decided to make their two relief aces available. Andrew Miller was dealt to the Indians and Aroldis Chapman went to the Cubs for packages of four players each. This trade is a little different from the others we've featured, because all three teams did well.
On the Yankees end, they got a two-time All-Star in Gleyber Torres, while also reacquiring Chapman after the season. Though none of the other players really worked out, some were used as trade pieces, and it was a good return for a team that needed to restock their farm. The concern now is that Torres has not been the same player over the last two years that he was initially.
Meanwhile, the Cubs found the missing piece to their drought-ending, championship puzzle. Chapman posted a 3.45 ERA, while pitching in 12 of the team's 17 postseason games. Of course, he left after the season, but the Cubs knew they were getting a rental. With Gleyber Torres's struggles over the last two seasons, this trade has gone from good to great for Chicago.
As for Cleveland, Andrew Miller was a catalyst for a team that came within one win of a World Series title. He was used in different relief roles, and there's almost no way they win the pennant without him. Miller put up a 1.55 ERA to close out the regular season, before a masterful postseason in which he had a 1.40 ERA and pitched multiple innings seven times. Miller followed that up with a 1.44 ERA and an All-Star appearance in 2017.
| | |
| --- | --- |
| | WAR Acquired (per Fangraphs) |
| Yankees | 8.5 (7.3 from Gleyber Torres alone) |
| Indians | 3.8 |
| Cubs | 1.3 |
2018: Under-the-Radar Move Pays Dividends For the Red Sox
Red Sox Receive: Nathan Eovaldi – RHP
Rays Receive: Jalen Beeks – LHP
Every year, there are a few under-the-radar trades at the deadline that make a huge impact. In 2018, that was Nathan Eovaldi for Jalen Beeks. The Red Sox had one of the best offenses in recent baseball history three years ago, but they had to do something to shore up their pitching staff. Look no further than Eovaldi, who posted a 3.33 ERA down the stretch for Boston before becoming a postseason hero. In October, the then 28-year-old righty had a 1.61 ERA in 22.1 innings. His six innings of relief in Boston's game three loss to the Dodgers saved the bullpen, and propelled the Red Sox to wins in games four and five to take the series.
As for Jalen Beeks, he has shown flashes, but hasn't quite established himself yet. The young lefty has a 4.23 ERA in 168 innings for the Rays over parts of three seasons pitching both as a starter and reliever. However, he has missed the entire 2021 season with an elbow injury.
This trade also has deeper ramifications considering it was intra-divisional and Eovaldi is still pitching extremely well for the Red Sox three years later. In 2021, Eovaldi owns a 3.49 ERA for the first place Sox, and was named an All-Star for the first time in his career. It's hard to fault the Rays for dealing a rental who had only once had an ERA under 4.00 in his career, but if Tampa could do this one over, I'm sure they would.
| | |
| --- | --- |
| | WAR Acquired (per Fangraphs) |
| Red Sox | 6.2 |
| Rays | 1.0 |
2015: Cespedes Leads the Mets to the Playoffs
Mets Receive: Yoenis Cespedes – OF
Tigers Receive: Luis Cessa – RHP, Michael Fulmer – RHP
The 2015 Mets, like most recent Mets teams, had trouble scoring. Entering play on July 31st, they were dead last in baseball with 365 runs scored. However, they also had the third best pitching staff in the league and were just two games back of the first place Nationals. New York needed to boost their lineup to make a serious run at their first postseason berth since 2006. Enter Yoenis Cespedes, who had a .287/.337/.604 (.942) slash-line for the Mets to help the team finish 37-22 and win the NL East. While Cespedes cooled off in the postseason, his regular season performance allowed the team to make its first World Series appearance since 2000. Cespedes was also a 2016 All-Star before injuries derailed his career.
In return, the Tigers got a pair of young pitchers, notably Michael Fulmer. For a couple of years, it appeared to be a great return as Fulmer was a blossoming ace for Detroit. He had a 3.06 ERA in 2016 and was named an All-Star as a 24-year-old the following season. However, a multitude of injuries slowed him down over the next few seasons before he was ultimately converted to a reliever at the start of the 2021 campaign. It's still not a bad trade for them, but Fulmer never helped the team accomplish anything meaningful. As for Cessa, he never pitched for the Tigers and was traded to the Yankees, along with Chad Green, for Justin Wilson late in 2015. That's a trade Detroit wishes they could have back.
| | |
| --- | --- |
| | WAR Acquired (per Fangraphs) |
| Mets | 8.6 |
| Tigers | 8.7 |
One to Watch: Astros Steal Alvarez – 2016
Astros Receive: Yordan Alvarez – OF/DH
Dodgers Receive: Josh Fields – RHP
Now this is an interesting one. It doesn't officially make the top five only because there hasn't been enough postseason impact just yet. However, there almost certainly will be in the future. Yordan Alvarez is one of the best pure hitters in baseball. Going back in time, the Dodgers won a bidding war with Houston for Alvarez's services during the 2016 international signing period. Not even two months later, he was traded to the team they outbid. Since Alvarez debuted with the Astros in 2019, he has slashed .297/.381/.584 (.965 OPS) with 47 home runs in just 176 games. He has battled some lower-body injuries in his young career, but that's the only thing that has slowed him down so far.
Josh Fields, on the other hand, was out of the league by 2019. He put together a number of quality seasons with the Dodgers, never posting an ERA over 3.00 for them between 2016 and 2018, but he was in no way worth dealing an elite bat like Alvarez. Time will tell just how lopsided this trade ends up, but the possibility of Alvarez haunting the Dodgers as early as this year's World Series remains very possible.
| | |
| --- | --- |
| | WAR Acquired (per Fangraphs) |
| Astros | 6.2 |
| Dodgers | 0.8 |