Analysis
Dodger Stadium vs. Angels Stadium: From an East Coast Perspective
Who has the better baseball stadium between the Los Angeles Dodgers and the Los Angeles Angels?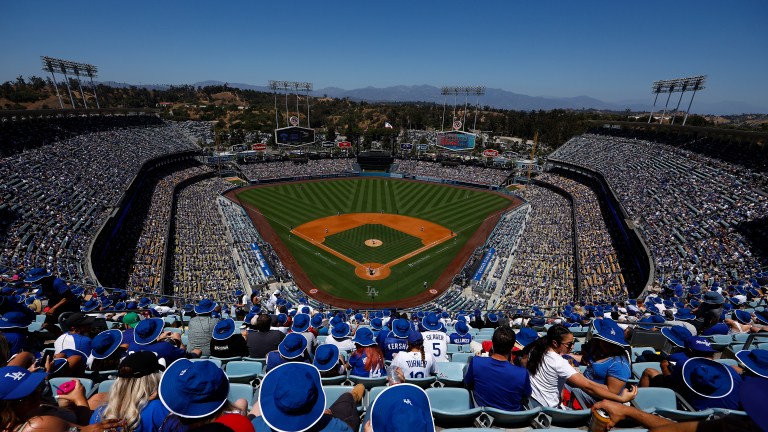 My father and I had talked a while ago about visiting every Major League baseball stadium.
It's not a unique conversation, I'm sure, but baseball is something almost every father and son bond over. Since I was a little, and having this journey with him is something I always wanted to complete.
My father has visited at least 17 stadiums, both new and old, including Shea Stadium, the original Yankee Stadium and the prior home to the Chicago White Sox and Baltimore Orioles. I, understandably, have seen less than him.
We took two more ballparks off that list last week with our family trip to Los Angeles, those being Dodger Stadium and Angels Stadium down in Anaheim. We got lucky enough that their schedules overlapped that week and saw the Dodgers face the Oakland Athletics and the Angels take on their division rival Seattle Mariners. Both games were exciting and something I'll never forget.
With that said, I wanted to revisit both stadium experiences and rate them on which I thought was better. They are the two L.A. teams, technically, so why not put the rivalry to the test with which stadium is better.
As an East Coast native, it would be as unbiased of a perspective as you can get.
Getting to the ballpark:
Los Angeles traffic is the worst traffic I have ever experienced. Even for someone who traverses the roadways of New York City fairly regularly, I can say this is a different breed of traffic. Something so close can take you two-plus hours to get to; one could even say walking anywhere would be faster than driving in L.A.
Our family rented out a house in the Hollywood Hills and according to iPhone maps app, Dodger Stadium should have been about a 20 minute drive, with Angels Stadium being about 45 minutes from the house.
Both did not take that amount of time to get there. If anything, getting there in that proposed amount of time would be a miracle. Dodger Stadium took us at least an hour to get there and Angels Stadium was more than a two-hour drive. Call it inexperience with driving in L.A., but I don't know if the most experienced driver could do any better.
The highlight of getting to the ballparks was definitely at Dodger. There is more than enough parking at the ballpark so finding a spot was a breeze. A parking services person also gave us a number to call to have a golf cart come and bring us to the area we were sitting in. Unknown to any of us, we had parked on the opposite side of the stadium and with two older family members with me, we were not in a situation where we could make that trek.
The driver of our transport vehicle was a treat and we even had him on the way back to our car. At the stadiums I have been to, this was never available, and for Dodger Stadium to have this for free, it was so delightful.
We had an easy time finding parking at Angels Stadium, as well. Though it doesn't look like it, the parking lots are spacious and spaces were plentiful. With the traffic, we found parking close enough to the stadium while being a little more than a full inning late to the game.
The service provided in Dodger Stadium was something I not only appreciated, but had fun just feeling like a celebrity, which is fitting for L.A. With that, I give a point to the Dodgers for getting us to the ballpark quickly and safely, but I give kudos to the Angels, as well.
Sitting in the ballpark:
There really isn't a bad seat in the house at either stadium. We had picked out very similar seating at both stadiums, just past the first base bag in foul territory and one level above the field.
The Dodger Stadium above-field level, as I'll call it, had way more seating available around us than at Angels Stadium. The seats were filled at both games and there wasn't much open space around us.
The Angels Stadium above-field level seating had each section limited with seating, so it felt as though I was sitting in a box or could have friendly conversation with the people around me. If I were an Angels fan, I could see myself having season tickets in that area, getting to know the fans around me and have a much better time watching the game.
One thing I'll take away from each seating area at both stadiums was the steps getting to my seats. In the above-field level, the steps at Dodger Stadium were steep and I did see people not prepared and trip because of them. In Anaheim, the steps to our seats were flat, in comparison, but awkward in having a pattern on one small step and a large step right after that. Getting up to get food or using the restroom took some getting used to, but eventually got the hang of.
The point in this round goes to the Angels. I felt closer to the action at my seat in Anaheim while sitting in a very similar area in L.A. While I believe both stadiums have great seating options, I liked plastic stadium seats at Angels Stadium more.
Eating at the ballpark:
Who goes to a ballpark and doesn't eat? Baseball has his special relationship with food that other sports don't have. Maybe it's because you sit around for three hours or more and have the time to really enjoy your food. Maybe you're already spending so much money that you can stand to gain a few pounds while spending even more.
At Dodger Stadium, my eyes were on, arguably, the most famous food item available in baseball: the Dodger Dog. The most celebrated glizzy in all of sports, this hot dog is fairly simple in presentation, but how is it actually?
The ballpark frank itself, compared to other hot dogs, is just longer in appearance. In actuality, the bun is soft, yet slightly buttery and toasted even. The hot dog meat, as gross as that image may sound, was surprisingly good for what it is. It met my expectations and the toppings available amplified my hot dog eating experience.
While my ballpark dinner was a Dodger Dog, my dessert was vanilla ice cream in a plastic, tiny Dodgers helmet. While I have had better ice cream from other ballparks, it was their special bigger helmet of ice cream with three churros jammed in there that made the difference for me. While I didn't eat it, my little cousin was treated to the sweet dessert and consumed the whole thing. He did give me a churro and it was pretty decent nevertheless.
In Anaheim, my seats had been equipped with a small menu with a QR code for my phone to scan and place my order. While this service is probably available at every ballpark, the availability of that service feels often hidden or limited to some sections at best.
Ordering my food on my phone was shockingly simple that I, a first time user, became proficient with the interface. The only gripe I have was waiting for my food, as I saw stadium workers handing off food to surrounding fans. I got hungrier as more and more time passed. Could it be that I ordered during the second inning and the fans around me ordered well ahead of time? There's a good chance of that, but I would eventually get my double cheeseburger, fries and bottle of SmartWater.
The double cheeseburger had all the fixings; yellow American cheese, lettuce that crunched as my teeth chewed through it, a crisp red tomato, white onions and pickles. Cooked to medium, the burger was pretty good at a price point that I felt was adequate considering the taste. The fries, waffle-cut, were dry and with little seasoning. If you're expecting a Chick-fil-A style waffle fry, this is a couple steps down from that.
I did fill myself up with my dinner, but my little cousin who I went to the game with, had enough room for dessert, which meant more ice cream.
While I did not savor a scoop myself, the stadium employee served him what appeared to be ice cream out of those larger ice cream containers you see from your local shop. The employee also asked my cousin if he wanted toppings, something that I don't think I've ever seen from a vendor before at a ballpark.
Sure, it's available if you have a premium seat or a box suite, but for anyone to go up and get sprinkles, chocolate syrup, whipped cream and a cherry, that really sold me on the food at Angels Stadium.
Overall, while you could say that not having everything on the menu limits my opinion of the food at each baseball stadium, it's the readily available variety for the common folk that go to watch the Angels that impressed me the most. That, on top of better quality food you can order easily from your seat, Angels Stadium gets the point for me.
Experiencing the ballpark:
Let's talk about the games themselves. The two games I went to were the Tuesday, Aug. 1, Dodgers game against the Oakland Athletics and the Thursday, Aug. 3, Angels game against the Seattle Mariners.
Let's talk about Dodger Stadium and the night of baseball there first. What I'm assuming is a ritualistic event there, it was Taco Tuesday and they really pulled out all the stops to bring out the Hispanic culture that fills the L.A. area. A mariachi band and singer echoed throughout some of the breaks between innings which the fans absolutely loved. Even for myself, someone who loves Chipotle and enjoys the movie 'Coco,' I adored what that brings for the Hispanic Dodgers fans and how the place was jumping to the music.
The music itself, from the Dodgers players' walk-up songs, to anything that got the crowd making noise, made me think I was at a concert or festival. It was a club scene in a sense and the attendees, regardless of age, loved it.
Probably my favorite thing about the night was the fans themselves. Each and every fan was so into the game that I felt awkward even glancing at my phone to see what texts I was getting.
Every at-bat, every player and every hit, the place was crazy. Mookie Betts even hit a home run during the game and, while Dodger Stadium does not have a roof, the place literally blew it off anyway. Betts' solo shot practically felt like he won a playoff game for the Dodgers, yet it extended their lead, at the time, 5-3.
Even the lights in the stadium were going on and off to really feel like a nightclub in L.A., which also happened when batters got up each time let alone the Betts home run. That, on top of a Freddie Freeman's 4-for-5 night, was great to witness and to watch in person.
This was also one of Kike Hernandez's first game back with the Dodgers following his trade from the Boston Red Sox, and the fans adore him. While going 1-for-4 on the night, he also drove in three runs with an RBI-double that capped a four-run fourth inning for the Dodgers in a win over the A's, 7-3.
Now for the Angels, who had a very Angels-eque game that night against their rivals, the Seattle Mariners. My father and I were skeptical going into this game, figuring with the pre-trade deadline news that Shohei Ohtani might be moved it might not be worth seeing the Halos.
That, and with Mike Trout on the injured list, if the two best baseball players in the world were not around, we would skip it and come another time in the distant future. Luckily for us, Ohtani was staying for the rest of the season and he was pitching Thursday night so we bought tickets that day and drove to Anaheim.
For a night with Ohtani in the spotlight, the fans were plentiful and nearly filled the stadium with almost 38,000 fans in attendance. Because we were late, we missed an Ohtani base hit as he batted second in the order that night. Ohtani's night on the mound was cut short due to a cramp in his hand, which we had found out after the game, but he did toss four great innings, striking out four batters with less than 60 pitches.
A few innings after his exit, The Angels' bullpen gave up a solo home run and trailed 1-0, but the Angels' offense had their backs. Newly-acquired CJ Cron singled to tie the game at one apiece after Ohtani had drawn a walk and stolen a base.
Mike Moustakas doubled Cron home and the Angels had the lead, 2-1.
In the eighth inning, Ohtani would come up for his last at-bat of the night and I had brought my little cousin to get ice cream, but stressed to him that we had to get back so we don't miss him.
We got back in time for him to come to the plate but stood behind the seats so we, specifically me, didn't block anyone's view. Everyone pulled out their phones to video what would be Ohtani's 40th home run of the season.
I have never seen my cousin, nor my father, react that way to a home run before, but it was like lightning struck the stadium and shocked everyone out of their seats; it was electric.
It's a moment I will never forget. That feeling of knowing Ohtani was going to hit that ball over the right field wall, seeing that line drive just stay high enough in the air to go into the first row, the reaction to my family members and the fans around them, the two massive flamethrowers spewing fireballs in center field and the light show that flashed around the stadium as Ohtani trotted around the bases. It could have been a movie for all I know.
The inning after, the lights go out and everyone and the crowd pulls out their phone and puts their flashlights on. My family and I don't know any better so we followed suit as music started blasting for Angels closer Carlos Estevez, who was enlisted to keep Seattle at bay and keep the two-run lead intact.
I think Estevez's first nine pitches to start that inning were balls. He would eventually load the bases, two runners got on base with walks and another with a single, before Estevez recorded his first out. With Cade Marlowe at the plate, he smashed a ball far over the wall for a grand slam to give the Mariners a 5-3 lead that would eventually become the final score.
See, I told you it was a very Angels-esque game.
The saving grace for my Angels Stadium experience was the Shohei Ohtani home run, which will forever be a core memory for me and is definitely a highlight of my 2023 thus far. It gave my Dodgers Stadium experience a run for its money, but I have to give the point to the Dodgers. It was never quiet, I was always engaged and so were the fans and I think that's what baseball should be.
Overall, if Ohtani stays in Anaheim with the Angels, Angels Stadium will be a rockin' place for the next 10 years, or however long he stays. Regardless of him, Dodgers Stadium will be the place to go for quality fun and nonstop action, whether that's on the diamond or in the crowd. I would be more likely to go back to Dodgers Stadium before Angels Stadium, but both made a family vacation that much better.