Analysis
Changing Up: Pitchers Who Have Adjusted Their Arsenal
Tweaks to pitch usage can make all of the difference for a starting pitcher.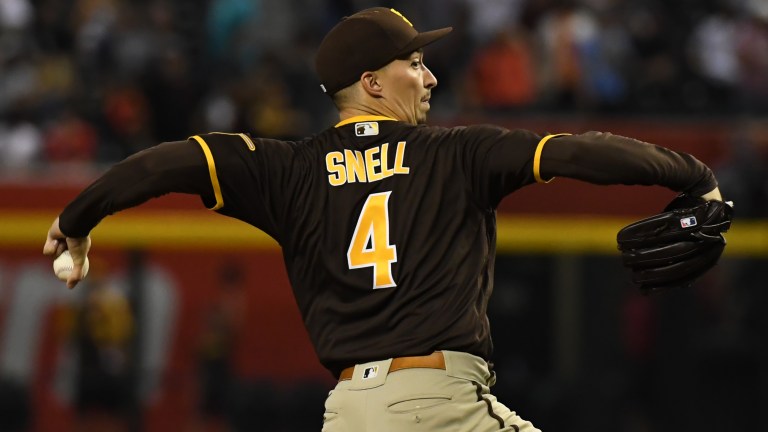 Sometimes, the key to becoming a better pitcher is simply throwing your best pitches more and bad pitches less. It sounds intuitive and simple, yet there is a continued pattern of pitchers throwing ineffective pitches with frequency, holding them back from their full potential.
The Pitch Usage Dilemma
Eno Sarris, a godfather of pitching analysis, wrote last week on the pitching success (and second half struggles) of Kevin Gausman. He discusses whether Gausman's two-pitch repertoire, a four-seam and splitter combo, is being figured out by hitters looking for only two pitches. It's a valid question: does predictability play a factor in getting batters out? In short, research supports that there is not a trade-off in effectiveness when throwing your best pitch more often, so why the continued use of below-average pitches?
Many of the best pitchers in the game have caught on to this wave of pitch usage alteration, lowering their usage of ineffective pitches in exchange for increased breaking ball usage. It's a formula that works and has changed careers. Let's take Clayton Kershaw for example; he entered the league as a fastball dominant hard throwing lefty, but with age, came a decrease in velocity and a newfound approach.
His fastball and slider usage had been converging on each other for years and by 2018, his slider usage crossed the 40% mark, almost equaling his fastball usage. Now in 2021, Kershaw is relying on his slider more than ever while throwing his fastball a career low 38% of pitches. The results speak for themselves as Kershaw holds a 3.39 ERA this season and remains a top 10 pitcher in baseball.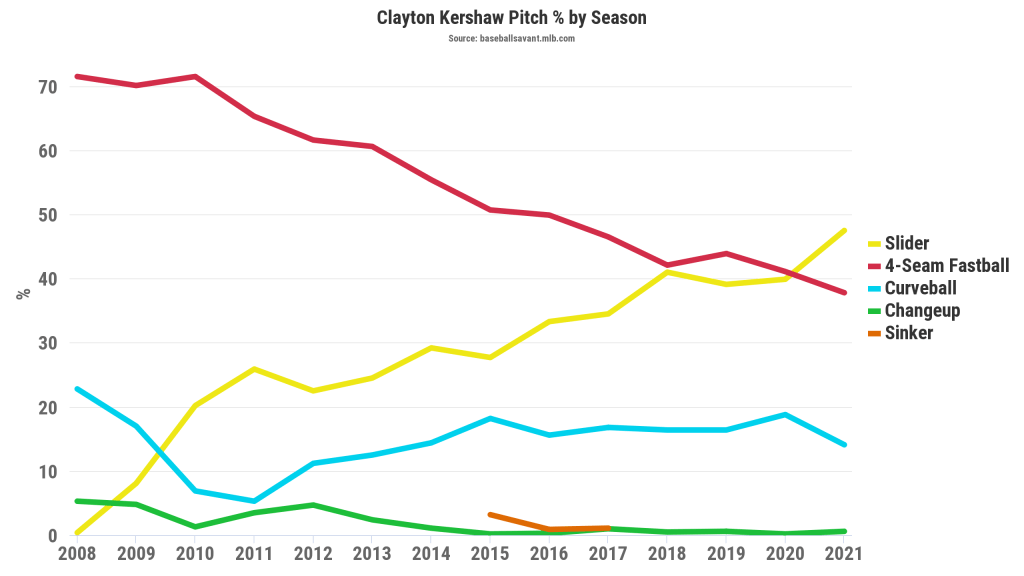 Making the Leap
Surprisingly though, there are still stragglers to the party, with new pitchers joining the "use your best pitch more" revolution every week. The latest pitch usage overhaul has come from a previous Cy Young winner that struggled to begin the 2021 season, but has since found dominance with increased slider usage. No pitcher has a higher strikeout rate in the month of August than Blake Snell and his return to greatness could not be coming at a better time for the Padres as they sit a half game back of the wild card.
We are seeing a different version of Blake Snell, but that doesn't necessarily mean he has to struggle like he has. His dominance in 2018, which led to a 1.89 ERA and the AL Cy Young award, was in conjunction with high fastballs, 12-6 curveballs in the dirt and changeups on the outer half, but the August 2021 version of Snell could not be more different. He's completely abandoned his curveball and changeup and has opted for a slider-centric approach, throwing it 30% of the time.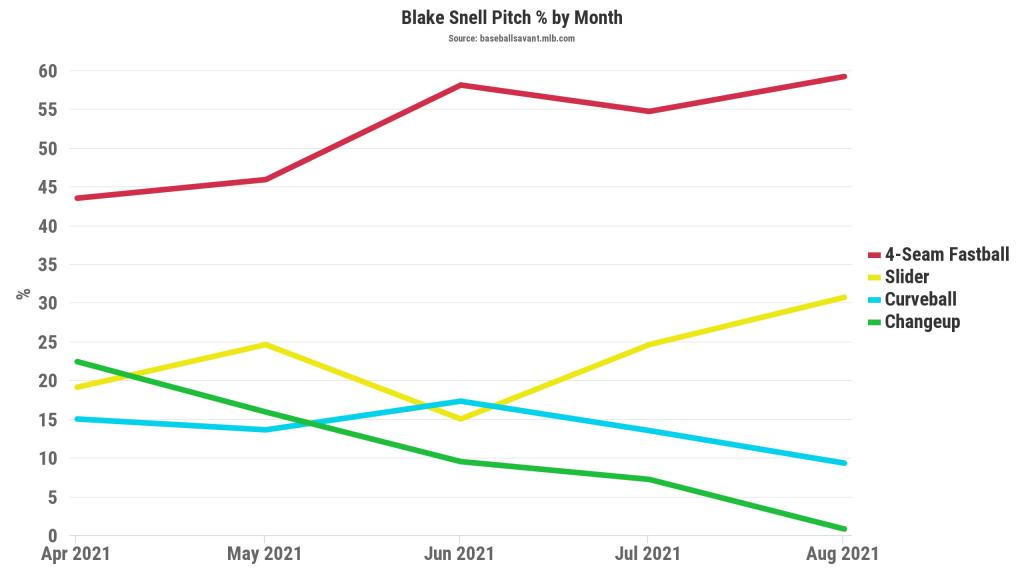 It's unclear if Snell, someone on the Padres pitching staff not named Larry Rothschild, or a front office employee recommended the approach change, but one thing is clear, the adjustment was brilliant. In his six August starts, Snell posted a 1.72 ERA, 2.61 FIP and struck out 38.8% of hitters, which led baseball over that span. For reference, the only other pitchers to post above a 38% strikeout rate in any single month this season are Gerrit Cole, Max Scherzer, Jacob deGrom, Corbin Burnes, Shane Bieber and Freddy Peralta. It's fair to say that the Cy Young version of Snell has made a return, but will he be able to sustain this form?
Obviously it's impossible to sustain a 1.72 ERA unless your name is Jacob deGrom, but peripherals point to continued success for Snell. His slider has a whiff rate of 45.8% ranks 6th among starters with opponents hitting just .156 against the pitch. The main concern all year has been a susceptibility to giving up home runs on the four-seamer, which is inflated due to an abysmal month of May in which he gave up five homers against the fastball. Outside of May, the pitch has actually performed well and that may be a product of increased slider usage. Below is an overlay of Snell's fastball and slider, showing the pairings innate tunneling ability.
Going back to Eno Sarris' point about predictability, Snell actually gets a boost in effectiveness with the use of only two pitches as they come out of the same tunneling slot, so hitters are unable to decipher which direction the ball will move until it's too late. Conversely, curveballs are thrown out of a higher release slot, which only makes them tunnelable with high fastballs and while Snell primarily does throw fastballs up in the zone, his slider is even more deceptive. It would not be a shock to see a continued increase in slider usage and a decrease in fastball usage ala Clayton Kershaw, but regardless, Snell has found his approach.
Snell will not be given any freebies the rest of the way, with possible tests against the Angels, Braves, Giants and Dodgers. If he can dominate against some of the most potent offenses in the game, it's gonna be all aboard the Blake Snell train going into the playoffs(if they can make it).
Who's Missing Out on the Trend?
As I've mentioned, there have been a multitude of success stories centered around pitch usage adjustments, but which pitchers are stuck in their old ways, continuing to throw lackluster offerings, ignoring the best pitches in their repertoire? Well let's dig in and find out.
German Marquez – Colorado Rockies
It's always a mystery when it comes to dissecting Rockies pitchers. I've often asserted that Marquez would be considered a top 20 pitcher if he escaped the confines of Coors Field, but even donning the purple and black, he's found success. You would think that a pitcher with a 3.52 xFIP and 3.75 FIP wouldn't need to make pitch usage adjustments, but Marquez fits the bill for an overhaul, or moreso a return to old ways.
In a surprising move, Marquez has transitioned away from his historically unhittable curveball this season, instead opting for a slider as his main secondary pitch. This isn't to say that the slider is a bad pitch for Marquez, it's actually a decent offering with a 40% whiff rate and .256 xwOBA against, but his curveball is clearly his best pitch. Among all curveballs in baseball, Marquez's ranks first in xwOBA against and second in whiff rate and yet, he only throws it 18% while opting for his slider 28% of pitches. The general understanding is that the Coors Field altitude affects vertical movement more than horizontal, so going to a more horizontally moving pitch could be the explanation. Again, Rockies pitchers are always difficult to pin point, but it is worth wondering why Marquez would ditch his best pitch.
Luis Garcia – Houston Astros
Luis Garcia's case could not be more different from Marquez. The Rookie of the Year candidate is enjoying quite the breakout in his first season, with a 3.23 ERA and 150 strikeouts in 128.1 innings. He's been dominant to say the least, but I believe there is room for the 24-year-old to be even better. His one flaw, much like Snell, is his fastball gets pounded. He's allowing 50% hard contact and a .388 xWOBA against on the heater. That's clearly not great, but manageable evidenced by outstanding ERA and FIP metrics. Why be just good when you can be elite though?
With four effective secondary pitches that each have over 40% whiff rates, Garcia has an array of options to choose from when attacking hitters. His pitch selection is entirely dependent on handedness of the batter, electing to throw cutters and sliders to righties and curveballs and changeups to lefties, but my qualms with Garcia are not based on which secondary pitch he should throw more. My stance is that he would benefit greatly from increased use of all secondary pitches with a decreased use of the fastball. Regardless, Garcia has been one of my favorite arms to watch this season and should continue to succeed at the major league level.
Zach Plesac – Cleveland Indians
Zach, the nephew of former MLB pitcher Dan Plesac, broke out in the shortened 2020 season, striking out 27% of batters while only walking 3%. He was flat out masterful with a 2.28 ERA over 55+ innings, so expectations were high coming into 2021, but it's been a struggle for Plesac this year. He's been limited to 114.1 innings, missing some time with a broken thumb, and when he's been on the mound he has not been the 2020 version of himself, only striking out 17% of batters. He did strikeout seven over seven scoreless against the Royals last time out on the bump, but it's evident that a change is needed for Plesac. That change you ask? Well, if you've gotten this far, you probably know what i'm about to tell you: HE NEEDS TO THROW HIS BEST PITCHES MORE AND HIS BAD ONES LESS.
Much like Luis Garcia, Plesac has a poor fastball and attacks batters from each side of the plate differently, choosing to throw primarily sliders to righties and changeups to lefties, leaving very effective curveball to collect dust in the corner. For reference, Plesac's fastball ranks 13th to last in xwOBA against, while his curveball has a .197 xwOBA against, which is actually above Max Fried, Drew Pomeranz and Framber Valdez, who are known for elite curveballs. It's a simple adjustment, Plesac should throw his fastball less and his curveball more while keeping all else equal. It could be all he needs to return to his 2020 form.