Analysis
Diving Into the Prospects Exchanged in the Trey Mancini Trade
The Orioles added depth to its stable of pitching prospects, while the Astros got a high-floor arm.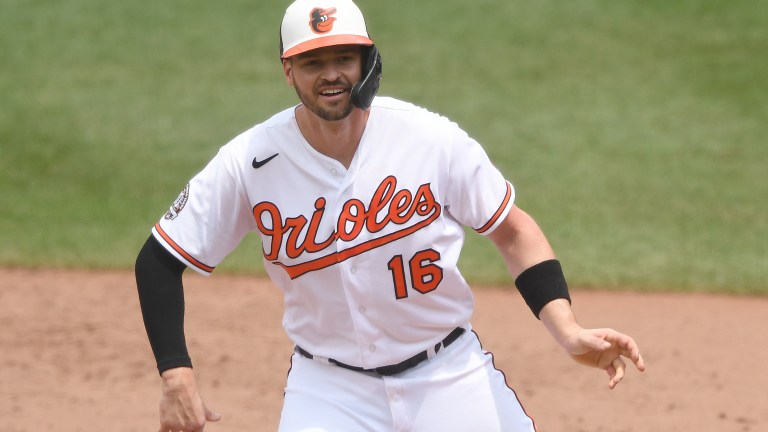 We had our first three team trade of the deadline yesterday when the Astros, Orioles, and Rays all got together to satisfy each organization's needs. The headliner in the deal is obviously first baseman/outfielder Trey Mancini, who is headed over to the already terrifying Astros to likely man first base.
Our own Ryan Finkelstein did an excellent job of detailing what the trade means for each team at the big league level, so I'm here to dive into the prospects who were exchanged.
The decision to part with Mancini when Baltimore is just 2.5 games out of a playoff spot was surely an extremely tough one for General Manager Mike Elias, but with high-upside pitching reinforcements somewhat limited in the farm system beyond Grayson Rodriguez and D.L. Hall, it was probably for the best to part with the likely soon-to-be free agent (player option).
Orioles Return
Coming over to Baltimore are right-handers Seth Johnson and Chayce McDermott. Johnson, the top prospect traded in this deal, comes from the Rays organization and instantly becomes the O's third-best pitching prospect behind the Rodriguez and Hall.
Johnson is set to undergo Tommy John Surgery and will likely miss all of next season which is probably part of the reason why the Rays may have been a bit more willing to part with him.
Prior to his injury, the former first rounder looked extremely impressive in High-A, striking out 37% of batters while pitching to a 3.00 ERA in 27 innings. Johnson converted into a pitcher at Campbell University after struggling to find his footing as a shortstop in junior college.
The 23-year-old's fastball is high spin and features a ton of riding life, boasting more than 20 inches of induced vertical break. Sitting at 95-97 mph, Johnson's fastball is easily plus and could push 70-grade territory if he commands it a bit better.
Johnson has a pair of breaking balls, but his mid 80s slider is clearly the best. The pitch has sharp, late bite with plenty of horizontal break, flashing plus. The mid 70s curveball is Johnson's third pitch, but it can blend with the slider at times. The offering still flashes above average with solid depth.
As for McDermott, his stuff is whiff-inducing, but battles command issues. In 72 innings for the Astros High-A affiliate, McDermott struck out more than 35% of batters, but has handed out free passes at a 13.4% clip.
As a result, McDermott's ERA is inflated to 5.50 this season, however the peripherals point towards some bad batted ball luck. With a mid 90s fastball and a nasty slider, the 2021 fourth round pick has the floor of a solid reliever. His ability to mix in an average curveball and changeup that flashes average give him a chance to stick as a starter if he can overcome the command woes.
Astros Return
No need to dive into Trey Mancini and how he fits in with the Astros as we did that a bit earlier. Also headed over to the Astros is right-hander Jayden Murray from the Rays. Murray actually sat down with Just Baseball back in October to discuss his breakout 2021 season and it has been more of the same for him in 2022.
A strike thrower whose stuff has ticked up since his professional debut in 2019, Murray has pitched to an impressive 3.24 ERA in 80.2 innings between Double-A and Triple-A. Already 25 years old and Rule 5 Draft-eligible after this season, we have become accustomed to the Rays parting with quality prospect arms due to the 40-man roster crunch.
Murray releases from a low vertical attack angle and his fastball features a ton of arm side run at 93-96 mph. As a result, Murray is able to induce a ton of weak contact and ground balls (49.3%).
The right-hander's out pitch is his plus slider which tunnels effectively off of his opposite-moving heater. Murray has held opponents to just a .592 OPS against his slider with a 33% strikeout rate. The third pitch for Murray is an average changeup, which he almost exclusively throws to lefties.
Murray's ceiling and floor are quite close to each other, giving him a good chance to be a back end starter.
Rays Return
While Jose Siri is no longer a prospect, he might as well be. Siri has only played 69 games in his MLB career over the course of two seasons. The toolsy centerfielder was spectacular in his 21 games last season, even earning himself some opportunities during the Astros pennant run after Jake Meyers was injured.
This season has not been as kind to Siri offensively, posting just a .178/.238/.304 slash line. On the defensive side of things, the 27-year-old has been stellar, tied for the most Outs Above Average for all centerfielders.
Under control until 2028, Siri provides affordable help up the middle in the short term and long term with more offensive upside to dream on than some of the other guys the Rays have trotted out there.
Siri produces top end exit velocities and has 20-plus homer potential if he can hit enough. That's a big if, though.